When Tijjani Reijnders arrived at AC Milan during the summer transfer window there were many fans who didn't know what to expect, but he has quickly established himself as a favourite under Stefano Pioli.
Their first major decision of the new management led by Giorgio Furlani and Geoffrey Moncada was to sanction the club-record sale of Sandro Tonali to Newcastle United, which created another violent storm just as the dust was settling after Paolo Maldini and Ricky Massara's exit.
A midfield rebuild was needed and the club decided to invest in three profiles: Reijnders of AZ Alkmaar, Ruben Loftus-Cheek of Chelsea and Yunus Musah of Valencia. While each have been impressive in their own way, the Dutchman stands out the most.
What exactly has made Reijnders one of the candidates for signing of the summer so early in his Milan career? Our writer Rohit Rajeev examines how he has fit in so well.
Background
After a lacklustre end to last season the decision was made to shift tactically from double pivot to a single pivot and a three-man midfield, which meant he needed two box-to-box players.
Reijnders was one of them, and he was one of the catalysts behind AZ Alkmaar's run to the UEFA Conference League semis. A player who combined hard work with technical quality, he has been one of Milan's best players already.
The 25-year-old has nestled into the spot of left mezzala nicely and has very much made it his own, but there has been times where he has shown his versatility by playing as an attacking midfielder or even further back as a No.6.
He announced himself in front of his new fans in the best possible way, getting an assist to his name less than 11 minutes into his first Serie A start, setting up Olivier Giroud for the opener against Bologna.
From there he has gone from strength to strength and only a goal is missing from his game it seems, though there has been times when he has been in the right place with just a finish or some luck lacking.
Strengths
Line-splitting passes: Since coaches have started to lean on the collective rather than individual, coaches focus on structure while teams are off the ball whether be it pressing or whether they are 'parking the bus'.
As a team focusing on scoring a goal the midfielders/forwards are expected to break this defensive structure down.
Reijnders can do this with his dribbling as demonstrated against Cagliari. His receive-and-spin mode, evading the Cagliari player, created space between the lines and created the opportunity for the goal.
— Rohit Rajeev (@keralista_v2) September 28, 2023
As demonstrated before (and hopefully again on Sunday), he can do it against Juventus with his passing. He exploited the space between the defenders with simple passes.
— Rohit Rajeev (@keralista_v2) October 18, 2023
Spacial awareness: An important part of being a mezzala is to realise where the space is and with players constantly moving they need to be extremely aware and keep scanning their surroundings.
Against Lazio, Reijnders shows brilliant awareness to receive Adli's pass in space before launching it to Leao for the goal in what was a 'hockey assist' for the Dutchman.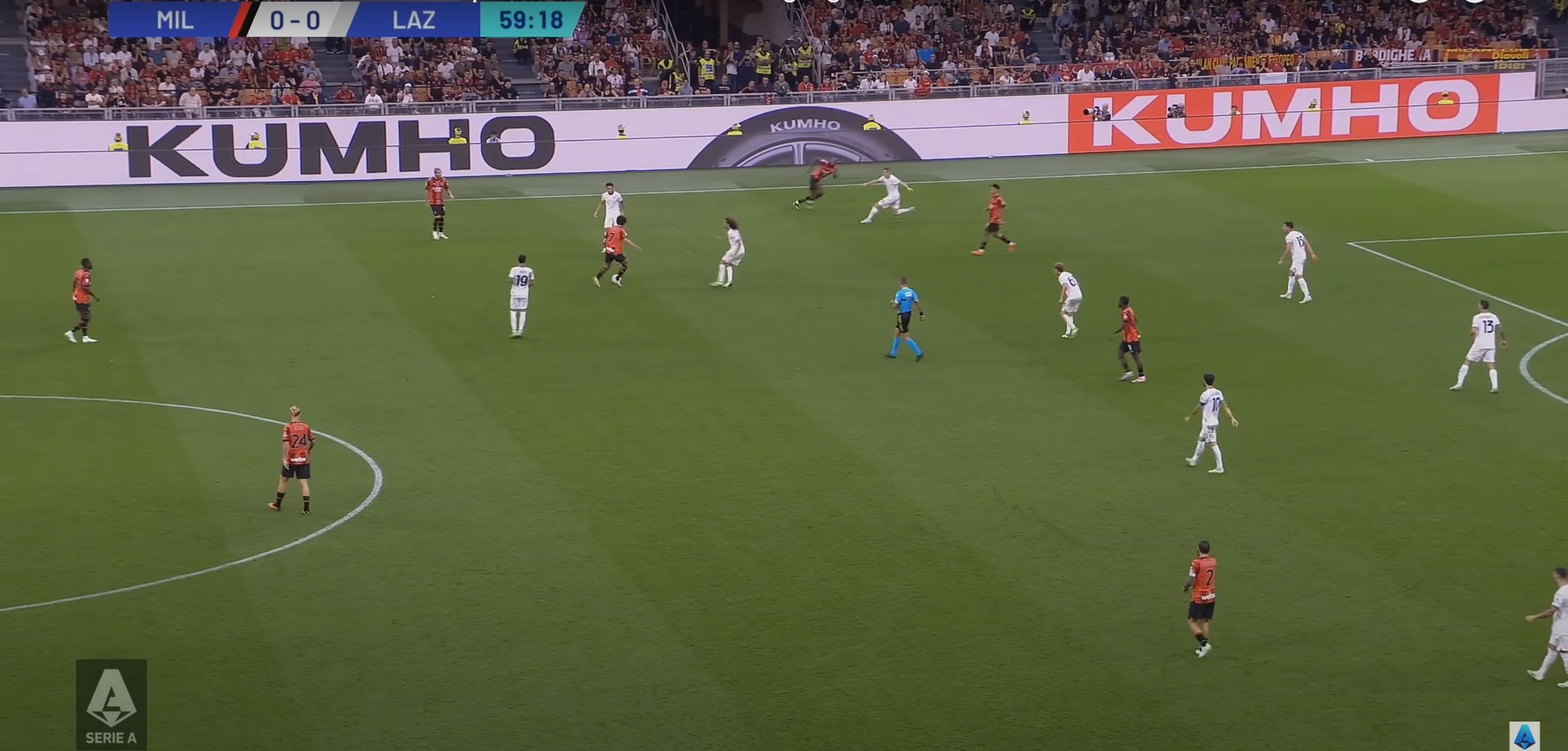 Exploiting space: As much as a player should be aware of the spaces he should be equally know how to make use of it himself and how to make it for others. Reijnders has the ability to release players into space, like he released Theo in the clip below.
— Rohit Rajeev (@keralista_v2) October 18, 2023
Corner routines: We highlighted the importance of set pieces in an analysis yesterday, and Reijnders' assist in the Cagliari game demonstrated his good crossing ability.
He received the ball and fired it low right into the corridor of uncertainty, which gives the coach the ability to mix up the corner routines.
— Rohit Rajeev (@keralista_v2) October 18, 2023
Through balls: With spacial awareness and the ability to break lines with passing, Reijnders also able to slip quick through balls like hes demonstrated vs. Monza in the Trofeo Berlusconi.
— Rohit Rajeev (@keralista_v2) August 9, 2023
Man-oriented pressing: Pioli uses a man-oriented pressing system where each player is given a man-marking system. The derby last season when Charles De Ketelaere failed to follow Brozovic who ran through on goal and scored, it showed the risk attached to the man-oriented system which requires focus and discipline.
Against Bologna, Pioli's choice to field Reijnders showed why De Ketelaere was not the kind of player he wanted in his team. Reijnders followed his man all the way to make a last ditch challenge which could have been a shot on target (or even a goal) for Bologna.
— Rohit Rajeev (@keralista_v2) October 18, 2023
Ability in tight spaces: As he demonstrated against Lazio, despite being under pressure Reijnders was able to dribble out of it without losing the ball. His close control and dribbling technique is extremely useful.
Work rate: Reijnders ranks in the top 10 for minutes played and starts in the Serie A with an average of 11.3km covered per game. This shows how he is always available and is the orchestrator of this Milan side.
Conclusion
For a reported fee of €19m, it feels like a bargain to get a player that is omnipresent and can cover a wide range of roles. Milan's scouting department might just have scored a 10/10 again in the recruitment department.
It is no wonder Barcelona wanted a player of Reijnders' calibre when their club philosophy has been about having very good technical players, but we hope he continues to succeed in red and black for a long time yet.