AC Milan suffered what was arguably their most comprehensive and damaging defeat of the season on Monday night, losing 3-0 to Lazio.
In truth, it was a game that Lazio absolutely had to win while the Rossoneri were looking for a positive performance and result after the dreadful capitulation against Sassuolo the previous Wednesday.
It would be the Joaquin Correa show as his intelligent movement and finishing gave the Biancocelesti a 2-0 lead before the hour mark, with Immobile adding a third late on to finish the job and capitalise on a naive and disjointed Milan performance.
Early intensity 
There were actually some positive signs from Milan in the opening 20 seconds and the first half in general when it came to their press. With the first real action of the game the Rossoneri managed to get bodies in the right places, using the touchline as an extra man to cut off Lazio's passing options and adopting shadow play to force a dangerous turnover.

Indeed the key man in this sequence was Alexis Saelemaekers – the only player who can really hold their head high after the game – as he anticipated where the erratic pass may fall to seize possession. As seen in the still below, Mandzukic actually makes a good run towards the right corner of the box to drag his man over, knowing Calhanoglu and Rebic are onrushing to attack the resulting space.

One of the biggest criticisms of Milan's counter-attacking play has to be that they have taken too long to make decisions where before they were sharp and clear, which adds to the mental fatigue argument. Somehow, Lazio went from the verge of being overloaded to actually having four bodies back to crowd out Calhanoglu and Mandzukic.
There has to be some doubt cast over Saelemaekers timing in releasing the pass and Rebic's positioning as the latter was a far more obvious choice if he made his usual run around the back three, like how he scored the third in the same fixture last year.

Sucker punch
Pioli said himself after the game that going 1-0 down was the hammer blow to his side as it allowed Lazio to play to their strengths, but the manner in which the opener was conceded within 80 seconds will be incredibly alarming.
In the scene below, Milan have committed to their press on one half of the pitch – just as we saw against Sassuolo and in the first incident of this game – and they are actually in good shape with five players on the right side of the ball and no option for a switch in play.

Then, a culmination of Milan's defensive problems in 2021 followed. An aimless lofted ball was met by the head (face?) of a back-peddling Bennacer, who then slips and surrenders possession. Milan have a good defensive shape regardless, with no threat of an overload.

The speed at which the Diavolo are undone is frightening though. Correa seizes the loose ball and pokes through to Immobile who was left in a lot of space, then nobody tracks the run of the Argentine at all as he bursts past Tomori and Calabria, receiving a nice give-and-go from his strike partner.

By this point any attempts to recover the situation are futile given Correa's pace, which is one of the things which made it dangerous to play a high line, but not if the coverage was right and silly giveaways like this were avoided.
One more small criticism must be directed at Donnarumma, who had narrowed the angle well but went to ground too easily, allowing Correa to round him and score.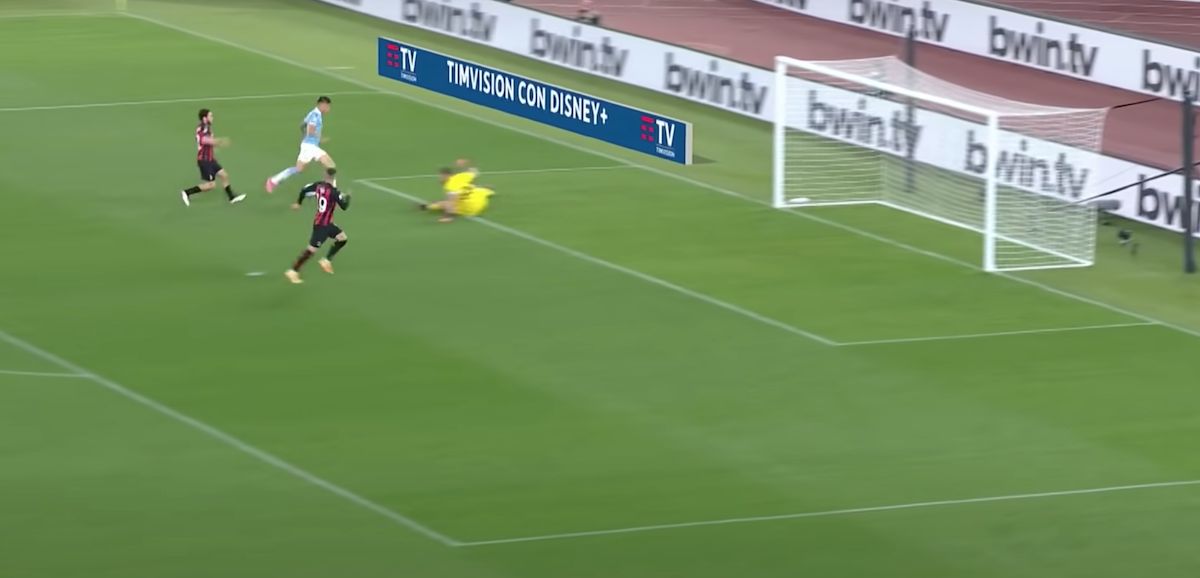 Set piece woes
We have repeatedly called Milan out for their knack of switching off on second balls from set pieces, and Lazio should have doubled their advantage when exactly that happened again. Pioli's men held a good line for this free-kick, but it is from a position on the pitch where no danger should ever come as long as assignments are stuck to and the ball is dealt with.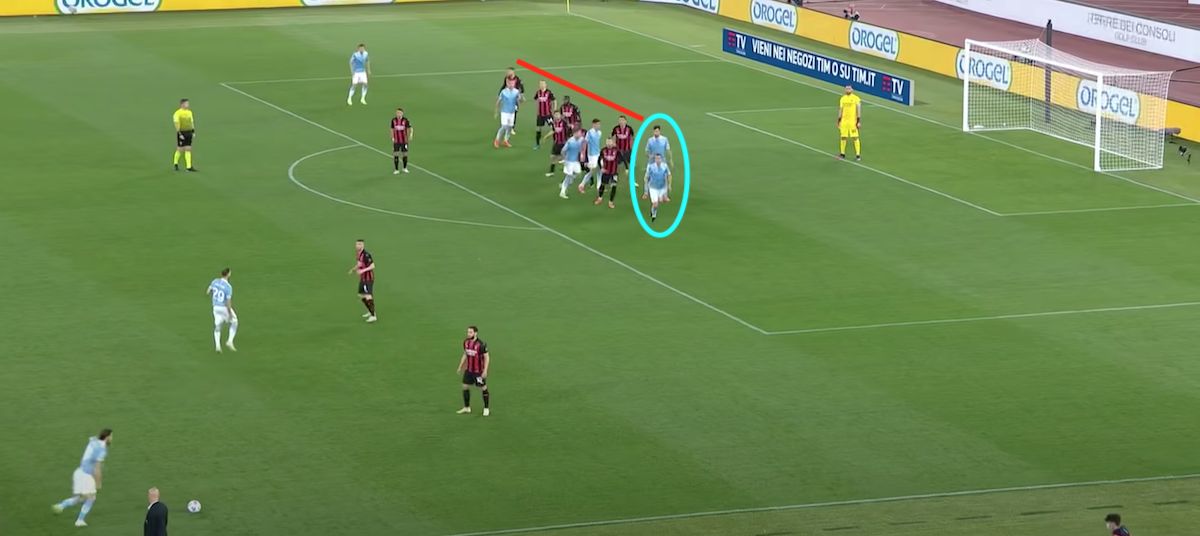 There is a question mark about the two runners who are occupying a near post spot, though again they will not be an issue so long as Milan keep switched on and clear the ball. Imagine our surprise when, you guessed it, the delivery was not cleared and all of a sudden Lazio have the three men closest to the loose ball. Only a fine save from Donnarumma prevented it being 2-0.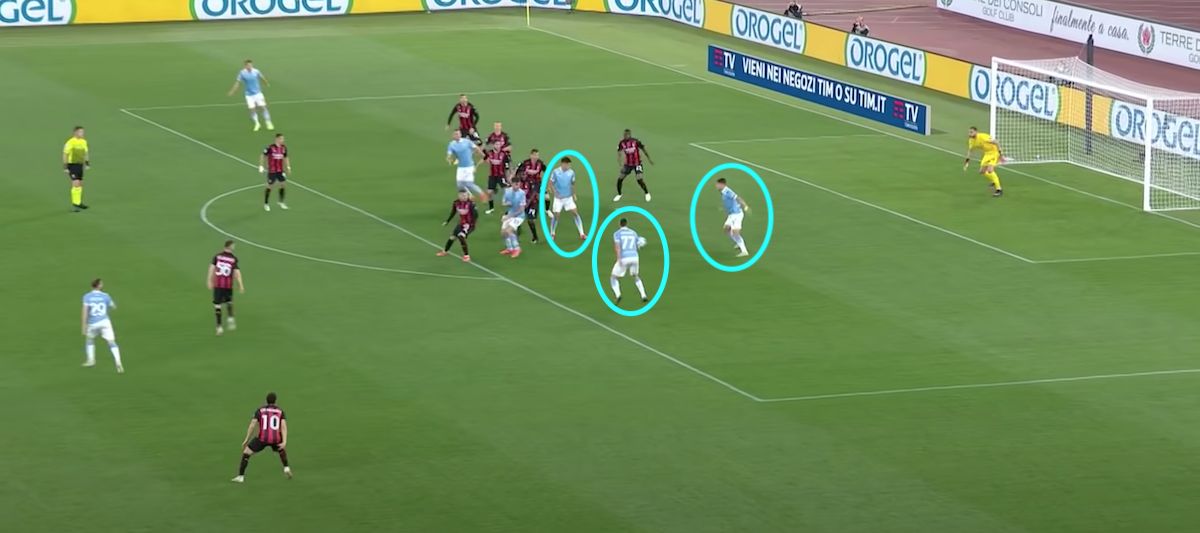 Encouraging patterns
Milan built off that scare and began to cause problems at the other end once again. Below we can see how Milan have set up playing with three men up front during build-up, which then clears space on both flanks for Theo and Calabria to act as wing-backs.
When you have options like this, Kessie has the time to pick out who he wants and can use decoys to advance the ball, which is why he plays a fantastic pass through the lines to Saelemaekers who then draws Lulic and Radu up the pitch.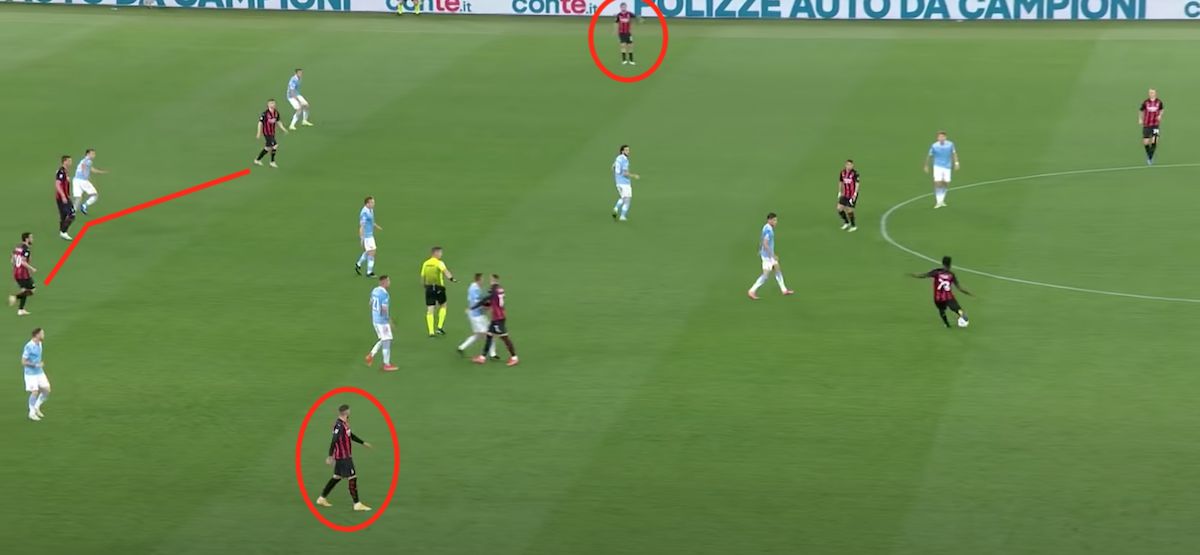 The result from all that fairly simple movement and a quick line-splitting pass is that Milan all of a sudden have a chance to put either Mandzukic or Calhanoglu in behind. It wasn't an easy pass for Saelemaekers to make and the run of the Croatian striker to draw Acerbi over helps generate space behind him.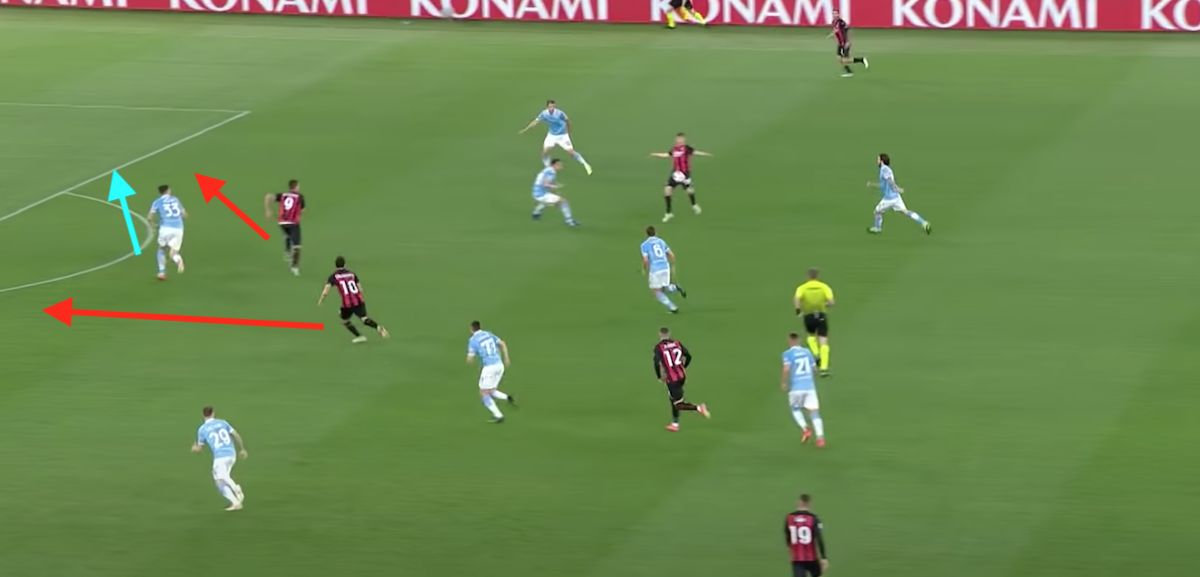 There is no excuse for this not ending in a goal. Time and time again – like against Sassuolo – Milan have not been burying their chances when they get in behind. If Calhanoglu didn't feel comfortable striking it himself, as he should have, the square to Mandzukic was on. A weak shot and a wasted chance resulted instead.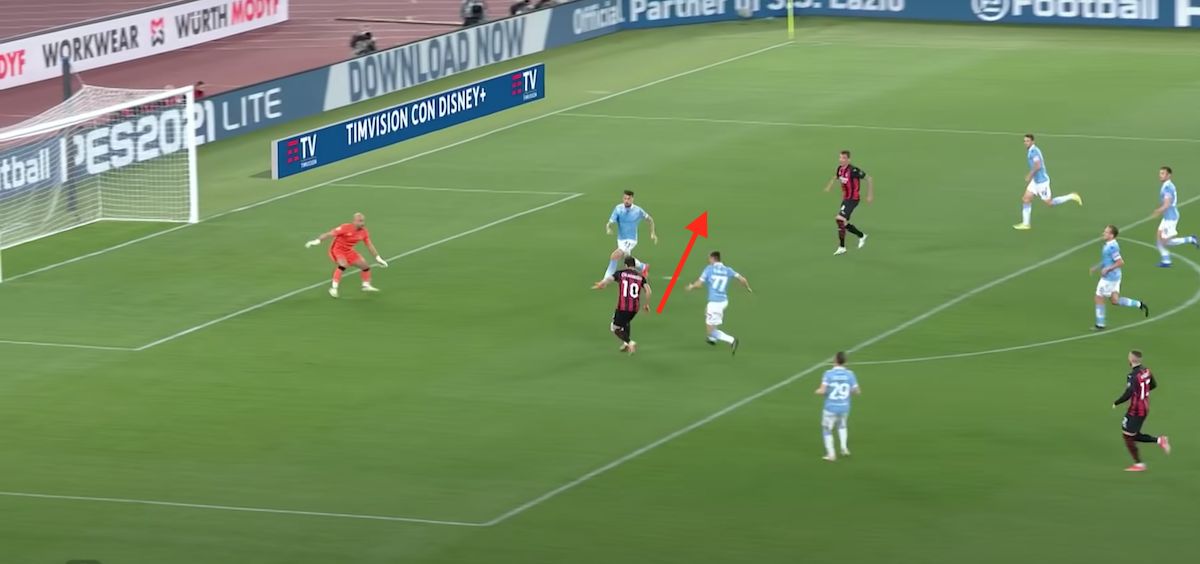 Paying the price
Eagle-eyed watchers might have seen that Milan's defensive line crept further and further up the pitch in the final 15 minutes of the first half as the pressure started to mount and an equaliser seemed not out of question. When you do that though you run a huge risk, especially against a team like Simone Inzaghi's who absolutely love to contain and counter – it's their specialty.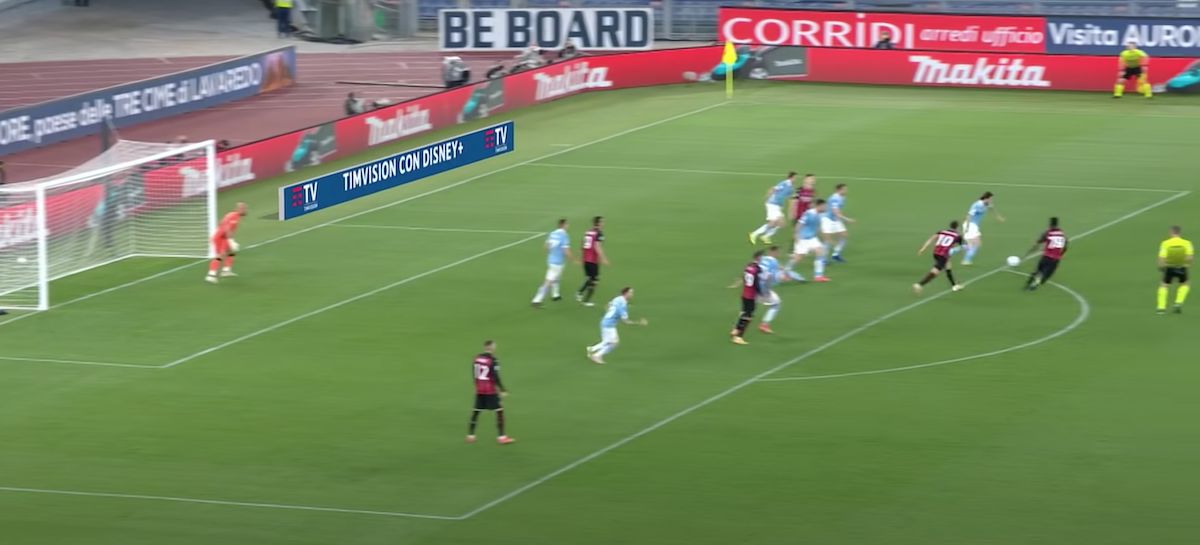 In the frame above you can see how a thwarted attack leaves the Rossoneri with six players stuck in the final 20 yards. Lazio's strength is in their ability to pass the ball great distances with accuracy, relying on an understanding of each other's movement.
Inzaghi had clearly targeted the idea that Lazzari might be able to get the better of Theo Hernandez in this situation because of his immense speed and direct running in behind. Below we see how Theo has virtually already lost his man as he is ball watching, while Tomori is the one who is pushed up almost as a midfielder.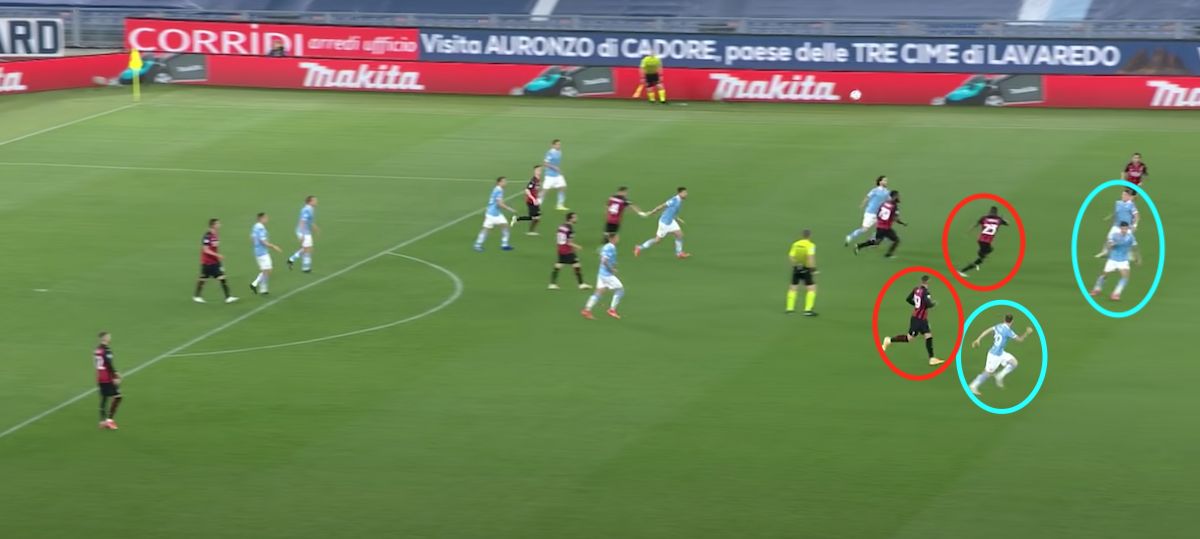 That's not necessarily a huge problem usually because the Englishman is such an aggressor when it comes to stepping up and thwarting attacks, yet in this scenario it does become a problem because Kjaer is the man left all alone to defend a two-on-one counter. The Dane's recovery pace is not his strength; it is for Tomori. The move was finished, but a marginal offside via VAR came to the rescue.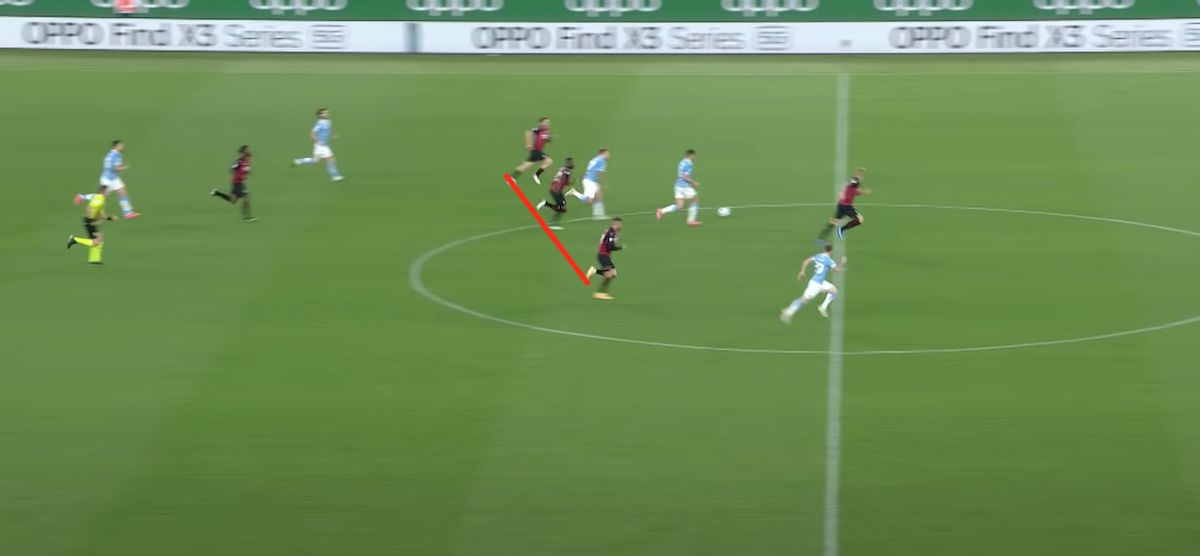 Same old story
Milan have a real knack of falling behind in big games, getting to half-time still a goal down but over-committing early in the second half to find their chances killed off. It happened against Inter earlier this year, and Atalanta too, against teams that love to try and counter if a team makes a mistake like Milan did.
In the scene below we can see how Bennacer and Kessie are almost lined up vertically as a double pivot instead of horizontally to cover the passing lanes. That's what happens when a team attacks without structure and becomes disjointed, and as mentioned the strength of Lazio is their quick movement of the ball through the lines via creative players like Luis Alberto and Correa.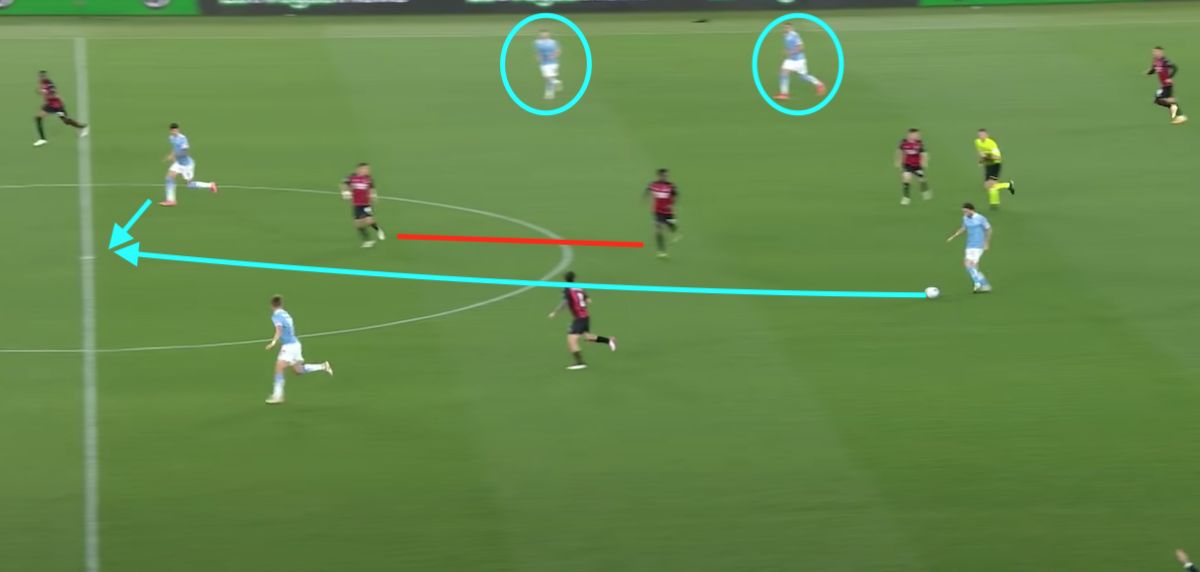 That understanding between Lazio's forwards that we mentioned earlier was crucial for their second goal, as the run of Correa into a more central area was almost presumed by Alberto who is more than capable of rolling a 20-30 yard pass through a disjointed midfield.
This is where Fikayo Tomori costs Milan again, and we do not say that lightly given just how impressive he has been overall since joining. There are those that may argue the fault is with the midfield for overzealously committing to the attack, but the fact is at two-on-two Milan are actually in a good position here.
Kjaer is covering the run of Immobile very well, using all his experience to stay close to the ball carrier in case he bursts past Tomori and simultaneously forcing Immobile to make a wider run than he would like to, allowing valuable recovery time.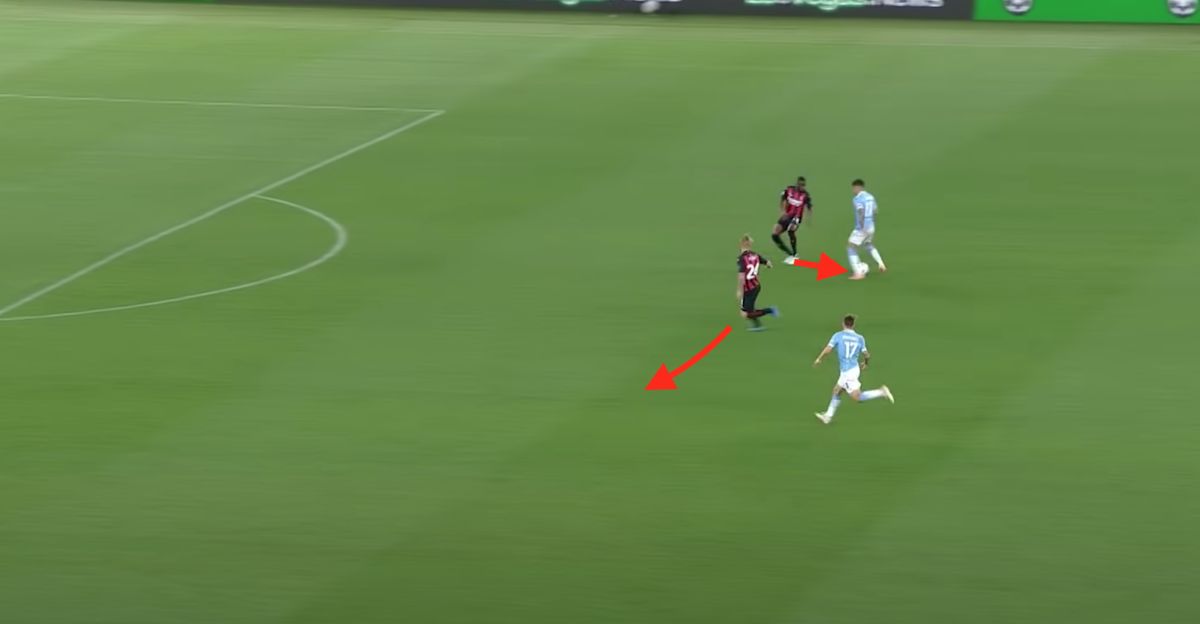 That is the moment where Tomori needs to step up and challenge Correa rather than let him get closer and closer to goal. It suggests to us that the Chelsea loanee is struggling from a lack of confidence after he was burnt by Raspadori of Sassuolo, because he simply keeps backpeddling.
Again Kjaer is doing his bit and covering well, almost inviting Tomori to step into a challenge and at the very least force Correa to make a decision in possession. Yet it never came, and just as we have criticised Alessio Romagnoli for several times this season, he shows Correa into a shooting position.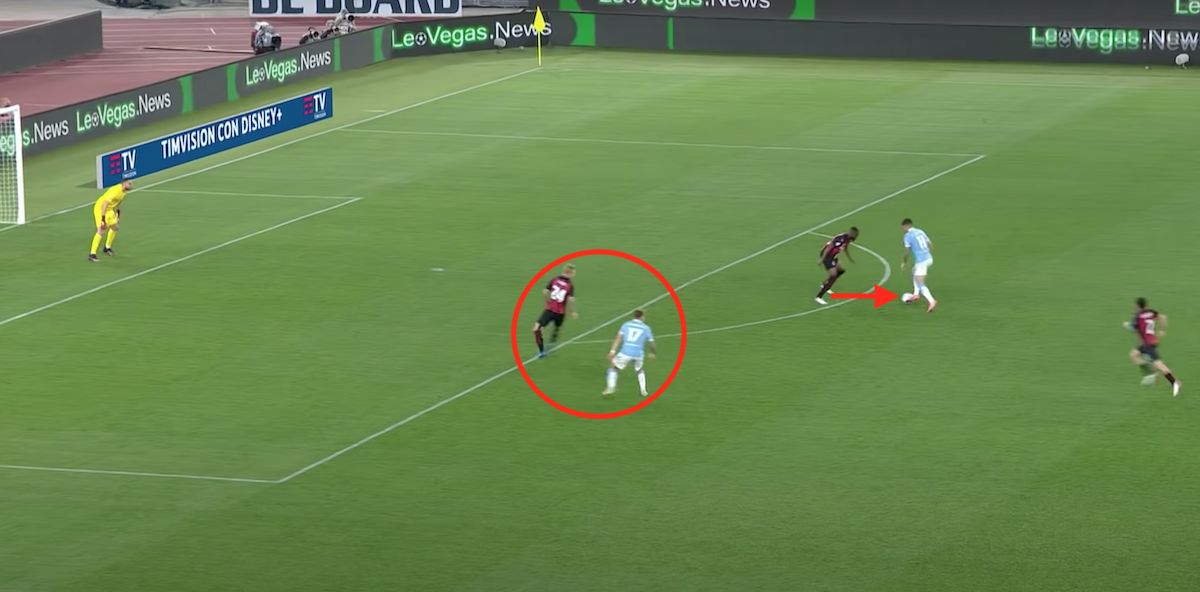 By this point, it is almost too late. If he was intent on covering, Tomori should have showed Correa inside a bit more but instead he lets him dance onto his stronger right foot to fire past Donnarumma at the near post. Again, the goalkeeping is questionable, though it was a howitzer of a shot.
One extreme to another
Pioli, with his side now 2-0 down having been hammered by counter-attacks and direct runners, now decides to bring Alessio Romagnoli on the pitch. Naturally this shifts the assignment of marking Immobile to Tomori as the right-sided centre-back.
This is where Inzaghi made yet another smart in game change, telling his forwards to move across and target the right side of Milan's defence, especially given Dalot was now on at right-back and was expected to contribute to the attack. They targeted the right pockets of space, and the Rossoneri's non-existent midfield structure meant it was basically a training drill for Alberto with through balls.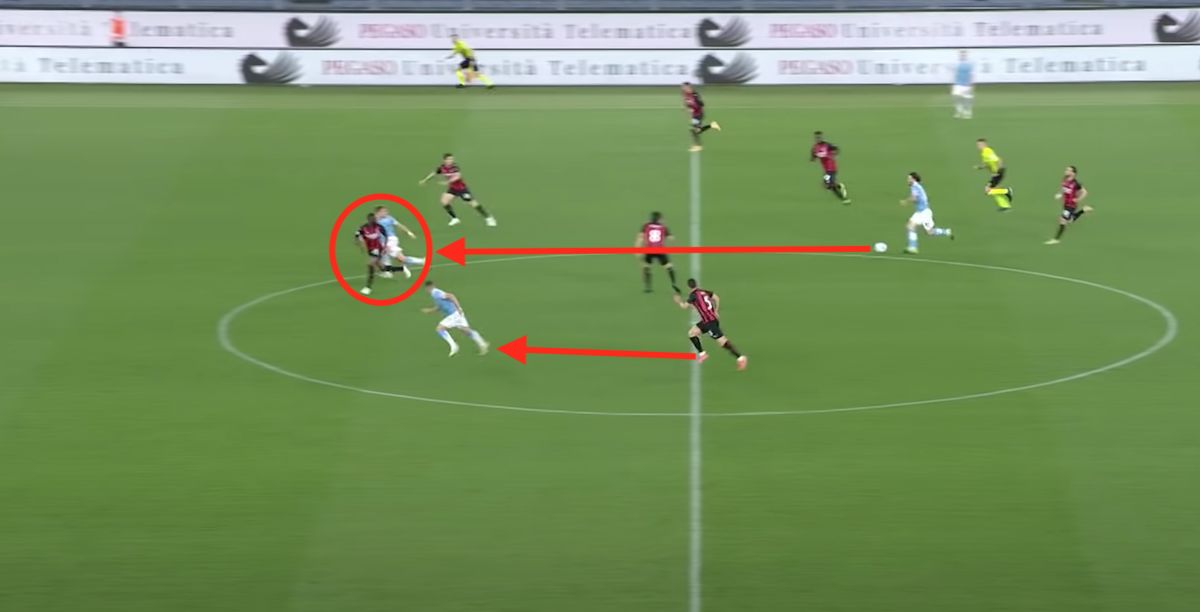 To adjust and avoid an embarrassment, Milan sit a bit deeper from there, but they go two deep allowing the home size to set up a wave of forwards between the lines. The situation seen below is well in control with the centre-backs well placed and even Theo covering well.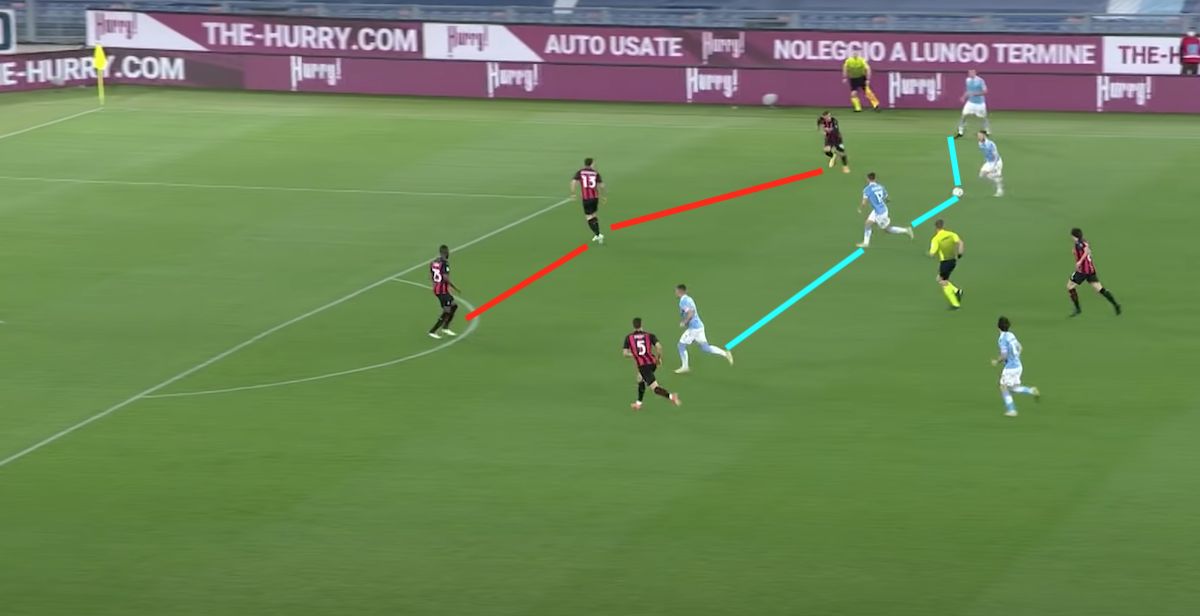 Again though a criminal error is committed as neither centre-back steps up to try and stop Immobile. You know, that bloke with 155 Serie A goals. Romagnoli – as he so often does – has his back turned and Tomori can clearly see the danger but has dropped too far back to keep the line of his partner.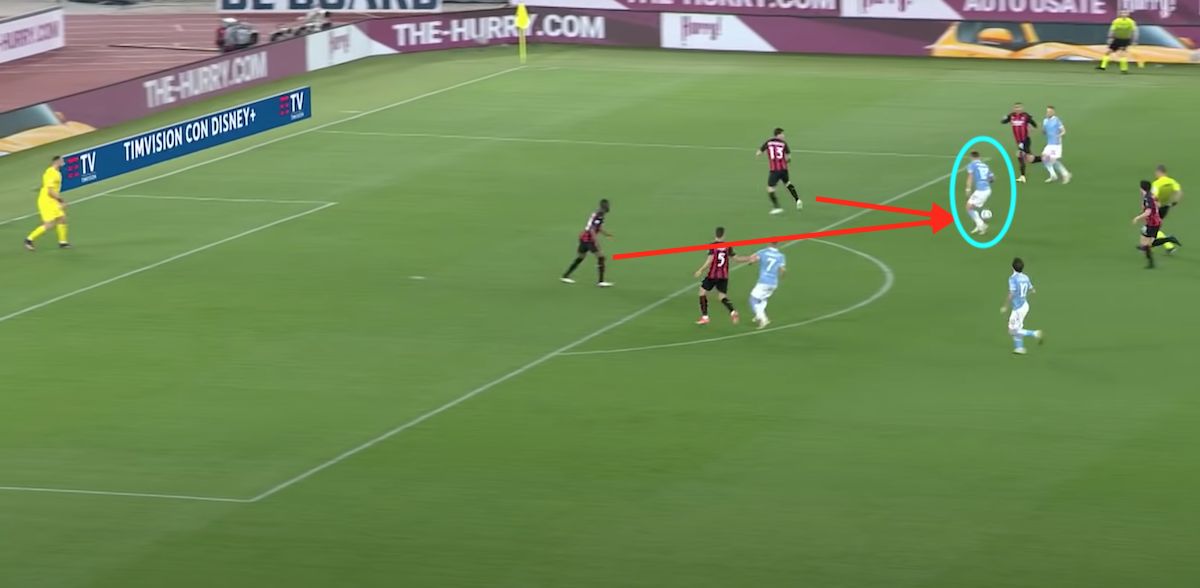 Immobile wanders into perfect shooting range and finishes Milan off with an expert low drive into the far corner. To be honest, all three goals were well placed and well taken, but there were a series of events that could have cut them out and kept the Rossoneri in the game for longer.

The data
The data available for the game certainly backs up the aforementioned observations. There is proof that Milan were playing a really high line in possession at 58.99m when in possession (compared to Lazio's at 46.84m) and off the ball Pioli's men were still over 13m higher up the field than the home side.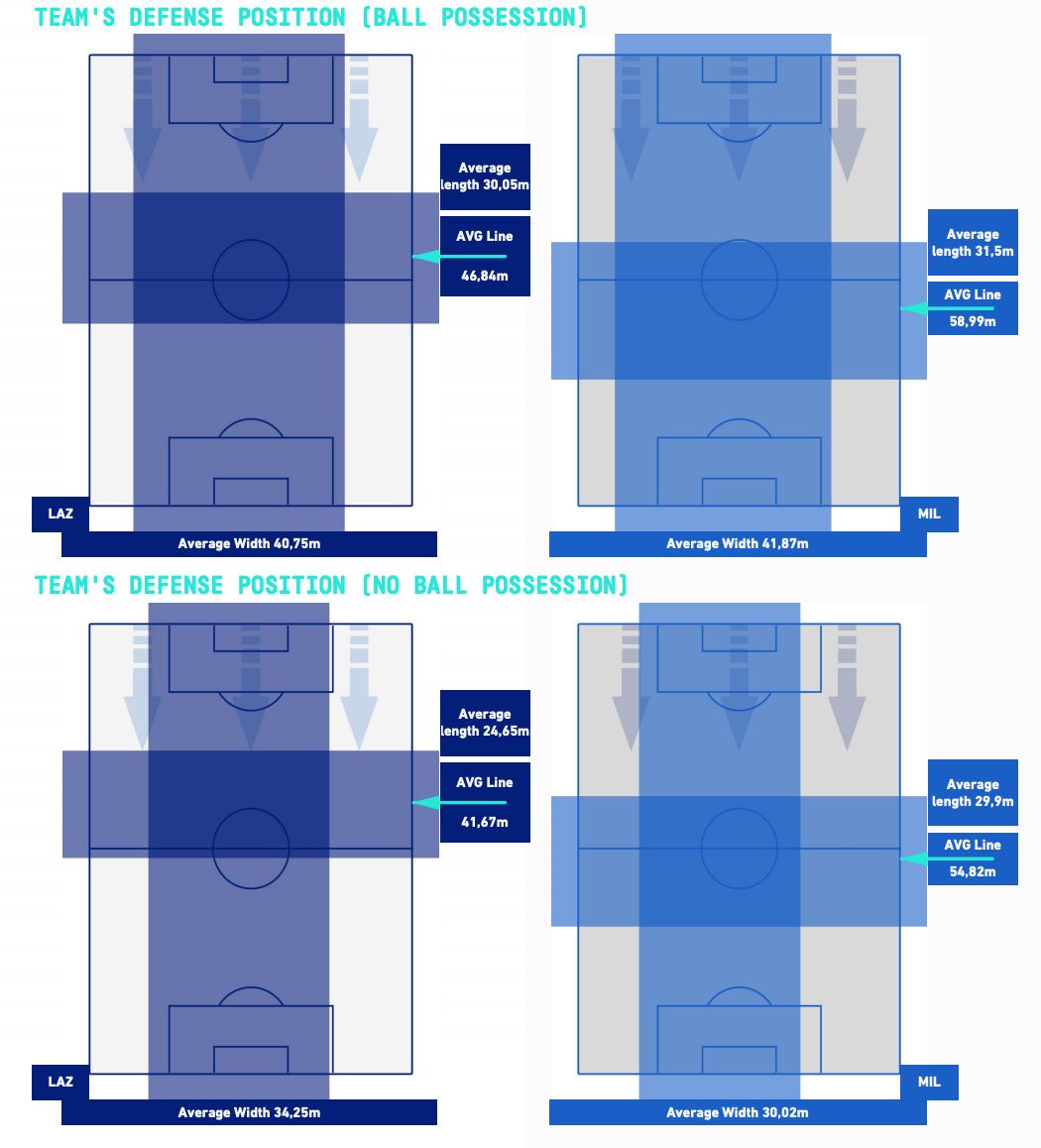 That is of course a testament to the differing approaches of the teams especially after Lazio's early goal. The higher length of line compared to the Biancocelesti too shows that the team were more spread and, therefore, disjointed as opposed to Inzaghi's compact unit.
The heat map for Milan (on the right) once again shows exactly how predictable Pioli's methods have become. Again there is virtually nothing down the right side while an over-dependance on attacking down the left has become way too easy to read for opponents. The contrast of the two heat maps shows the lack of balance – it simply must be addressed.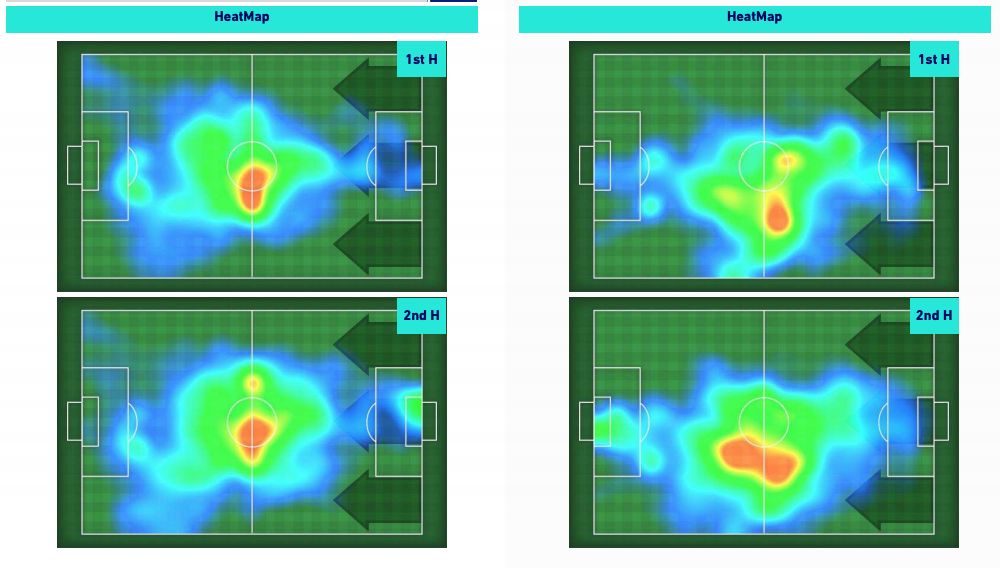 As if that wasn't glaring enough, the touch map – which splits the width of the pitch into quadrants – shows that the Diavolo had most of their touches down the inside left channel in every single area.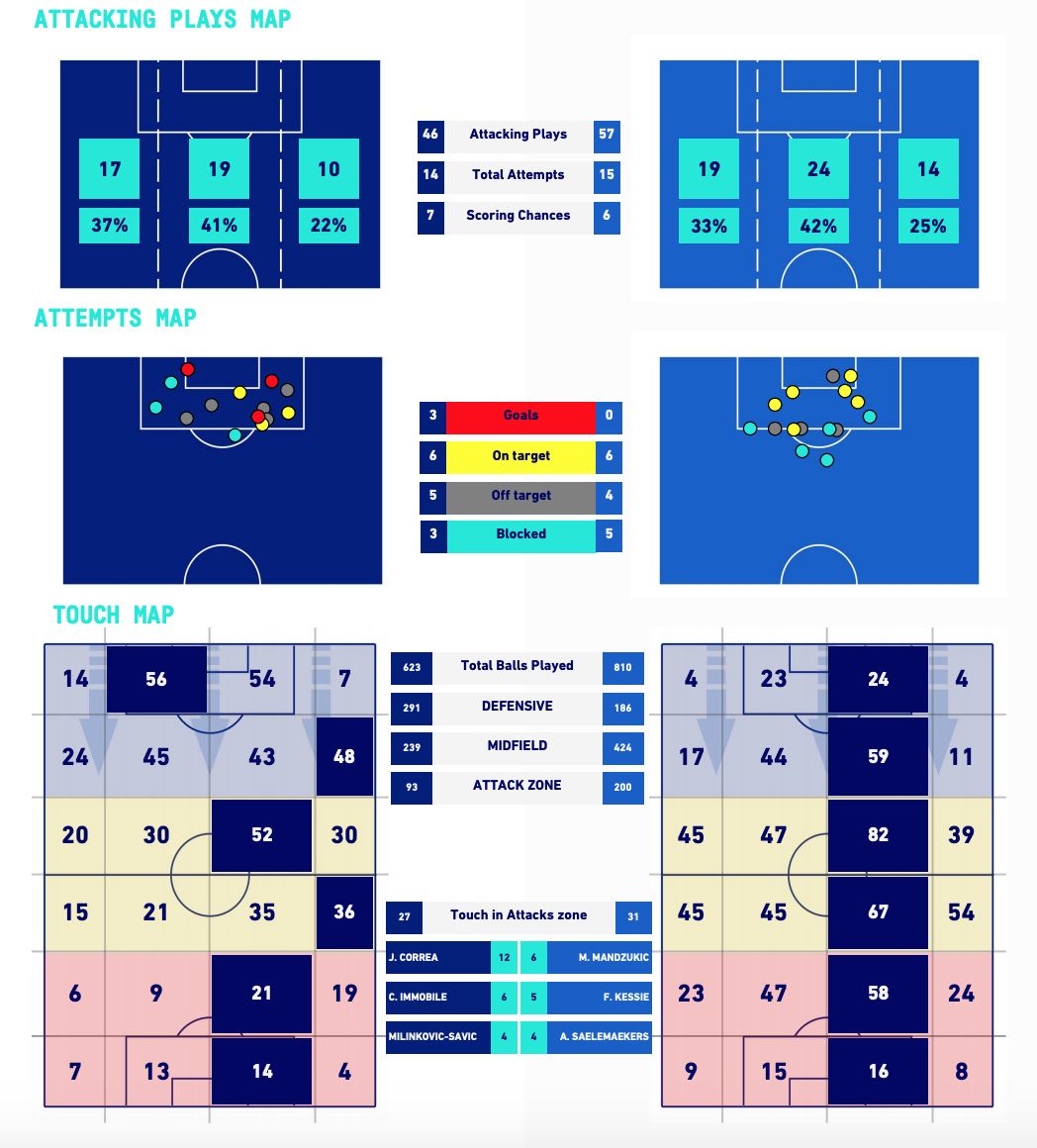 There is now so much for Pioli to work on that it is becoming like whack-a-mole. The team cannot keep out goals due to naive defending and sloppy errors, they cannot score due to predictable attacking patterns and wasteful forward players, and they no longer have the structure, cohesion and authority in midfield that used to be enough to carry them. So much to do, so little time.
---
READ MORE: Fresh dilemma faces management as full-back is set to return to Milan after loan