AC Milan striker Zlatan Ibrahimovic has hinted that he would be willing to carry on playing beyond the end of the season, but admitted the he is 'exhausted'.
Perhaps it goes without saying now that Zlatan Ibrahimovic is a vital component of this current AC Milan resurgence, something which truly kicked on when he arrived.
The Swede is still proving that he can be decisive as he has 10 goals from six league games, showing that even at the age of 39 he knows how to win and how to inspire his team-mates with dazzling performances.
Ibrahimovic spoke to 7Corriere – a subsidiary of il Corriere della Sera – about himself and about how much he simply loves the game of football.
Who are you?
"Zlatan Ibrahimovic, 39 years old".
Sure. We know a little. But who are you really? The kid from the Swedish suburbs or the planetary star?
"I'm still that boy born up there who carried his bag around the world and went on a great adventure."
Because you had fallen in love with the ball…
"In the football field we are all the same. In every corner of the world. You enter, you dribble, no one asks you where you come from, whose son you are, what opinions do you have, how much money you carry in your pocket. You are there, you try, that's enough. You know how to play? Go ahead, good. It's not like they can stop you."
Saying that, it seems like a perfect place…
"As an idea yes, among kids yes. And there are no social, cultural, geographical differences. One field, two goals, let's see who scores more. You can be in the courtyard or at San Siro: play is happiness."
Even now? Are you as happy as you used to be?
"You must, you must, you must be. We are happy and we need to make people happy. The joy of football takes us and infects everyone. Think of the stadiums: what a passion, what an explosion."
The stadiums have been closed for months, the pandemic has blocked fans from attending…
"And we suffer a lot. We have to carry a positive message, a little bit of trust."
A broken Milan, big name and big crisis, an almost 40-year-old champion who grabs a group of young players and raises them up…
"In the meantime, we have to start 2021 well. Then go on one game at a time, as if it were the first and last of life at the same time."
But is that possible, Ibra?
"Do I say this in another way? To want. What's more, being hungry: always, every day, every moment."
The hunger of the Malmö ghetto, always the same, in a world with blonde hair and blue eyes?
"Whatever I've done so far doesn't matter, every time I have to prove who I am."
The targets…
"Scudetto. The team must have the courage to dream. The team can and wants to do even more."
You have 45.8 million followers on Instagram…
"They aren't followers, but believers. People who believe in me. I am not looking for them, it is they who want me, there is a big difference."
Corriere colleagues Arianna Ravelli and Carlos Passerini, who know everything about Milan and football, say that this year you too were afraid…
"Are we talking about the epidemic, Covid?"
Yes, when you got it and missed a few games. Were you worried?
"Obviously. When it happened to me at first, I was pretty calm, almost intrigued, oh well, I want to see what this Covid is. It hit the whole world, a great tragedy, now it has come to me. I was at home waiting, let's see what happens."
So what? Explain, if you can, you have never told the details…
«Headache, not very strong but annoying, a tough thing. I've also lost some taste. And I was there all the time, at home, pissed off, I couldn't go out, I couldn't train well. Standing still is terrible."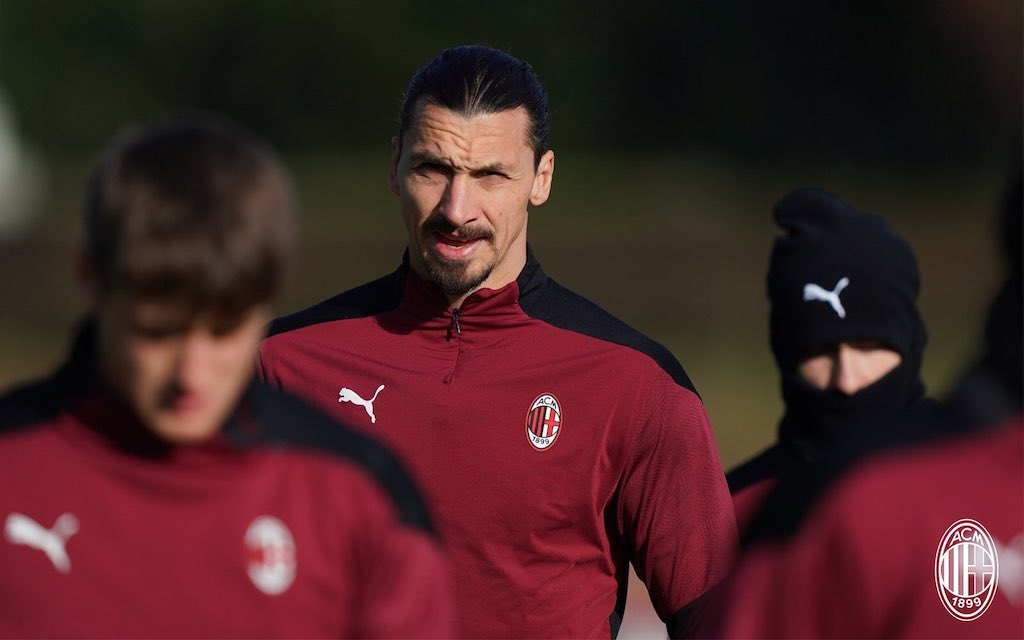 A caged lion, to quote yourself…
"At one point I was talking to the house and giving names to the walls. It becomes a mental fact. You stare at yourself and imagine all the evils on you, even those you don't have. A suffering for what you feel and for what you think you feel."
You also shot a commercial for the Lombardy Region…
"This virus is terrible and should not be challenged. Distances and masks, always."
Do you miss family?
"A lot. But really a lot. I'm exhausted, I can't take it anymore. I would like to stay with my wife and my children Maximilian and Vincent, who are 14 and 13 and live in Sweden."
And can't you go every now and then?
"But imagine, I tried. Pioli, the coach, replied that I can't move and that I also have a family in Milanello: he says that I have 2 boys there but here I am 25 and they need me."
Do you expect a lot from your children? The real ones, I say, not teammates. Pioli will forgive me…
"Discipline for them too. When they play football I don't judge them as a dad but as a footballer. And above all they don't have to do it for me. Do they have the joy of playing? Do they bring out the passion? Do they train seriously? And then it's okay."
Is it true that you go crazy if a teammate misses the pass?
"Yes, always, even in training. The problem is who doesn't get angry."
What if you make a mistake?
"I am never wrong".
Come on…
"Oh well, they will blame me, what's the problem? Maybe with a gesture, a little word, a look. Each player has his own way of getting angry. Better. He takes responsibility, he feels that everything is important."
On your philosophy, "talent without effort is wasted talent", nothing to say. It is sacrosanct…
"Talent is useful if you cultivate it. You have to work, work, work. It takes sacrifice. What are the 90 minutes of the game? Nothing, if you haven't trained every day and for many hours.
"The more I train, the better I feel. I tell myself and others: never give up. I'll explain it in another way: if you don't give up, you win."
And let's go back to the boy from Malmö, hat pulled down to his eyes and public buildings behind him. Southern Sweden, welfare periphery, the son of Yugoslav migrants, complicated childhood. Muslim father, born in Bosnia, and Catholic mother, who came from Croatia. What about your religion?
"The religion of respect for others. For all faiths, for all opinions. That's how I grew up and that's how I think now."
Are you comfortable here at Milanello, where do you train?
"Very well, I feel at home. I'm happy, they are pleasant days, people love you. Managers, coaches, teammates, communication, everything works here."
But is it true that you were given Berlusconi's room?
"Let's not exaggerate. But they treat me like a commander."
Are you saying you want to stay at Milan for life?
"I say I'm really fine, but we'll see. Life goes on and you don't know what happens. I don't have this gigantic ego to say that only I will decide: my family is more important than everything ».
And wouldn't you like to play the Champions League?
"Who wouldn't like it? If I can stay, I'll do it."
Will you always love Milano?
"Oh yeah. How well you live. Ten years ago it was not like this: I found it more joyful, lively, international. The pandemic has blocked almost everything but I say it is only a parenthesis. This city then starts again."
And Italy?
"I like pretty much everything. In all these years I have perhaps been more here than in Sweden. It is precisely the philosophy of the country, the lifestyle, that takes me: it is also nice to go by car and see the landscapes that flow by. What about body language? You understand people even when they say nothing."