AC Milan managed to rack up another win on the road against Parma, emerging 3-1 in what ended up being anything but a straightforward game.
It looked as though Milan would coast to victory with a 2-0 half-time lead thanks to goals from Ante Rebic and Franck Kessie, but Zlatan Ibrahimovic's red card around the hour mark changed the dynamic of the game.
The hosts pulled a goal back and piled the pressure on in search of an equaliser, though in the end it was Rafael Leao who sealed the victory after an excellent run on the counter from Diogo Dalot as the Rossoneri moved on to 40 away points for the season.
Below is a tactical analysis of the win at the Stadio Ennio Tardini, including an important change from Pioli…
The line-up
As we know, Milan started out with almost their best eleven available after a long time, with only Davide Calabria and Alessio Romagnoli absent. Parma – following the sacking of Liverani – brought back D'Aversa to save the club from relegation in January, but the results have not improved.
Milan looked to get back to winning ways against Parma after a disappointing draw against Sampdoria. One of the main threats for Parma was Gervinho and his marking assignment was given to Kalulu.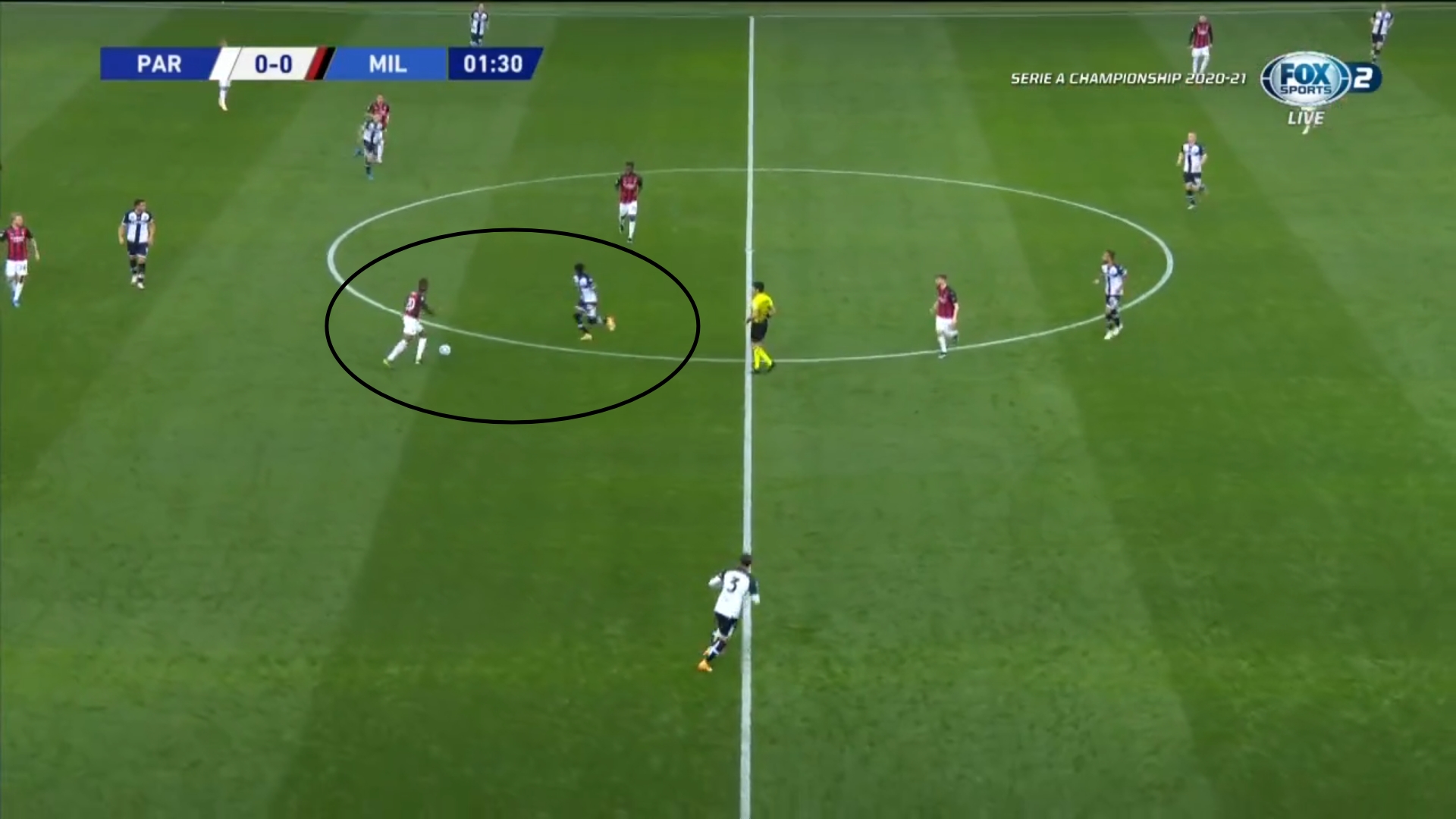 Milan looked to play out from the back once again. Donnarumma may have a renewal saga hanging over his head, but he is one of the most improved players in the team. Look at the way he moves forward acting almost as a third centre-back to allow Simon Kjaer and Fikayo Tomori to split and switch play to escape the press.
Without wanting to downplay Sandro Tonali's ability, Milan missed Ismael Bennacer a lot. You can see the Algerian directing play to Donnarumma to help Milan break the press of Parma forwards.
Parma's approach
Parma started out with a 4-3-3 formation but on the ball they shifted to a 3-4-1-2 formation, with Kurtic sitting back as the third centre-back allowing the wide full-backs to push up.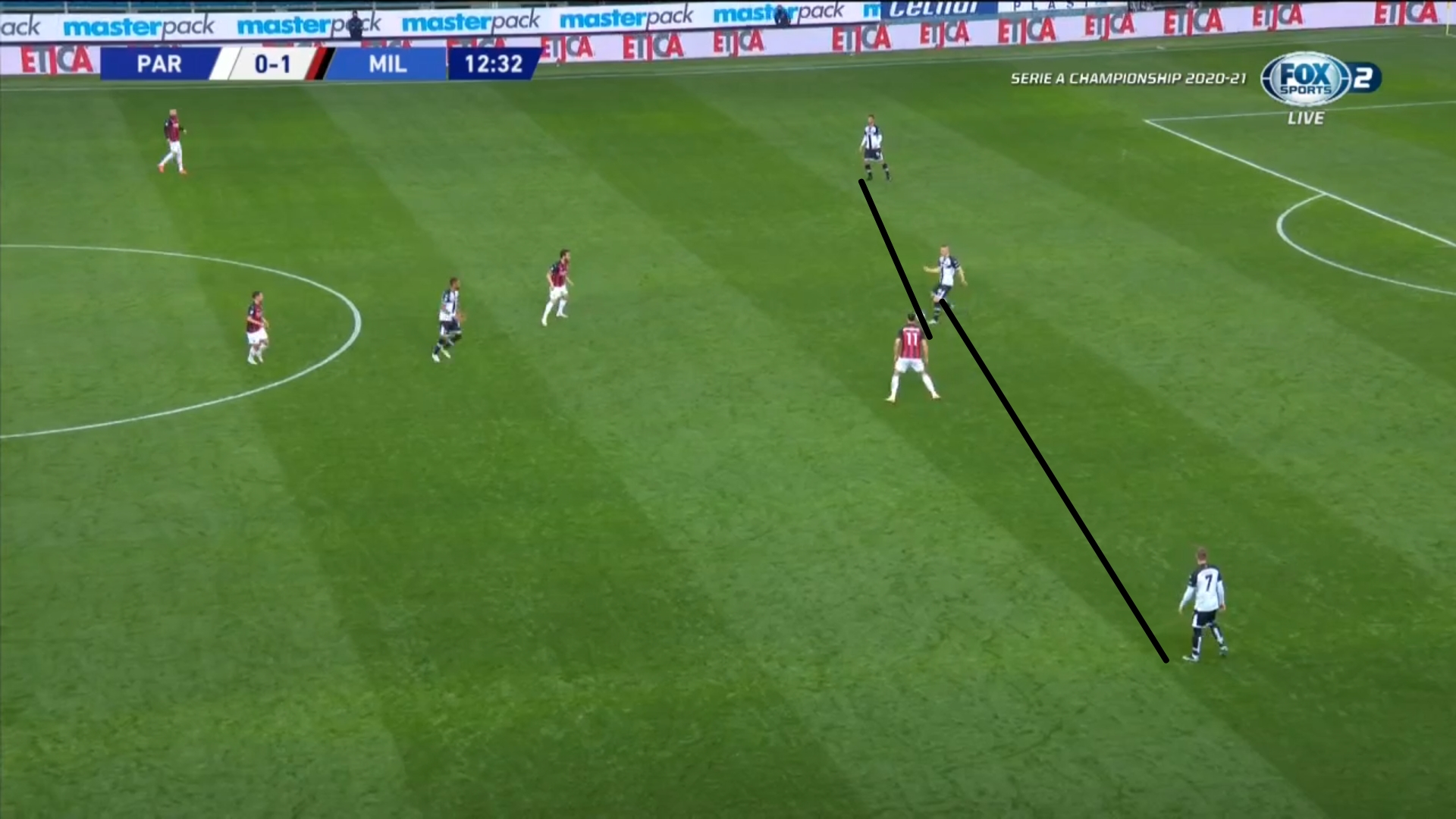 Gervinho then would tuck inside and play behind Pelle and Kucka.
With Milan playing a narrow defence the main tactic of Parma was to play it out wide to Andrea Conti and have him cross the ball for Graziano Pelle or Juraj Kucka to head it.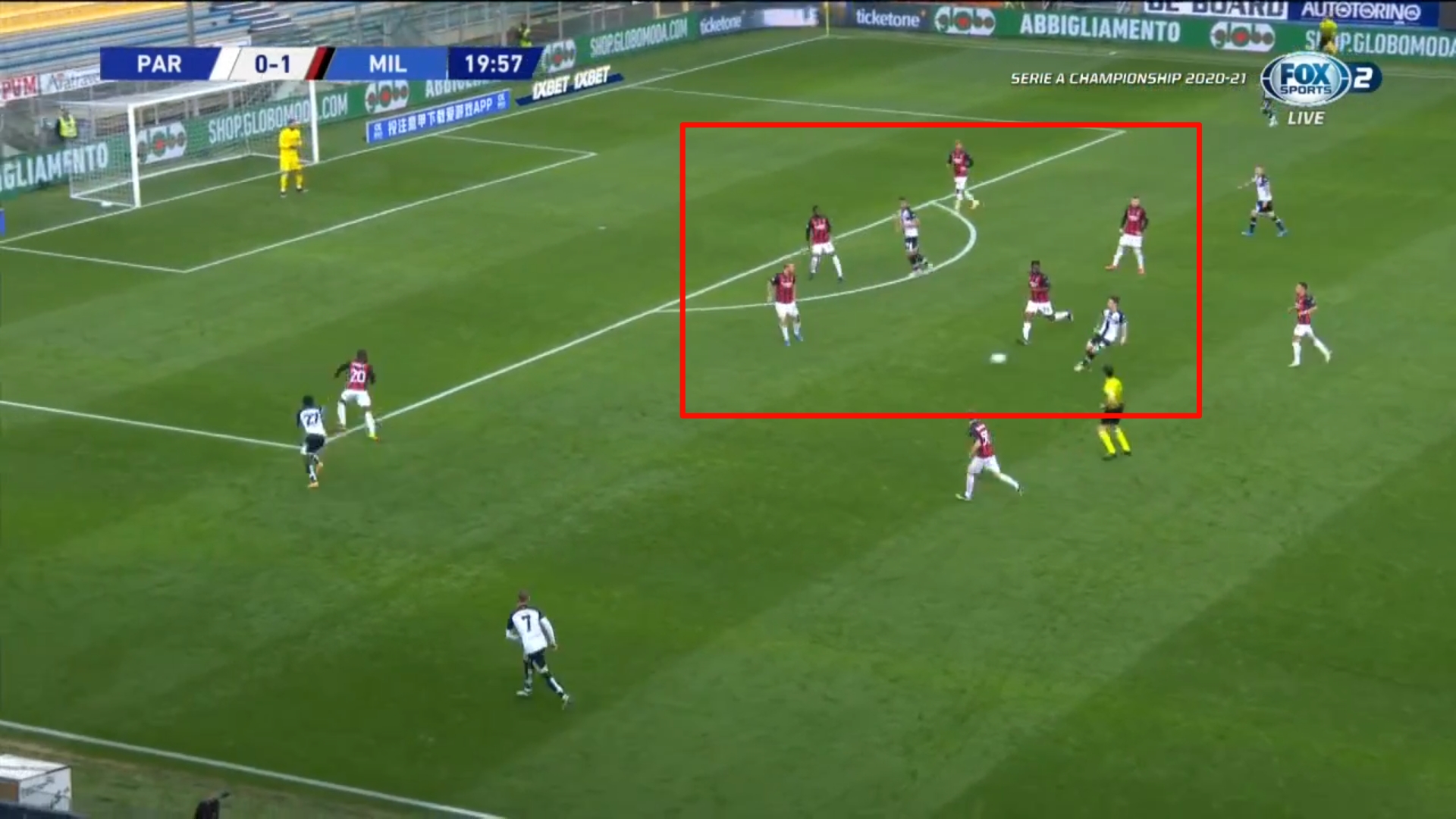 Milan's build-up and pressing
One of the main ways of breaking down a resolute defence is quick one-touch passing. Theo Hernadez and Zlatan Ibrahimovic did exactly that to open up Parma's defence for the second goal, with Zlatan taking out two players with his quick thinking and execution.
After the break Parma shifted to a 4-4-2 with Pelle and Cornelius put up front to exploit Milan's aerial weaknesses with more crosses.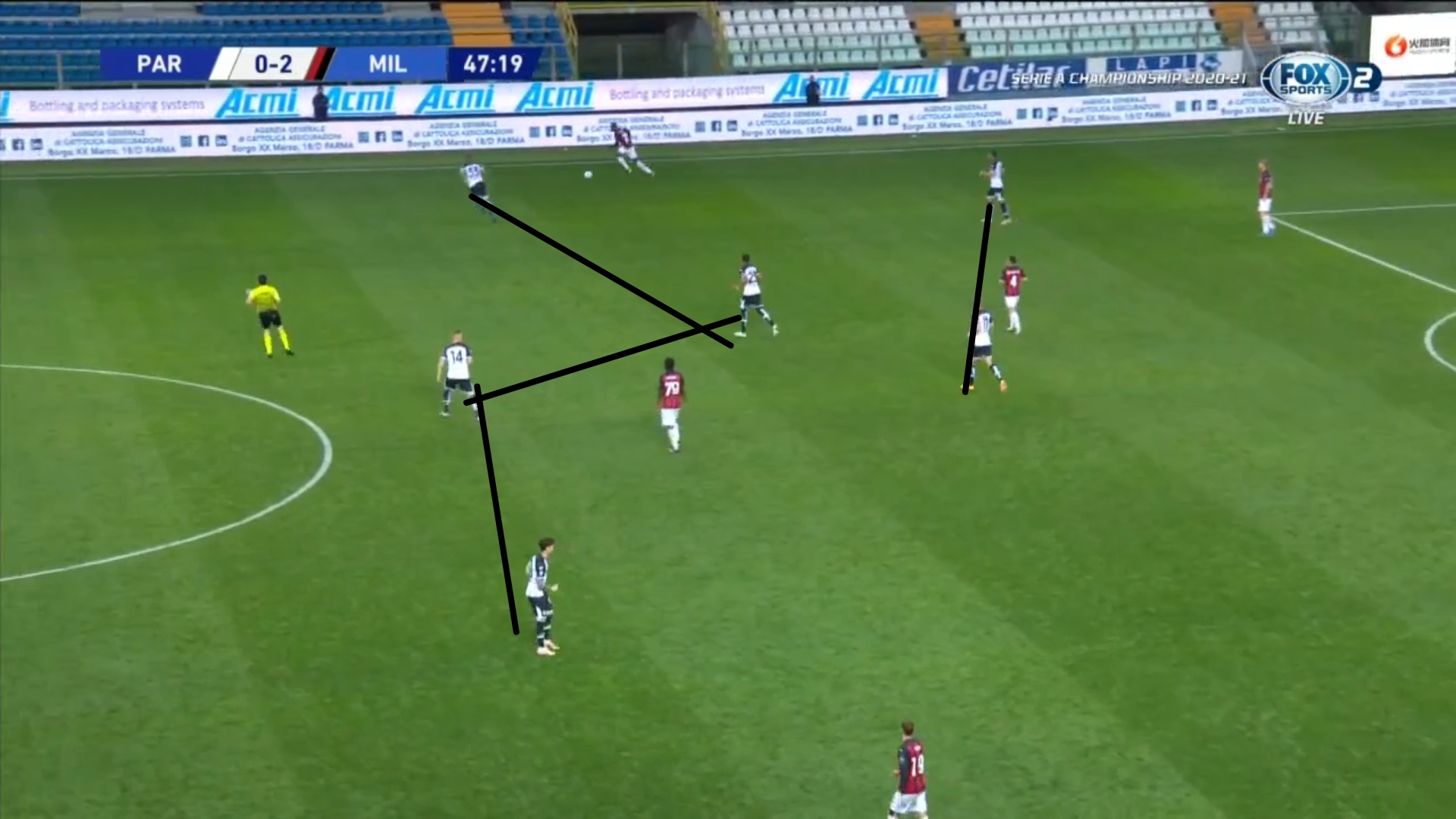 Milan's pressing was also better with players having more time to rest and recover from the international break.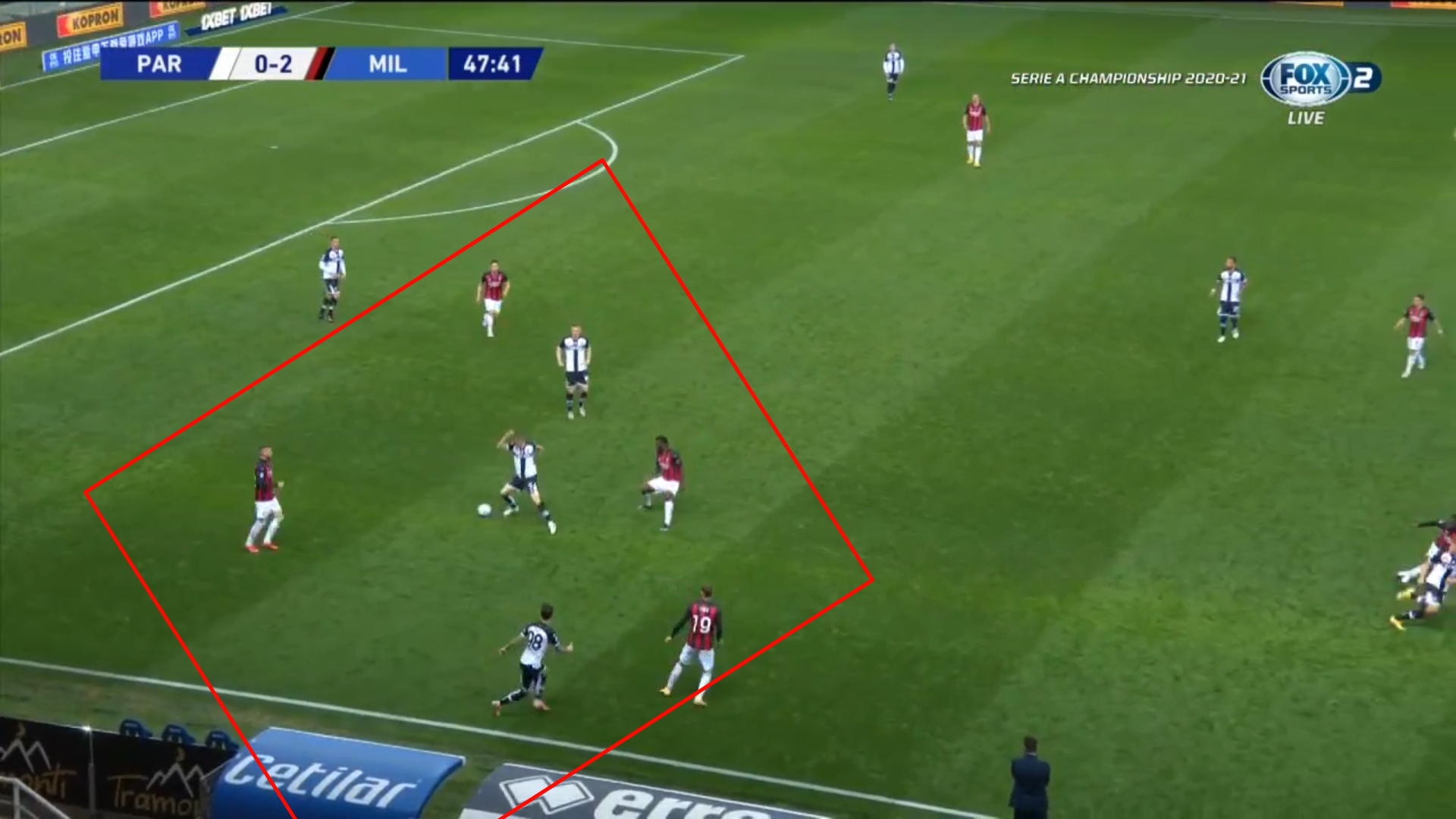 One of the methods of breaking out of a press was to form passing triangles and Milan managed to play out of the press quite easily.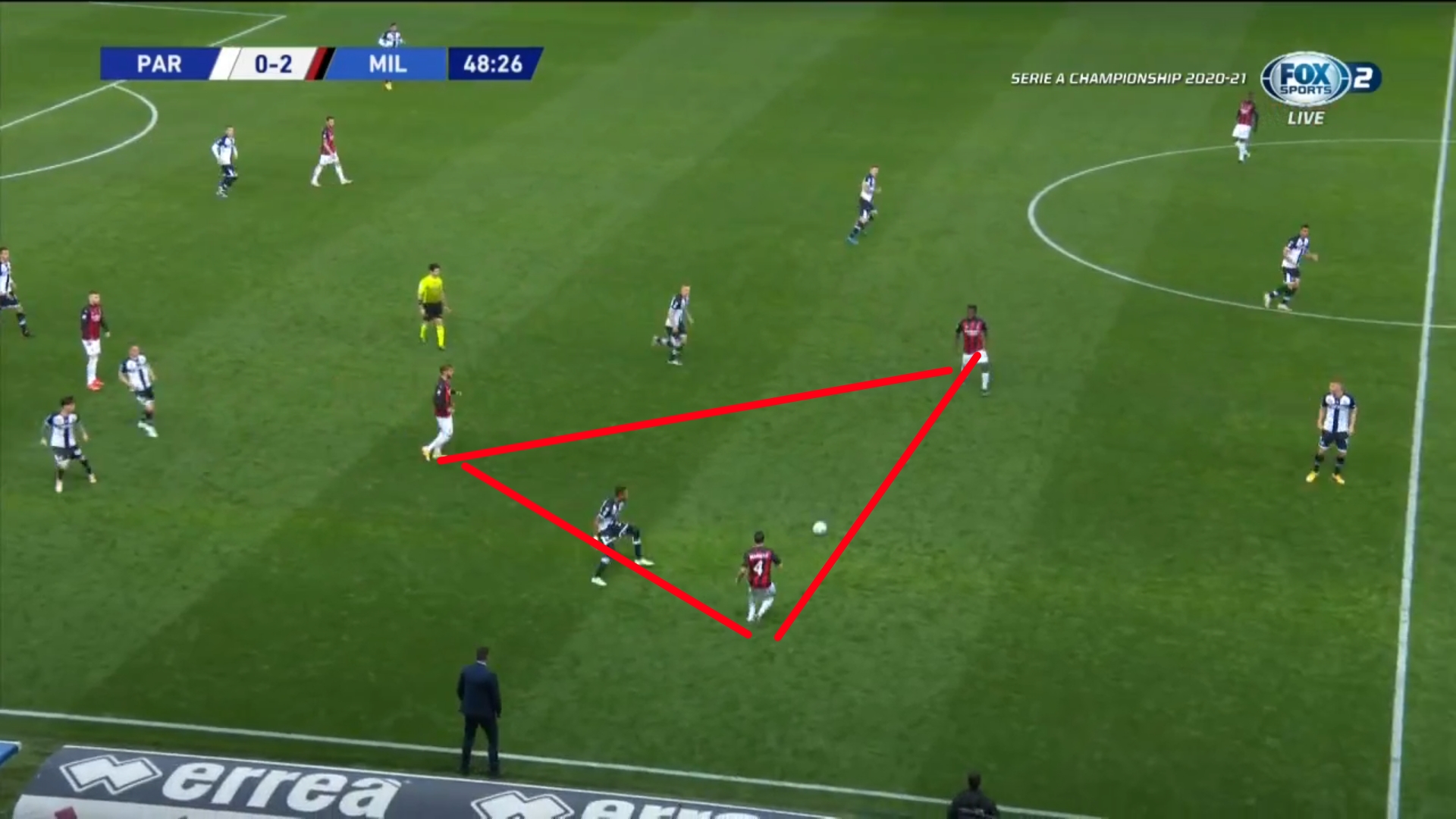 After the red
Once Milan got the red card and Parma had a man extra, they began to overload Milan at the back post to take advantage of the narrow defence.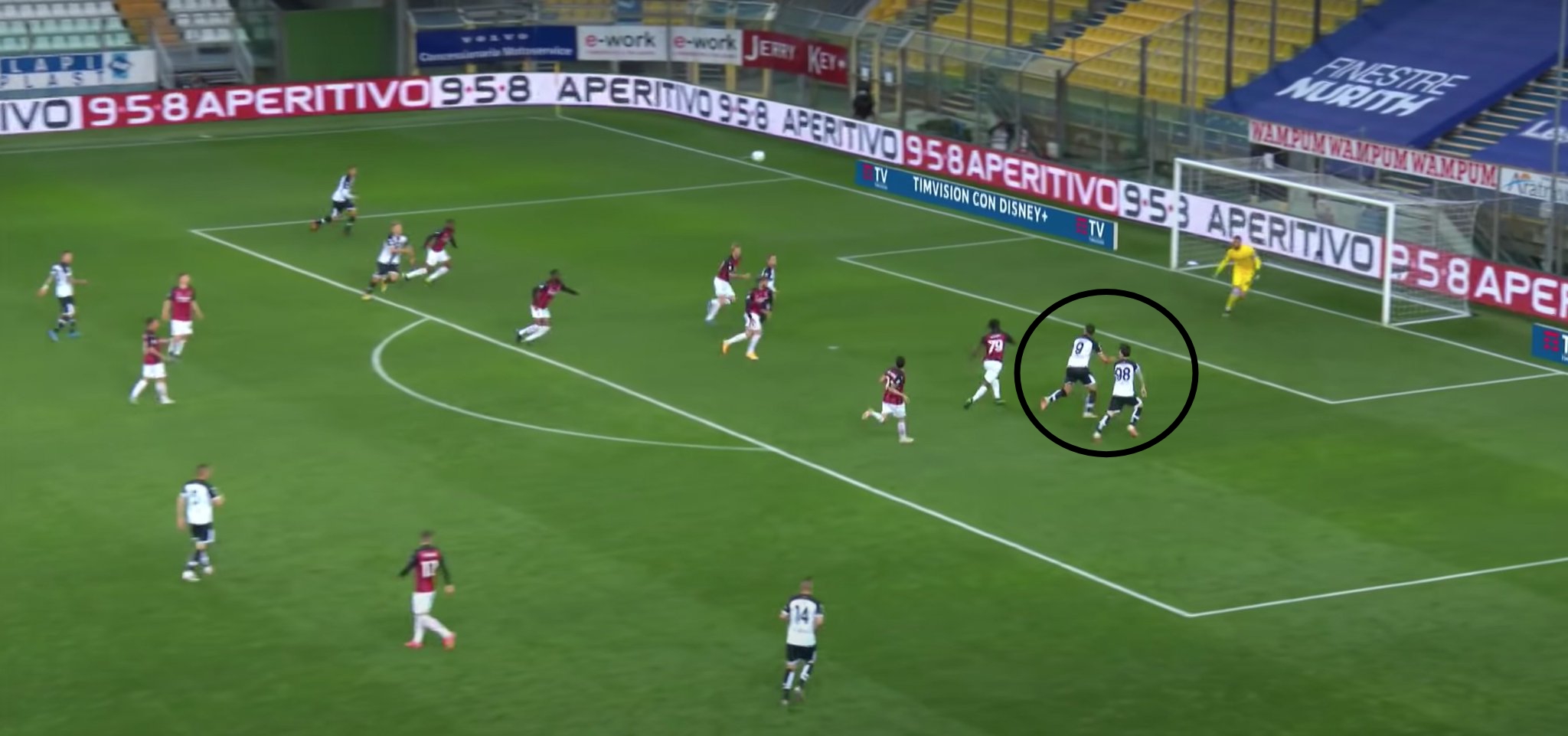 Pioli then brought in Diogo Dalot and Matteo Gabbia to shift to a back five and spread the defence. Once Milan had five-at-the-back and spread out Kjaer marked Pelle and Tomori marked Cornelius. Milan shifted to a 3-5-1 to protect their lead.
The change in approach from Milan in the first half and the second half can be seen in how far we behind the defensive line went.
The change in approach from Milan in the first half and the second half can be seen in how far back the defensive line went.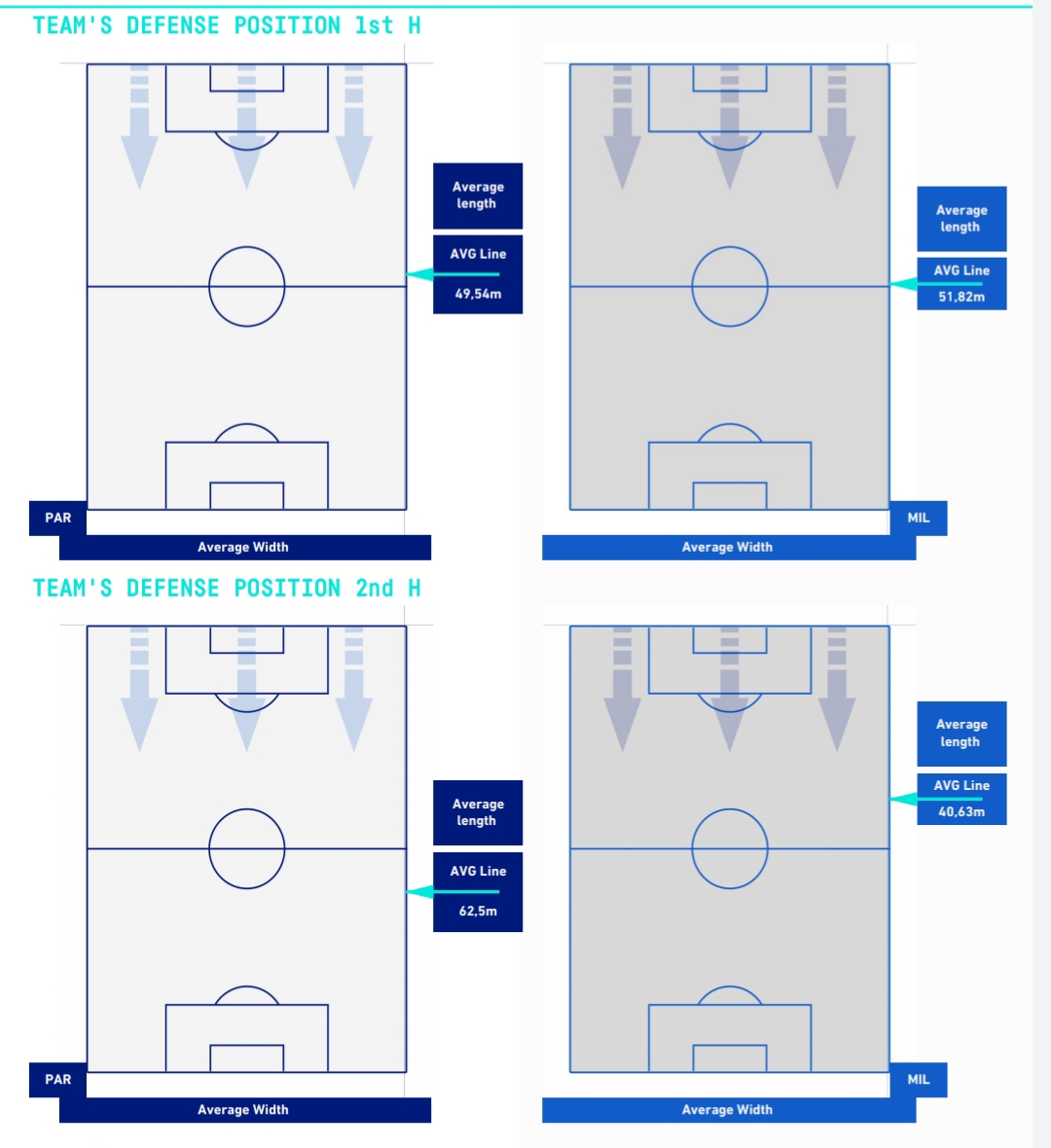 Problems encountered
Hakan Calhanoglu was pressed quite intelligently by Parma making him a lone wanderer in the side. He was forced by the home side's defence to retreat to Milan's midfield instead of playing in an advanced role, where he can hurt teams.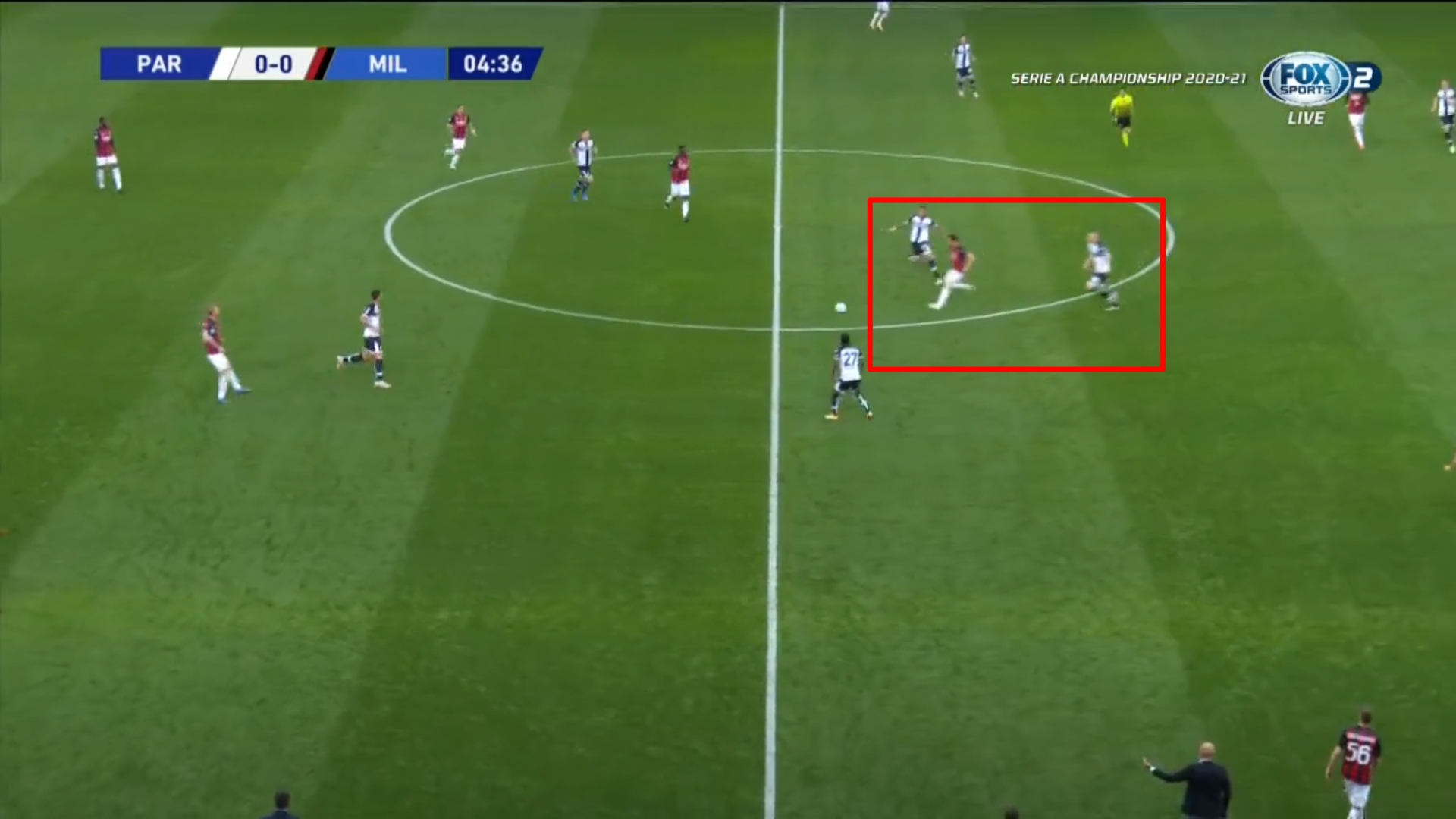 What this meant was that Zlatan Ibrahimovic had to drop out of his centre-forward role and act as a playmaker, and not for the first team. Consequently, when Milan advanced play and had to cross the ball there was nobody to aim at in the box when the Swede was busy playing as an attacking midfielder.