AC Milan wrapped up their fourth addition of the summer on Sunday morning as they confirmed the signing of Ismael Bennacer.
The young Algerian midfielder has arrived on a deal believed to be worth €16million plus €2m in potential bonuses, seemingly a bargain capture given the inflated nature of today's market.
The midfielder started in the AFCON final, playing an important role in Algeria's 1-0 win over Senegal and going on to be named as the Player of the Tournament.
Now, however, he's preparing for a new adventure in his career, set to sign a five-year deal with the Rossoneri. 
Despite his recent rise, he is still considered by many to be an unknown quantity, so we have attempted to lift the lid on what to expect from Bennacer here…
Back story
Bennacer was born in Arles, France, on December 1 of 1997 and joined up his local side – the now defunct Athlétic Club Arles-Avignon – at the age of just six.
He graduated up through the youth system with Arles before eventually making his debut as a 17-year-old in the first round of the Coupe de France, where he netted on debut against Parisian side Red Star.
He would go on to make just six appearances in Ligue 1 before being snapped up by Premier League giants Arsenal for an arbitrary fee of just £270k (as per transfermarkt) in summer 2015.
It was also around this time when the midfielder started to gain international recognition, as he made his debut for France's U18 side in 2015 before moving up to the U19s over the next 12 months.
Bennacer would spend the next season-and-a-half playing for the Gunners in the Premier League 2, where he racked up a combined 24 appearances – scoring one goal and adding two assists.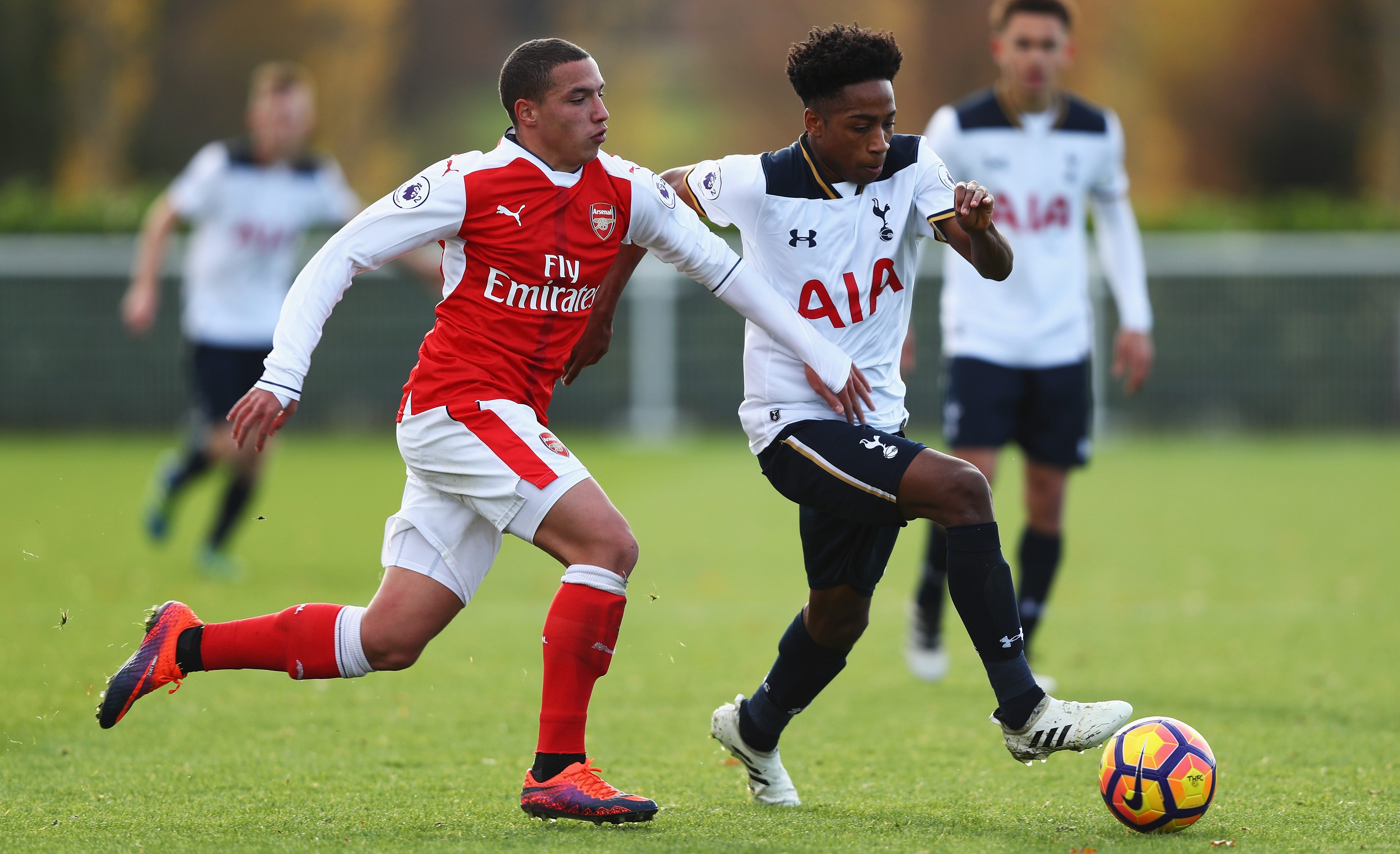 In that period though he made his senior Arsenal debut in the League Cup fourth round away at Sheffield Wednesday in October 2015, a game with the north London side would go on to lose 3-0.
On 31 July 2016, the Algerian Football Federation announced that Bennacer had opted to switch his international allegiance and represent them instead of France. 
He instantly slotted into the fold with the North African side, making his debut not long after that announcement and going on to play 17 times for his country up to present day.
In order to aid his development, Bennacer was sent out on loan to Ligue 2 side Tours in January 2017 for the remainder of the season.
He impressed during his 16-game spell with the French outfit, amassing a goal and two assists, and that prompted Empoli to take a punt by signing him for roughly €1million that summer.
In Serie B at the time, Ismael adapted quickly to life in Tuscany and played a huge part in the side that helped them secure a return to the top flight, scoring twice and adding four assists in 39 appearances.
That brings us up to last season, where Bennacer also showed his ability to adapt to the top flight as he put together an impressive campaign, but Empoli once again suffered relegation to the second tier.
Playing style
The importance of having somebody to play to pivot role as a deep-lying playmaker in Marco Giampaolo's 4-3-1-2 system cannot be understated.
After initially being linked with a big-money move for Lucas Torreira – but ultimately being priced out – the Rossoneri were right to turn their attentions to someone of a similar mould and who can occupy the exact same position.
A left-footed player, Bennacer proved himself to be essentially the sole engine of the Empoli midfield last season, displaying a number of qualities to suggest Milan fans should be excited by his arrival.
A tenacious and combative midfielder, the 21-year-old will absolutely fulfil his defensive responsibilities and requirements in the same way that Torreira might: by being a warrior that is incredibly difficult to both get past and shake off the ball.
Although diminutive, Bennacer makes his presence known on the field through a combination of his energetic and aggressive style plus his speed, vision and intelligence on the ball.
It is perhaps his intelligence both on and off the ball, with back to goal or charging forward, that is his greatest asset. It is rare to see such good decision making qualities in a player so young, and that is why he could be the ideal fit for the 4-3-1-2 system.
Milan have been searching for a player who is able to recover and win balls back and then use it wisely to spring counter-attacks – but also be someone who will drop in, provide an option for the two central defenders, be able to turn quickly and spring attacks that way.
Ismael Bennacer is exactly that, and that is why the management have pursued him so aggressively amid interest from Napoli and Fiorentina this summer.
Statistical comparison
The fairest comparison at this stage is one with Lucas Biglia, who appears to be the current holder of the deep-lying playmaker position as indicated by Giampaolo both in training and in the friendly on Friday against Novara.
It is widely expected that Bennacer will take that position from the Argentine immediately, especially given his own uncertain future at the club, so let's see how their numbers from last season stack up.
Bennacer racked up over 1,800 more minutes than his new team-mates, so the best indicator here will be per/90 metrics.
Biglia wins on passing percentage with an impressive completion rate of 90.4% to Bennacer's 86.4%, however the latter comes out on top in aerial duels, winning 0.9 per game compared to just 0.6 for Biglia.
The 33-year-old had comfortably more tackles per game than his counterpart last season (3.8 to 2.6) as well as clearances (1.3 to 0.8), but Bennacer had more interceptions (1.5 to 1.4), gave away less fouls (1.2 to 1.3) and was dribbled past less (1.2 to 1.6).
They came out even at 0.2 blocks per game, while in the offensive department the Algerian is victorious in a lot of the categories.
Bennacer averages more shots per 90 minutes (0.5 to 0.4), had more key passes (0.9 to 0.8), completed more dribbles (1.8 to 0.2) and was fouled more (1.6 to 1).
Biglia was dispossessed less, but that is essentially the only area where he comes out on top. He also averages slightly more in terms of completed passes per game (51.9 to 51.4), but Bennacer completed comfortably more crosses, long balls and through balls, which arguably demonstrated his greater variety.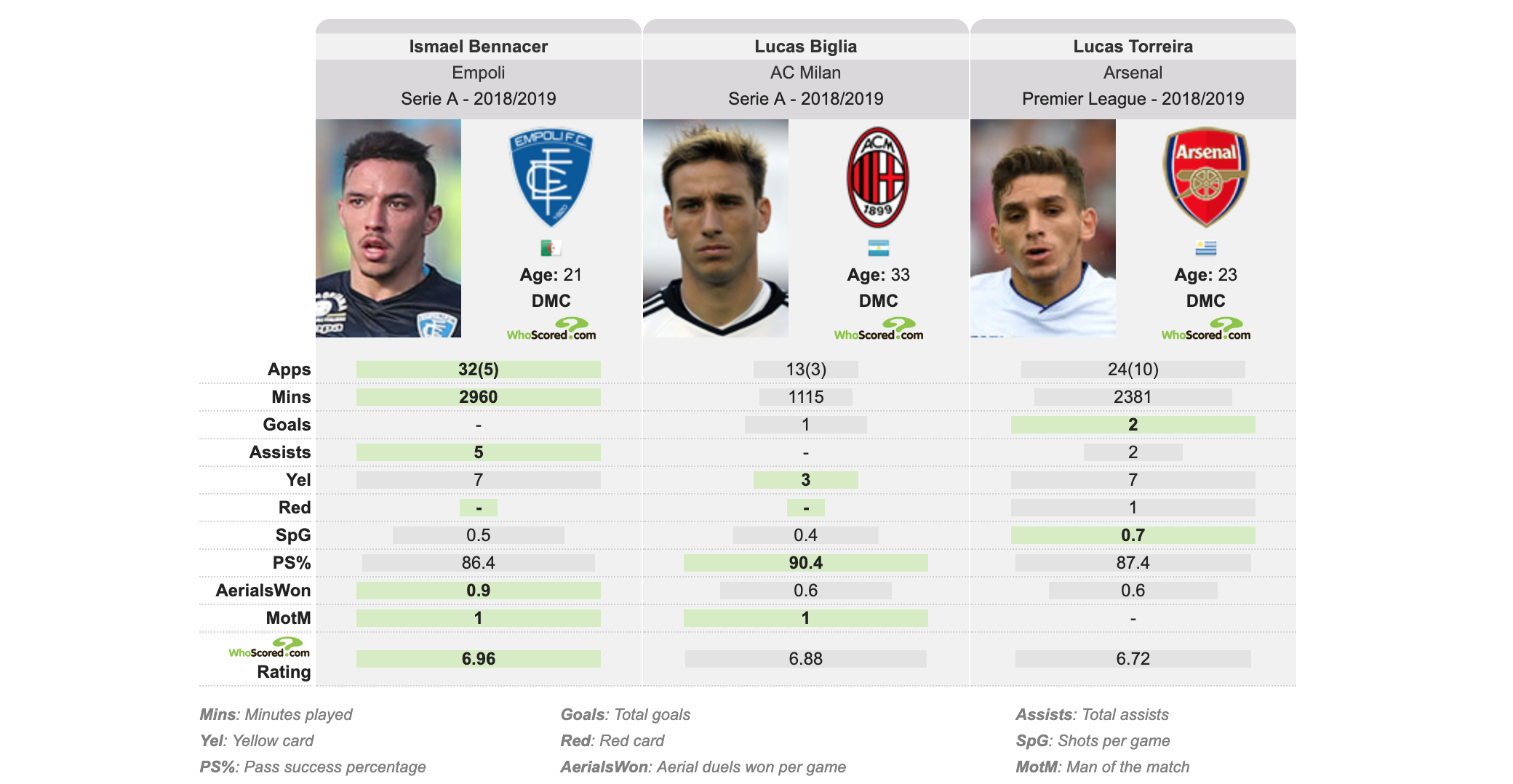 Deal or no deal?
This one is quite simply a no-brainer. As mentioned at the start of the piece, players of this quality and with so much potential are very rarely available for €16million, and this could very easily be looked back on as an absolute masterstroke by Maldini and co.
Bennacer was one of the big standouts in a poor side last season (the other one being Krunic, who Milan have also signed) and his tournament at the African Cup of Nations over the last month has proven just how good the timing of this deal may have been.
It is no coincidence that Napoli were reportedly sniffing around and Arsenal were considering using their buy-back option on the 21-year-old, but the amazing thing about this deal is that it seems the player has always had eyes for Milan.
He fixes a key issue and should slot straight into the starting XI, and he now has a good amount of time to get accustomed to the coach, the formation and his new team-mates before the season starts in a month.
Benvenuti a Milano, Ismael!
Transfer rating: 8/10