The enforcer's job is too often a thankless one. A combative defensive midfielder that does their job excellently is near-certainly vilified by the football community at large.
At first glance, the hate is properly directed. A player whose role is to be as aggressive of a defensive presence as possible, to the point of getting themselves deliberately cautioned or even potentially injuring a player, after all, can't possibly be liked by most fans. If they are, it stands to reason that the enforcer in question isn't performing their duties at a suitably high level.
Players like Roy Keane, Stuart Pearce, and Milan's own Gennaro "Rino" Gattuso have all seen out their careers in the role of an enforcer, receiving more than their fair share of hate.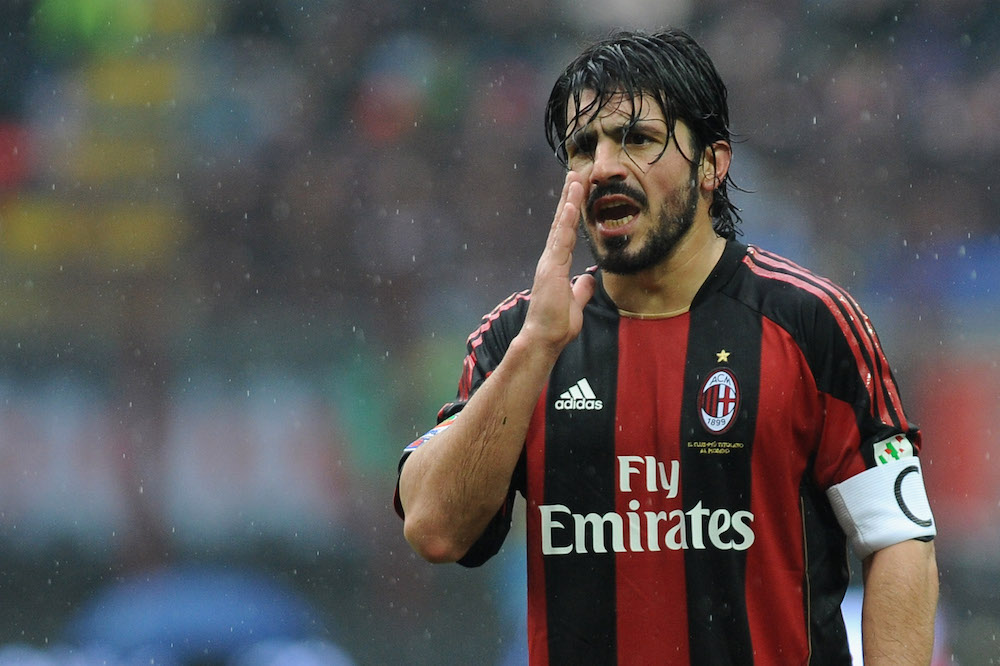 For several years before his departure in the past winter to MLS side LA Galaxy, Nigel De Jong filled the niche of enforcer at Milan that sat unoccupied following Gattuso's retirement. The Dutchman's knack for the position has made him one of contemporary football's most loathed players, with hundreds of articles and thousands of social media posts made regarding his combative and dangerous nature.
Despite the constant stream of negativity, De Jong has remained firm in keeping his "brutal" approach to the defensive midfield position. In an interview with LA Galaxy podcast Corner of the Galaxy, De Jong spoke about his playing style after hacking down Darlington Nagbe in a match against the Portland Timbers this season.
"If I adjust my game, then I can't be the player that I am so I don't back down for nothing. I've just got to deal with it. … You just have to be the player that you can be."
The Dutchman did the dirty work for two seasons with Milan, and in both of those seasons he was by far the team's best player. Without De Jong doing the work of three to four players every match for two years, Milan could have seen themselves finish in an even worse spot than they already did in the two seasons De Jong prominently featured in.
After he was effectively kicked out of the Milan squad in the beginning of the 2015/16 season by incumbent coach Sinisa Mihajlovic, the rossoneri were left without the massive presence of their "pitbull" (as De Jong is affectionately known). As a result the midfield, already devoid of creativity, lost a great deal of its hard edge as well.
While Milan still do not have a direct replacement for the now-departed midfielder, the club does hold the contract of a player that, with a little guidance, can fill the huge shoes of De Jong and Gattuso. His name is Juraj Kucka.
Kucka was born in Slovakia and played for MFK Ruzomberok and Czech club Sparta Praha before making the move to Serie A's Genoa in 2011. Over his four Grifoni years, the Slovakian established himself as a tough midfielder with a penchant for rough tackles and aggression towards opponents.
Available for cheap in the summer of 2015, Kucka was snapped up by Mihajlovic as the Serbian coach embarked on a series of purchases aimed at strengthening Milan for a top three push. This end goal never realised itself, in part thanks to the incompetence of players like Andrea Bertolacci and dramatic failings of the team's left backs.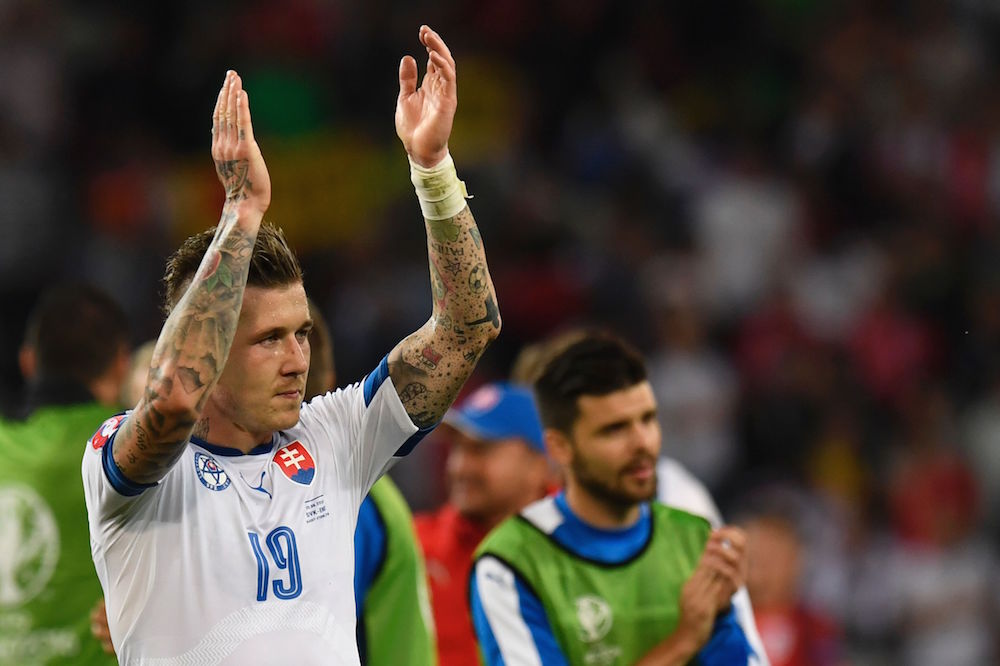 Kucka, the least expensive of Milan's major purchases from that summer, stands today as perhaps the club's most important. He took over the combative role from De Jong during his debut Milan campaign, though slotting in as a central midfielder rather than a defensive one.
His willingness to do the dirty work left him with 11 yellow cards at the conclusion of the season, joint-fourth most in Serie A. His hard-and-fast style made him instrumental in controlling opposition attacks, with Kucka saving Milan from a goal-bound opportunity at least once a match. Mihajlovic himself said of Kucka:
"Kucka…is great because he is like a tank, he's very hard to challenge and goes into every tackle"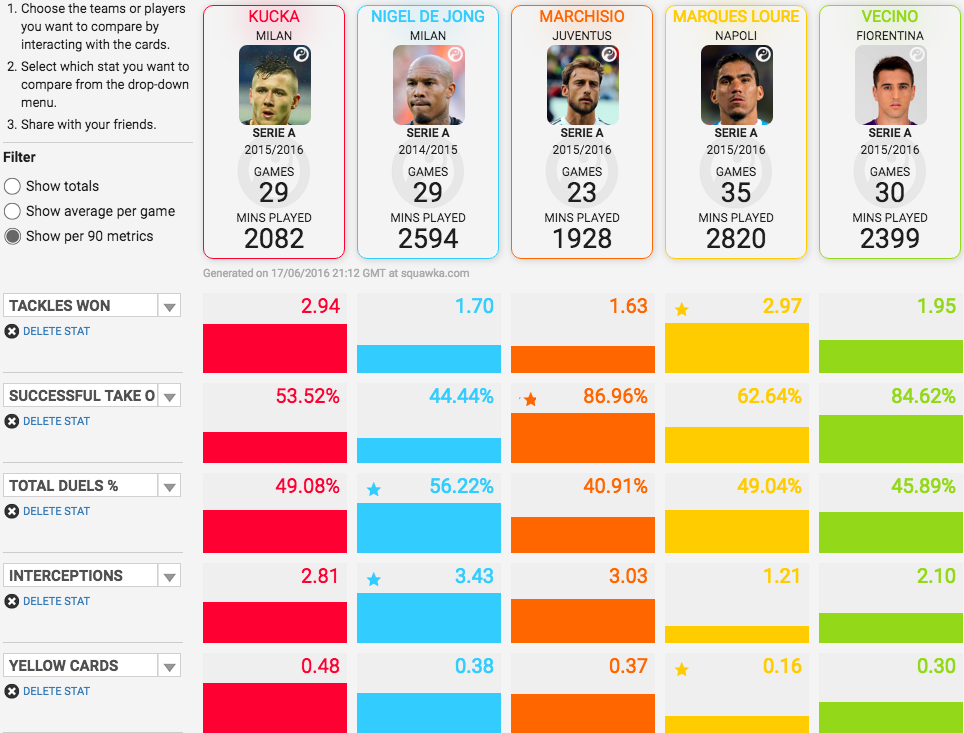 Despite the deserved comparisons to Nigel De Jong, Kucka still has a lot to do before he can call himself the Dutchman's equal.
One crucial aspect the Slovakian must improve on is his passing. Though 75% completion is not a bad return for a forward, for a defensive-minded midfielder that mainly plays short, accurate passes, it is much too low. He must be able to send passes from won balls to his teammates with better than 3/4s accuracy.
Kucka must also learn restraint when pushing forward. He does have the ability to dribble around players, but it comes at a cost of being dispossessed on average 1.8 times per match, placing the 29-year-old in the top 7% of dispossessed players in Serie A.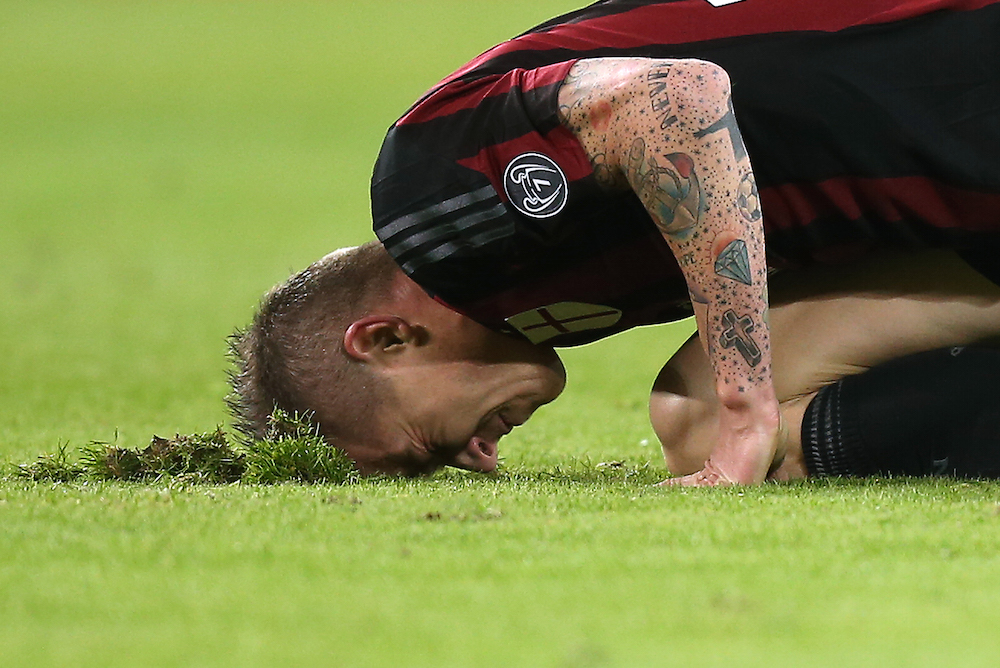 As is the case with his pass completion, Kucka has to be able to hang on to the ball better, or he risks not only compromising himself, but also wasting all the effort it took to win the ball in the first place.
At 29, Kucka is not getting any younger, meaning it may come time that he transitions to the full defensive midfielder position, occupying the territory where De Jong stood previously. The Slovakians quickness will fall, his footwork falter.
However, his love of the tackle and enforcer mentality will persist, and these are the traits Milan's powerhouse must exploit if he intends to make himself a crucial piece in Milan's midfield. He has the tools, the prototype (De Jong), and the time. It's up to Kucka to put them to use.