Milan went to Turin on Sunday evening to take on Juventus after a loss at Anfield against Liverpool, with the Rossoneri at the top of the table and their hosts in the relegation zone.
Juve boss Max Allegri played down the importance stating the pressure is on Milan to continue their good form, but he knew that he was under immense early scrutiny after amassing just one point in the first three games, including a home defeat against Brescia.
Here are a few key points from the game…
Intensity on the field
While Milan were coming back from a very intense battle with Liverpool in a game that involved two teams that love to press, Juve had an easier run out against Malmo with Allegri having all of his South American stars back in action.
The intensity in the first half clearly showed how tired Milan were as Juve were clearly covering more distance. Even the strikers were tracking back and helping out in defence before going forward for every counter-attack.
However, the Bianconeri paid the price for over-exerting and not extending the lead in the first half when they got tired legs and eventually Milan capitalised. If you look at the athletics data we can clearly see how Juve players covered more distance than Milan players did.
Packing the centre
Once Juve took the lead, Allegri decided to go the safe route and protect their lead instead of being more open at the back and in midfield, which gave a route back into the game for a Milan side still full of belief.
Juve attempted to hang on by committing numbers in defence, by packing the centre and playing a deeper line. Here we can see that Juve are maintaining a deeper line with no ball possession and trying to crowd the center out.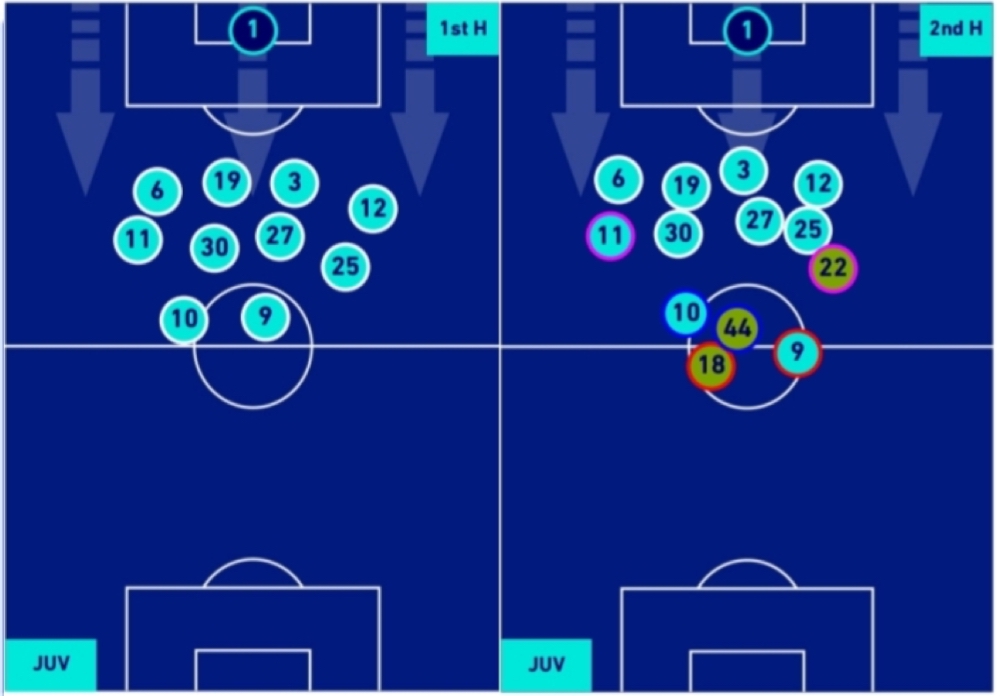 Pioli tried to counter this by making Leao tuck in and join Rebic as a second striker, and by pushing Theo up as a left wing-back. The Rossoneri tried to stretch Juventus by pushing wide as possible but the lack of options in the centre for meeting crosses put a stop to Pioli's plans. Milan need Ibrahimovic and Giroud to recover from their injuries quickly.
Dybala's free role and a three-man defence
Rabiot – although on paper down as the left midfielder in a 4-4-2 – was given quite a free role in attacking play, cutting in and letting Alex Sandro overlap on the left while Cuadrado stayed wide and allowed Danilo to underlap. This helped Dybala thrive as the No.10 of the team, giving him the freedom he was used to in previous Allegri systems.
Milan played a very strange system where Tomori started as the right-back in the absence of Calabria and it is unsurprising that they looked like a three-man defence in possession with Theo playing as a left wing-back and Saelemaekers staying deeper on the opposite flank.
The average position of each #ACMilan player from the game against Juventus at the Allianz Stadium.

[via @Gazzetta_it] pic.twitter.com/bXC1RkjpRw

— MilanData📊 (@acmilandata) September 20, 2021
Verticality of Juventus
The verticality with which Juve countered Milan led to a lot of nervy moments for Milan in the first half. Either a quick ball over the top by Bonucci or a string of two or three vertical passes on the wing and Juventus would be level with the last line of defence of Milan.
Central play
The heat map of Juve shows how much they relied on counter-attacks rather than wing play. With gifted wingers like Kulusevski and Chiesa, it seems Allegri's system does not exactly suit their style of play and maybe it is time for a tactical re-think for the ex-Milan boss.
Pressing from Milan
Just to give an idea as to how tired Milan were, some eye-opening stats emerged from the game. Against Lazio, Milan attempted 156 pressures and 28.8% of them were successful. But against Juventus they only attempted 149 and successfully pressed 26.2%. Game management and help from the medical team required for Milan if they are to keep high intensity all season.
Conclusion
Given the injury problems that Milan were battling, the fact they had little to change the game off the bench and also had a day less rest after a tough game in midweek compared to their opponents certainly contributes to the feeling that this is a point gained.
Nonetheless, while Milan have a concrete approach to games and a set style of play, it is also obvious that in order to face multiple top opponents in a close space of time they need as many healthy bodies as possible to ensure the energy levels and the pressing game are maintained. With Venezia and Spezia to come, the hope is that the wins will return soon.
---