AC Milan defender Simon Kjaer has revealed his desire to retire at the club, and insists that he and his team-mates must be bold in their Scudetto dreams.
Kjaer has become a fundamental part of the Rossoneri's recent resurgence since his arrival from Sevilla last January. The Dane has arguably been the team's most consistent defender in the period since.
Kjaer spoke about a number of different topics during a Q&A for Milan TV and starcasino.sport, with his comments transcribed by MilanNews and translated below.
The difference between the 'old' Kjaer and this: "I think the experience, especially the journey into football. In all the experiences I have done I have always had an open mind, to learn in any place I have been. Especially when I got older, in Spain and Germany, I learned the ways to defend in that kind of championship."
On Italian football: "I found it more modern, more active. There are many more starts and dynamic actions. Before there were more teams going back and forth, now there are teams with more dynamic football."
On the new football: "In my opinion, the technical and physical qualities of each team have risen. If you do not press well, the teams on the pitch find space. There is an advantage in every situation. If the teams start from behind, it means that the opponents are very tall."
On the players to avoid: "I never had that thought. My biggest motivation was to play against the strongest, and there you see your level. For me it's the best thing in football. It's what I get up for in the morning."
On the Scudetto: "I think we have to believe in it, with the right mentality. We are first. Our goal was to take every match as a final and prepare it to the maximum. The road is still long and complicated, but some Milan fans believe in this possibility." .
On Pioli: "From the first day I approached him and he immediately asked me 'How are you?', Since that day our relationship has grown. If he tells me something, I do it. He has given me the confidence that he made more peaceful. He has his own way of playing, but if I tell him something he listens to me. He has a very open head to make us better. "
On Donnarumma: "Gigio has really grown up a lot. He gives the team a lot of confidence. Having a goalkeeper you trust is very important. I know that if I'm wrong, he will cover. He gives you the strength to play a little more aggressive and in advance."
On this year's surprise: "Maybe Gigio. I knew he was strong, with great potential, but in my career I have always played with slightly older goalkeepers. It is a pleasure to play him."
On Milanello: "It's difficult to explain, it's not just any sports centre. There's a magical atmosphere. I'm sure that when I'm no longer at Milan I'll think about the impression Milanello gave me."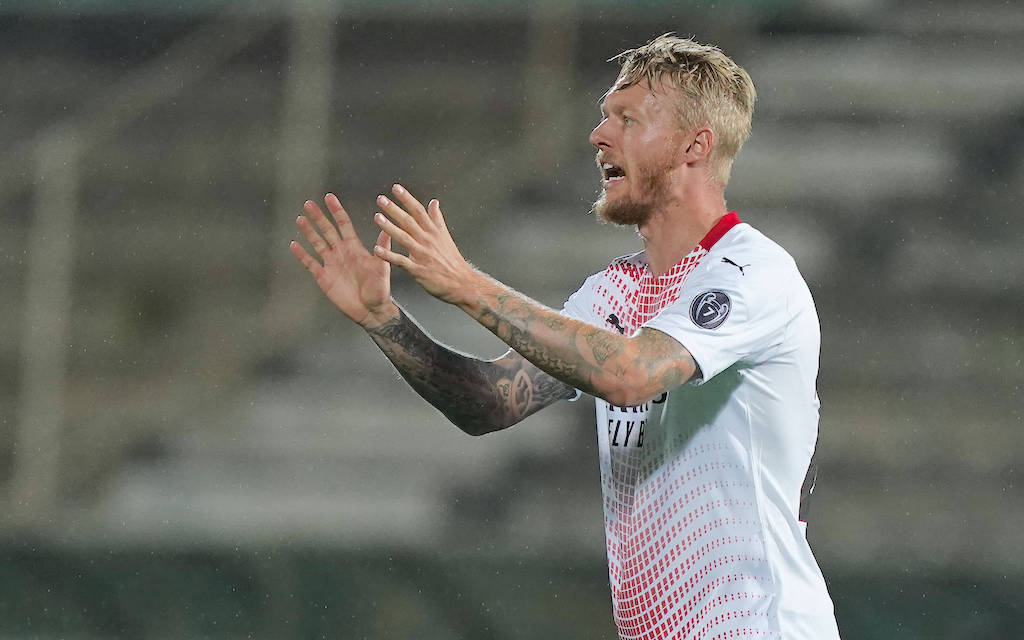 On the growth of the team: "The confidence in the team has grown. The best thing is that we are learning more and more."
On the contenders for the Scudetto: "Juve is always Juve, they have great players. Even Napoli. As I said at the beginning, they are behind and we are first, so we have to think about us. Today the season is more difficult, but if we do our best, and with a little luck… it is important to take the games one at a time ".
On Ibra: "Ibra is 39, not yet 40 (laughs). It is difficult to explain what Ibra is like. His way of working, his mentality, I've never seen them in my career. One thing we know everyone is that his goal is to win. To look at Ibra, not many players will reach 40 years like this."
On Ibra and Mandzukic: "It's not an easy couple for the defenders. They can do a lot together. Mario is always on you, he never leaves a metre."
On leadership: "Whatever you do, you do it with the right mindset. When you win games and feel good on the pitch, things get easier. This is one of the things the club asked me to do."
About the group: "The group is fantastic, they want to work. I'm serious and I do my job. Slowly we are going on the right path, all together. I am very happy here in Milan".
On the fact he is yet to score: "The free-kick goals I don't think will happen. I'm not a specialist, but I'm training, even if now I focus on other things. Of course I want to score my first goal, but I am a defender anyway."
On Italy: "I like the lifestyle. A simple pasta is made well. It's hard to find a bad place in Italy, and this is close to my heart. I'm fine in Italy."
On free time: "I am with my children. I take them to school, I go to pick them up and then I stay with my children and my wife. It is a pity at the moment, Milan is a beautiful city."
On the future : "To stay here as long as possible. I would like to end my career at Milan, but nobody will know in 4 years how I will be. I want to live in the moment, then let's see what the future will say."