AC Milan's top four hopes took a huge dent as they were held to a 0-0 draw against an already-safe Cagliari at San Siro, leaving themselves with it all to do on Sunday against Atalanta.
If the definition of insanity is doing the same thing over and over again and expecting the outcome to be different, then perhaps the perfect working example would be Milan's performances with Zlatan Ibrahimovic – particularly at home – against teams who sit deep and play a low block.
There isn't an awful lot to go off from a tactical point of view from Sunday's result, but as a word of warning it is once again not pretty.
Bright start
Milan's big strengths against Juventus and Torino – the respective 3-0 and 7-0 wins that preceded the visit of Cagliari – was their pressing and the lethal counter-attacks that followed. The early signs against the Sardinians was good too, with Milan getting bodies over to crowd out the visitors when in possession, using the touchline as an extra man, shadow play to cover and getting players in the passing lanes.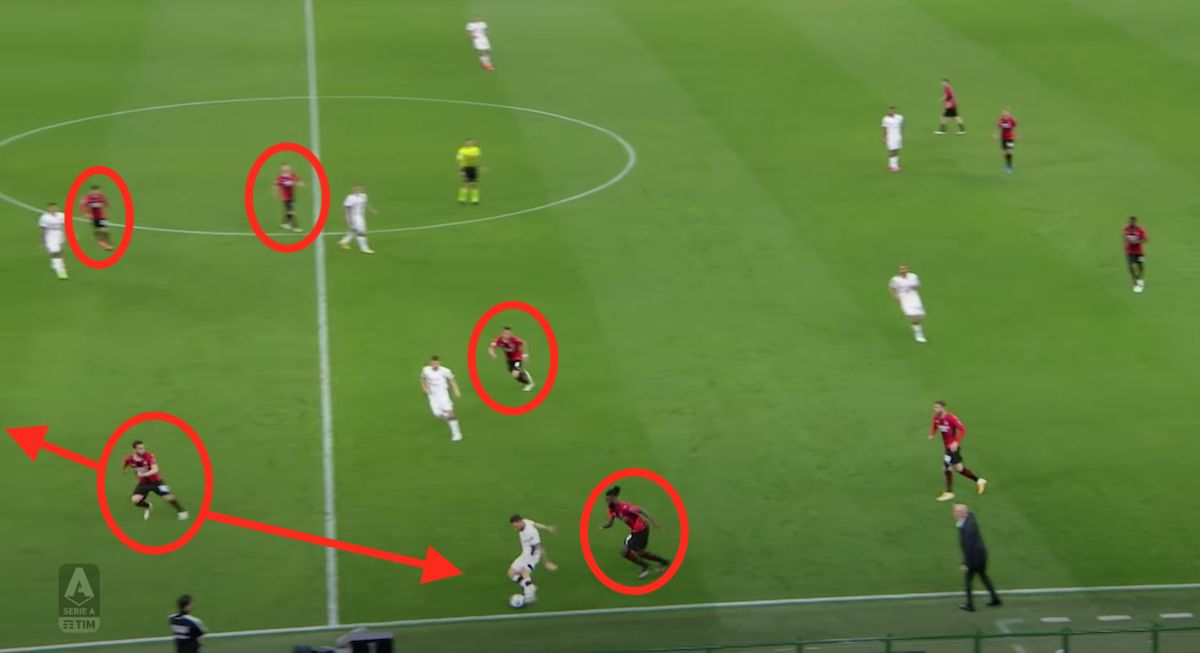 However, what was missing from the passage below – something that ended up being a theme throughout the game – was the intelligence and clarity of movement that allowed the Rossoneri to really put Torino to the sword.
In this particular instance Rebic is static for too long and didn't make the dart towards the left side of the box we saw so many times against the Granata, while the midfield are slow in pushing up even when Calhanoglu slips inside onto his right foot.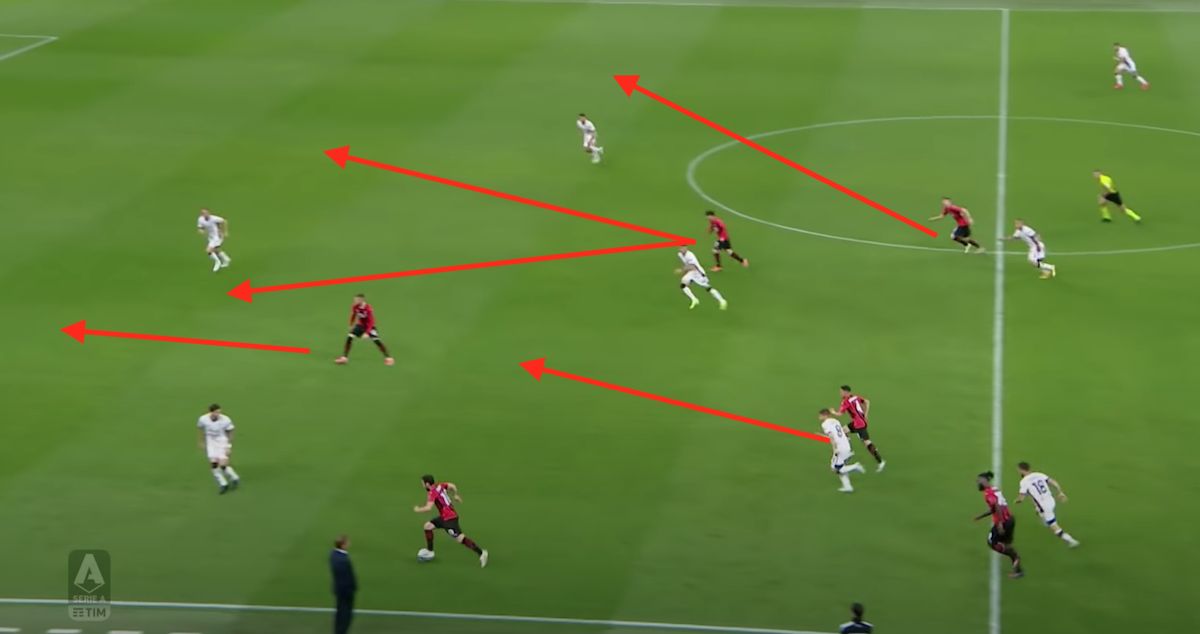 As the situation develops, a problem creates itself where neither Brahim Diaz nor Saelemaekers have made a dangerous run because both have clearly been instructed to play between the lines, with the Belgian tucking in as we have seen before. That makes Rebic's movements twice as easy to mark.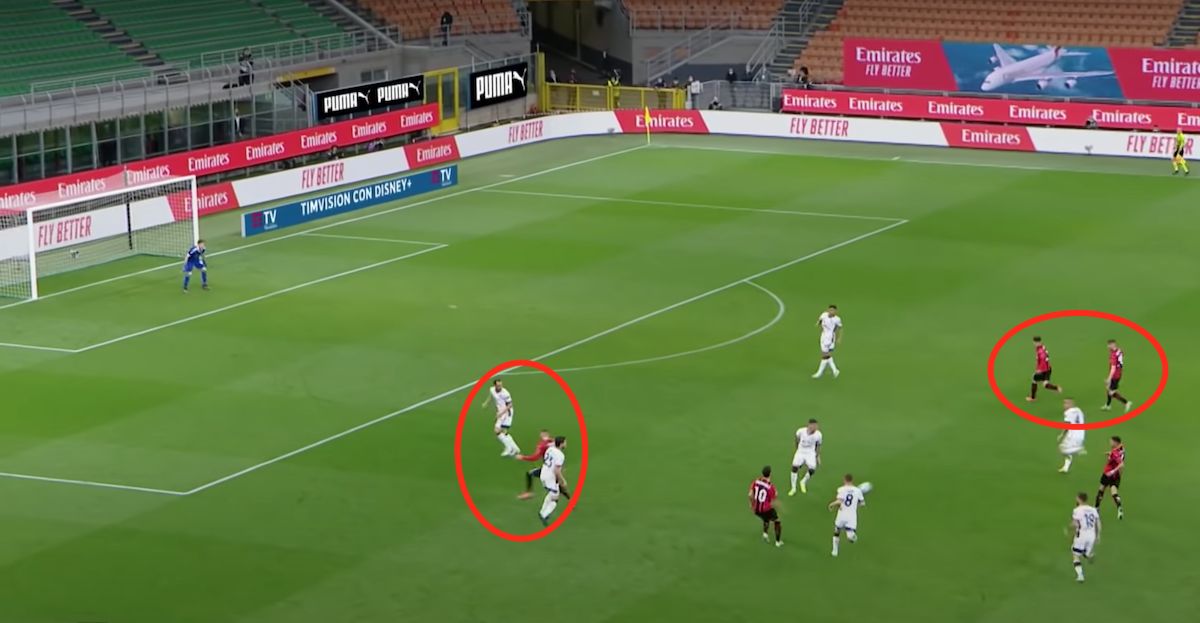 The passage of play actually ends with Saelemaekers seeing a shot brilliantly saved by Cragno, though ultimately he was left with no choice but to let fly – which is not his strong suit – because of a lack of runners in behind. Note how Calhanoglu has also decided to almost withdraw himself from the play rather than following up his pass.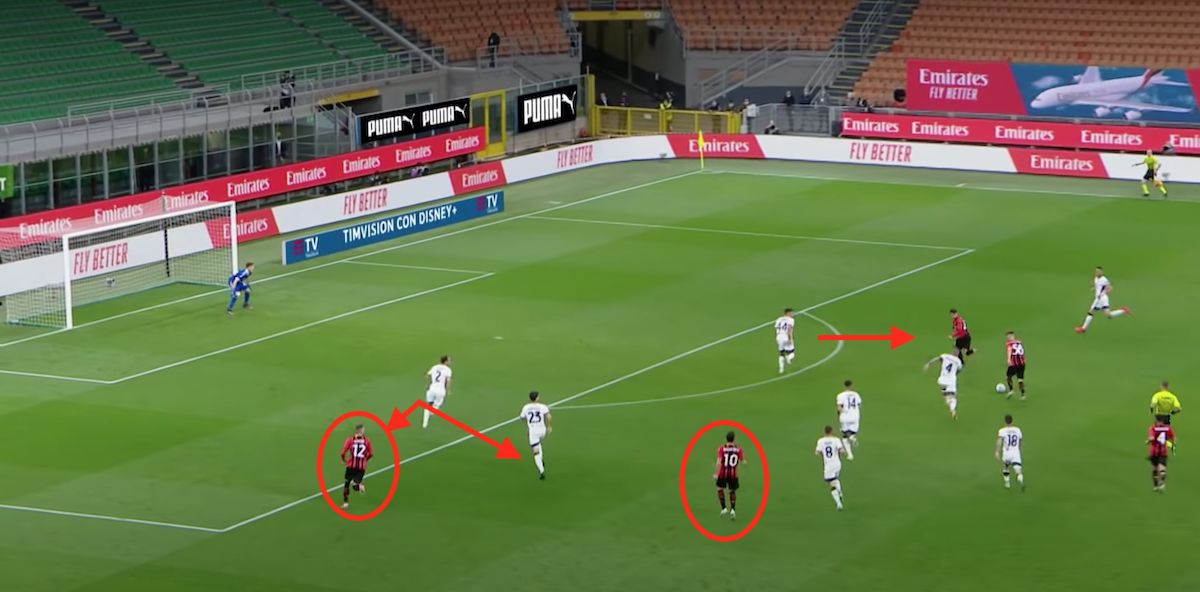 Toothless and futile
The common misconception about Cagliari's performance is that they played with at least eight players behind the ball (a bank of five defenders and three midfielders), but in most cases during the first half it was more of a 4-3-2-1. Here we can see Brahim Diaz and Calhanoglu attempting to operate between the lines, which is the right thing to create danger, yet once again the issue is that Cagliari's back four (with Rebic the only player inside the four) have such an easy job to step out if they were to get through.
Bad decisions
One thing that Milan were guilty of throughout the game was making the wrong call at the wrong time. When they did get bodies forward through quick passing and clever movement, such as below when a four-on-three situation has been created, it was squandered.
There are options for Calabria as he has three runners looking for a pass in behind in the form of Brahim, Rebic and Theo with Saelemaekers out wide ready to whip a dangerous ball across the six-yard box if the angle isn't there to slip any of the trio in behind. The end result? A shot from 25 yards that sailed wide.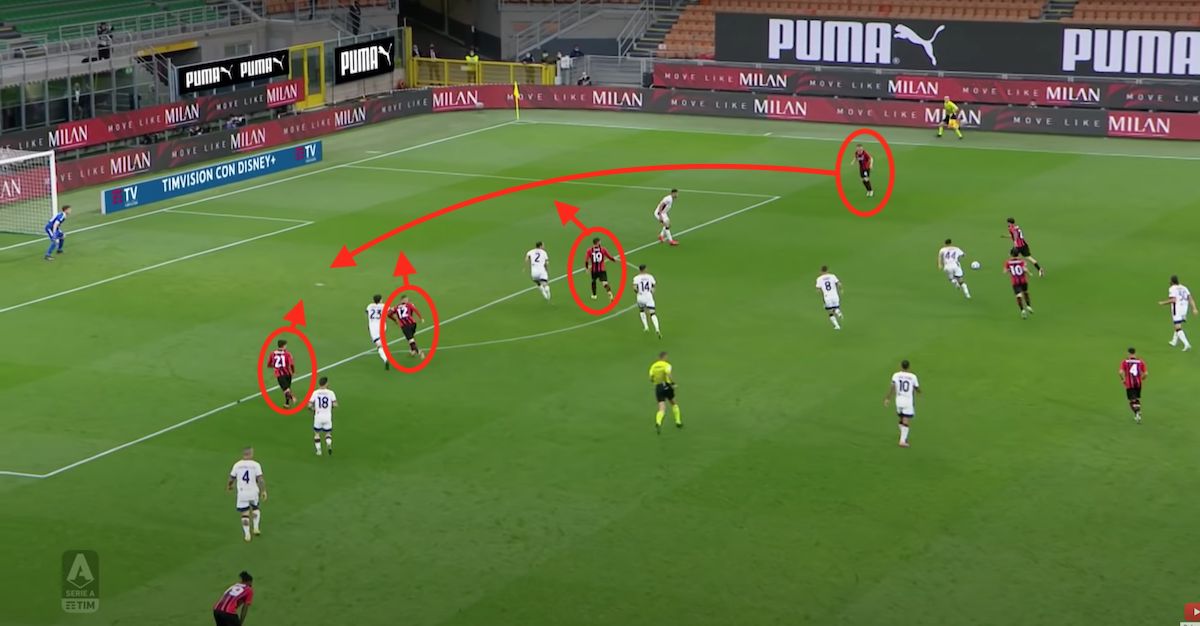 Signs of danger
Cagliari didn't come to attack in truth, but when they did get forward they at times showed the kind of freedom and confidence you would expect from a team that had learned of their safety two hours previously.
In the sequence below, we can see how the Rossoblu have taken advantage of some momentary disorganisation which has seen Theo Hernandez take up a right-back position with Calabria on the other flank. The Frenchman is isolated against the away side's best player not knowing which way to show him, with not much help from Bennacer or Tomori. Note also that Kjaer is aware of Pavoletti's position and has things under control.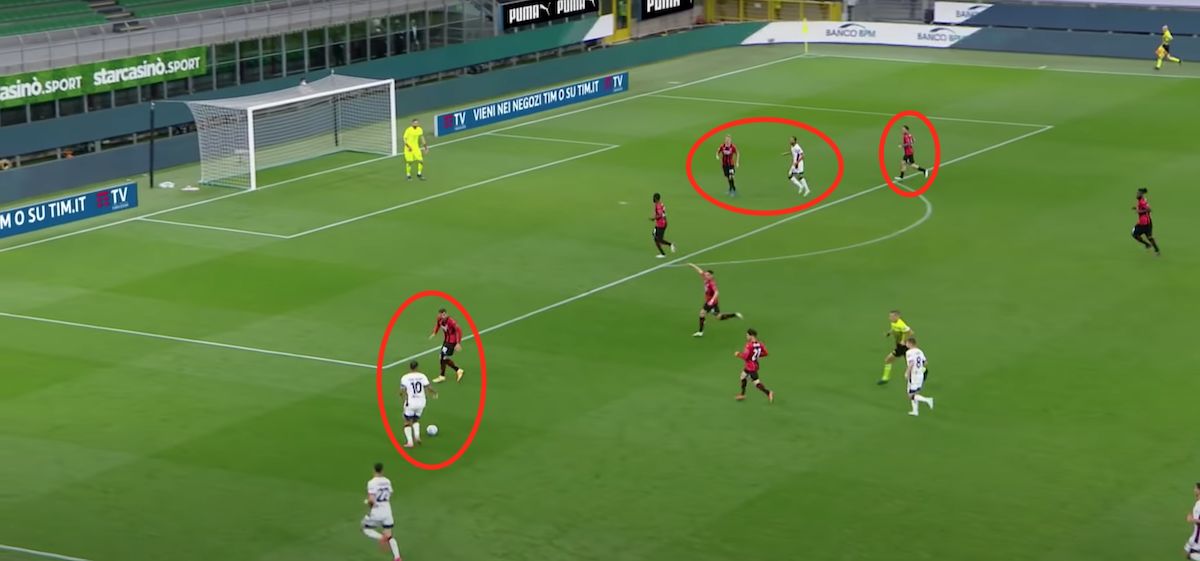 There was no decisive intervention from either Theo or Bennacer to try and prevent what was such an obvious shaping cross from Pedro on his right foot, angled in towards literally the only Cagliari player inside Milan's box. Again, though, Kjaer seems to have the situation handled as he sees the cross come in and has Pavoletti over his shoulder.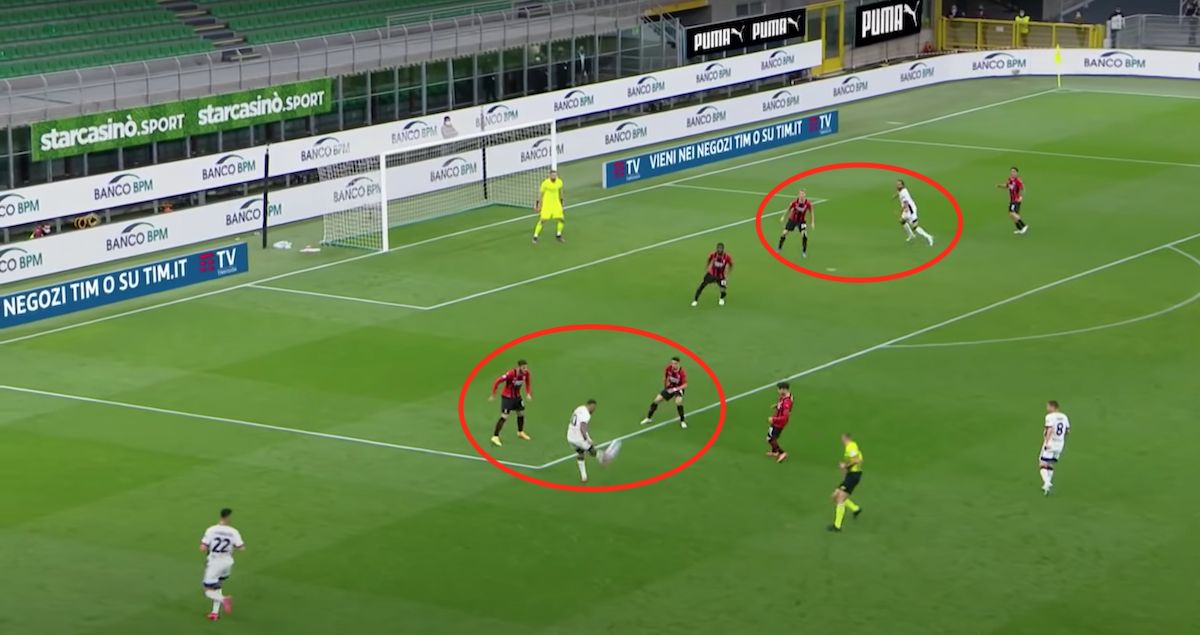 The Dane has been heavily praised for his performance and his part in the clean sheet, and overall he did produce some timely clearances, but this was the first of two situations that could have cost a goal. He misjudges the flight of the cross and allows Pavoletti and ghost around, and a header two yards either side would have probably done the business.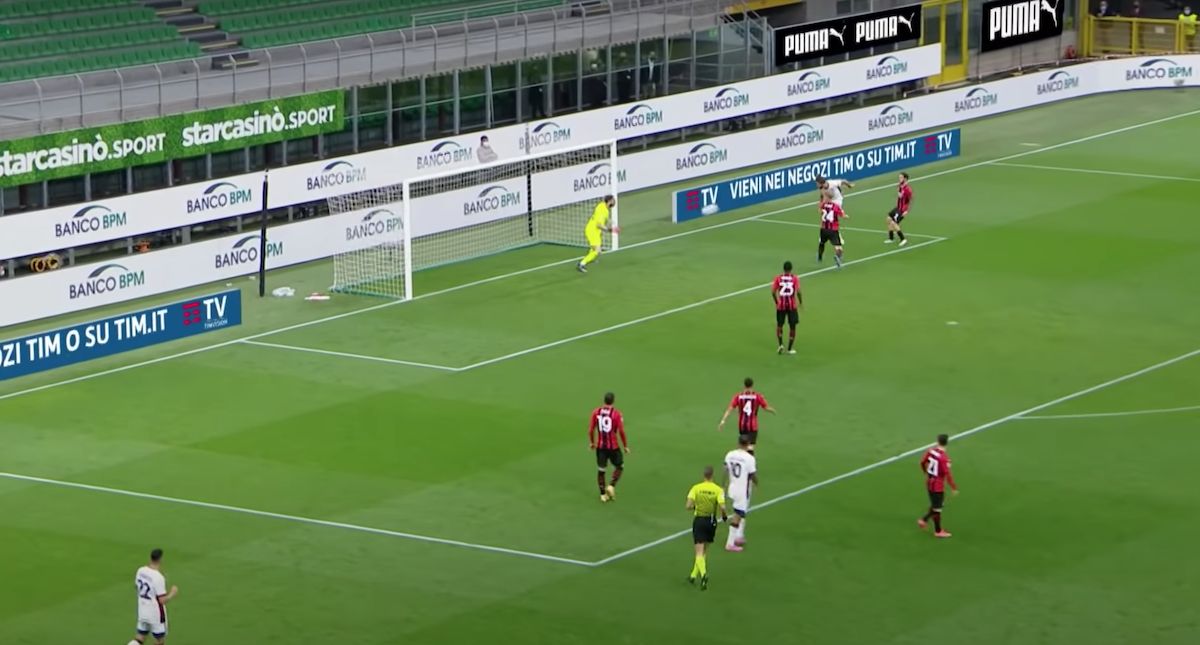 Set piece woes
As other teams have at San Siro, Cagliari looked dangerous from corner kicks. They had the interesting tactic of forming a line of white shirts just behind the penalty spot which confused Milan's attempts to man-mark the danger men as they were quite simply unable to get a handle on them. The run of the man at the near post was a clever decoy too as it cleared the front of the goal in case a header was won.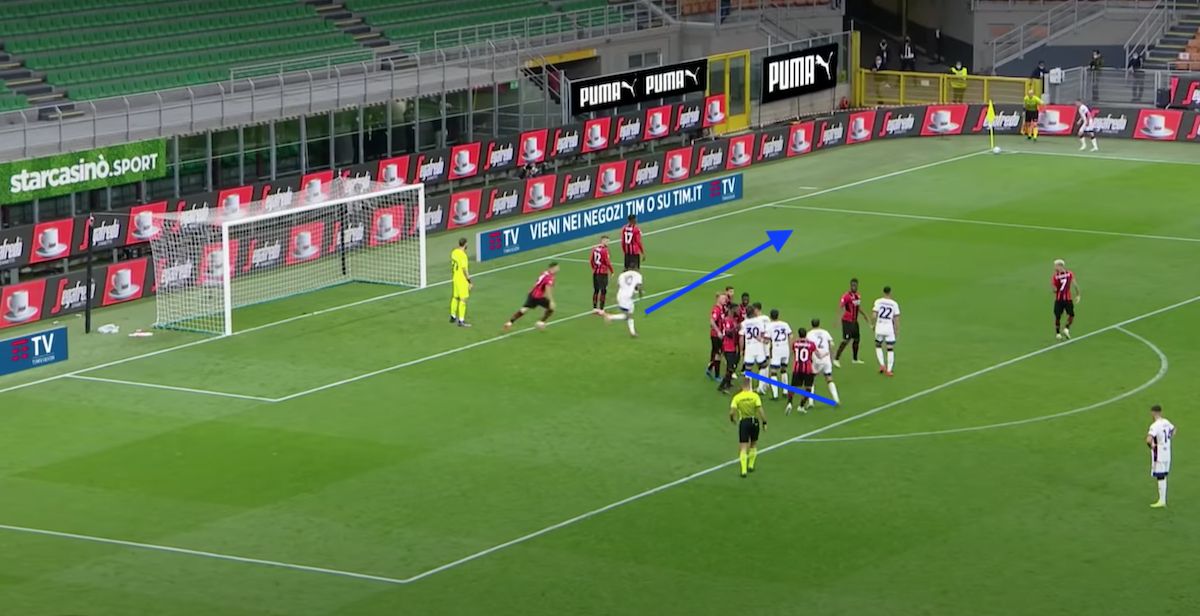 Fast forward to the point below and the line is still present, something which relies on good and consistent set piece takers, something that Milan really lacked on the night. In this instance, Godin gets in front of his man Kjaer and heads powerfully on goal, with only an amazing save from Donnarumma preventing a 1-0 deficit.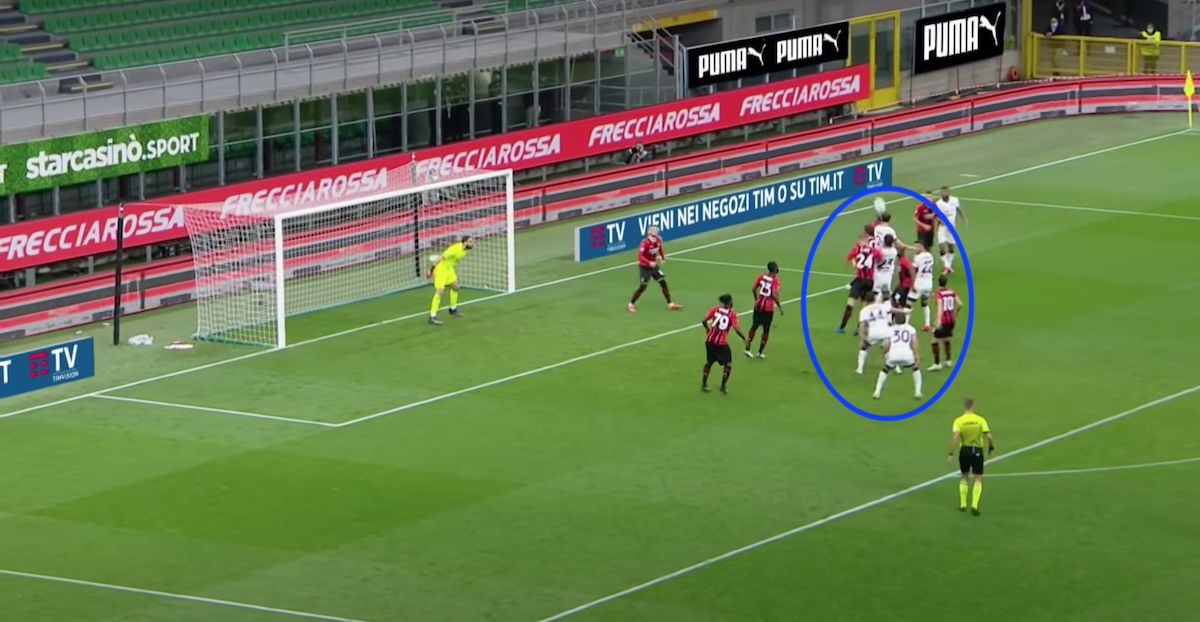 Bus finally arrives
Cagliari grew into the games as time ticked by and Milan's nerves were beginning to seriously manifest. This was why it was surprising to see them switch to a 5-3-2 for the final 40 minutes or so rather than having a go at what could have been a very memorable result.
Milan piled bodies into attack as expected but below the same issues arise whereby there are several players – five in fact – between the lines but nobody to actually try and disorganise the defence with a smart run. In essence, the play was always in front of Cagliari's back five and they were never spun, which made defending very easy.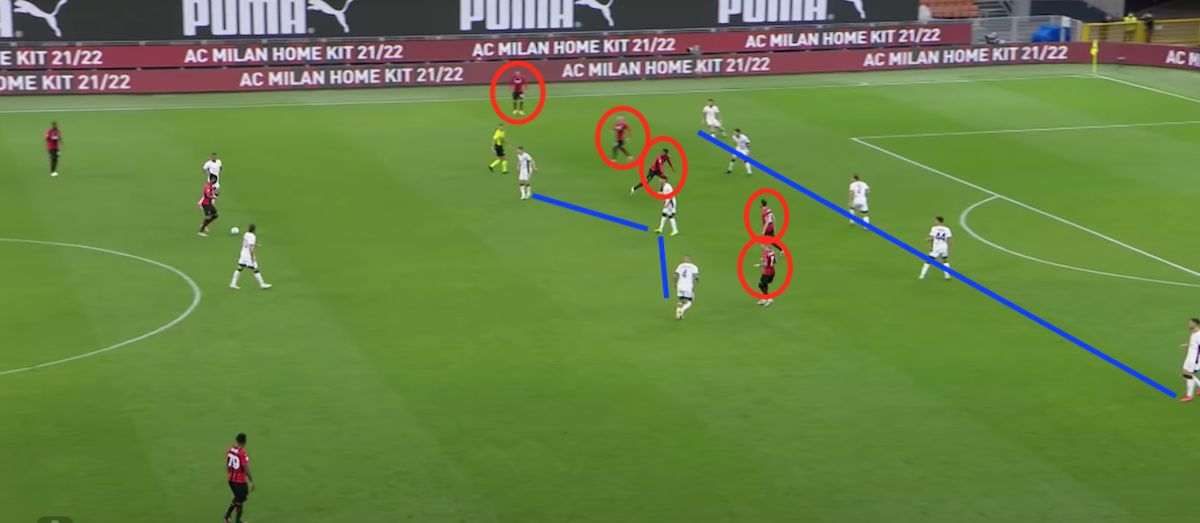 Roll of the dice
Pioli decided to bring Rafael Leao on at the break perhaps more so out of hope and desperation than anything else as he looked for some creative genius. There were times when the Portuguese forward got on the ball on the left side of the box, the area where he looks to create and cause problems with his right foot.
There are seven Milan players in the screenshot below but not a single one of them is in what you would consider to be the 'danger zone' in and around the penalty spot. Players are camped on the edge of the box or in the wide areas, making everything so predictable and allowing Cagliari to keep their solid structure which has been a key part of their resurgence in the last month.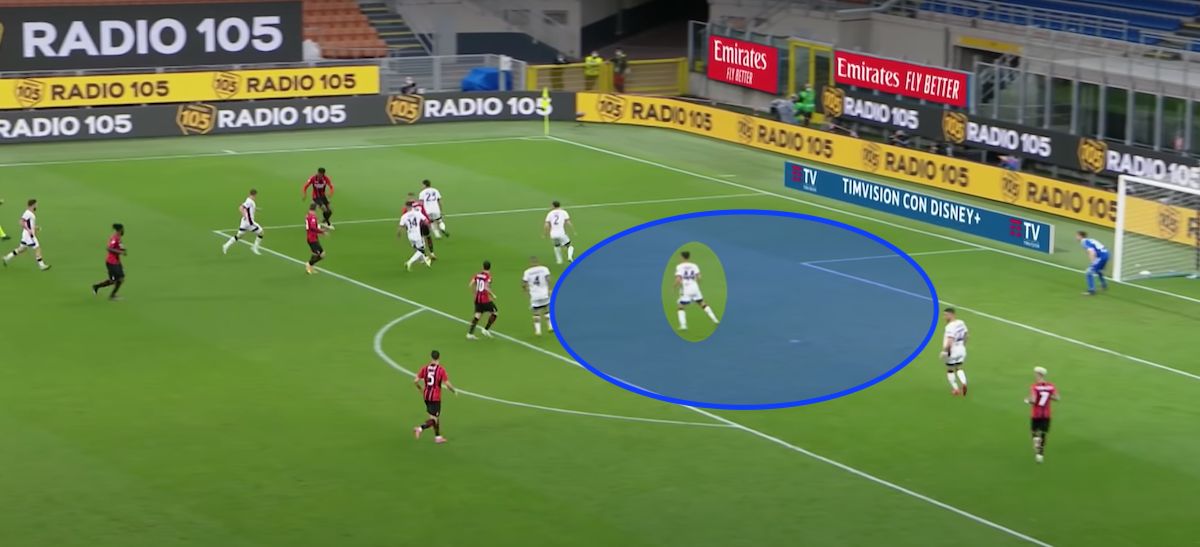 Final damnation 
When Mario Mandzukic came on for the final two minutes, the Rossoneri moved their attacking options closer to goal and to the penalty spot, hoping to play off the Croatian given his size and aerial ability as a natural centre-forward. Some glimpses of threatening situations too, as seen below with four red and black shirts ahead of the ball marked by four defenders, with just the right run, cross or pass needed to spin them around.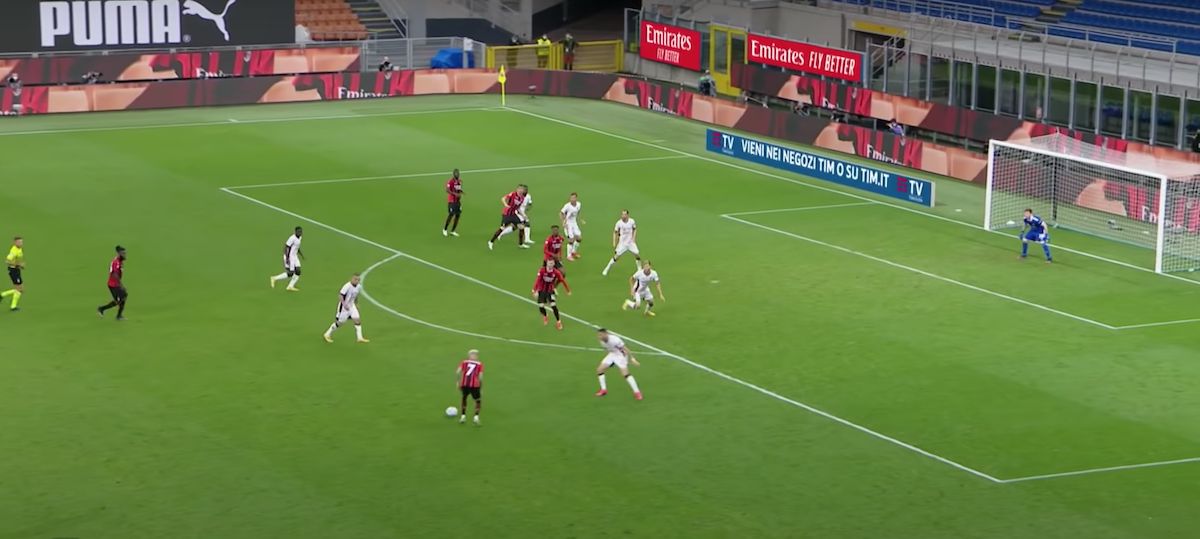 Another substitute in Samu Castillejo was the man on the ball, and he decided to shoot from over 20 yards out despite having several options, having not scored a goal from outside the box in his entire time at the club (or that we can remember). If there is a passage to perfectly summarise the night, it might be that.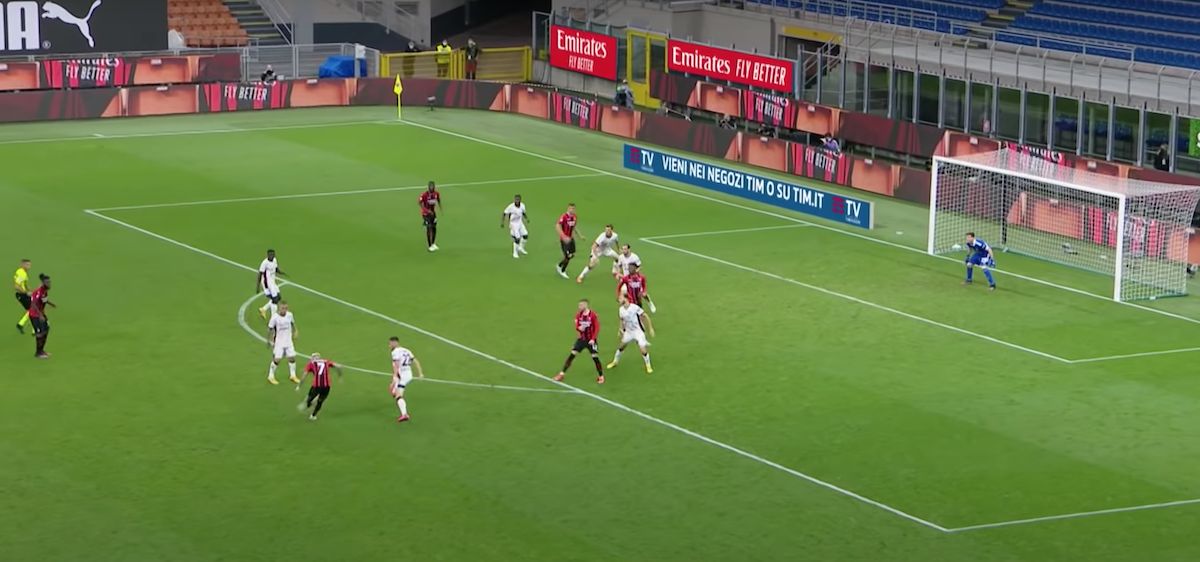 Substitutions
It would be wrong not to mention the game management by Pioli, as for all the praise he accrued following the three wins prior to Sunday night, he deserves an equal measure of criticism for what seemed like flapping choices.
Bringing Leao on at half-time to offer some pace and dribbling threat was justifiable, but not by shifting the entire balance of the team. He should have taken off Brahim Diaz or even Calhanoglu, placing Leao on the left and having the remaining playmaker as the No.10, with Saelemaekers – who was brighter than most in the first half – staying on the right.
Shifting Brahim over to the right wing neutralised the threat on that side because he quite frankly is not used to playing there. 11 minutes later he then had to correct that error by removing the Spaniard for his compatriot Castillejo, which given his recent form drew some understandable anger.
With 27 minutes left Diogo Dalot came on for Calabria, a strange use of a sub but given the latter was on the yellow card we can at least semi-understand it, but the other change made was baffling as Soualiho Meite trotted on for Ismael Bennacer. The Algerian had been far from terrible but even if the decision had been made to withdraw him due to fatigue or to add an extra dimension, adding Meite did nothing.
Pioli justified it after the game by saying he wanted more physicality in midfield. Why? Milan had more than enough muscle in there with Kessie, they were having 80% of the ball and another combative type was not needed. Given the standard of set pieces to that point and failure to drive play forward, Sandro Tonali would have been a far far better player to bring on. It was like needing to unlock a padlock, and using the same key that hasn't worked rather than trying a different one that might.
Bringing on Mandzukic with two minutes to go seemed very strange, but ultimately it seems he had no more in the tank due to fitness problems, which again highlights how disastrously bad the risk to sign him in January has turned out.
The data
We end with some general observations. As seen below, Milan's touch map makes for the kind of reading we have seen before in games like this (Udinese, Sampdoria and Sassuolo at home spring to mind). A bias towards attacking down the left side, and 129 touches in the two zones outside the box compared to just 38 inside it.
To break down a low block without a target man like Ibrahimovic, a combination of two things are needed: quick passing and sharp movement. Time and time again we have seen the usual passing combinations that have flowed on plenty of occasions just completely dry up, and that was the case on Sunday. It is also worth noting that Cagliari showed a clear bias towards attacking Milan's right flank, which happens with a creative presence like Joao Pedro.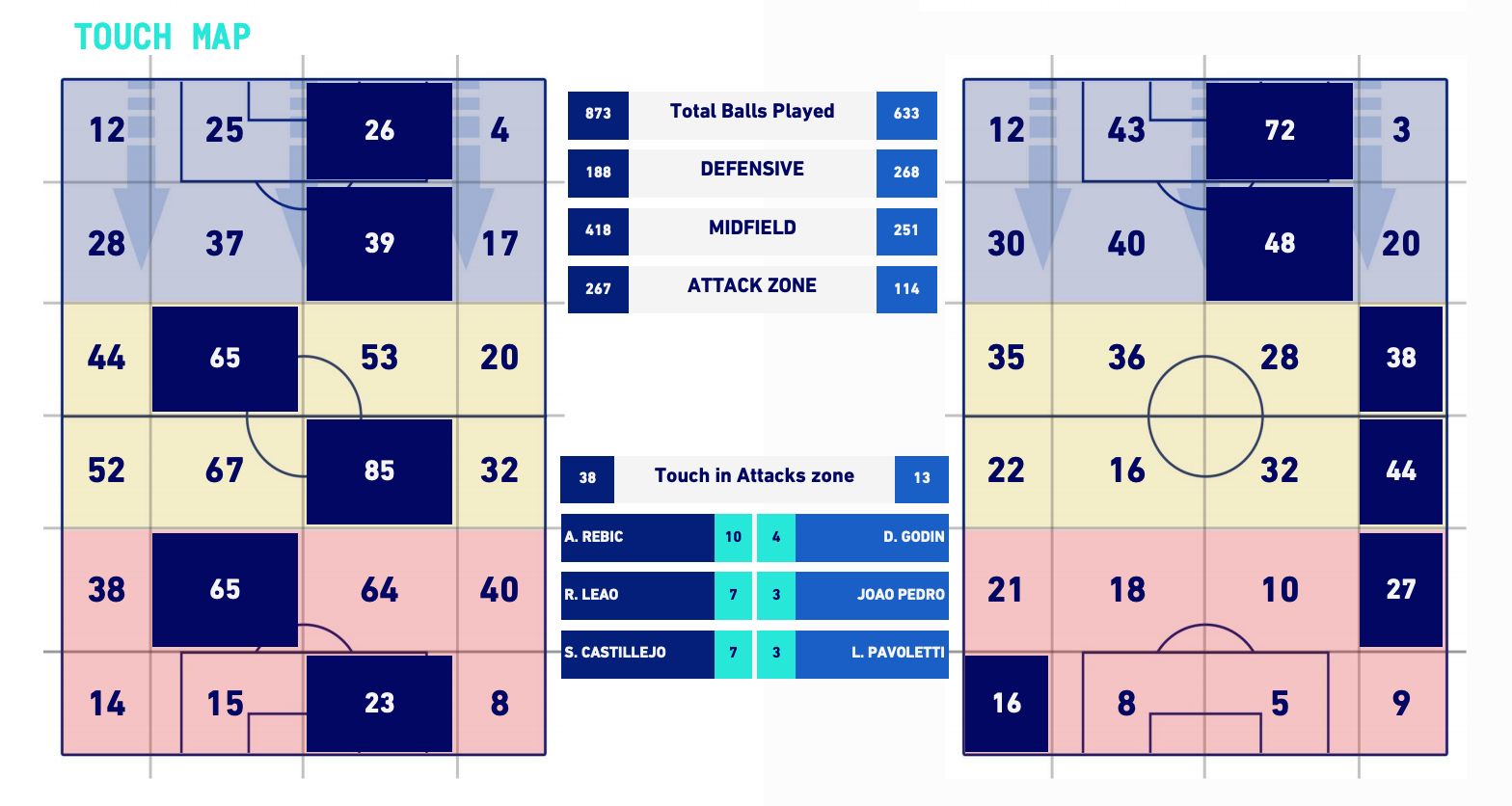 The heat map just about confirms the above. What is striking is that Cagliari (on the right) had far more presence inside the box in box halves that Milan did, despite the fact the Diavolo had so much of the ball around 20-25 yards out.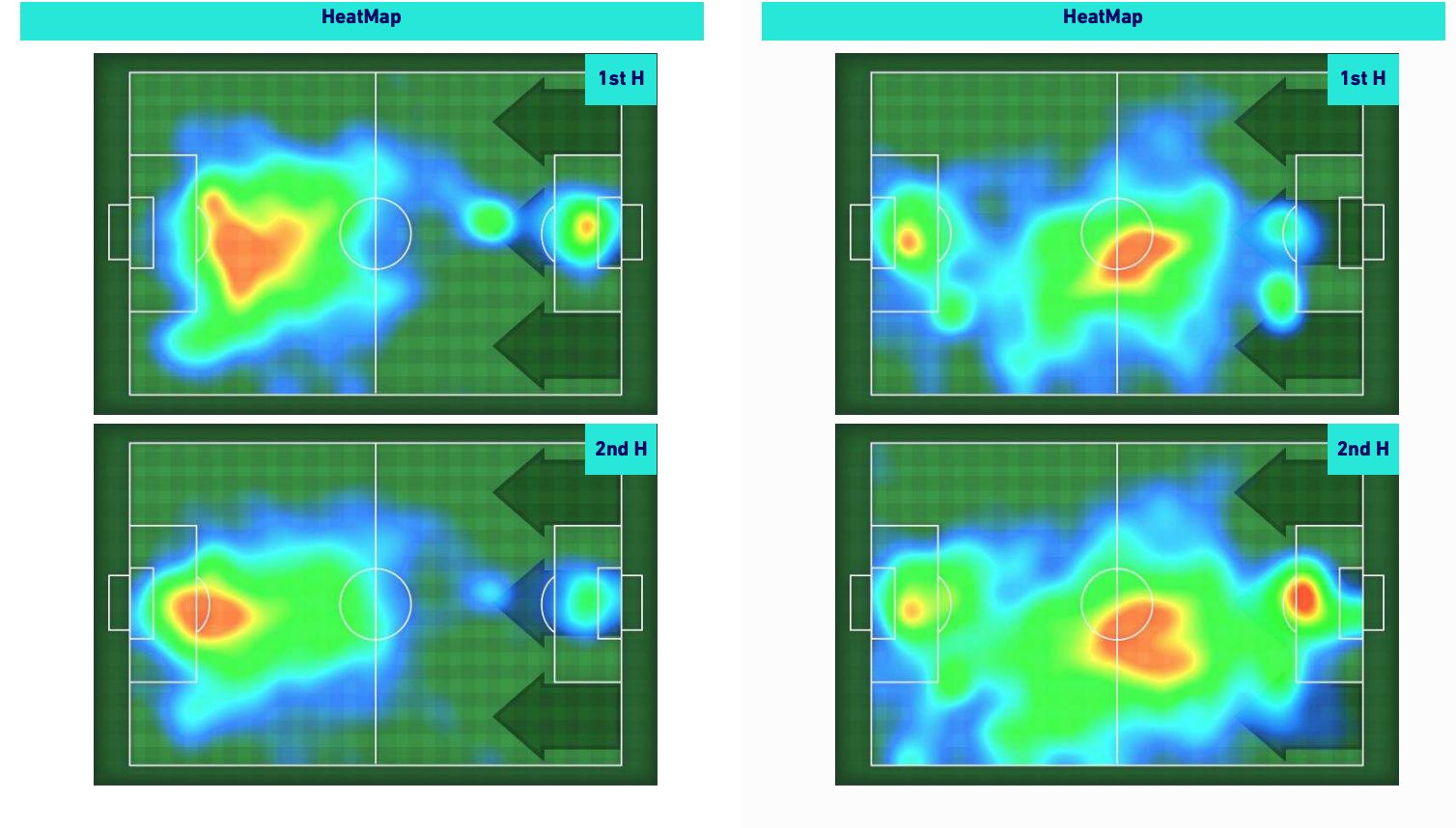 Conclusion
Make no mistake about it, this team has not learned how to win consistently without Ibrahimovic yet. Beating Juventus 3-0 was excellent, but it was a game where the opposition came onto us and left spaces to attack, while Torino's approach was borderline kamikaze.
When faced with a set of problems to try and solve in the form of a team that sits deep and narrow with two banks of players, Milan have failed time and time again to show the levels of creativity, movement, spacial awareness, technique, first touch, dribbling and shooting needed to find even one goal, the goal that in all likelihood would have sealed a top four spot.
Even the intangibles such as corners and free-kicks were appalling and Calhanoglu deserves to be called out for that. With a trip to face an opponent that is essentially Pioli's kryptonite looking on Sunday and a win needed to guarantee a return to the Champions League, it feels like it will be eight years and counting.