Laia Codina made the switch to AC Milan Women from FC Barcelona on a season long loan earlier, and he has revealed she is enjoying the experience so far.
SempreMilan recently spoke with journalist Natalie Barresi, about how Laia's signing will affect the team, with Barresi being from the city and an expert in all things regarding the FC Barcelona's Women's team.
Now, Codina herself has given an interview to Tuttosport about how she has settled in to life in Italy, including some thoughts about the league so far.
What are your expectations from the league that is about to begin? 
"A very competitive Serie A. The fact that there are fewer teams in the league and that they have strengthened makes me think that every match will be very close. With such a close-knit championship it will always be necessary to play at one hundred percent, without allowing any mistakes."
La Liga Iberdrola, which is the league that Codina's parent club, Barcelona, plays in, has sixteen teams. Serie A Femminile only has twelve.
So far, your entire career has taken place in Catalonia. What made you decide to come to Italy? 
"The history of the country, as we all know how many champions have been formed and have won here. I knew that being here would help me grow and in fact, I learn something new every single day.
"I have always been close to my roots, to my family, to my city, but the decision to leave home and go elsewhere is something that improves you both as a person and as a player. And I'm sure that in a few years I will be grateful for having gone through this experience.
"In the beginning, it was a bit of a struggle, as your routines change, and you have to learn another language. But to tell the truth, I've been here for a month and I feel like I've been here for a lifetime."
How was your Champions League debut?
"The only thing missing was the victory and obviously, being a defender, I didn't like conceding goals. But I found it wonderful to play against squads and play a game at that high of a level. I am fortunate to have wonderful companions who are helping me adjust to the team."
In your opinion, as someone who won last season's Champions League, what did Milan need to pass the qualification round?
"The fact that Milan qualified for the Champions League for the first time was historic and being there was already a big step forward. We won the first game but not the second, and in any case, this allowed the team to gain experience. And I think that what was missing to get through the round was a pinch of experience.
"Being in the Champions League makes a difference and you are qualifying for it from year to year. I am convinced that, if they continue down this path, that in a few years from now, Milan will also be among the great teams in Europe."
You chose to wear the number five shirt, the same one that was worn at Barcelona by Carles Puyol, who has said that Paolo Maldini is his idol.
"It's true, and it's curious. Obviously, Puyol was my idol as a child, not only because of his style of play but also because of what he represented off the pitch. I have always been inspired by him, so whenever I had the chance, I would ask to wear the number five shirt.
"In this case, it's twice as special, due to the tradition in defense that Milan has had. On the day of my presentation for the team, when I found myself in front of Maldini in flesh and bones … and he had a certain effect on me, as he is an icon of world football."
In Italy, the team to beat in recent years has been Juventus. But, only a few weeks ago, la Vecchia Signora was beaten by your former companions, Barça, in the Gamper Cup. Did you talk to any of your former teammates to gain some insight on how to defeat them (Juventus)?
"I am always in contact with my former team-mates, and I talk with Aitana Bonmati the most: she told me, in her opinion, what are Juve's strong points, and their weaknesses … we will see if her advice has been useful during this season."
Last season you won the treble with Barcelona. What was the significance of it? 
"The Treble has made us more well-known. People now know that there is a Barcelona Women's team that plays football, who wins trophies, and who wins the way we want to, interpreting the game in a way that has made us a reference throughout Europe.
"It was a very difficult season, as we couldn't see our families because we had one game after the other and we were carefully managed due to the pandemic.
"We were always with each other: it was very hard, but we got our reward in the end, and for those who are like me and who came from La Masia, it was an immense joy."
What did Guardiola's Barcelona mean to you?
"For me, as someone who was lucky enough to experience it, it is the foundation of how I came to understand football: You always keep the ball and have fun holding it, and also, if I hold the ball, then it is difficult for the opponents to score goals.
"I think that the Barcelona Women, at this moment, are the closest representation to the playing style of Guardiola. The players are not only a reference point for many girls, but also for boys. Being able to be in the team with their references was the best, both for their impact on and off the field."
What has surprised you the most about Italy so far?
"The people. They are all very kind and know how to make you feel like they are friends of a lifetime. Coming from an outsider's perspective, it is very appreciated. The same is true for the club."
Barcelona's motto is 'Més que un club'. What phrase would you choose to represent Milan?
"'Historia y pasión', history and passion. After my presentation at Casa Milan, my parents called me to find out how it went. I replied that coming here is like entering history, and I breathed it. It's just that I really like football, so I've always followed Milan too. In a way, I'm also a fan, so it's an incredible experience for me."
A few days ago, the president of Barcelona, ​​Joan Laporta, said that in 2030 there could be a woman's president of the club. If it were possible, would you like to be Barça's captain on that date?
"It is certainly possible, as I don't think there should be a distinction between men and women. To be a president, you need certain skills. As for being [Barça's future]captain: at the moment, I'm happy at Milan and I want to make Milan an even better club."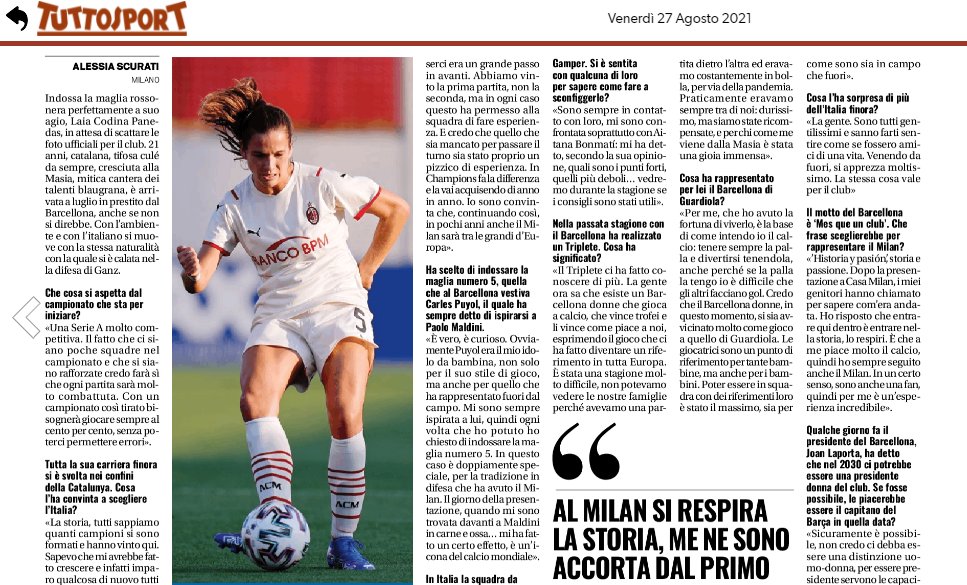 ---
READ MORE: AC Milan Women 4-0 Hellas Verona: Rossonere run riot in Serie A opener