AC Milan have finally added the centre-back that the management have been chasing for some time as Malick Thiaw was announced as a new signing yesterday.
Milan fans had not even finished celebrating the win over Bologna on Saturday night when Gianluca Di Marzio broke news that Milan had close a deal to sign Thiaw from Schalke after chasing the player since last January.
It would be fair to say that little is known about the player among the fanbase except that he is very highly rated in his home country and that the management have clearly been keen for some time having also pursued him in the winter. Here is an analysis of the latest summer signing…
Background
Malick Thiaw was born on 8 August 2001 and stands tall at 1.94m. Having bounced around different academies like Bayer Leverkusen and Borussia Mönchengladbach, Thiaw finally found his feet at Schalke when he was 14 years old.
With Schalke 04 going through a financial crisis of sorts, Thiaw was promoted at a very early age and this gave him a wealth of experience.
Playing under coach Manuel Baum in 2020, Thiaw slotted in at right centre-back in a three-man defence. However once Baum was sacked and Christian Gross came in, he employed Thiaw as the RCB in a four-man defence.
Once Schalke got relegated they once again reverted to a back three, where Thiaw was played on the right of a three-man defence.
Playing style
Off the ball: When Romagnoli was asked about his Milan days, he spoke about how Pioli's system had a lot of 1v1's. This was due to Pioli using a man-oriented pressing system.
Thiaw in terms of his 1v1 ability is generally good. He was faced with opponents like Erling Haaland, Jadon Sancho and Jude Bellingham at the age of 19 which is far from an easy task.
The teenager is quick off his feet and block the opposition players vertical option forcing him to go wide or pass back.
Tackles and interceptions: One of the most important parts of Thiaw's game and his strong point is his ability to intercept the ball.
His ball reading and tactical understanding is of the highest quality. Thiaw studies his opponents body orientation and posture before he moves into making his challenges.
His rather long legs give him more reach and helps him to make clean challenges.
Aerial duels: Given he stands at 1.94m it is naturally expected that Thiaw is aerially dominant and he has a high success rate. Compared to Tomori (1.89 aerial duels won per 90 last season), Thiaw had a ratio of 2.73 duels won per 90 in the 2020-21 season in the top flight.
Therefore, Thiaw could represent a cure to Milan's ailing set-piece worries at the back and in attack.
Pressing: Schalke are not an aggressive pressing side like Milan were last year, but they did use a lot of man0oriented pressing towards the wings like Pioli's blueprint tries to implement.
Thiaw – under the instruction of the coach – generally stays back as the last defender and does not jump out of the defensive shape to maintain it but he does have a proactive approach to defending when afforded it.
Pace: To a common observer it may seem that Thiaw is a bit slow but he is deceptively quick. His huge frame allows him to make long strides which may make him seem not making an effort but he does cover a lot of ground very quickly. Here we can see him matching Haaland for pace.
Physicality: Thiaw uses his tall frame to use his body as a shield and not allow strikers or forwards in general to knock him over really easily.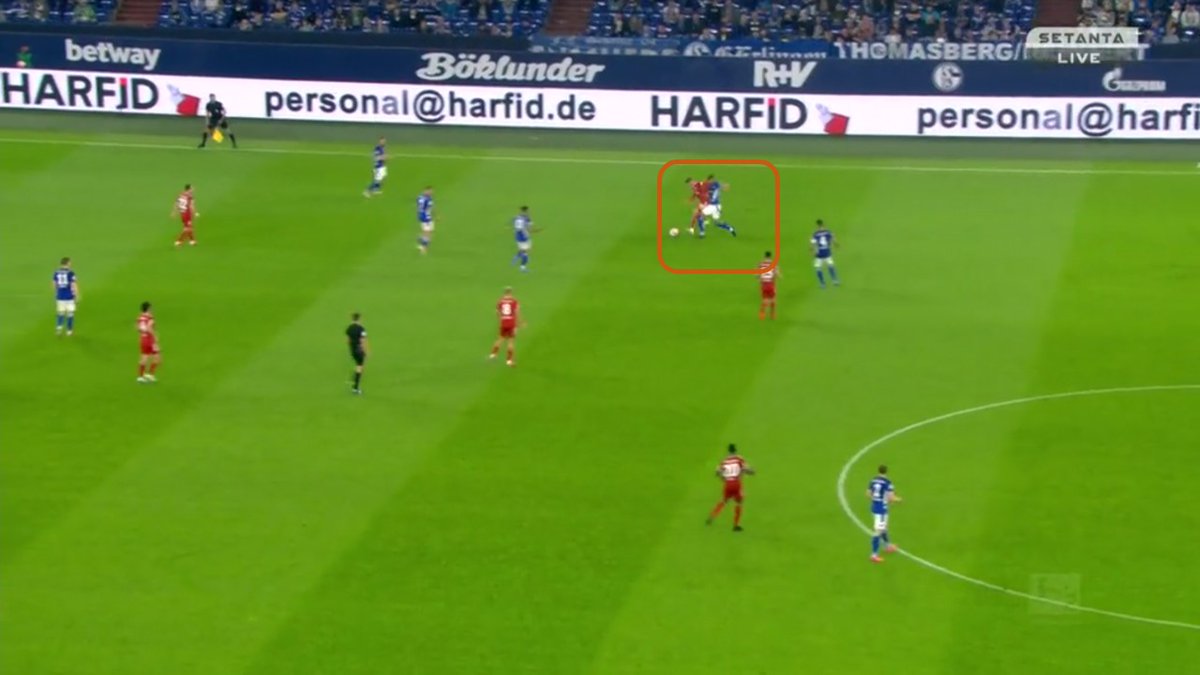 Passing: Generally Thiaw is not a ball playing centre-back but he acts as a passing option whenever a team-mate is in danger. His general instinct is to always take the safer passing options but as he grew in confidence he did try to to play the ball between the lines.
Decision making and closing down: This is an area for Thiaw to improve, as needs to learn to close down his opponents more quickly.
When the game below was being played he was only 19 and needed more experience, but here he gave way too much space to his opponents to shoot and score.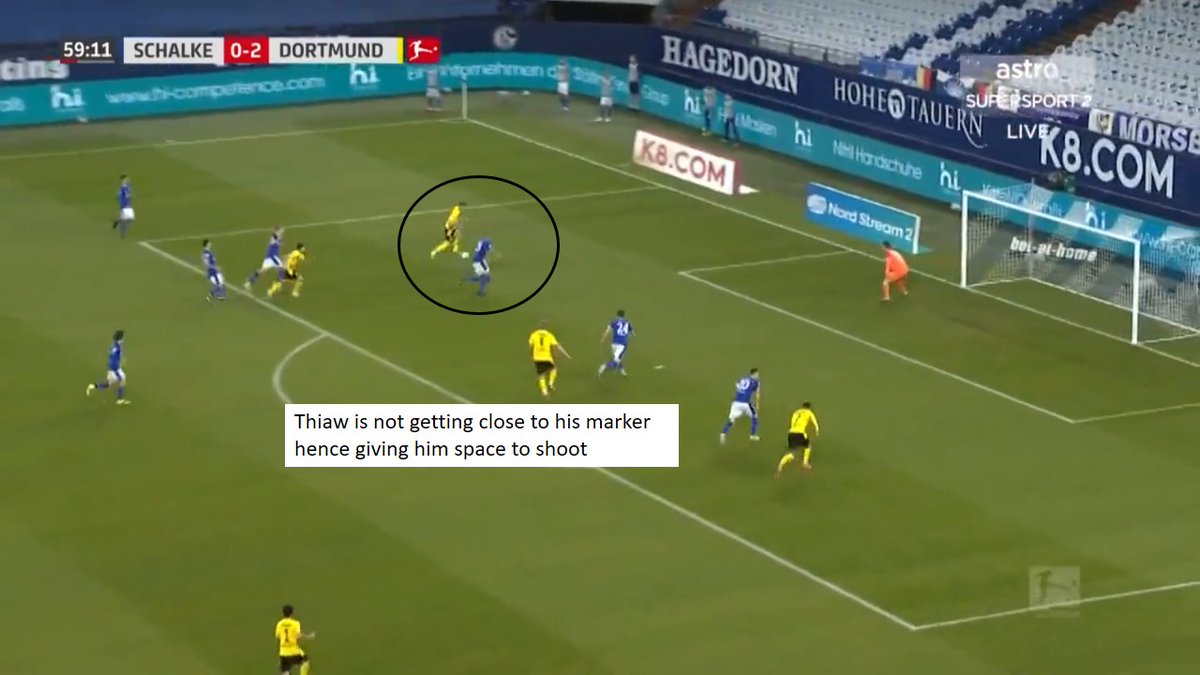 In another situation Dortmund press and win the ball back after a poor mistake from a Schalke player. This created a 4v3 for Dortmund and Thiaw had a 2v1 situation against the carrier or to mark Haaland. In the end he ends up doing nothing and Dortmund score.
Conclusion
Moncadata strikes again as Milan are once again building for the future and are in it for the long term. With lots of rotation to come in this unparalleled season, Thiaw will get his chance at Milan.
If he can follow the path taken by Pierre Kalulu in adapting and learning patiently before taking the opportunities he does get, then the Rossoneri could have yet another gem for just €7m including bonuses.
Transfer rating: 8.5/10