Now that mercato season is upon us, there is a general tendency to mis-understand the roles of the people in the Milan management and how they decides a certain player should be signed.
It is not as straightforward as one man in particular calling the shots on who should and shouldn't be brought in to bolster the squad, but rather a combination of several different moving pieces and a well-defined process.
The structure
Geoffrey Moncada (Chief Scout): Moncada heads a team of scouts employed by Milan. Moncada will shortlist players that seem to fit Milans style of play and recommends those profiles to his superior Ricky Massara.
Ricky Massara (Sporting Director): Massara is the Sporting Director. While there is no real definition as to what his role means and how it is different from a Technical Director, Massara generally reports to Maldini. His job is to filter the shortlist of names received from Moncada and decide upon which player to pursue in consultation with Pioli and Maldini.
Hendrik Almstadt (Executive): A less heard of Name in the media, Almstadt is not a director but an executive who purely works on numbers and data. Credited with building the academy at Arsenal, Almstadt's job is to use data and decide the maximum amount of money the management can spend on a transfer. For example if Player A is valued at €20m by his club, Almstadt's job is to calculate the maximum worth of the player.
Paolo Maldini (Technical Director): Finally the man who leads the recruitment team. Maldini, after receiving the list from Massara, will lead negotiations with clubs with information from Almstadt on the financial side of matters.
Ivan Gazidis (Chief Executive Officer): As the CEO of the club, Gazidis is an executive who overlooks all aspects of the club such as the sporting side, finances, marketing and more. His involvement in the transfer market is mainly through Almstadt and sometimes leading negotiations based on relationship with that club.
The scouting and signing process
Leading websites such as Wyscout and Opta have data on every bit of player playing in every corner of the world. This data is downloaded by Data Scientists appointed as a scout by Moncada and these numbers are crunched entering variables that are used in our style of play. For example Milan uses a high press and hence the players are assessed using pressing success %.
Once the numbers are crunched and a shortlist is created then they are assessed by Scouts using Video Analysis. This eliminates a few names from the shortlist. This shortlist is handed to Geoffrey Moncada and his personal team of scouts who then assess these players live and by process of elimination a few more names are removed.
The final list is handed over to Massara who makes his personal assessments. With input from Almstadt, the names are scrutinised to check which players are financially feasible for the club. Once this is done Maldini leads negotiations for the player and if negotiations are successful then Milan sign the player.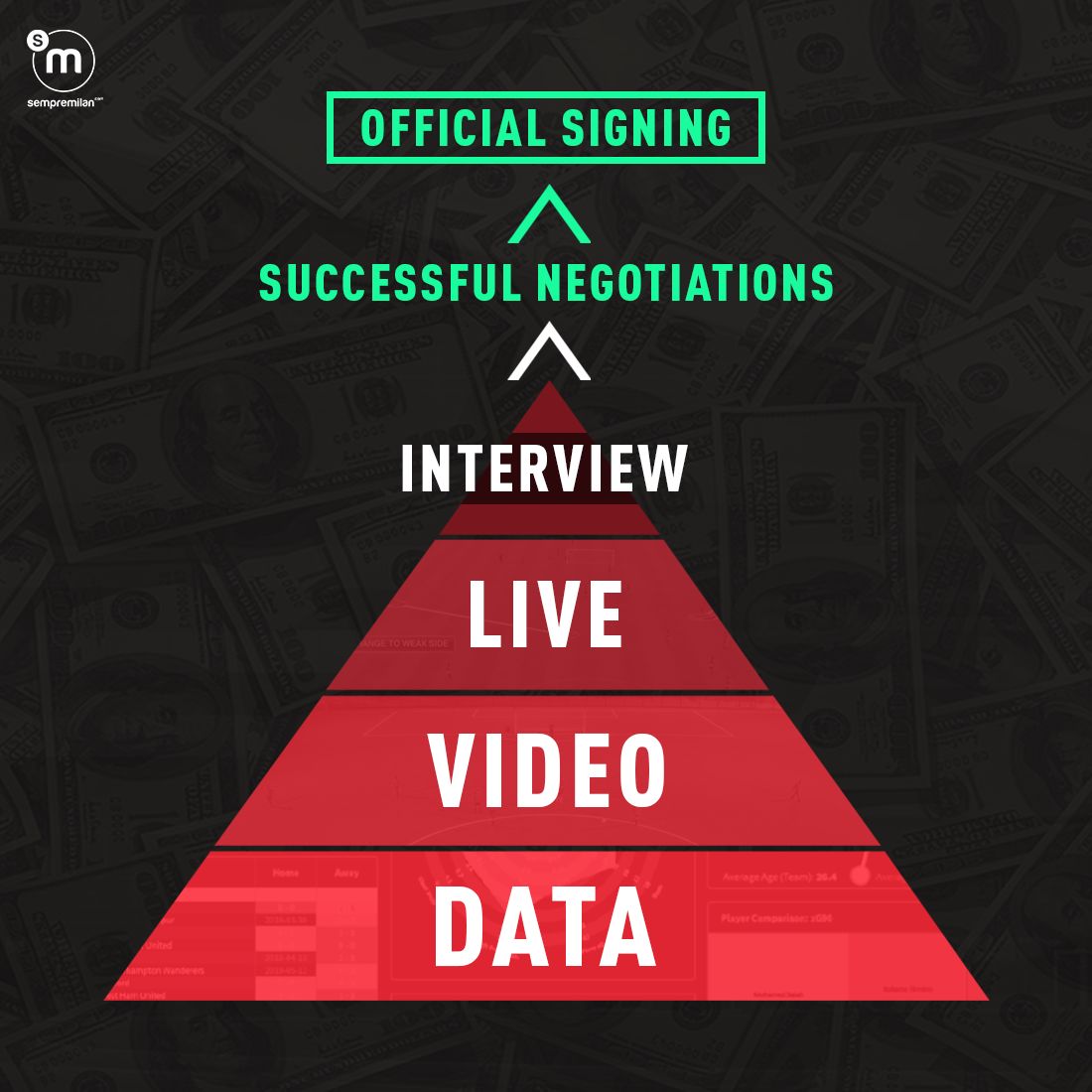 Moncada gave an interview to The Athletic in an article which documents Milan's meticulous way of going about getting back among Europe's elite, and he began by describing the process of scouting a player.
"I've seen us described as 007 in the press and to be honest it is a bit like that. You have to get there first or at least try to. All the big clubs, Bayern Munich and Manchester City, for instance, do an incredible job of scouting at youth level," he said.
"If a 20-year-old player has a terrible game, gets a four out of 10 in the ratings, but has great potential, that's more important to me. I like it when a scout looks at it that way and says to me: 'Look, he didn't have a good game today, but he's gifted'. We keep tracking him and watch him again.
"In the end we have a comprehensive report with all the info and the statistics."
Talking more specifically about what he wants from his scouting network, Moncada stressed the importance of human relations.
"I don't need a scout who only goes to games. I need one who watches training, talks to the parents, the academy directors," he said.
"It's too easy to go see a game, write your report and be done with it. We can do that from the office. We have to have the intel — the contract situation, what's the family like, the small details make the difference. Human relations make the difference."
Conclusion
No process is 100% fool proof. As with every football club Milan will get some right and they will get some wrong. Despite this, the best approach is to take the best educated guess and to trust the aforementioned process if the conditions for the deal are correct.
---
READ MORE: AC Milan announce preseason friendly against Real Madrid in Austria – the details