AC Milan defender Matteo Gabbia has reflected on his past, his present and his future at the club in a tell-all interview.
Gabbia made his first start of the season during last night's 2-0 win over Venezia, putting in a very solid shift before being removed after an hour in place of Fikayo Tomori. The feeling is that the future is very bright for the 21-year-old and very much tied to the Rossoneri.
The young Rossoneri defender gave a very long and very emotive interview to the microphones of 'Cronache di Spogliatoio' with all his comments transcribed by MilanNews.
Do you remember anything from your early days at San Siro as a fan?
"It was a fantastic emotion to be able to enter the stadium when I was little, it was my dream to live the game as a fan with my grandparents and my cousin. It was special, I will always carry it in my memories.
"I don't have a match that I remember because I was really very young, but there are several moments imprinted in my mind: the thing that thrilled me so much every time was when you passed the turnstiles, started to enter the stadium and saw the pitch. You started to smell that smell of grass from the field, it was something fantastic and unique."
The first game you remember?
"It was a Milan-Fiorentina where AC Milan won with several goals, and I remember it because the Fiorentina fans threw eggs against the bus with which my grandparents and I went to the stadium, it's a memory that has little to do with it. with the game, I was very small and this thing at the time also made me smile. It was a nice thing.
Your first Milan shirt?
"I still keep the first shirt as a child at home, for me it is like an heirloom. I am very fond of it: my parents gave it to me, it was a Shevchenko shirt. Whenever it was clean or not too dirty, I would put it to play in the courtyard of my house or in the oratory. It was always nice to wear the Milan shirt."
Do you remember on what occasion it was given to you?
"Yes, it was given to me for my birthday. I was happy. Maybe unlike other children who wanted a game, that shirt made me very happy."
You also talked about your grandparents, who perhaps were the fulcrum of your Milanista faith. Did you go to the stadium with them?
"With my grandparents I remember the pre-game, when we played in the evening and therefore my cousin and I would meet first at my grandparents' house and ate a toast, then the bus would arrive at the intersection and go to San Siro.
"It was something wonderful, they were different times: children could enter much more easily, the stadium was always full and Milan were among the greatest teams in the world. It was a dream to be able to go to the stadium and experience such a beautiful thing with your family."
Which success do you remember most?
"I remember the 2007 final well, luckily I remember less than the one in Istanbul two years before because I was little, I was only six years old. The one in Athens I remember very well: we were at home and we all saw the match together and it was really very exciting. It was a rematch, it was good. We hope that these moments can return as soon as possible."
How is the debate on football in the family now?
"A lot of things have changed, initially we spoke in a very different way, as fans. Now being in the first person in this environment there are things that have changed, but the things I say are always the same.
"My grandmother gives me lots of advice because she loves me, she always makes me eat fantastic things because she loves me (laughs) and I'm happy to go there and spend time with her, they are very important images and figures in my life."
You grew up in the Milan world, what does it mean for a boy to grow up here and play with this shirt?
"I think that for a boy, especially very young as I could have been at 14, growing up in Milan is both a dream and a responsibility. It is necessary to have the intelligence to understand that every day must be deserved to be in such a glorious and prestigious club.
"The fact of having come through the youth sector and of being now in the First Team is a reason for pride for having done and being improved in all the steps. I hope my growth can continue in the best possible way, with this jersey always on and I hope it can be as long and rosy as possible."
What is it that Milan gave you as values?
"I think that being in a club like Milan conveys a lot to you both from a footballing point of view, as can consistency, precision and punctuality, but I think that being in such an environment with very good people like all the coaches that there are.
"When in the youth sector, I think they teach you a lot about sharing, they make you understand that sharing is important and that everyone is important. There are values ​​that must be respected and if there is one thing that Milan teaches you it is respect for all the people who are part of it."
An anecdote about his first call-up…
"Here at Milan there is a character that we all call Rambo, one of security. He is very nice and very good, he is very funny. But it always puts you in a bit of awe: it was my first match with the First Team, I had been called up and I was very shy, I didn't know how to deal with the people next to me.
"The meeting begins to then leave and go to the stadium, I show up 20 minutes earlier. He looks at me and says to me: 'Who are you, what are you doing here? You don't have to get on the bus.' I'm worried and I answer him: 'Look, today I'm called up' and he replied: 'No, don't worry, I was joking. Today you can go'.
"At that moment there he put me in an incredible embarrassment, but now I have a very good relationship. It has also helped me a lot in this last period in which I am here with more continuity."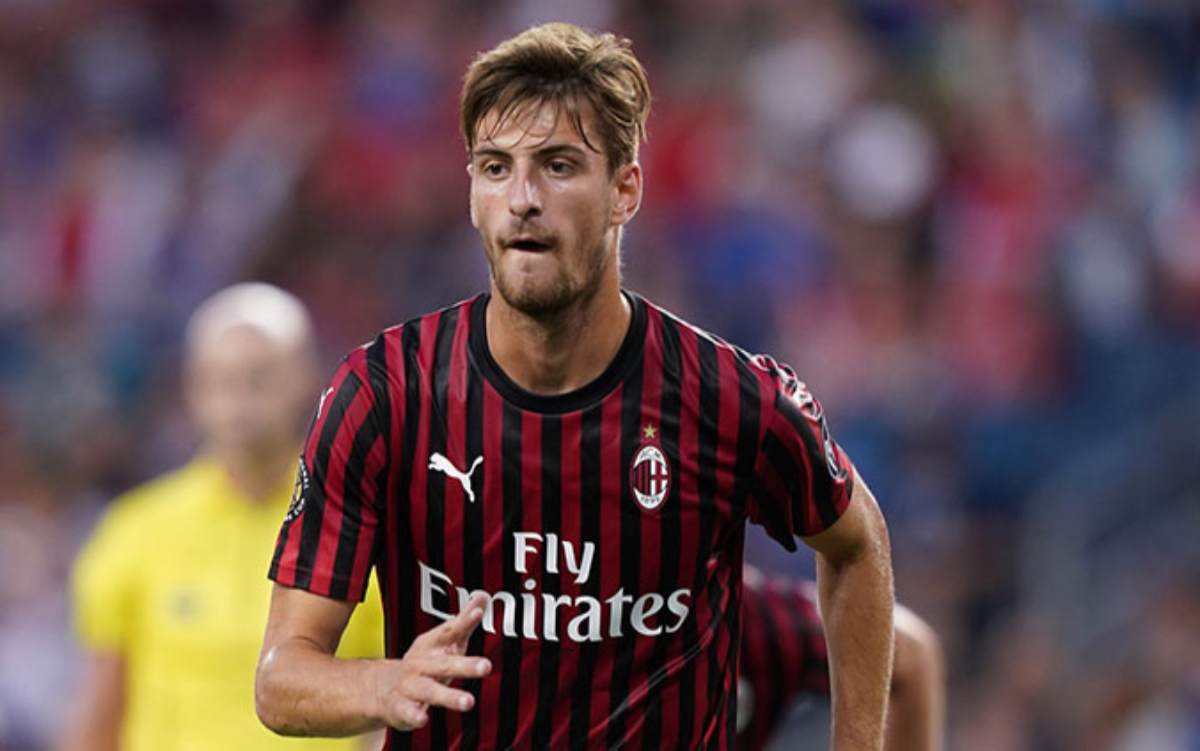 Do you have special moments related to Mister and team-mates that you will always carry with you?
"I have so many moments that I carry inside, which certainly helped me in the moments when I played both more and less. I met many people, Borini, Biglia, Kjaer, Romagnoli, Calabria… Many players who in many moments helped me, gave me advice, told me how to deal with a given situation. I think the group in this team is something fantastic and I think it will show."
On the transition from midfielder to defender…
"It was a very useful thing, but I don't deny that I had some difficulties. I was a boy and accepting the fact of changing positions, from a midfielder that I liked a lot, to a defender was not easy. I've had moments when maybe I wasn't sure, in fact some coaches from the Youth Sector encouraged me a lot to change roles.
"With Filippo Galli I may have argued many times saying that I did not like him and I was not convinced, but he has always believed in me and told me: 'Look, I think this is your future'. That was it, he was right. It certainly helped me a lot to understand certain game situations and to speed me up from a technical point of view. It's a path that made me grow, I'm happy I did it."
What do you remember of your debut?
"It was a day where I had a lot of hope, I was very hopeful. I understood that there was the possibility of doing the first few minutes in the First Team and therefore I was very euphoric. I remember that at the end of the first half Locatelli, who was playing as play in front of the defence, told me: 'Matte, be ready because another 15-20 and then you'll go on'.
"At that moment I knew that I would have my chance. When I entered the field it was beautiful, a dream that came true. Obviously I would have liked to have made the first at San Siro but then I was happy that it came later.
"At that moment there I was a bit sorry because you don't know what could happen, but it was a fantastic moment. Immediately after the game I called my parents, I showed them that I was happy and that I had achieved my dream."
When you came on against Torino even the shin pads slipped out of your hand, were you so excited?
"I didn't expect it in the least, because there was that moment when the coach called Musacchio and so in theory I knew I shouldn't have entered. Then Mateo said he had a calf problem, then the Coach turned around and said to me: 'Come on Matteo, come on'.
"It was winter, I was fully dressed. In three seconds I took everything off, I took off the jacket without even opening it (laughs), I took off my pants: I wanted to do as fast as possible to help the team and not leave it with one less man.
"I think there was a negative angle, in order not to leave them with one less man I tried to do as fast as possible, it was something not so much dictated by emotion but by wanting to immediately take the field to help my teammates. It was great."
Is it true that your grandmother had to stop watching the game because of the excitement?
"Yes, she told me after the game when I got home, she was still awake and told me she couldn't sleep. I sat there and told her to be quiet and that everything was fine."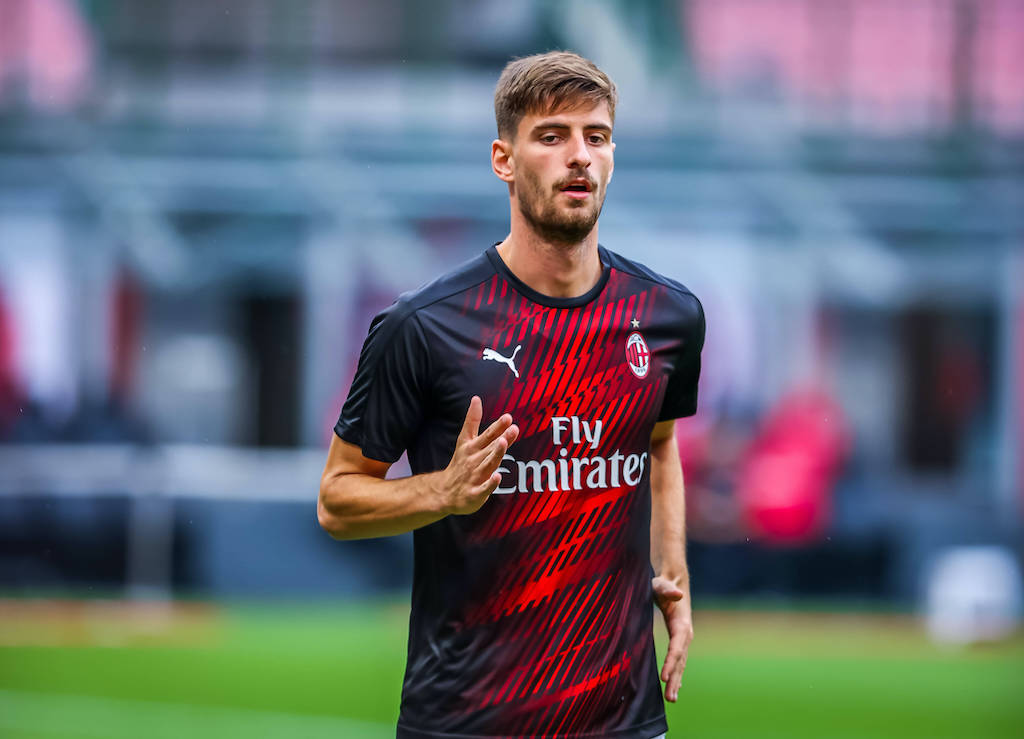 On the selfie at Old Trafford in front of Ibra's shirt…
"We went to Old Trafford with the U18 national team to make two friendlies in England. We played the first friendly match, and after that the national team manager, who was Nicolato, told us that we were going to pay a visit to Old Trafford.
"When we went to the locker room all of us guys took pictures with the jerseys, I remember that I had done it with Zlatan's shirt because he had played for Milan and because he is an iconic player anyway, a champion. And I put it on Instagram after the match against Cagliari, before and after, while we were hugging. He replied to the story by saying 'Top, you are great', something like that."
Is there something that binds you to Ibrahimovic in terms of anecdotes?
"Zlatan is one who gives you plenty of anecdotes. I can tell you about all the blows you get from him when you play in training and that you enjoy taking them. Because it's nice to confront him. You know you get hurt but you know you get better.
"It is special to play against him in the match because it takes you to a higher level. It is a necessary suffering that leads you to improve. Since he arrived, he has made sure that we all managed to raise the bar. He has changed the mentality a lot with the coach. When he tells you something on the pitch, it has a special value."
What relationship do you have with your comrades in the department and with Tomori?
"We have a great relationship. We are three young guys like me, Tomori and Alessio plus Simon who is an experienced guy. We love each other, there is competition and we always train well. We talk to each other and give each other advice.
"Simon often gives me some advice on positioning when we play matches having a lot of experience but they are really a good group of central defenders and I'm happy to be part of them. We hope that this season, from a defensive point of view, will make us stand out."
When did you realise you went from being a fan to being an idol for the fans?
"There was a moment after the arrival of Mr. Pioli in which I played a few games with continuity. I went to Puglia with my girlfriend on vacation and we were in a club and a couple of Milan fans asked me for a photo and an autograph.
"From there the word spread and a lot more people arrived and there I experienced something that I had not yet experienced. My path is still long and I don't stop at the idea of ​​having arrived. It takes dedication to get where I want."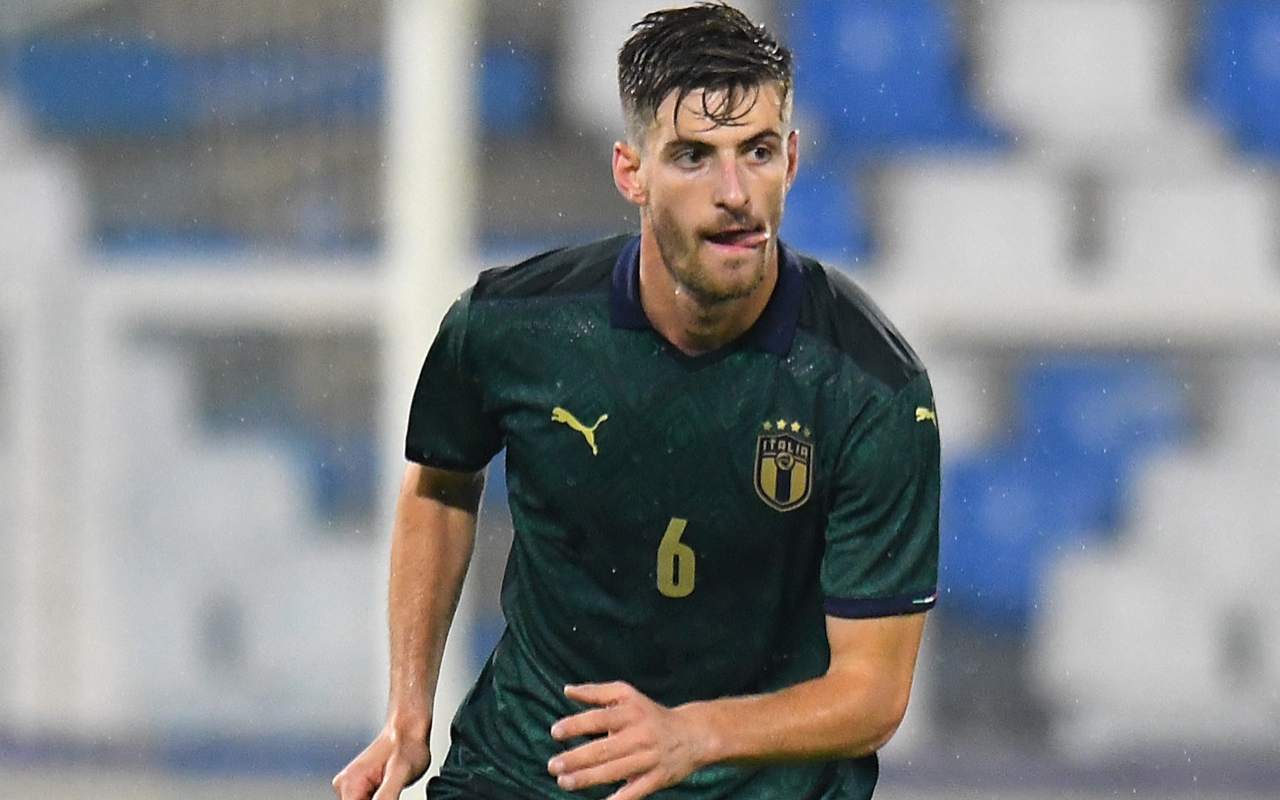 Milan is very active in the social field. What does it mean for you to play for a club that you know works hard from this point of view?
"It sure is beautiful. Being in a society that is socially active is a source of pride. Milan is a point of reference for all the clubs in Italy and I hope that these initiatives can be a good omen to ensure that other clubs also make movements of this type."
Have you ever had the doubt of not making it?
"The path has certainly not been easy. I had an experience in C after the Primavera with Milan that left me many things. I am very happy to have lived through situations that I will carry within my whole life.
"I think it was the year that left me the most on a football and human level. It showed me that in addition to money and fame there are many good players and that working hard to achieve goals that are not recognised as our victory or our goal.
"They put the same commitment and dedication into it and living a category like C made me realize how important it is to deserve to be in a club like Milan every day. It was my first experience outside Milan and from a protected environment like that of the youth sector and it made me understand that things must be sweaty and deserved."
Is there a pre-game speech that particularly impressed or marked you?
"A very nice speech was what Mr. Pioli did last year before the last matchday with Atalanta. He reminded us how much we had run and struggled, how much we had insisted on living this fundamental match to reach our goal which was qualification for the Champions League.
"He took each of us and reminded us how many kilometres we had run and where we would have arrived if we had started from Milan. Fortunately, his speech was followed by a great victory that makes us experience the Champions League as protagonists this year.
"Playing the Champions League is every kid's dream. I think there will be some anxiety and emotion but we have to live it with the right lightheartedness and conviction. We arrived with merit in the Champions League groups and be calm and rely on our qualities."
Did you have an idol in Milan when you were a boy?
"I had an idol who was Maldini. I loved Thiago Silva but also Gattuso and Inzaghi. That was a very strong team. Meeting Maldini was exciting and also seeing him now gives me very pleasant emotions."
What was the best and most difficult moment in the youth sector?
"The best moment is when I arrived. It was a dream come true. I did the first two workouts where I looked at all the training clothes, which I bought just a year earlier. Living the daily life of Vismara was wonderful.
"The most difficult moment was the loan in C which makes you understand that the first team must be deserved and that you have to live certain difficulties that I was lucky to experience with hindsight. Today I am in the team that I support."
---
READ MORE: A fountain of youth and a first since 2005 – All the key stats from Milan's win over Venezia