With the fight for the top four places raging on, AC Milan took on Juventus at the San Siro as they continue to battle an injury crisis with their main two centre-backs injury.
Despite this, Juve also had their fair share of players missing with Bonucci and De Ligt not able to make it for the game meaning Rugani and Chiellini started in defence. The end result though was that the two attacks were the ones that struggled the most in what could generously be described as a chess match draw. Here are some of the key tactical points…
Condition of the pitch
It was a point which was discussed even before a ball was kicked but in the end it was inevitable to talk about the playing surface, which had seen 7 games in less than three weeks.
Milan's pass completion rate – which averaged around 81% usually – came down to 79% with the ball not travelling as much as usual. Milan were not able to string any passing combinations and then had to go more direct to Olivier Giroud, but were not able to get the support around him nor the quality service.
Gladiator battle
It sadly lasted less than half an hour but seeing the 37-year-old Giorgio Chiellini go at it one-on-one with the 40-year-old Zlatan Ibrahimovic – potentially for the last time – made for fascinating viewing.
The wily old Italian defender shadowed the Swede, trying to disrupt him at the point of receiving the ball and limiting his ability to quarterback the attacks how he likes. Ibra would limp off with a tendon problem.
Doubling down and packing the wings
Max Allegri's plan was to cut down the space available to Rafael Leao on the left wing and he did that by doubling up on the Portuguese forward with Mattia De Sciglio and Cuadrado covering him. Although the latter was down as a right winger, he functioned a right wing-back which shows how cautious Allegri was.
The Colombian wide man helped facilitate the double team on Leao and did not give him any space to operate, with this grip becoming apparent after the first 20-30 minutes when the former Lille star had a lot of joy against De Sciglio.
As can be seen below, the away side packed the wings and prevented any sort of overlap from the full-backs too, which with Theo Hernandez on the same flank as Leao is a real weapon Pioli tries to flex.
Lack of a consistent set-piece plan
Ever since the days of Andrea Pirlo, Milan have not had a consistent set-piece taker. While the Rossoneri had Calhanoglu in the last few seasons he was ineffective and Milan never posed a threat from corners and free-kicks, which add real variety and threat to an attacking arsenal.
Working on this aspect could help Milan unlock stubborn defences by posing a different kind of danger. Sandro Tonali for example has scored a free-kick at home this season, but for an effort from a similar distance to his goal against Cagliari (albeit from the opposite side) Giroud took it for some reason and hit the wall.
All bark no bite
In a drab draw at best, Juventus had 14 actions that resulted in a shot but somehow Mike Maignan did not have a single shot to make, as the Bianconeri mustered zero shots on target.
Milan meanwhile had 22 shots on goal, of which only 4 were on target. That shows that the Rossoneri got into the right situations to pull the trigger but either did not pick the right time to fire or were instead just wasteful, which against the top teams makes it harder to win due to naturally having less chances.
Classic Allegri approach
This match had the stamp of Allegri all over it, with Juve veering more towards protecting their goal than trying to score. This can be seen at how deep they defended on and off the ball.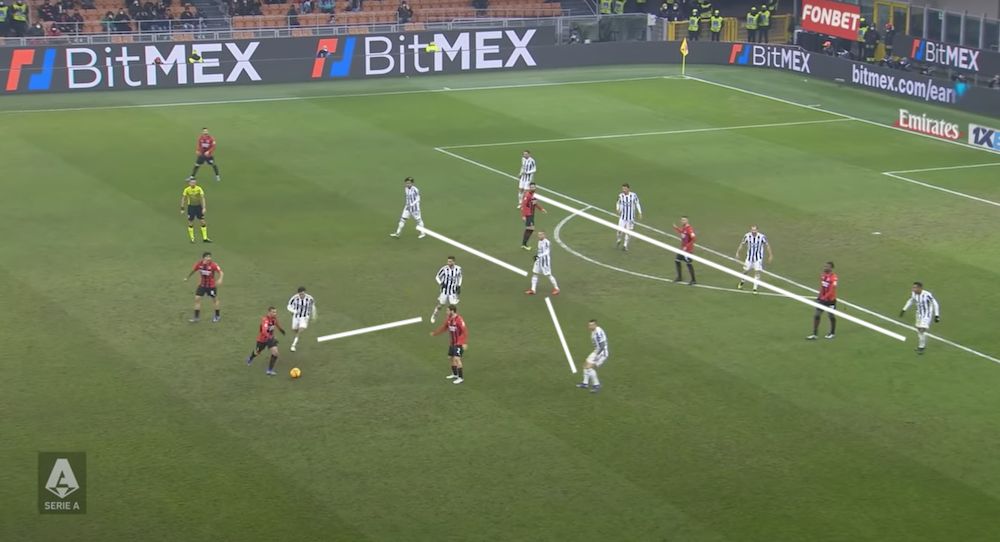 Conclusion
The feeling before this game is that there was a lot to gain for both sides in the case of a victory, with Milan looking to keep their Scudetto battle alive with rivals Inter and Juve scrapping for a top four spot, but that also meant there was a lot to lose.
Both managers played things in a cautious way in the end with the substitutions failing to unlock a turgid game of attack against defence, pressure versus counter and ultimately a lack of quality cancelling out a lack of endeavour.
---
READ MORE: Milan quiet on the market while rivals strengthen – Pioli to make virtue of necessity again