AC Milan moved into the Champions League qualification places for the first time in over a year with a 2-1 win over Genoa.
Alessio Romagnoli was the hero in added time as he hooked an 18-yard shot over everyone in the box, landing in an empty net due to Andrei Radu's positioning.
Suso also got on the scoresheet with an incredible shot from all of 25 yards on what ended up being a memorable night for the Rossoneri at San Siro.
---
1. One step forward, two steps back
We can no longer ignore the problem that is Tiémoué Bakayoko. Gennaro Gattuso claimed after the game that he was happy with the Chelsea loanee's performance, but nobody in their right mind actually believes that Rino was completely satisfied, especially given his error for the equalising goal.
In open play, Bakayoko can often look quite good and exactly the kind of midfield powerhouse which can be useful. However, he simply makes too many errors in possession, and on Wednesday night it almost cost the team two points. It's time to look at other options.
---
2. The definition of insanity
Albert Einstein once claimed: "The definition of insanity is doing the same thing over and over again, but expecting different results". We can be thankful that this definition need not apply to Suso.
Once again the Spaniard managed to score using his trademark move of shifting onto his favoured left foot, creating some space and unleashing a venomous shot. Defenders know it's coming, but they seemingly cannot stop it.
WATCH: Suso is back at it, what a goal! #MilanGenoa 1-0. pic.twitter.com/PmCzn6mk2J

— SempreMilan (@SempreMilanCom) October 31, 2018
A lot of Milanisti want Suso to develop a little something extra to his game to make him less predictable – and it is clear to see he has been working on his weak foot – but if he can keep doing what he's doing and get results, why change anything?
---
3. Where is the love?
One particular incident from the game that seems to be getting too little recognition is Gianluigi Donnarumma's save in the closing stages to keep the score at 1-1.
When Lazovic found space to shot and had seemingly rolled the ball perfectly inside Donnarumma's far right post, Gigio pulled out an incredible full-stretch fingertip save to stop the visitors taking the lead.
Donnarumma with a decisive save this evening 👏🔴⚫️ pic.twitter.com/5KaVTuHfDl

— SempreMilan (@SempreMilanCom) October 31, 2018
Without that, Milan fall behind and almost certainly lose the game. In actual fact, it could prove to be a turning point not just in that game, but in the whole season.
---
4. Prospering through adversity
Many have criticised the shaky nature of the performance particularly after going a goal up so early, yet it is important to consider the circumstances that led up to this being a potential banana skin.
A plethora of injuries both in defence and midfield forced Gattuso to not only make several changes to the line-up, but also change the system entirely. The coach admitted himself that the Rossoneri had trained using a 3-5-2 for just one day, though at times the team managed to match Genoa – a team known for playing with a five-man midfield – and create chances.
Add to that the late injury to Lucas Biglia, such an important part of how Gattuso's style and system operates, and you have a real nightmare in terms of preparation. However, the team got over the line showing character and fight, something that they deserve credit for.
---
5. Until the end
A lot of the talk in the days leading up to both the Sampdoria and Genoa home games was about the uncertainty surrounding Gattuso's job. Yes the Derby defeat was a poor performance and a bad result, and the loss to Betis was equally as embarrassing, but the last two games should be the biggest indicator of the mood in the camp.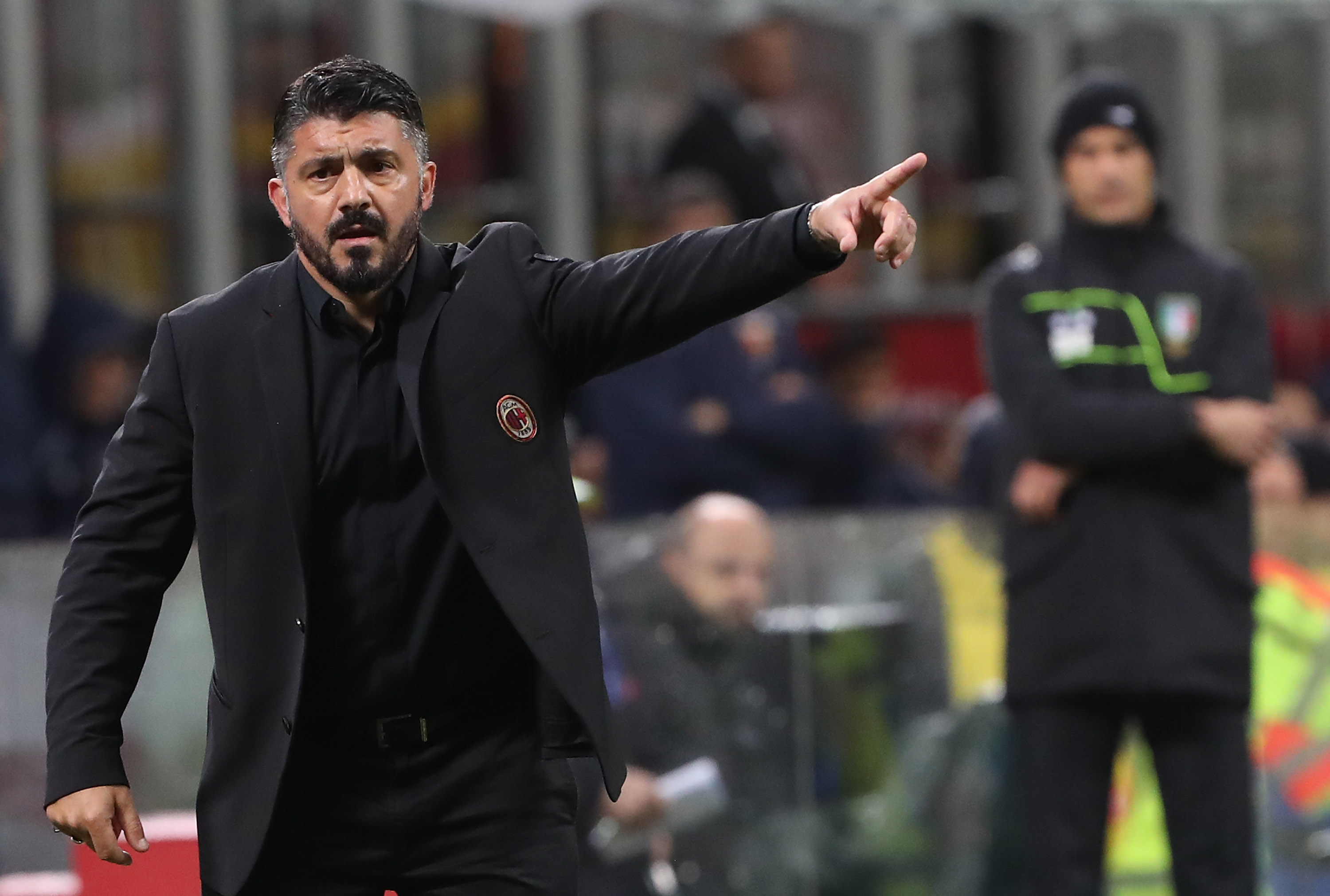 In the games against both Genoese teams Milan were pegged back, and twice they pulled through. Every single player was out there fighting for the three points as they knew the magnitude of the effect it would have on the team and their under-fire coach.
A 100% effort is all we can ask for, and this group of players continues to deliver that under Gattuso. That in itself should eliminate any doubt regarding how the squad feel about their boss.
---
As Gattuso himself said, getting into the top four means nothing, the team must now back it up – starting with a tough trip south to face Udinese on Sunday.