If you ask AC Milan fans for the most memorable European nights in the club's history, the game against Manchester United at San Siro in 2007 is one that certainly springs out.
Manchester United had come to the San Siro with a 3-2 lead despite the heroics of Ricardo Kaka at Old Trafford in the first leg. It was a tie that pitted two greats at the top of their powers against each in Kaka and Cristiano Ronaldo, and it was Milan that came out victors with a ruthless and dominant second half display.
It was also a match between two legends of the game in the dugout as Sir Alex Ferguson faced off against Carlo Ancelotti. Sir Alex had taken the first round, but Ancelotti got two crucial away goals to take back to San Siro.
Here is a tactical analysis of the game, which looks at some of the key principles from a match Milanisti still label 'La Partita Perfetta'…
Carlo's Christmas tree
When Andriy Shevchenko left for Chelsea and Manuel Rui Costa went to Benfica, Ancelotti was left needing to make some tactical changes. With the reputation of being a tactically flexible coach and a world class man-manager, he designed his tactics to let individuals express themselves and bring out the best in their skill set.
A modern day example would be how he got the best out of Vinicius Jr. and Karim Benzema this season as Real Madrid won the Champions League again.
Ancelotti brought in a 4-3-2-1 system, famously nicknamed the Christmas tree because of its tree-like shape. He opted for a back four while having a midfield three and two inside forwards with a lone striker up front.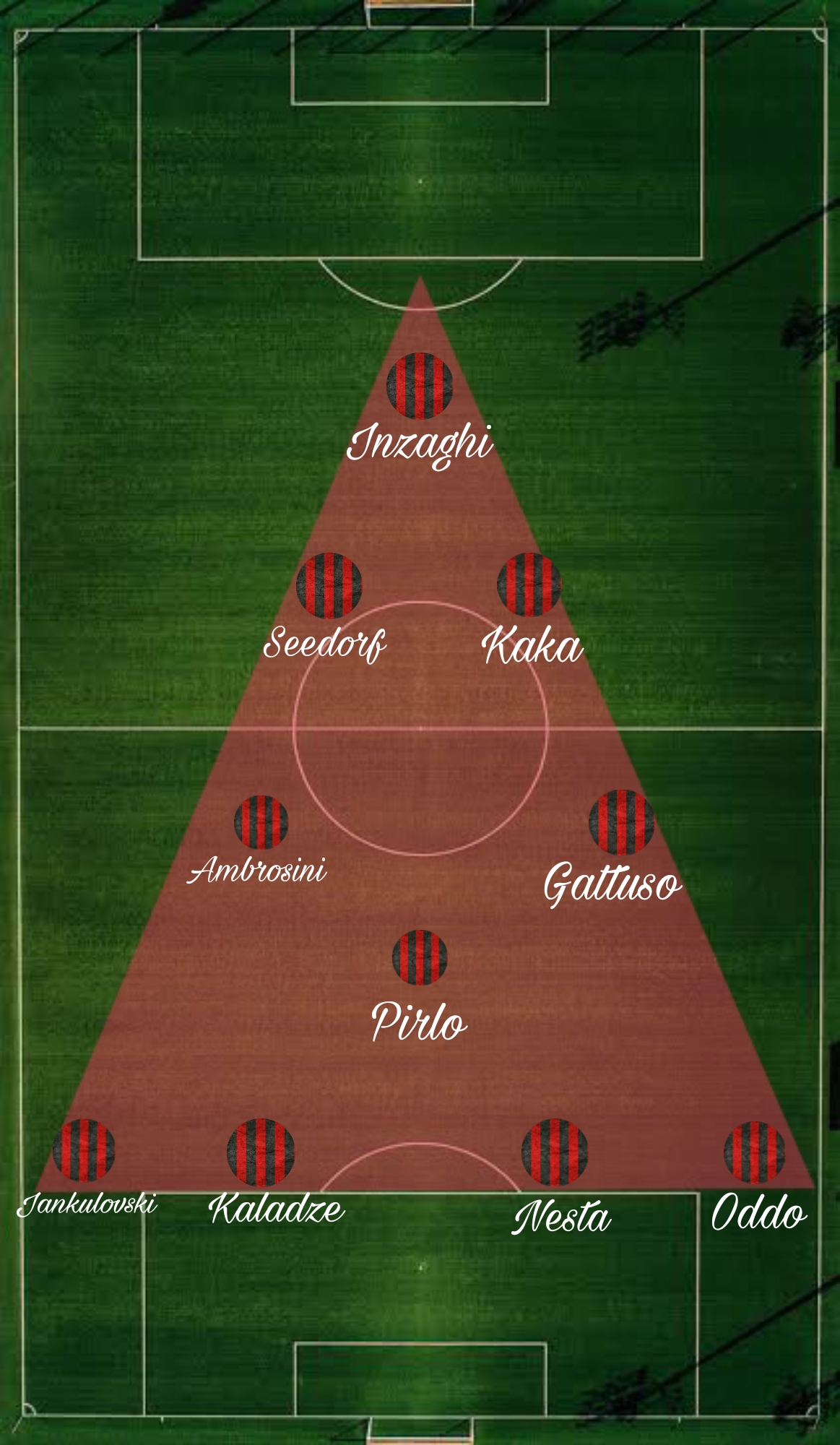 What Ancelotti wanted to achieve was dominance in the central areas owing to having some of the best midfielders in the world at that point along with one of the best attacking players in Kaka.
With Marek Jankulovski and Massimo Oddo/Cafu, Milan had players to take care of the width issue. One of the biggest challenges faced with this system was with players trying to create width and stretch the play, which meant there was chance to get countered easily. This was solved with two dynamic presences in the middle in the form of Massimo Ambrosini and Gennaro Gattuso.
The two stars 
With a basic understanding of how Ancelotti set out his team, let us take a look at how Milan played against United.
Kaka's role: The Brazilian was the star of the team. He was a player with explosive dribbling along with ability to find pockets of space between the line he was given the license to roam by Ancelotti.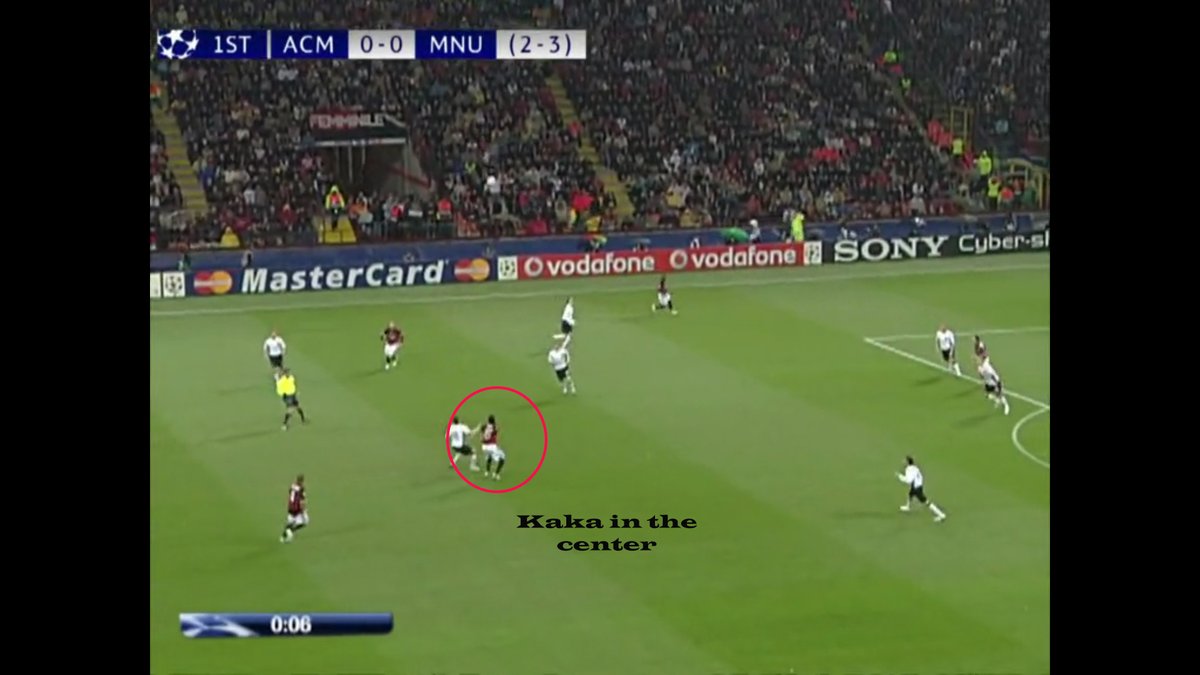 You could often find Kaka positioning himself in the centre of the pitch or towards the right half spaces dribbling at Vidic like in this example. He was also always available as a passing options to his team for counter-attacks once they won the ball back.
Cristiano Ronaldo: On the opposition side United had the rising star, Cristiano Ronaldo. In what could be labelled as his breakout season, Ronaldo was Sir Alex's trump card. He was initially started purely as a left winger to try and take on Oddo in 1v1's.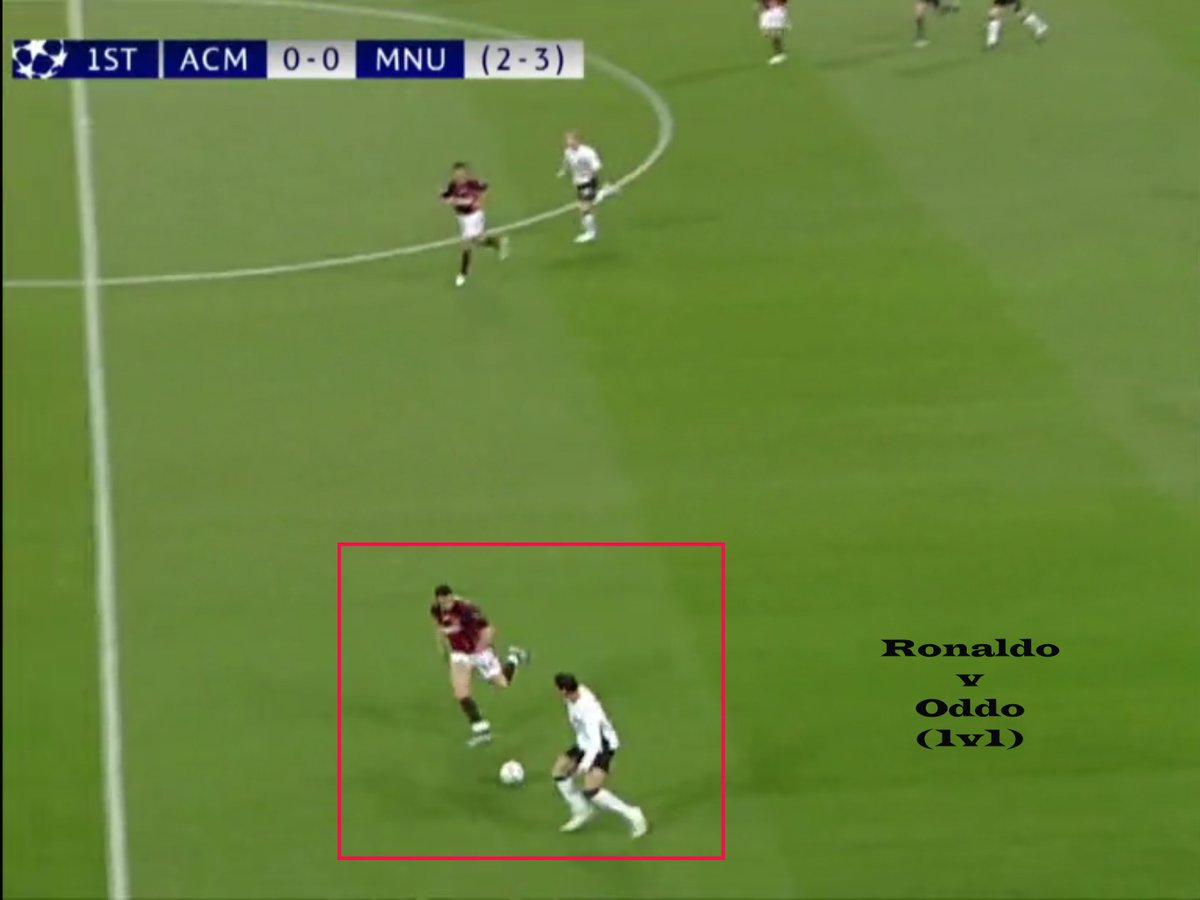 To assist him Ferguson sparingly allowed Heinze to push up in support of Ronaldo to try and bolster the numbers attacking down the left flank.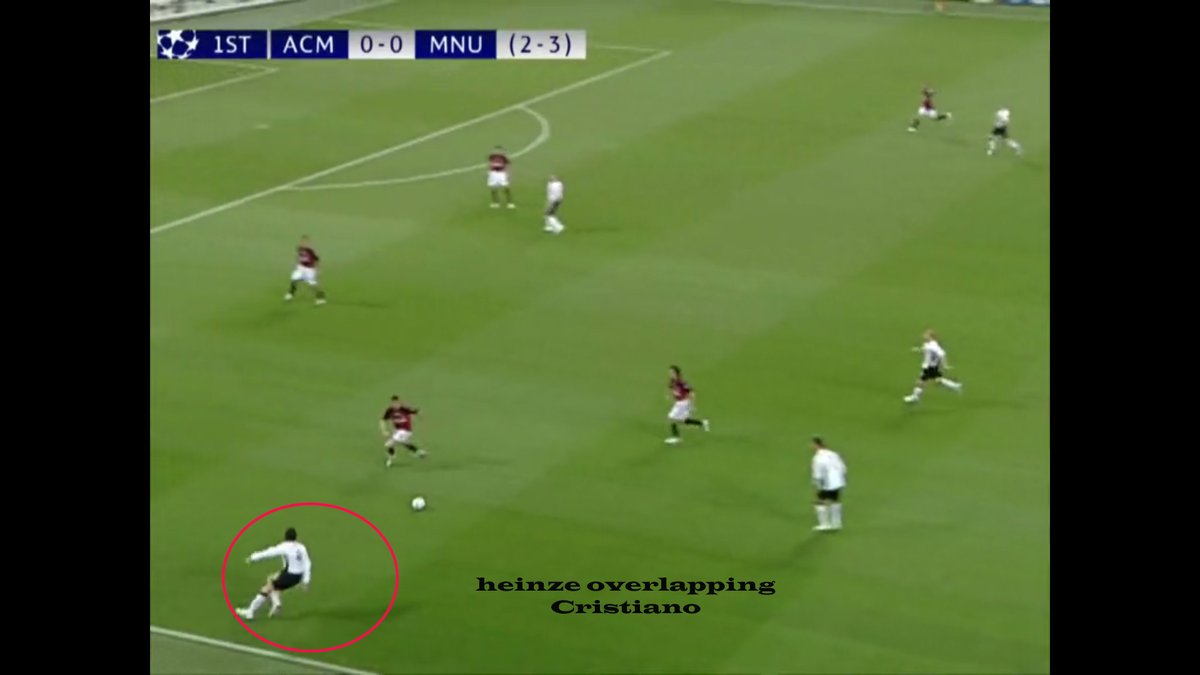 First half
The recipe for Milan's success particularly against Manchester United and that season was their talented and hardworking midfield. Contrary to what we have now with Pioli's Milan, Ancelotti's midfield was the core of their approach play and chance creation.
To a casual observer Andrea Pirlo was a defensive, but for those familiar he was a Regista, a playmaker who sat in front of the defence and created attacks from deep. Pirlo, with his unique passing ability, could angle balls into onrushing full-backs who could bomb forward and cross the ball.
Gattuso and Ambrosini were the mezzala's or the half-wingers. They were the engine of the side: they ran around, defended the central areas, prevented counters, helped in building up play and protected Pirlo to allow him to play his natural game.
Seedorf – who played as a mezzala until his last season – was converted as a inside forward. The Dutchman was a unique player as he had technical excellence that was combined with a high work rate and a lot of power.
Being a disciple of none other than Arrigo Sacchi himself, Ancelotti had granted freedom to these four midfield players who operated along the lines of zonal principles rather than a fixed position.
Whenever Milan needed to slowly build their attacks, one of the midfielders would drop in between the centre-backs and collect the ball. In this instance we can see a positional switch.
Gattuso plays as a makeshift Regista, Seedorf as Mezzala (LM) and Pirlo as an attacking midfielder.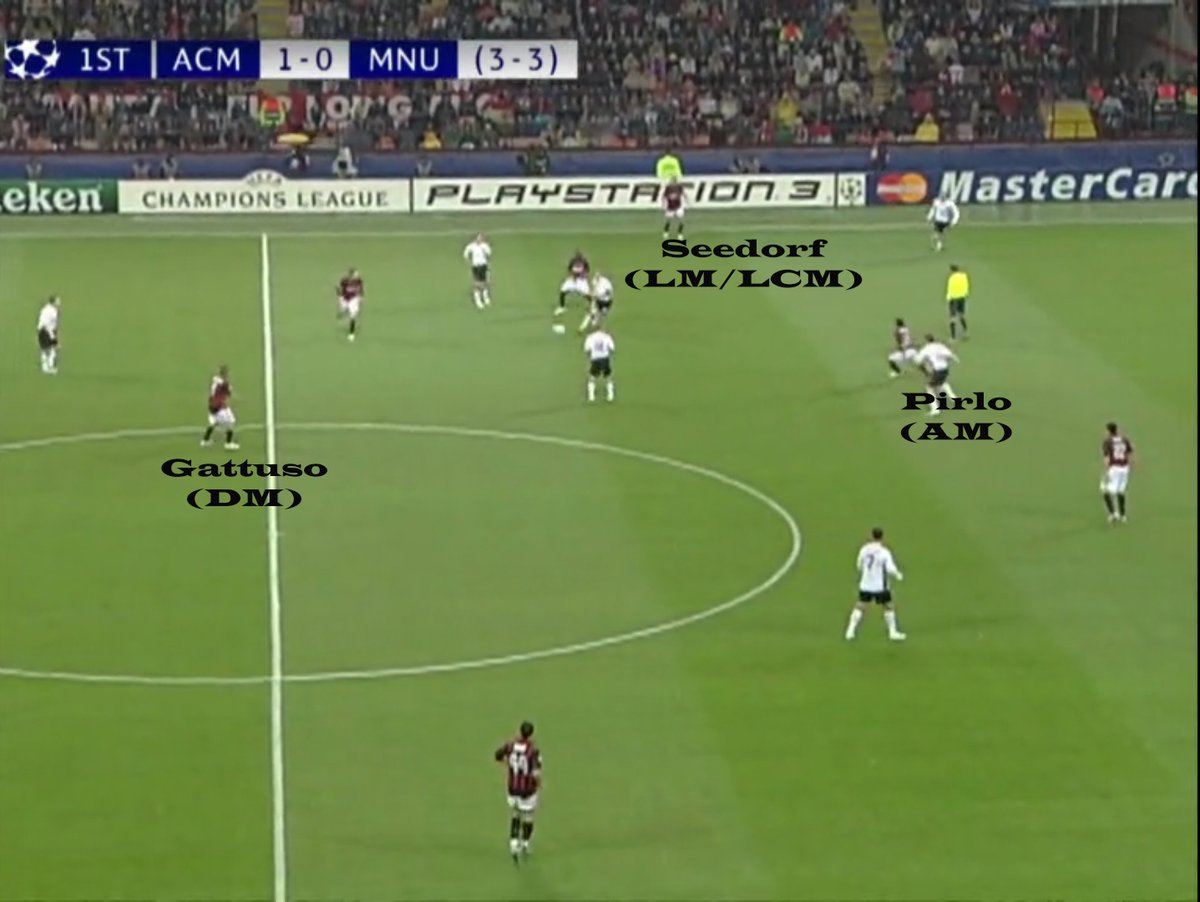 Another positional switch was seen when Seedorf sat back with Gattuso as a defensive midfielder to allow Ambrosini and Pirlo to advance and join the attack. This way Milan had a way to protect against counter-attacks but had players committed in United's box.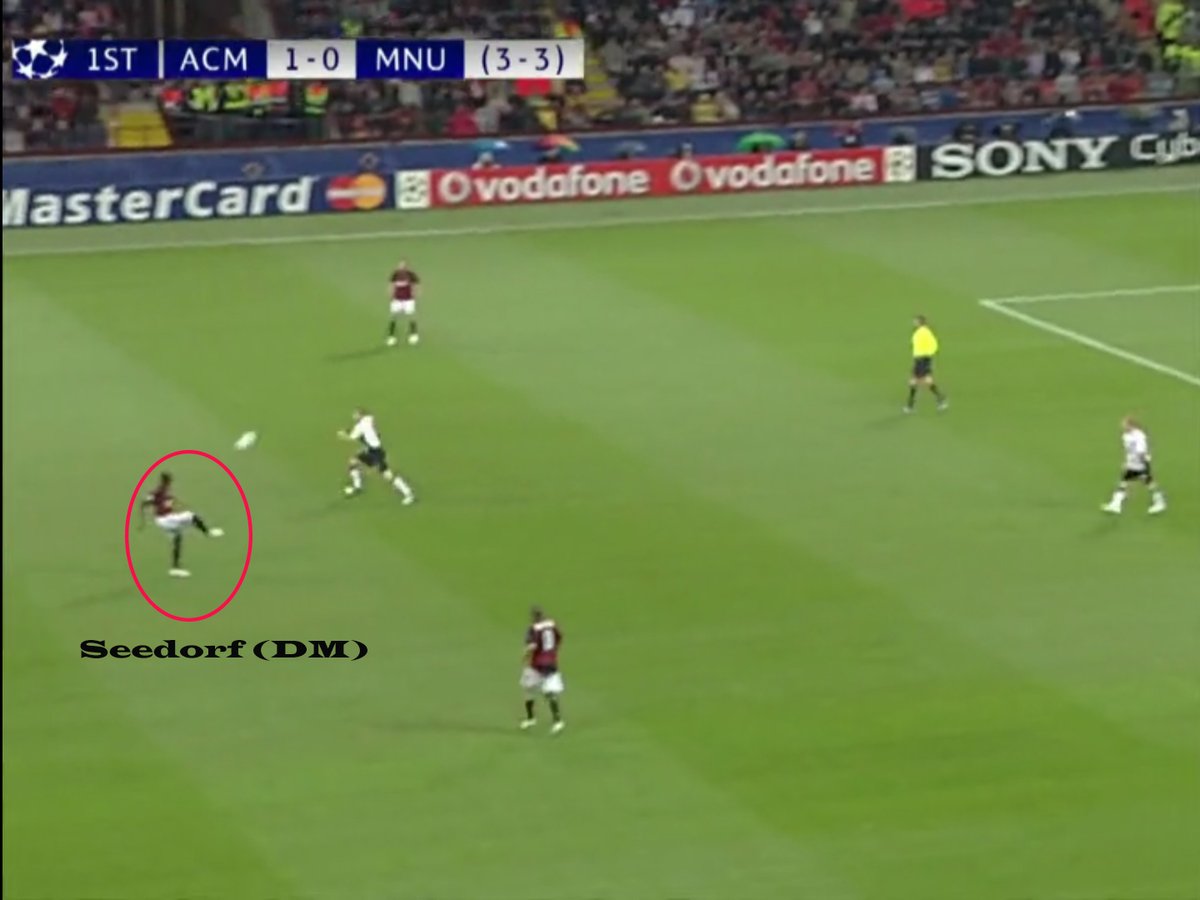 At one point you could see all four of the players occupying the same zone with Gattuso the furthest forward.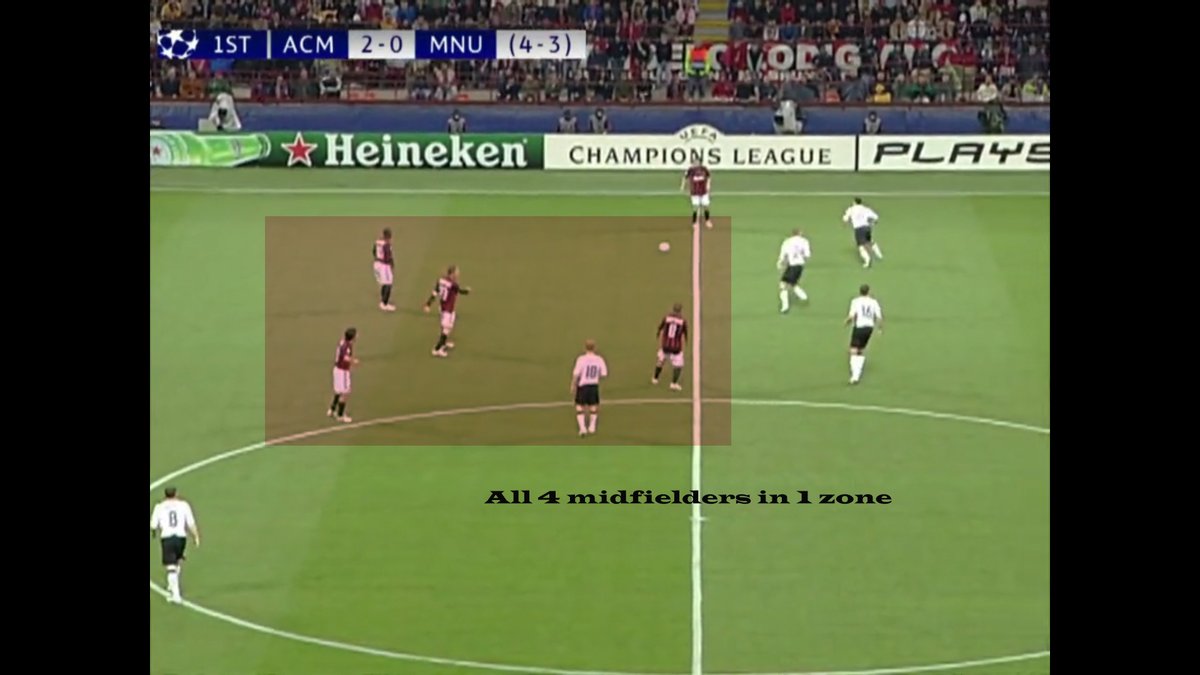 Inzaghi's role: Pippo is often remembered for his goals inside the box, as Sir Alex once humorously claimed he was born offside. However, Inzaghi was much more than a poacher.
With a lean frame he wasn't the best at holding up the ball, but he helped with pressing and occupied defenders and pulled them away to create space for Kaka. He also acted as the target man for all crosses inside the box.
Milan's first goal: Something very difficult to defend is unpredictable midfield runs. Fletcher, who was marking Seedorf, noticed his late run and followed him. Vidic who was marking Kaka snapped his concentration followed Seedorf. Seedorf's lay-off was finished well by an unmarked Kaka.
Stifling Ronaldo: Ancelotti rightly recognised the threat of Cristiano, so he never allowed him to have a 1v1 with Oddo. The dynamic Gattuso or Ambrosini – depending on who was on that flank – would team up with Oddo and have a 2v1 on Cristiano rendering him impotent on the flank.
United's build-up: Playing a 4-2-3-1, United tried to play quick vertical football trying to move from Van Der Sar to their forwards with three or four passes. Carrick would sit as their deep-lying playmaker with Scholes dropping in from his No.10 position and trying to create space.
Wayne Rooney playing as a false nine would drop in to allow one of Ronaldo or Giggs to come inside and meet crosses. Their verticalisation also posed a huge threat on counters. With 2-3 passes United could get into their final third and one such chance led to a shot on target for United.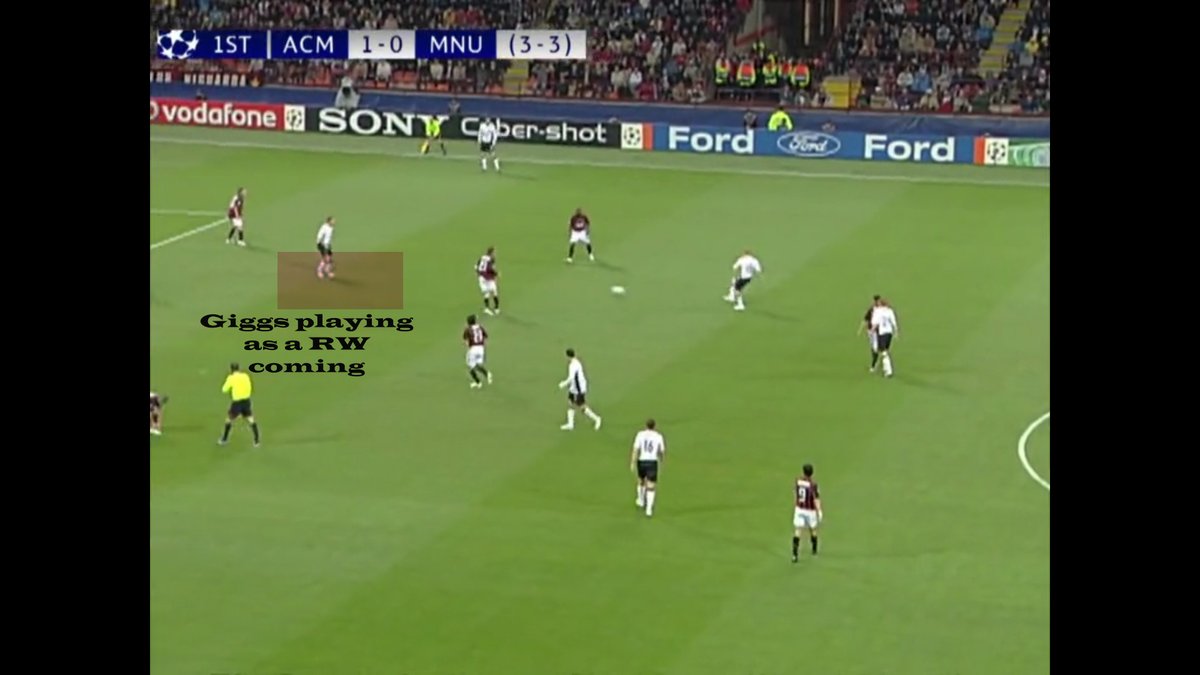 In terms of full-backs, Sir Alex allowed one of John O'Shea or Heinze to attack but not both maintaining a strict three at the back.
Pressing from Milan: Of course this was 2007 and pressing wasn't as intense as how Klopp or Pep Guardiola uses it now, but Ancelotti had his forwards and midfielders man mark whenever United's defenders had the ball.
Whenever United's players had the ball towards the touchline, Milan would commit more players towards the sides and try and reduce the playing area.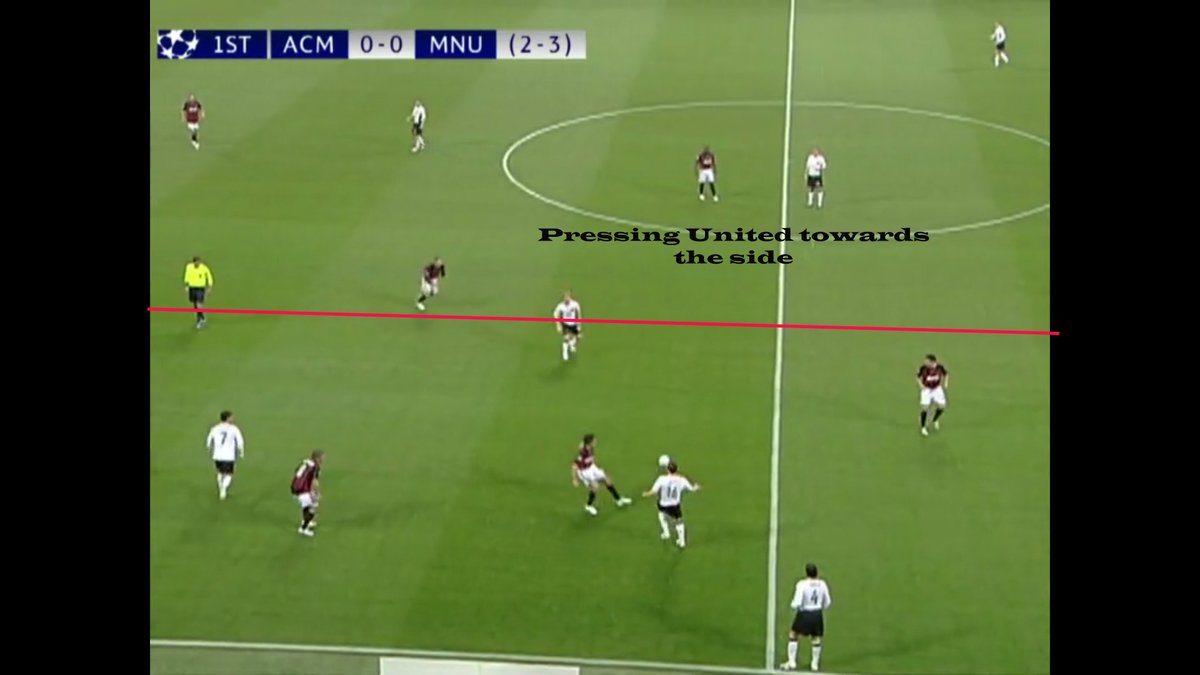 Milan's second goal came as a result of clever pressing from Inzaghi and Pirlo. Vidic was pressed by Inzaghi and Pirlo pressed Heinze. Vidic tried to kick the ball out, slipped and the ball fell to Pirlo whose poorly cleared cross was scored.
Second half
Fergie's change: Being 2-0 down at half-time, Ferguson had to change his plan. His cautious approach backfired and he needed to score two goals to make a comeback.
He shifted to a 4-3-3 with Scholes playing as a Mezzala (his comfortable position) and Giggs switched to the left with Ronaldo given a free role.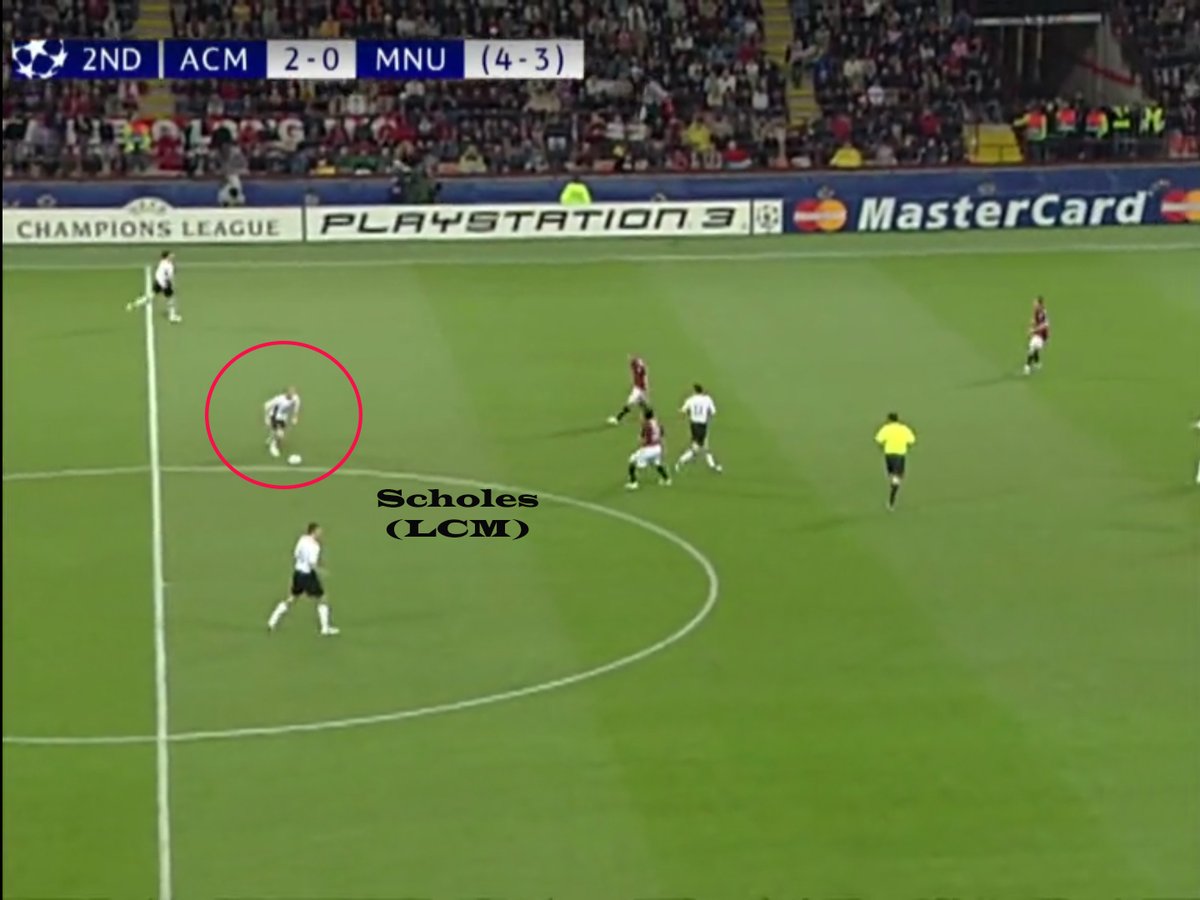 Carrick was still playing as the deep-lying playmaker while Fletcher played wide right and John O'Shea was given the freedom to go forward and combine with Fletcher, especially when Ronaldo would drift into the centre or play on the right. In short, United started pushing men forward.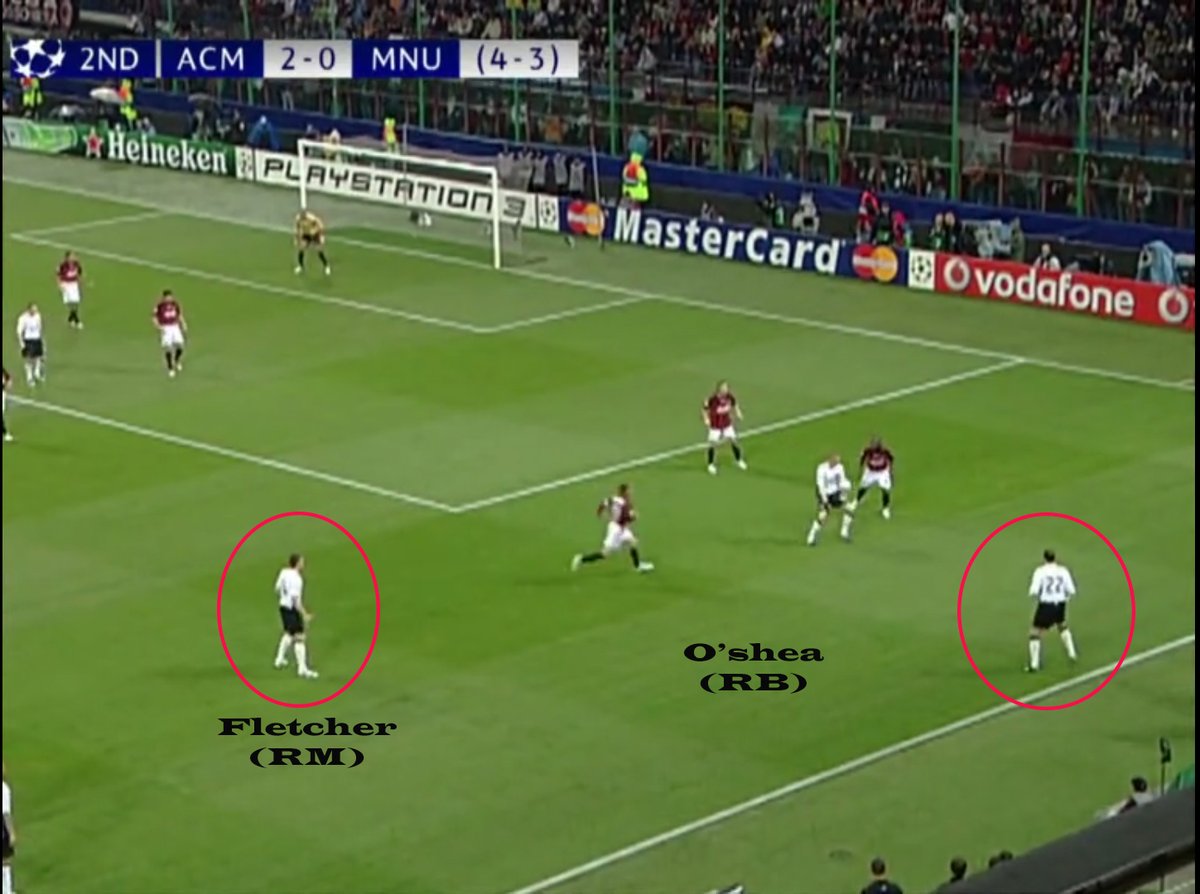 Ancelotti's trap: Milan, who had a two-goal lead, wanted to manage the situation. Ancelotti once again wanted to play to the strengths of his team.
He set up a system called the mid-block, which is where the team would organise a structure in the middle half of the pitch where they try to be as compact horizontally and vertically. Here is an example.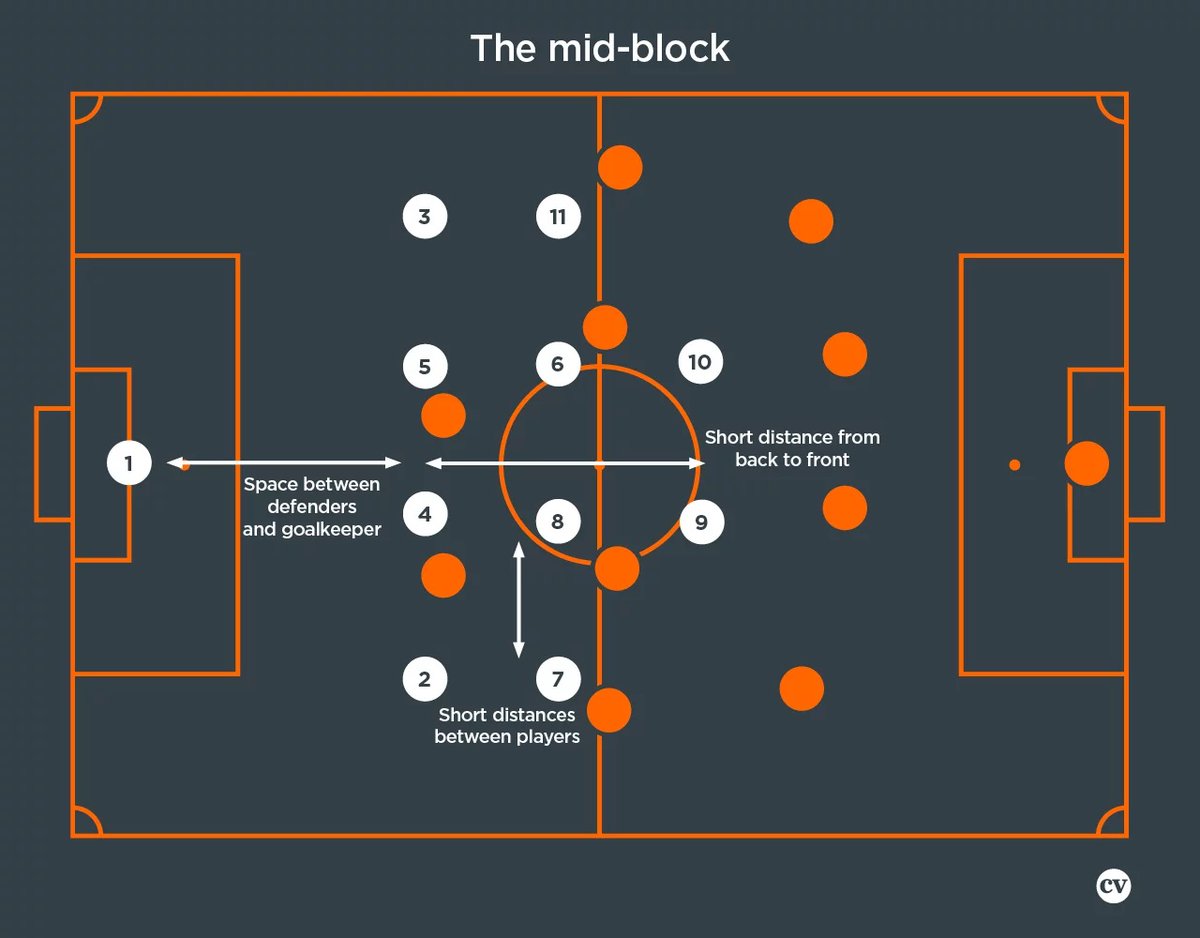 The benefit of this is that it invites the opposition team to attack, whereby creating space between the opposition defenders and their midfielders/forwards.
If the oppositions attack is unsuccessful then the team playing the mid-block can easily find their forwards who are asked to play between the defensive line and midfield line.
Knowing that United needed to score goals and therefore attack, Ancelotti set up a mid-block allowing Ferguson's men to attack them. He placed Kaka and Inzaghi/Gilardino between United's defensive and midfield line. The impact was instant.
Gambit that backfired: The last move that backfired from Sir Alex was the substitution of Luis Saha. With Rooney playing as a false 9 and Ronaldo-Giggs being neutralised, he brought on Saha, a proper No.9 who could be a target man for United's crosses.
He was brought on for the right-back John O'Shea. United were down to 2 proper centre-backs and a full-back who played further up to support the attack.
Milan in a moment of transition drew Wes Brown out of position to deal with Seedorf. With Heinze failing to get come back in time and Vidic occupied by Kaka, Ambrosini's vertical ball found Gilardino and he finished the tie for good.
Conclusion
This was one of the truly last great Milan sides, and Ancelotti – a Milan legend as a player – had built a truly great side over the years as a manager too.
Despite losing his star striker Shevchenko and not being to replace him, Don Carlo showed his tactical flexibility. For Milan fans it will be remembered as the game that preceded Athens and 'Seven Heaven'. One wonders how far the Rossoneri are currently from being to accomplish such a feat.