Jonathan David was one of the hottest names during the most recent summer transfer window. The Canadian, scorer of 24 goals last season with Lille, was in the sights of many top European clubs – including Milan – who had identified him as the ideal reinforcement for their attack.
However, the 23-year-old decided to stay in France, rejecting the offers and contract renewal proposed to him by his club, to whom he is linked until 2025. A few months on and the links between Milan and David have not gone away, but his goalscoring touch has for the time being.
David has certainly had more experiences than most others at his age. Born in Brooklyn, United States, he moved to his parents' country of Haiti when he was still a baby and then immigrated to Ottawa – the capital of Canada – at the age of six.
Read also: Tactical analysis of Lecce 2-2 Milan – the good, the bad and the ugly in midfield
The forward played for several local youth clubs before moving to Belgium in 2018, where he made his senior debut at Gent and established himself as a hot property. Two years on he went to Lille, with whom he has won the Ligue 1 title and one Trophée des Champions.
After 13 and 15-goal season in the league, last year was his best return yet as he netted 24 times (adding four assists) to make the top clubs around Europe take note.
A disappointing follow-up
When young players emerge and find themselves in the crosshairs of big clubs they are faced with a dilemma: stay and continue to develop in a comfortable environment then move on when mature, or take the leap now to avoid the risk of stagnating.
This applied to David, and he might just be reflecting on his decision to remain in France given that he has two goals in 12 games in Ligue 1 so far in 2023-24, which is way behind where many expected him to be despite the fact Les Dogues are in fourth place.
His performances have been criticised by the media and fans, who accused him of lacking motivation and perhaps of not pushing the club to cash in on his sale last summer.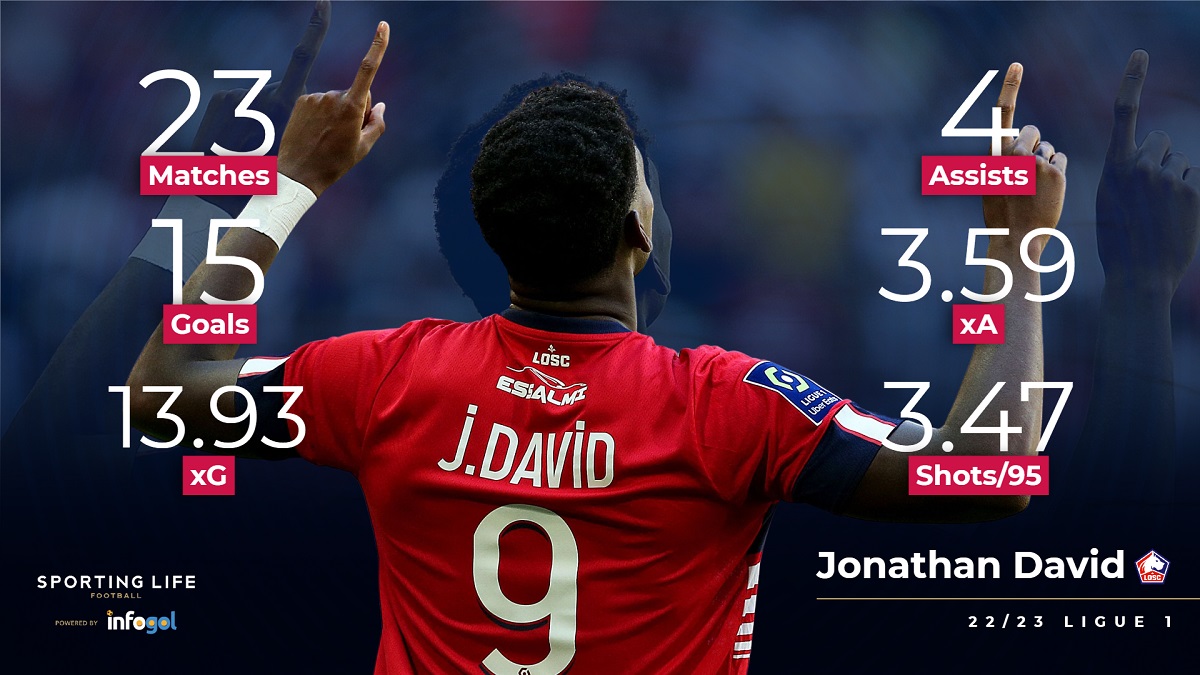 Even his coach, Jocelyn Gourvennec, admitted that he was worried about his form: "He is not at his best, he needs to regain confidence and serenity. He had a hand injury in January, but that's not an excuse. He must work harder and do better."
David, for his part, tried to defend himself from criticism, claiming that he is still happy at Lille and that he wants to help the team move up the table, but at the moment moving from words to deeds seems very complicated for him.
A declining value
Such a tough start to the season obviously has an impact on his market value. La Gazzetta dello Sport for example reported that his price tag has gone down from €60m to €40m in just a few months.
If the Canadian striker does not return to scoring consistently, next summer – also thanks to the fact his contract is expiring in 2025 – that figure could drop even more to around €25-30m.
This is good news for clubs still interested in David and who believe that he has the potential to put this rough patch behind him. Among these suitors are Milan, who currently continue to judge the Canadian striker as a potential bargain.
Yet the contours of a bet are all there: David has in fact played only one great season in his career, achieving rather normal figures in the others (13-15 goals).
Geoffrey Moncada and Antonio D'Ottavio – who have often followed the attacker in the past – continue to have faith but the risk that the striker's explosion last season was a flash in the pan is real.
A gamble or an opportunity?
Looking back though, we must remember that Milan are no stranger to investing in promising players who have fallen into oblivion. Three of them came from Chelsea in Fikayo Tomori, Ruben Loftus-Cheek and Christian Pulisic.
At the moment it is too early to understand whether the gamble on the latter two has paid off, but the signs are good it remains a strategy that the management consider right for their project. They prefer to 'buy in the dip' and procure undervalued talent, rather than pay over the odds for those who have exploded.
Precisely for this reason, the almost paradoxical situation is being created whereby David is doing so badly that he might well end up being right for Milan. His potential is known, while the lack of goals could well bring his price down and put off richer suitors from the Premier League.
Spreading bets
Although Milan continues to carefully follow David's future, Moncada's wish list does not stop at just the Canadian striker which is logical given the need to get this particular signing right.
Akor Adams is having a much better season in France so far with seven goals in 11 appearances for Montpellier while Serhou Guirassy – ​​the second-top scorer in the Bundesliga – has a very tempting €17m release clause.