The only thing that distinguishes AC Milan as much as the football club's glorious history and fantastic past lineups and players are their kits. Red and black stripes have featured as the club's home strip ever since the club was established in 1899.
The red represents the players' fire, and the black represents the opponent's fear. AC Milan have also stuck religiously to its all-white away kit throughout history. In fact, while the legendary red and black is always synonymous with the club, for many years the club has stuck to their away kit for the biggest nights.
That kit is considered lucky by the club and they often chose to wear it when the club makes it to the Champions League final. Out of eight CL final appearances in that kit, the club has won six of them.
Of course, many of those turned out to be hugely memorable, even the nights that were not so successful.
Istanbul Defeat to Liverpool (White away kit)
One such night was in Istanbul in 2005, and while the lucky white away kit was on the losing side this time, it took part in one of the most memorable Champions League finals of all time.
An AC Milan side comprising legends and world-class players including Andrea Pirlo, Kaka, Clarence Seedorf, Cafu, Paolo Maldini, Andriy Shevchenko, and Hernan Crespo ran into a 3-0 lead in the first half. As pre-match favourites to win, it looked nailed on that they would claim the trophy.
However, Liverpool gave a solid second-half performance to score 3 goals and bring the score to 3-3. Led by Steven Gerrard, Liverpool held on throughout extra time and won the match in a penalty shootout.
While you would have lost your money on that occasion, you would have got good odds on AC Milan winning that final. You can bet on AC Milan at many betting sites using live betting or as it's otherwise known, in-play betting. Plus, many also offer live dealer casinos that you can use for half-time entertainment.
Beating Barcelona in the 1994 Champions League Final (White Away kit)
The above was just one of two losses while wearing the famous and lucky all-white AC Milan away strip. As for the wins, those also produced some memorable nights of footballing action. Take the 1994 Champions League Final against Barcelona as an example.
This was another event that featured two very strong teams full of world-class footballers. AC Milan featured club legends including Paolo Maldini, Marcel Desailly, Zvonimir Boban, Roberto Donadoni, and Sebastiano Rossi. As for Barcelona, the Spanish giants had huge names including Romario, Hristo Stoichkov, Ronald Koeman, Pep Guardiola, and Albert Ferrer in their starting lineup.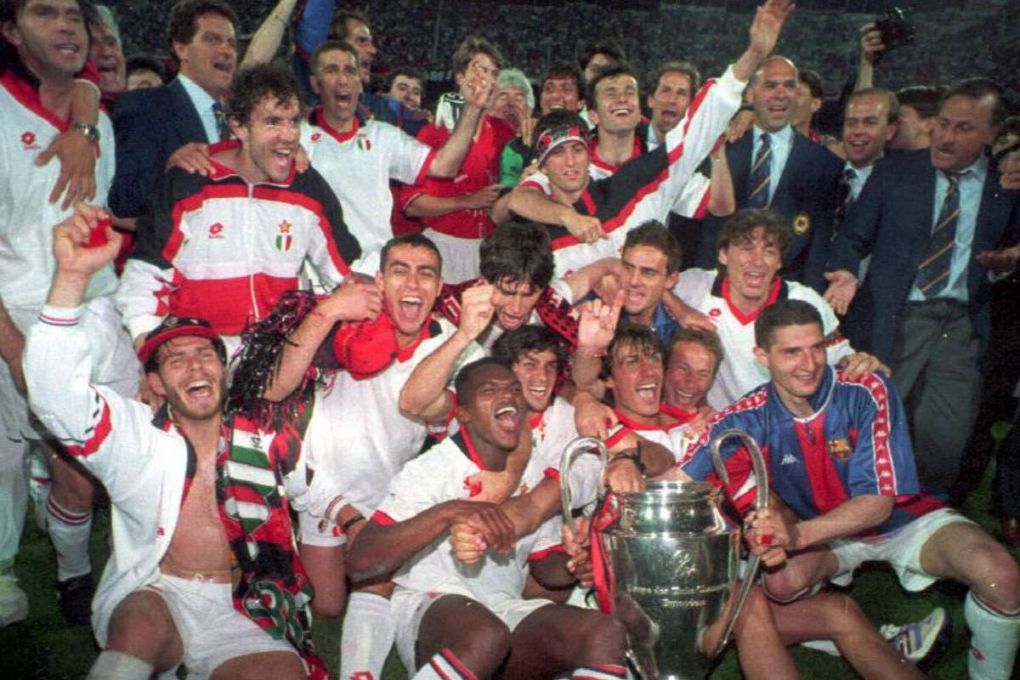 However, all in white, AC Milan ran out as dominant winners over a strong Barcelona team. Daniele Massaro scored two in the first half while Dejan Savicevic and Marcel Desailly grabbed one apiece in the second half.
Running Out 4-0 Winners in the 1989 European Cup Final (White Away Kit)
As you know AC Milan have won the European Cup/Champions League, more than any other club apart from Real Madrid. While the first victories came in the 1960s, it was the late 80s that live long in the memory of many supporters. This was a period when Italian football dominated, and AC Milan, in particular, was usually the top team in Italy.
One of the club's biggest successes was winning back to back European Cup Finals in 1989 and 1990. The first of these, in particular, was a hugely memorable night as it was the first such victory in 20 years.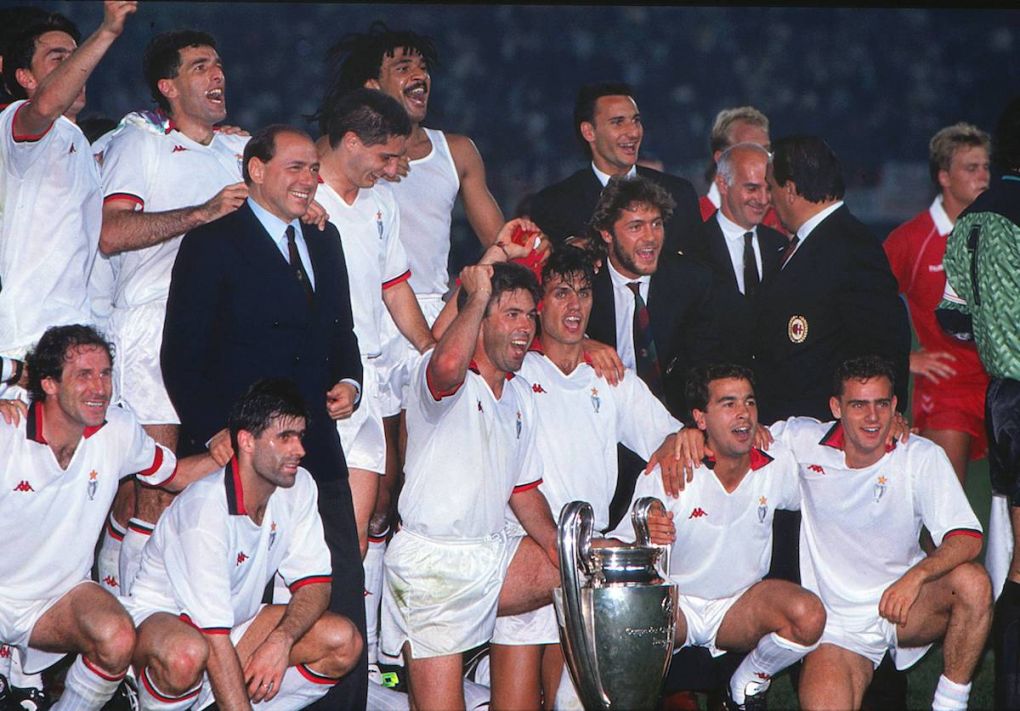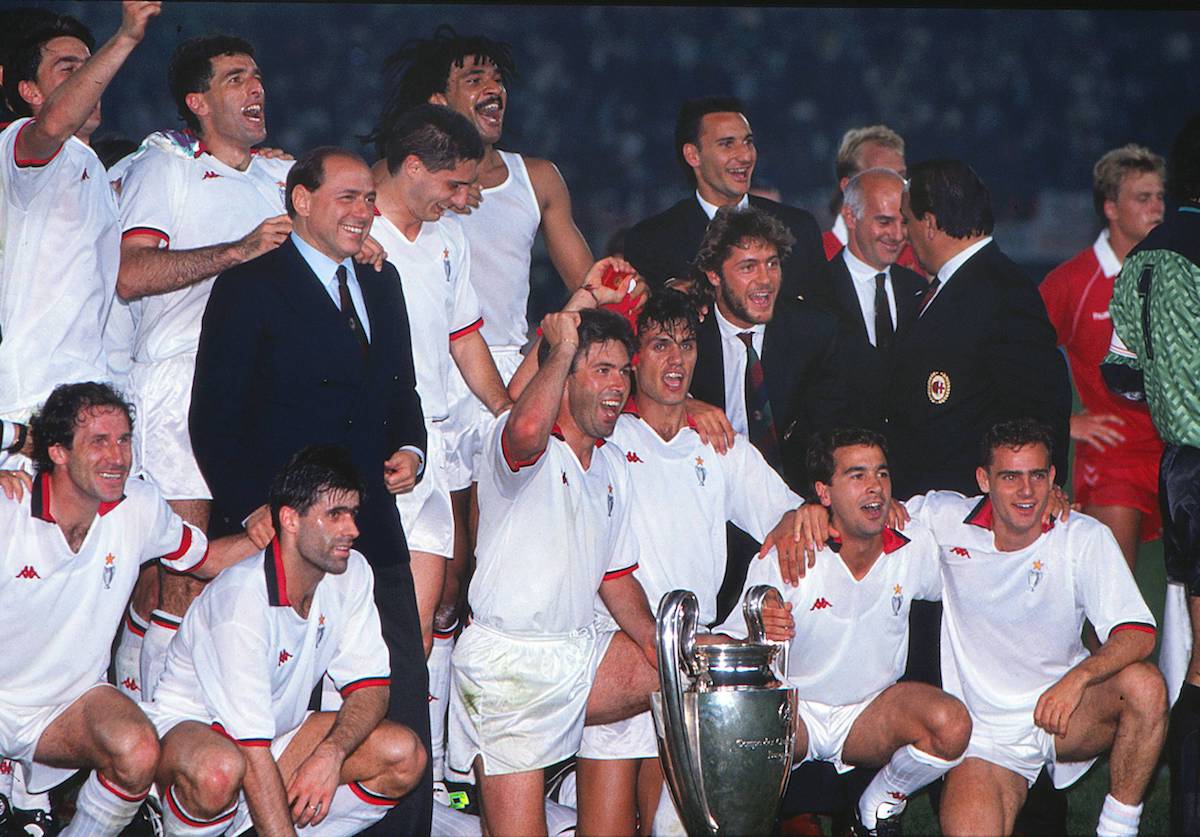 As a reminder of the fantastic players that have graced AC Milan over the years, the team that night featured Ruud Gullit, Marco van Basten, Frank Rijkaard, and Franco Baresi. Gullit and Van Basten grabbed two goals apiece against a strong Steaua Bucharest side containing global stars including the majestic Gheorghe Hagi.
Will Milan Stick to White Strips for Future Finals?
With so much success achieved using the famed lucky away white kit, it is accepted that the club will probably continue to use it for all major finals. It would take a run of poor results for the club to decide to switch back to its legendary home colours. That said, the club has to make it that far. The club has not made it to the final since 2007 when it last won the competition.
It will happen again though, as AC Milan are one of the world's biggest and most decorated football clubs. All we can do is hope that this happens sooner than later so that we can once again hope that the white away strip brings us the fortune it is renowned for.
---
READ MORE: Capello agrees Pioli's renewal is 'deserved' and highlights the manager's key strength