With the Campionato Primavera set to fire back up later this month, Milan Primavera will take on third placed Lazio Primavera who have registered 9 points with six matches played, as opposed to the struggling Rossoneri who sit in 12th place with three points from three matches.
Milan most recently fell to Juventus Primavera in a 1-0 defeat on the third matchday, after Juve's 17-year-old Argentine sensation Matias Soule weighed in an exquisite assist to lay off Luciano Pisapia for an easy finish in the final minutes of an even-sided affair.
As the Campionato Primavera 2 2019-20 season was cancelled and ended prematurely due to the Coronavirus situation, Milan ended the season at the top of the table unbeaten, and secured promotion – scoring a whopping 61 goals and conceding just 14 – across 19 matchdays.
The Milan U19 side were expected to get their Primavera 1 season off to a flying start, and so they did with a 1-0 opening matchday victory against Cagliari U-19 and four days later dispatched Brescia U-19 in a comfortable 3-1 win in the Coppa Italia Primavera first round.
But subsequent 1-0 losses to Atalanta and Juventus have seen them go on a dry run in the league having scored none and conceded two. The season abruptly came to a halt on the back of unforeseen coronavirus surges across the nation.
Federico Giunti's talented U-19 team will now face an onslaught of ten matches in the space of a month until the end of February. The most significant clashes undoubtedly come against SPAL U-19 on January 30, who remain one of the league's three unbeaten sides, and city rivals Internazionale on February 17.
In the Coppa Italia Primavera, Milan will take on Fiorentina after a hard–fought penalty shootout victory against Monza Beretti. Fiorentina U19 themselves will look to win the competition for the third season in a row and create history in the process by becoming joint-record holders with a hat-trick of successive cup victories alongside Inter (1976, 1977, 1978) & Torino (1988, 1989, 1990).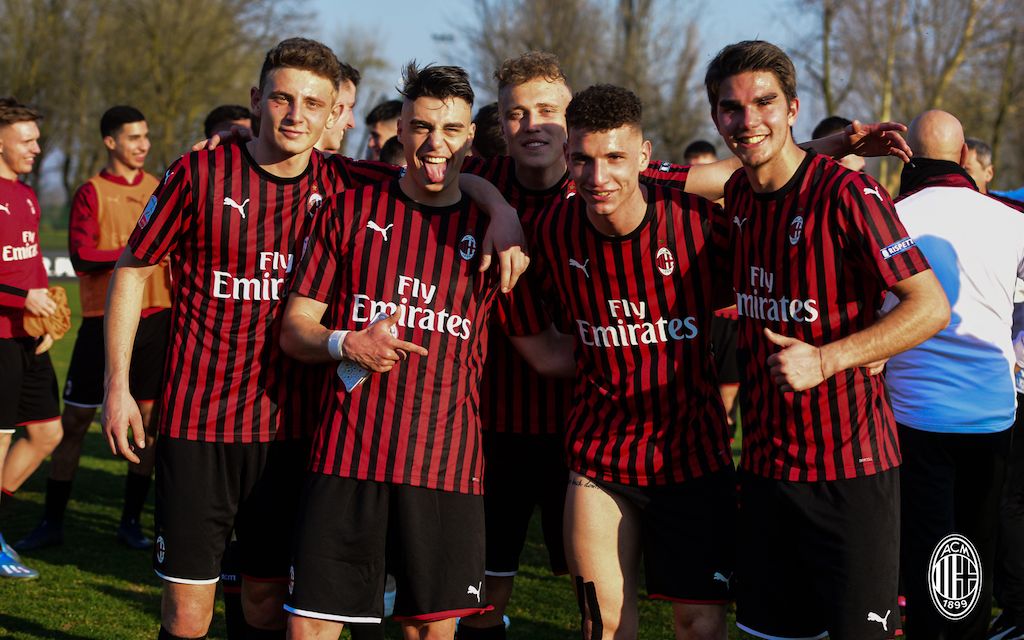 They are poised to threaten Milan's hopes of progressing the Round of 16 when the two face off on 3rd February. The situation closely mirrors last year's quarter-final clash when Alberto Aquilani's side eliminated the Rossoneri in a 3-1 drubbing.
La Viola possess a strong forward line with the likes of prodigious striker Samuele Spalluto and attacking midfielder Tofol Montiel upfront, commanded by captain and center-back Eduard Dutu.
With Daniel Maldini promoted to the first team and captain Marco Brescianini loaned out to Serie B side Virtus Entella, the onus will lie on gifted players such as Enrico Di Gesu, holding midfielder Marco Frigerio and 19-year-old Italian striker Riccardo Tonin to give Milan a push for the rest of the season.
Attacking midfielder Andrea Capone has shown signs of brilliance too, having registered 2 assists in Coppa Italia in as many games – with only 82' minutes in the competition to his name.
Giunti has stuck to the 4-3-2-1 system, giving much importance to the midfield with Alessio Brambilla and Antonio Mlonic dictating play. 18-year-old Danish goalkeeper Andreas Jungdal has taken over reins between the posts whereas in defense, the versatile Luca Stanga and left-back Riccardo Oddi have been the mainstay.
With 25 games left to contest for until the end of the season in June 2021, the first team's position on the top of Serie A could unquestionably wield as a motivational factor to get the youngsters back on track once the Primavera resumes.
---
READ MORE: Kessie explains why he's so calm from the spot: "I'm not afraid of making a mistake"