Luiz Adriano is once again being linked with a move to Beijing Guoan and China. The question though is, should Milan sell their striker?
Luiz Adriano was transferred to Milan in the summer of 2015, after scoring an incredible number of nine goals in the group stage of Champions League, with his former club Shakhtar Donetsk. The fans had high hopes as well as the player himself, and it started out well. Adriano showed strength and will to score and he fought for the Rossoneri. And very rightly, he became one of the fans' favourite.
Luiz started to score some vital goals for Milan, not to mention his goals against Sassuolo and Empoli, coming on from the bench. Which quickly gave him the nickname 'Super-Sub'. After his success, coach Sinisa Mihajlovic gave him the chance from start.
Returning to his nickname, he certainly showed he was the 'Super-Sub', not managing to find the net when being given the chance from start despite fighting more than anyone on the pitch. This gave Mihajlovic some hard thoughts. Was Adriano the striker Milan needed or was he just a good sub through his energy?
Moving on to the last months of 2015, Adriano did not get much playing time for Milan, as both Niang and Bacca were on fire. Then, Chinese clubs approached Milan regarding a possible signing of the Brazilian, one of the clubs being Jiangsu Suning, offering Milan around €14m. An offer that the Rossoneri later on accepted.
With Luiz Adriano heading to China to sign his contract, the fans started saying goodbye to him on social medias, as well as thanking him for the performances he made for the club. However, there was just one problem; The contract conditions promised by the Chinese club, was not fulfilled and Luiz Adriano immediately dropped negotiations with the club and flew all the way back to Milan again, which the striker himself confirmed via an Instagram post.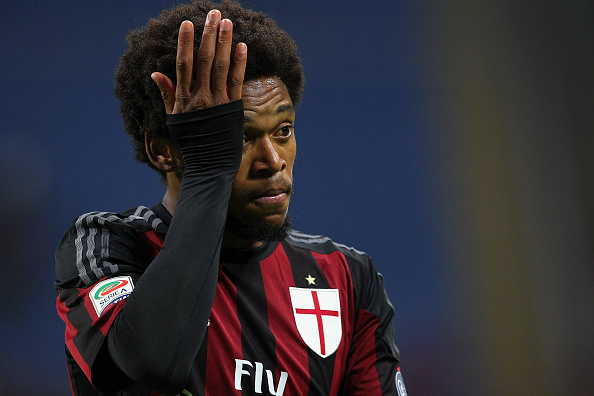 The Milan fans went from praising Adriano, to sending him hate comments on social media, as his unexpected return to Milan completely locked the Rossoneri's Mercato. Not a good response to his return in other words, which is understandable.
Since his return, Adriano has only made one appearance for Milan, mostly due to a small injury which he got in that one appearance against Alessandria, in the Coppa Italia.
Beijing Guoan offered Milan €10m for the striker a while back, which Milan thought was too low. However, reports suggest that the Chinese club will make a second attempt for Adriano, who could leave straight away due to the Chinese market being open until late February.
So should Milan sell Luiz Adriano? in my opinion, yes. With the return of both Menez and Balotelli it will be hard enough for him the find a spot in the starting eleven. Besides, selling Adriano could give Milan a bit of money to spend in the summer. But as usual, it all remains to be seen where Adriano's future lies.
Should Milan sell Luiz Adriano?

— SempreMilan (@SempreMilanCom) February 8, 2016