AC Milan were unable to make it three wins from three in the league to begin 2022 as they were beaten 2-1 by Spezia in controversial circumstances at San Siro.
There has been all kinds of fall out after the mistake made by the referee Marco Serra as he blew for a foul on Ante Rebic instead of playing an obvious advantage, with his whistle happening at a simultaneous moment to Junior Messias curling in what surely would have been a winning goal in the 92nd minute before Emmanuel Gyasi stole all three points.
Since then there have been conflicting reports over whether the AIA apologised, a request from Codacons for the game to be replayed plus the emergence that Zlatan Ibrahimovic and Theo Hernandez consoled a distraught Serra after the game. We're going to steer away from the controversy though in our brief tactical analysis…
First half pressure
The narrative after the game is one full of frustration, anger and disappointment, but in amidst all that it must be documented that Milan played a fantastic first half in large parts and should have put the game to bed.
There were a lot of questions about how Bakayoko and Krunic would work in a double pivot and the answer is that they essentially didn't, especially when Milan were on top. They had more of a vertical than a horizontal presence, with the Bosnian often pushing up and the Frenchman staying back to cycle the ball and cover in what resembled a 4-1-4-1 in possession.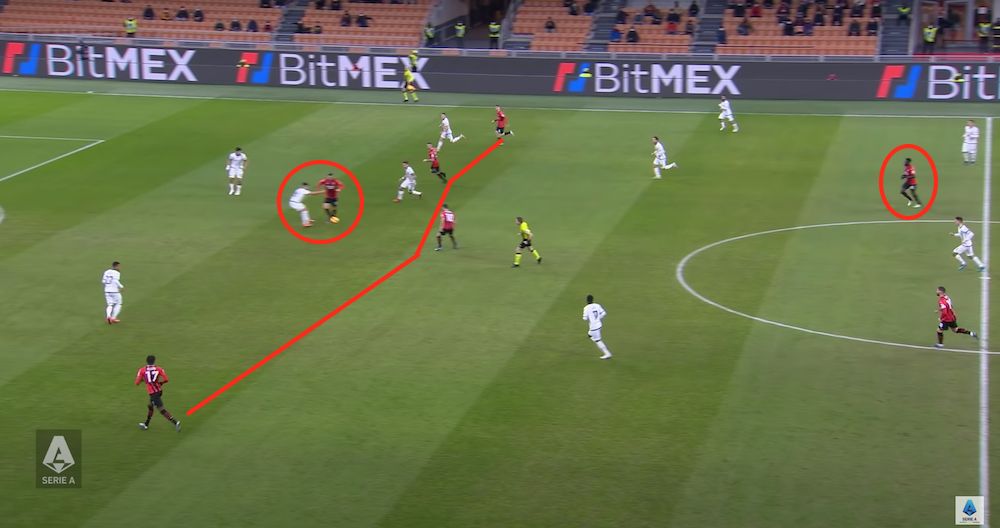 It must also be noted that even though he didn't score, Ibrahimovic showed just how effectively he can operate. He was being man marked tight at times but dropped slightly (and not to his usual extremes) to facilitate play, moving it wide quickly to try and create overloads. Smart, quick possessions.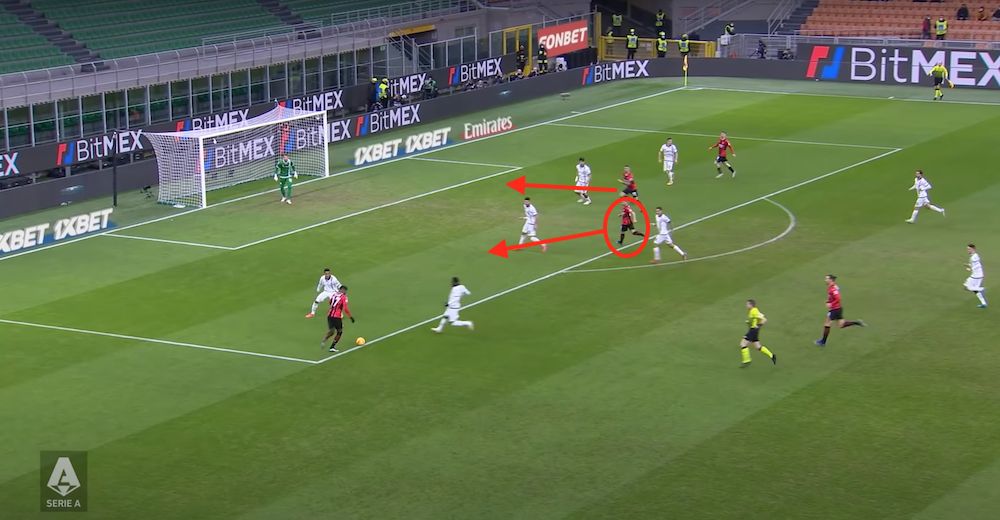 In the frame above Ibra has done well to rake the ball wide to Leao who gets one on one with his man and curls an effort wide, with Krunic (top arrow) making a darting run while Brahim Diaz remained worryingly static, not trying to stretch the back line and create more space. His lack of confidence and proactive movement would continue to be a theme.
Perfect situation
When Leao starts, the majority of Milan's passing movements are essentially built with the end goal of getting the ball to Leao quickly so he can run at his man before sufficient cover arrives and he is double teamed.
In the phase below, Milan move the ball well through the centre of the pitch and again it is Zlatan who quarterbacks the attack, firing it wide to Leao capitalising on the momentary disorganisation of Thiago Motta's side with Spezia having six players in the frame but no real co-ordination.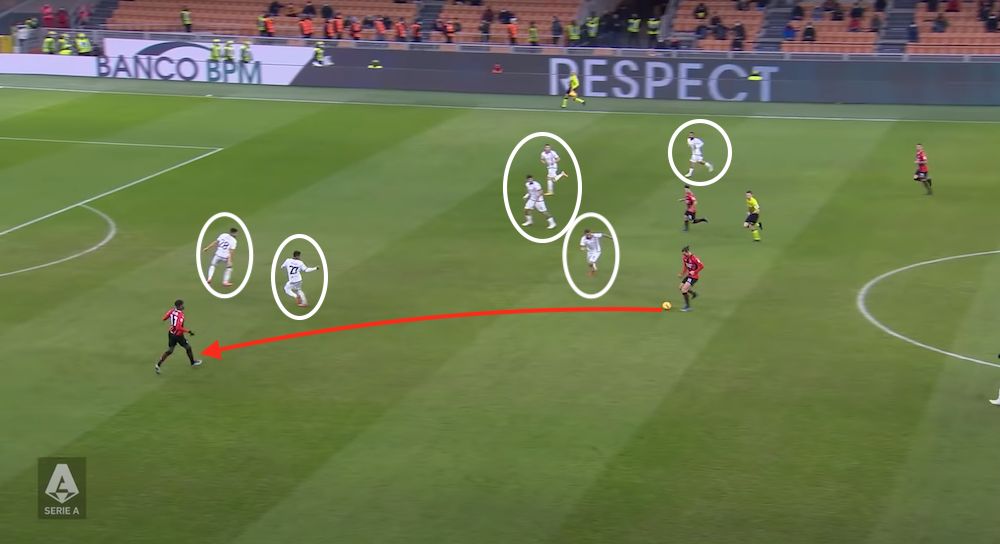 The freeze frame below is exactly what Leao wants when he receives the ball; the chance to get in isolation with the right-back – in this case Kelvin Amian – and to had the double threat of dipping onto his right to shoot or dropping the shoulder and surging to the left. He did the latter and only an amazing stop from the inspired Provedel thwarted an opener.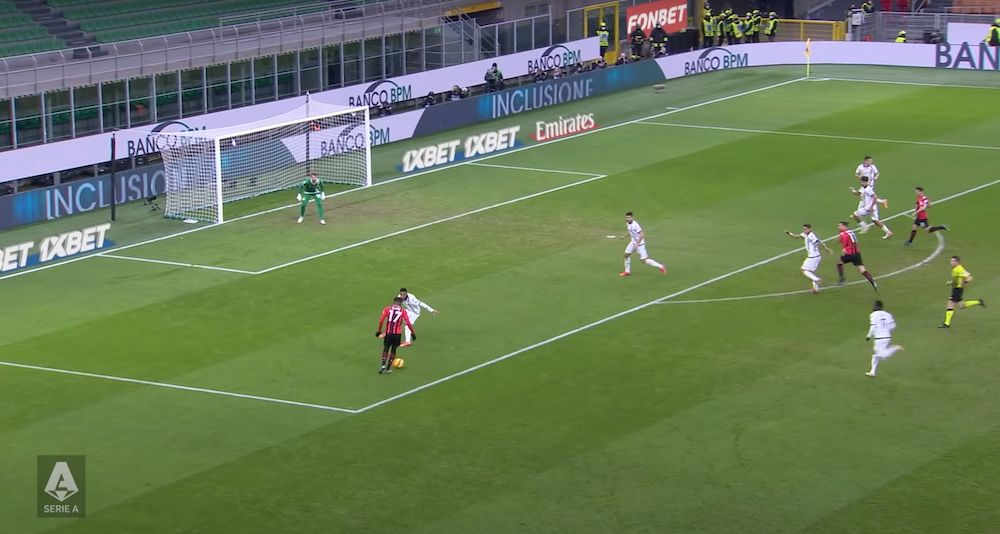 Lack of cohesion
As Milan asserted themselves more and more on the game without scoring, committing bodies to attack, they showed their inability to defend in transition at times too. Again Florenzi-Kalulu-Gabbia-Theo was the back four and they have very very little chemistry together.
This became apparent when the Ligurian side managed to exploit an out-of-position Kalulu, threading the ball into the space behind the vacant right centre-back spot, with Gabbia not yet at the right level of awareness to shuffle across and cover and Florenzi caught too far up field. Against better sides, such a soft underbelly will be ruthlessly exposed – such gaps behind the defence are suicidal.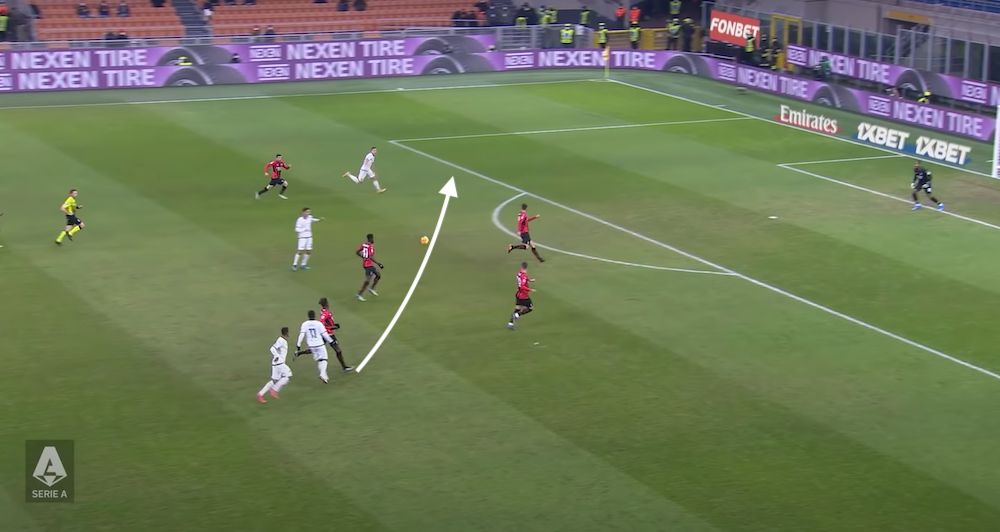 Tactical instructions
We have heard time and time again from Pioli how he likes to review footage of upcoming opponents with the team and point out things of interest to them, and it is very possible that the Rossoneri were targeting a couple of things they noticed.
The first was the penalty that came from a very organised and effective high compact press from a Spezia throw. Everyone has a man forcing the throw back towards Provedel, and Leao puts sufficient pressure on him to win the spot kick. It was so well executed, it seemed either pre-empted or mechanical.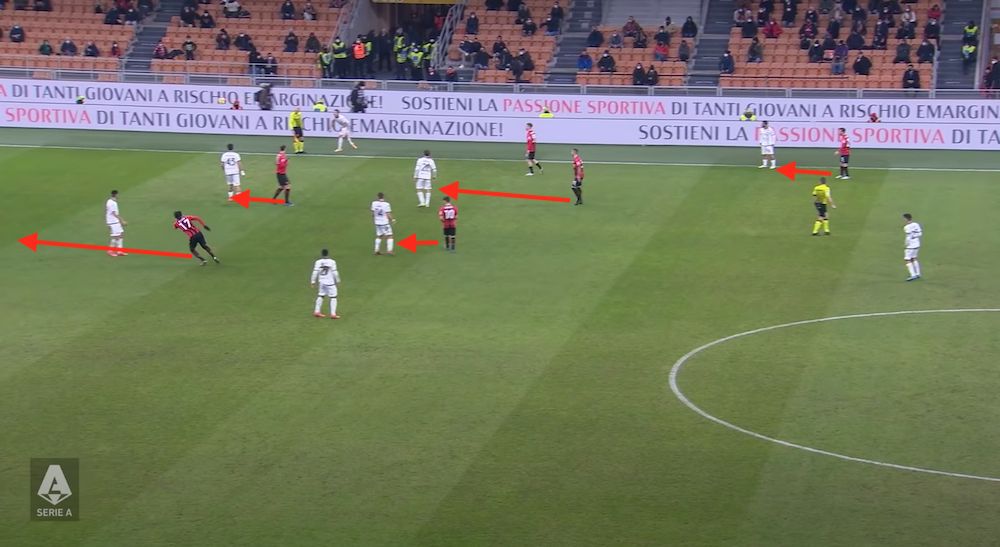 The second thing that is likely to have been an instruction led to the opening goal. Krunic is not known for spraying 80-yard assists, though when he picked up possession around 25 yards from Milan's goal he instantly looked for the run of Leao who sure enough was darting off the shoulder of Amian and Erlic in behind.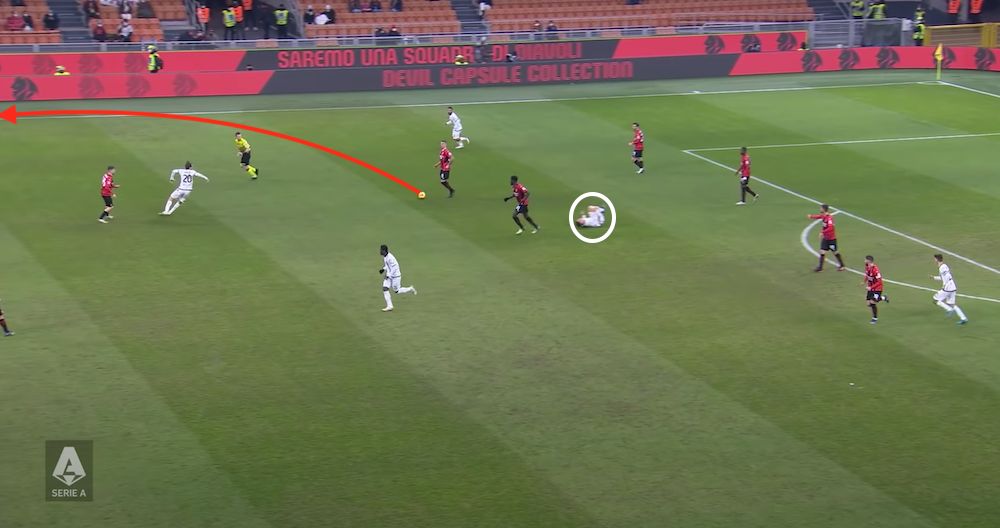 It works an absolute treat, so well in fact that again we are left to conclude that Pioli or his advisors had spotted a vulnerability and told the team to try and exploit it with more direct play, and the help of a deflection of course.
Consuming struggles
This was not Pierre Kalulu's best game, sadly. There is of course some context to this: he has performed admirably in the first three games of 2022 playing in his less natural position of centre-back, though the fear had always been there that eventually he may struggle.
One of Kalulu's biggest strengths as a centre-back is his aggression; a Tomori-esque desire to try and cut off the supply to the forwards by breaking the defensive line, and making things very difficult for the ball carrier. Against Spezia, he didn't do it as effectively from a timing point of view and his positioning failed him.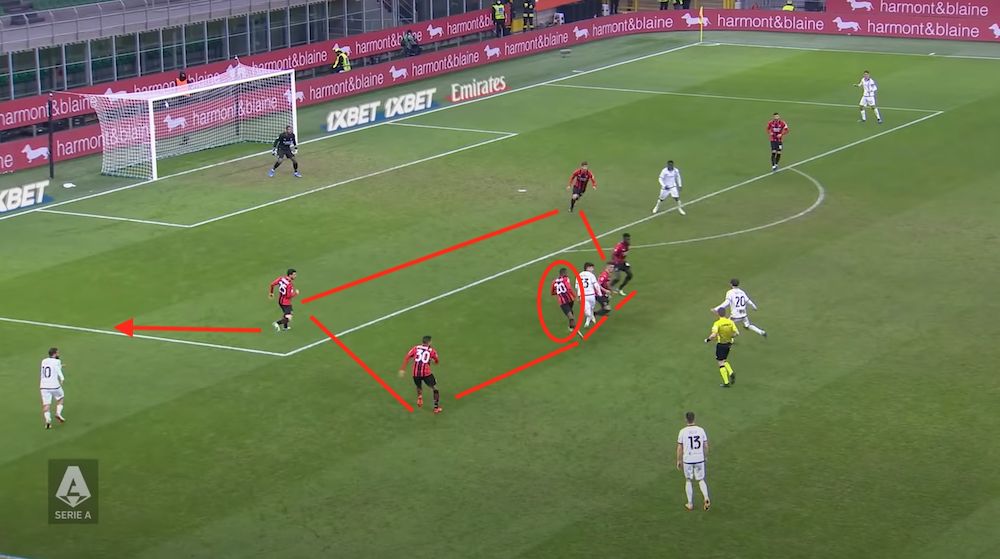 For the equalising goal Kalulu has pushed out and a lack of understanding between him and Bakayoko means nobody challenges the man striding towards goal, leaving a wide open pass to Verde out on the left because Florenzi is having to cover a more central area.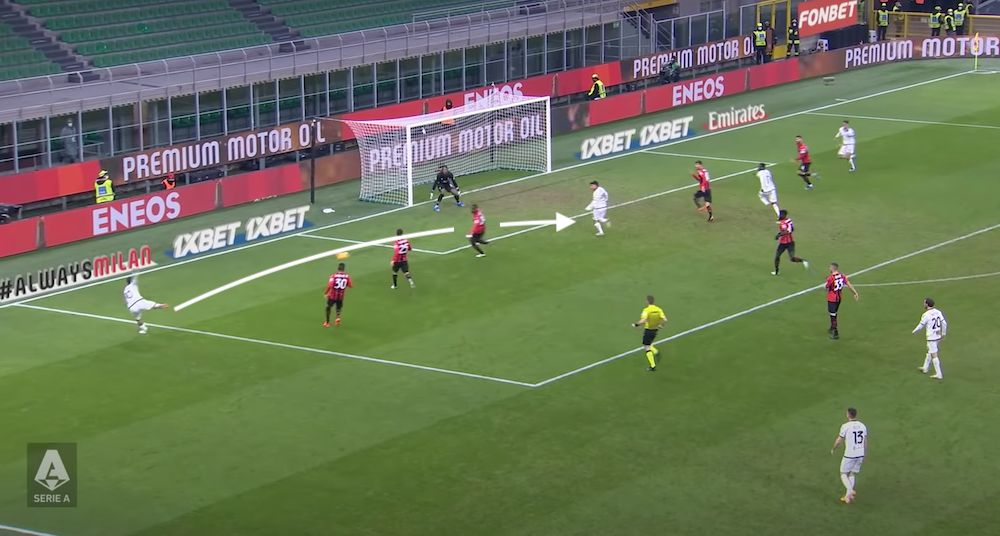 The ball is worked wide but there are still three Milan players between Verde and the eventual goal scorer Kevin Agudelo. Kalulu is the closest but rather than sticking a leg out or throwing himself in the way, he lets the ball come in and it is his man who scores.
Data and other observations
The average positions of each team in the first half certainly lend to the aforementioned observation that Milan played a 4-1-4-1 rather than a conventional double pivot. The positives are that the press was fantastic and a presence in the final third was established with plenty created, but the negative is Spezia found it easier to drive down the middle as their compact structure shows they were trying to do.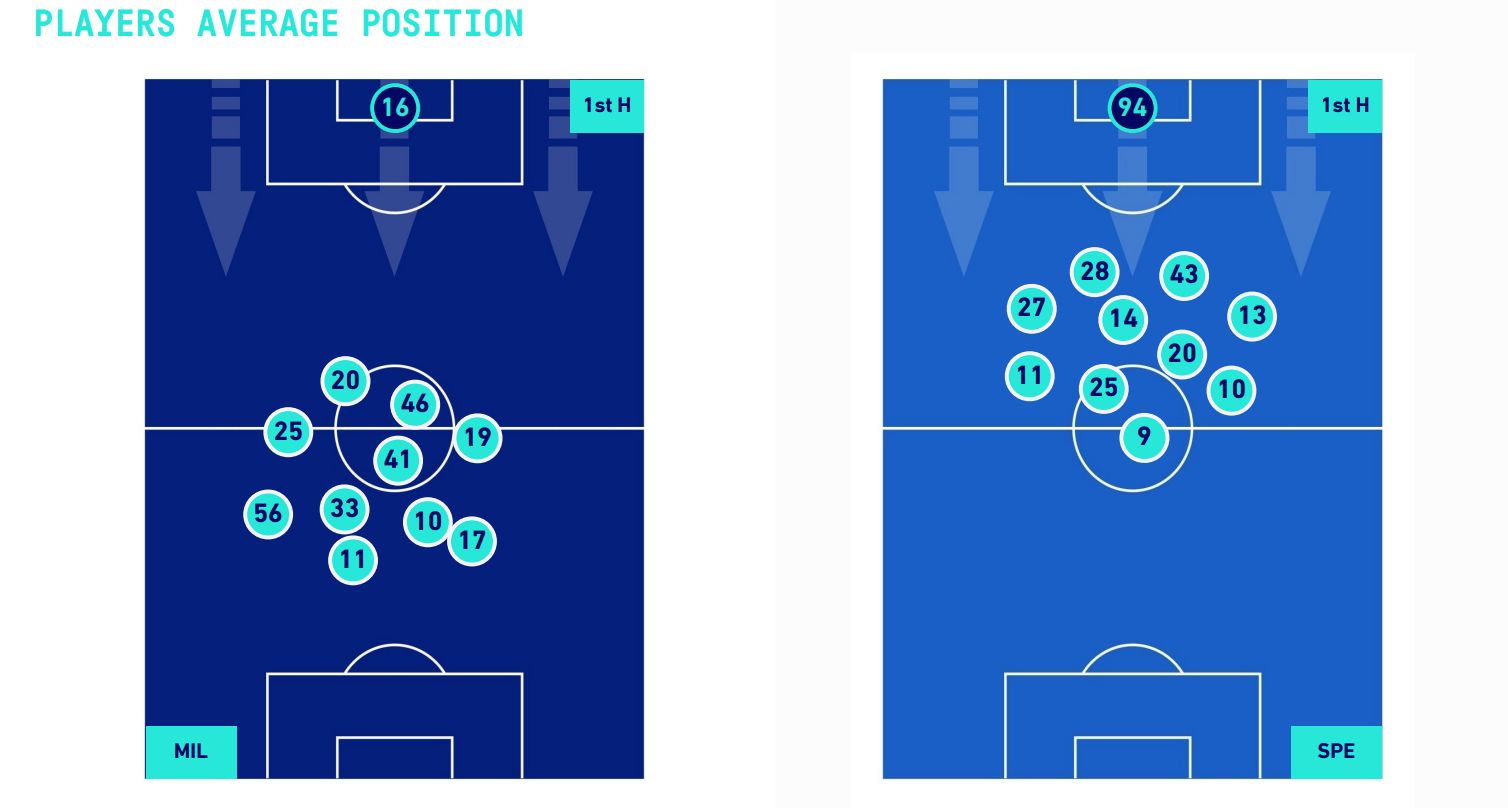 The touch map demonstrates that Milan's build-up was very heavily emphasised on going down the middle before shifting the ball to the flanks, and the fact Ibrahimovic had 12 touches in the attacking zone (Spezia's Amian had their most with 3) shows how involved he was.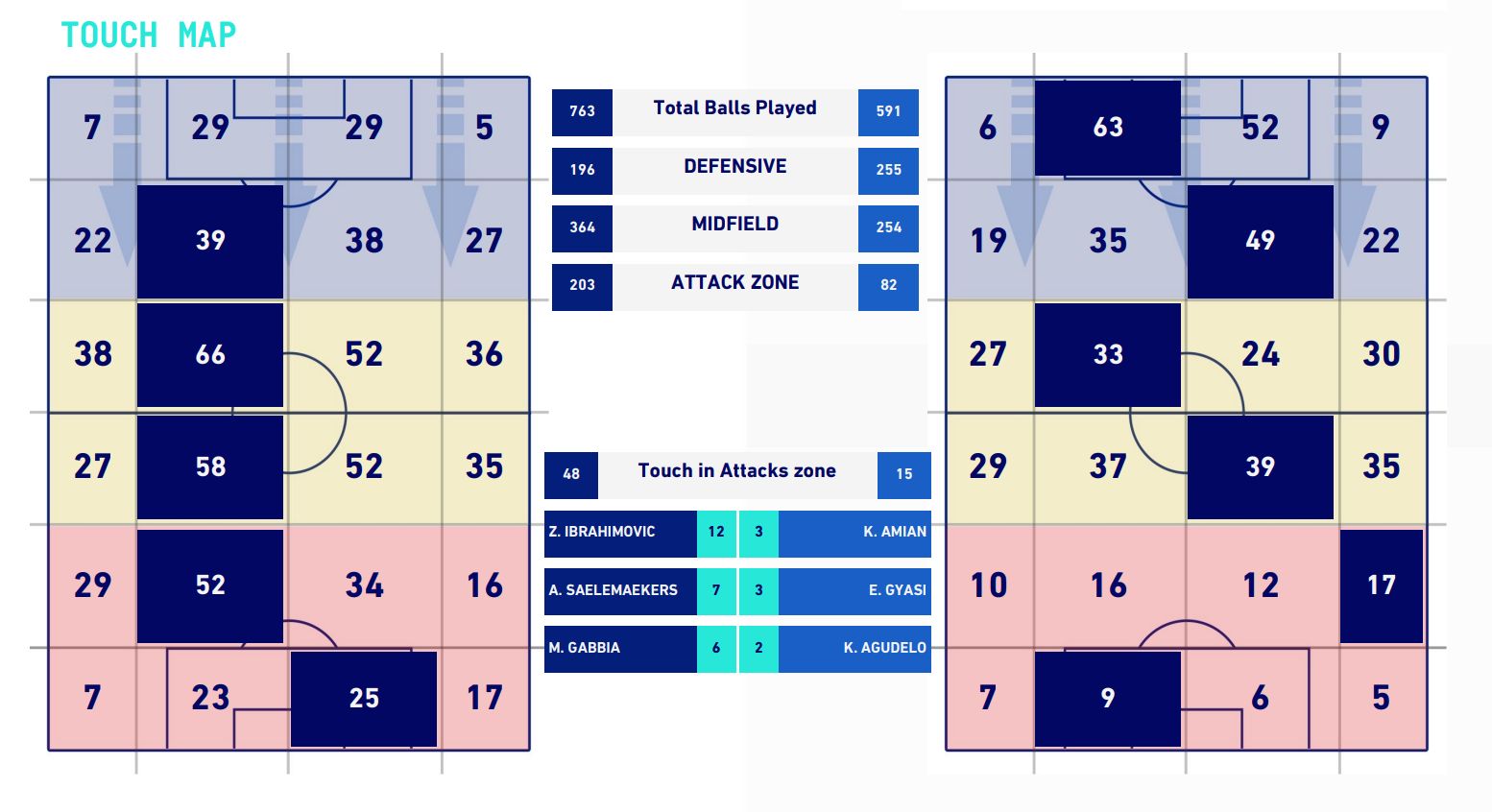 ➤ Continuing a recent trend, the opposition defensive midfielder – in this case Kiwior – was tasked with man-marking Diaz to keep him from acting in space between the lines.
➤ When Milan didn't manage to progress the ball down the middle in transition, they had Maignan kick the ball out using him as almost an extra playmaker.
➤ Leao played more as a second striker than as a winger with Ibra dropping deep to receive the goal kicks and balls out from the back. This created space behind the defence, like for the goal Leao scored.
Conclusion
Milan have often struggled to come up with solutions that put compact teams in danger, but there was enough created in the first half to have put this game to bed. While ever a game has only one goal in it, the concentration levels need to be high and they weren't. Kalulu and Gabbia have been thrown into the firing line out of necessity but over a four-game sample they were always likely to make lapses in judgement leading to goals.
There aren't too many absolute and definite conclusions to draw from this game apart from that it is time to move Brahim Diaz out wide where he can at least use his dribble and get one on one, potentially swapping with Messias who is a more physical and robust candidate for the No.10 role.
Look for a more structured and a more positive response against Juventus when Sandro Tonali and Alessio Romagnoli are back. Having more strength in the core will be absolutely huge.
---
READ MORE: Pioli's selection choices ahead of Juventus game getting clearer but key doubt remains