AC Milan are very much missing the influence of their number one goalkeeper Mike Maignan and it is having a noticeable impact on the way the team play, a report claims.
La Gazzetta dello Sport write how the construction process of a building starts from the ground up and Milan's Scudetto winning side started with the amazing reflexes, the leadership and the build-up play of Maignan.
The Frenchman was the best goalkeeper in the 2021-22 season as saves have been decisive on several occasions, and even though he is a mobile 'sweeper keeper', paradoxically he is also an extra man in building from the back.
When Maignan is there, the Rossoneri can start the action with only two defenders in front of him – practically in line with him – and consequently push the full-backs up. The former Lille man's ability with his feet allows him to play short to attract the opponent's pressing and then go long with precision, especially towards the full-backs or towards Giroud.
That allows Milan to exploit parity or even numerical superiority in the opponent's half, then gathering to pick up on the second ball thanks to the fact the midfielders and attacking midfielder are able to advance too.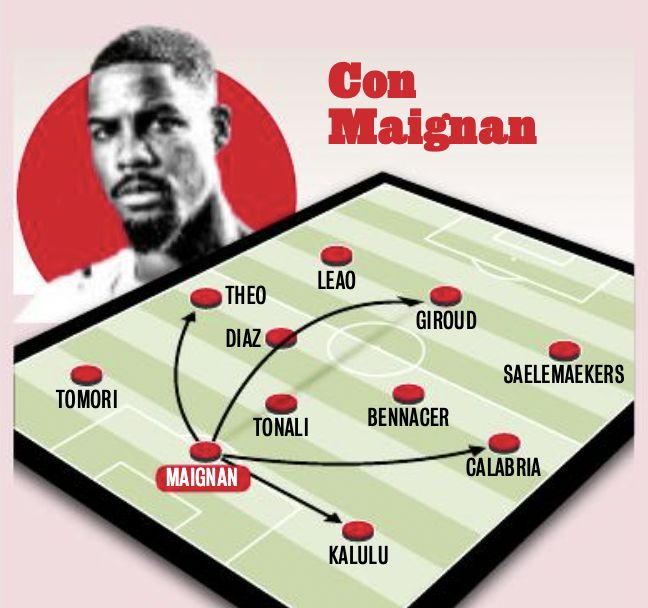 With Tatarusanu everything changes as the Romanian is a more of an old-school goalkeeper that does not instil the same confidence that Maignan does, as the reactions of his team-mates shows.
For this reason, Milan have had to change shape as seen perhaps most obviously in the derby by adding a third defender (usually Calabria) when building out from the back, resulting in the retreat of a winger – Saelemaekers or Messias – in line with Theo.
Then, that means Milan are already starting with one man less up front and with Tatarusanu's long balls not being as precise as Maignan's they often miss the fewer targets upfield resulting in an instant loss in possession.