After a fortnight without club football, Serie A came back to fashion this weekend with Milan hosting Hellas Verona at the San Siro in pursuit of their seventh win of the season and a chance to capitalise on Inter's defeat earlier in the day.
Pioli had some selection troubles heading into the game with the likes of Brahim Diaz and Theo Hernandez out with Covid-19 whilst Maignan underwent surgery that will keep him out for a while. Therefore, Ballo-Toure and Daniel Maldini got the chance to start from the beginning and so did Ante Rebic as Pioli opted to bench Rafael Leao.
Unfortunately the game started off in an awful manner for the Rossoneri as they conceded twice in the first half and they were not a real threat going forward. The team reacted well in the second half though with Pioli making a couple of changes to his side that eventually led to Milan scoring three times and grabbing the win which puts them top of the table for the time being and continues the unbeaten run.
Here are five things we learned from the game…
1. Slow and predictable
It's fair to say that there was hardly anyone impressive in the first half for Milan with the exception of Ante Rebic, who was very lively on the left flank and the majority of attacks went through him. Unfortunately for the Croatian, he picked up an injury around the half hour mark and was subbed off.
Other than that we barely saw Giroud, Maldini and Saelemaekers on the ball as they failed to get into the game and make an impact. Ballo-Toure was also a bit lost as he misplaced quite a few passes.
Overall it was a clumsy half in which Verona had little to no trouble, and they were able to get in front at the other end which seemed to set them up perfectly.
2. Great substitutes and team spirit
By the start of the second half Pioli had already made three substitutions with the likes of Rafael Leao, Rade Krunic and Samu Castillejo all coming on. This was truly a turning point for the Rossoneri as the trio were a lot livelier compared to Rebic, Maldini and Saelemaekers.
Krunic seemed in the same good form he started the season off as he was composed on the ball and very smart with his movement whilst Leao was just electric on the left once again causing a lot of trouble for Hellas Verona and he was heavily involved in all three goals, picking up the assist on the first one.
Castillejo also had a very good game as he seemed quite fit despite playing just two games this season. The Spaniard was working hard on the right to try and make things happen as he was also involved in all three goals and was crucial for this Milan win.
💥 Giroud's header
💪 Kessie composed
😍 A late winner to complete the comeback

📼 The highlights from the win over Verona 👇pic.twitter.com/WHiwERRxia

— SempreMilan (@SempreMilanCom) October 17, 2021
3. Worrying signs
It's really hard to replace someone like Theo Hernandez, but Ballo-Toure could've surely done a lot better. In the first half he was too clumsy losing the ball on several occasions and he also was struggling to link up with his team-mates.
In the second half the former Monaco man was a bit better, but it was mainly because of Rafael Leao was keeping everybody on that flank busy. The left-back was by far the worst performer in this Milan side and he will need to do much better if he actually wants to pick up some game time. Otherwise, Calabria might switch flank.
4. Back in fashion
Oliver Giroud finally seems recovered from his injury and ready to help the team continue their unbeaten run. The Frenchman wasn't really active in the first half as most of Milan's attacks filtered out before the 18-yard box, but he did improve going into the second half and with the introduction of Leao, Rade Krunic and Castillejo making him involved more in the game.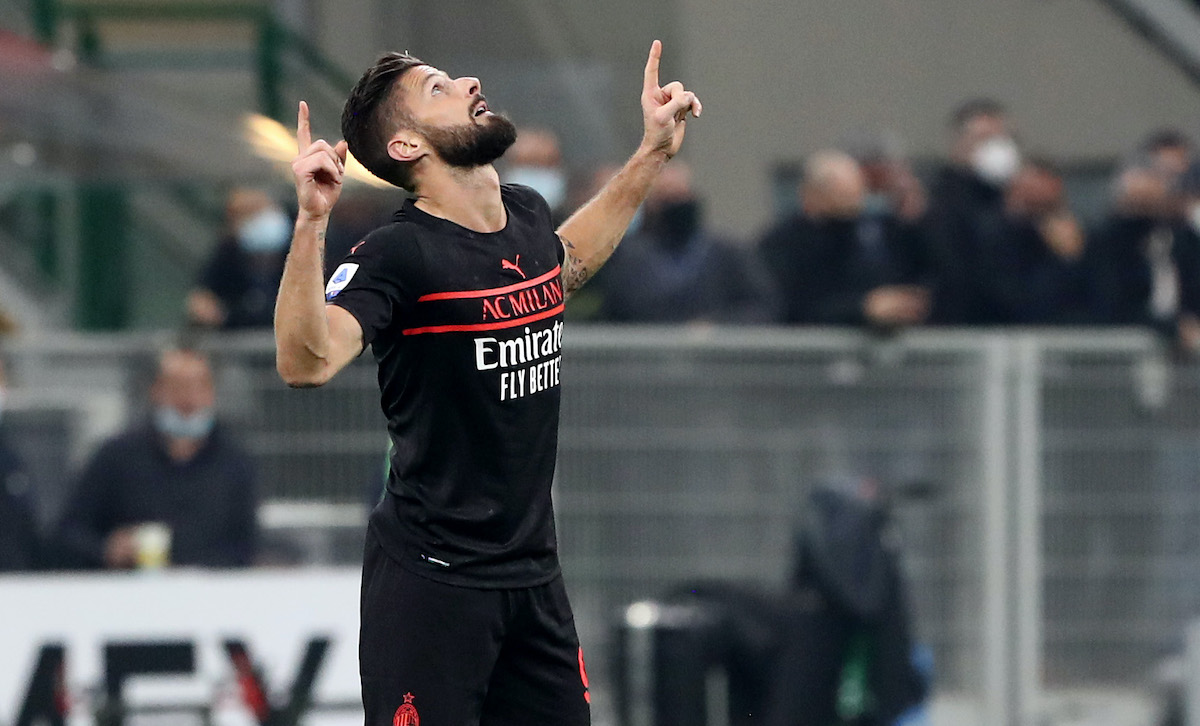 The former Chelsea man did exactly what was expected of him as he scored the first goal to put Milan back into the game after a lovely header. He showed he can play with his back against the opposition and combine well with his team-mates as this was his third goal in four Serie A games as Pioli will surely hope he stays fit from now onwards.
5. IZ back
Zlatan didn't really do much in this game as he only had 15 minutes to work with, but it's definitely nice to see him back in action and his movements looked promising from the little time he was on the pitch.
With some crucial games coming up next in the Champions League, Pioli will be happy to have Zlatan at his disposal and there are also the likes of Inter and Roma lurking in the next few weeks. For those matches, Milan will be hoping to have their full squad available in order to get the maximum points out of their direct opponents.
---
READ MORE: Several of Milan's key qualities on display during fightback against Verona