It has been seven matches since Milan changed formation to 3-4-2-1, winning four of those without conceding a single goal, losing one against Fiorentina in a match dominated by the opponent, and drawing another two matches.
Of those two draws, a 0-0 result away to Tottenham was considered a good result, while the 1-1 against lowly Salernitana at home was a truly disappointing performance.
The only blips so far have come in Serie A in matches that might have seemed easier on paper than the match against Tottenham in the Champions League or the direct clash for European places with Atalanta, as Milan won those matches with ease.
So, it's fair to say Milan's journey with the 3-4-2-1 so far has had its ups and downs, but which outweighs the other?
As previously mentioned, the Fiorentina match in particular was a big test for the new formation because so far, Fiorentina have been the only side to face Milan's new formation with four central defenders at the back.
There have been suggestions that the defeat against La Viola had more to do with the wrong approach and attitude of the players, maybe even their aggressive press, which is something Milan have had trouble dealing with during Pioli's tenure, not to mention the absence of crucial players Leao and Krunic.
Another argument was that the players had their minds on the second leg of the UCL decider in Londen. While the game against Napoli in two weeks' time could probably tell us more about that, the latest match against Salernitana basically threw all those arguments out the window.
The truth is Milan this season simply lacks something or another in almost every game. This has been the case all season, and the 3-4-2-1 is following the same pattern. While it has fixed the issue of defense, it has created problems in attack. While there have been improvements in some individual performances, others have visibly declined.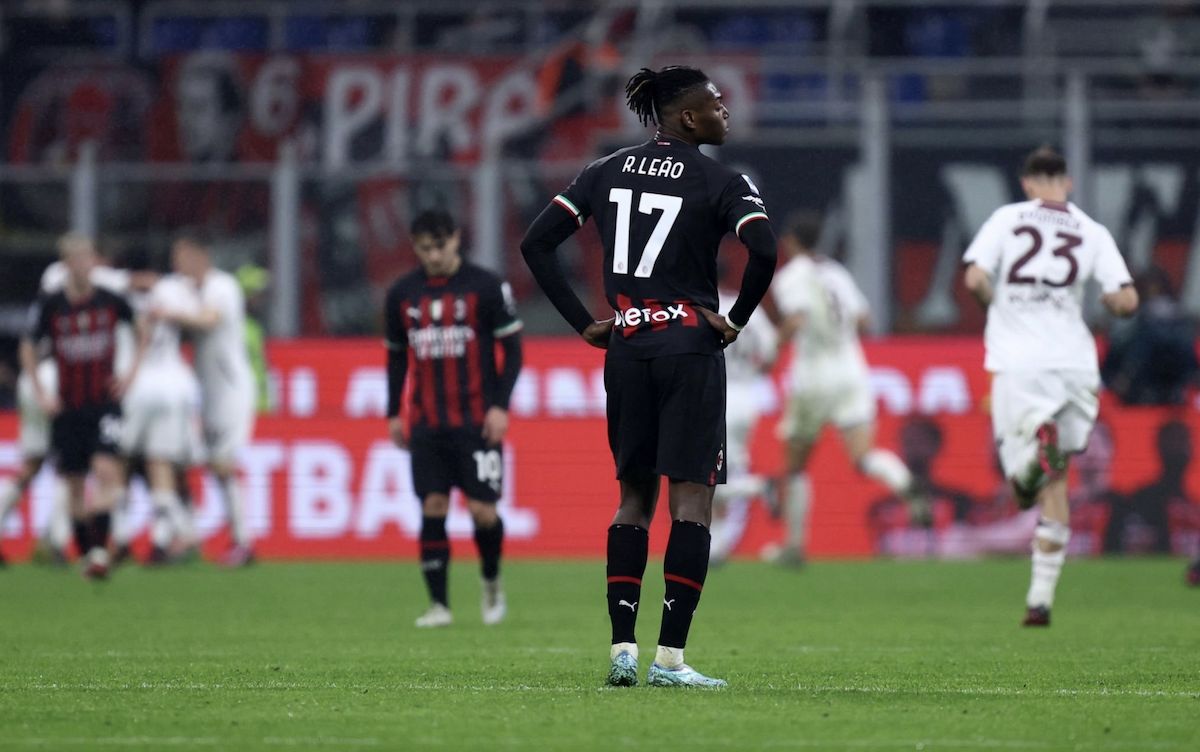 The change to the new formation has been a relative success, at least when it comes to its original purpose, which was to shore up a leaky defence and stop the losing streak. The beautiful thing about Pioli's tactical switch to the new 3-4-2-1 formation, it must be said, is that it can readily morph into the old 4-2-3-1 and back in the blink of an eye without the need for personnel change.
All Pioli needs to do is give the order from the touchline. Kalulu will shift into the right-back role. Messias (or Saelemaekers) will play a little further up the pitch as the right-winger. Diaz will drift inside to position himself behind the striker. Leao will go wider to the left, and Theo slots back into the left-back role. Voila! The old 4-2-3-1.
Pioli's reluctance to use this option and shake things up when Milan have struggled remains puzzling. It is an option for the team to exploit, nonetheless.
If Milan decides to stick with the new formation and continue to 'start' matches with a three-man defence rather than four, some players will undoubtedly see more playing time, while others will have to sit on the bench more often.
There will be those who won't be affected regarding playing time but might gain or lose in terms of performance. With that in mind, let's look at the squad to see which players will benefit and who will be in trouble.
The benefactors
All the central defenders: Here's what Pioli said after the second leg against Tottenham when asked about the change of formation to a three-man defence: "I think we have the centre-backs, and I include Simon Kjaer and Matteo Gabbia, who are suited to this system. The characteristics were always there, it was the right moment to try it, but our basic concepts of football did not change."
Milan have been struggling in the attacking department with different players failing to turn up each match. It probably makes sense to remove a player from attack and put another in defense where there are many in-form players.
Using the new formation, Milan puts up a wall and keeps it tight at the back, as this is proved with the recent clean sheets. Kalulu and Tomori will continue to play regularly. They are relishing their new roles after some questionable displays with the four-man defence, and there's no doubt they have benefited from the move to three at the back.
One criticism of the duo was that they were both too similarly aggressive when playing in a four-man defense, often leaving fatal gaps at the back. With both of them closer to the sides of the pitch and Thiaw in the middle ready to cover for them, they've become a nightmare for the opposition strikers.
Kalulu especially was long suspected to be best suited for this role, as the fanbase was divided on his best position being centre-back or right-back. In truth, he is probably best suited to a hybrid of those two roles, which is his new position on the pitch.
Let's not forget Milan's break-out star Malick Thiaw. He will remain at the heart of the defense, and honestly, it's hard to imagine him out of the lineup in any future formations. The German centre-back is very young and will inevitably make mistakes, but the talent to turn into a world-class player is there to see, and he needs to play regularly to get there.
🇫🇷 @mmseize
🇫🇷 @Kalulujr_
🇩🇪 Thiaw
🏴󠁧󠁢󠁥󠁮󠁧󠁿 @fikayotomori_

🧱 𝗜𝗟 𝗠𝗨𝗥𝗢 ❤️️🖤 pic.twitter.com/qdHWgC3i89

— SempreMilan 🏆 (@SempreMilanCom) March 8, 2023
Kjaer will act as the backup to Thiaw and could gain a second wind with this new setup. He has lost pace since the injury, but this new formation will give him some leeway in that regard while accentuating his strengths, such as man-marking, something we already saw against Spurs when he marked Harry Kane in the first leg.
Gabbia is the only one who, in theory, could find himself in difficulty. Still, Kjaer isn't getting any younger, and he could soon play first-choice back-up to Thiaw, as he has experience playing at the heart of a 3-man defense for Italy U21s. He could even find himself as a reliable backup for Kalulu and Tomori.
Nonetheless, he has been a candidate to leave Milan for many seasons now, but he always finds a way to stay, fight for his chances, and to be fair, he has always earned his place. A betting man would bet on him to do the same again.
Krunic and Pobega: They are central midfielders through and through, both of them in difficulty when playing further high up or back down the pitch. Krunic has already consolidated his place in the new formation and started in all but one match since the change of formation, and that absence was only through suspension.
Pobega is another player who should benefit from the change. He's had his best performances as a central midfielder in three or two-man midfields while playing for his former teams, and the presence of three centre-backs will reduce his defensive workload, which will only help him. Pioli, almost curiously, hasn't given him any chances yet though.
Saelemaekers and Messias: While we all long suspected Saelemaekers to thrive in the wing-back role, Messias has been somewhat the revelation playing there.
The Brazilian has shown tremendous work rate not that inferior to Saelemaekers, while also providing some quality in the attacking phase with two goals already contributed. Granted, his contribution was far better in the earlier matches, and with his recent injury likely to keep him out of the lineup for some time, it might be the time for Saelemaekers, Florenzi, Calabria or even Dest to show what they can do.
Messias was probably the first candidate to leave in the summer, making way for a quality right-winger, but he might have found a new reason to stay and stake his claim.
Saelemaekers and Messias always seemed to lack something when they played as wingers, but as wingbacks, they have found a role better suited to their characteristics. Quite surprisingly in Messias' case, one might add.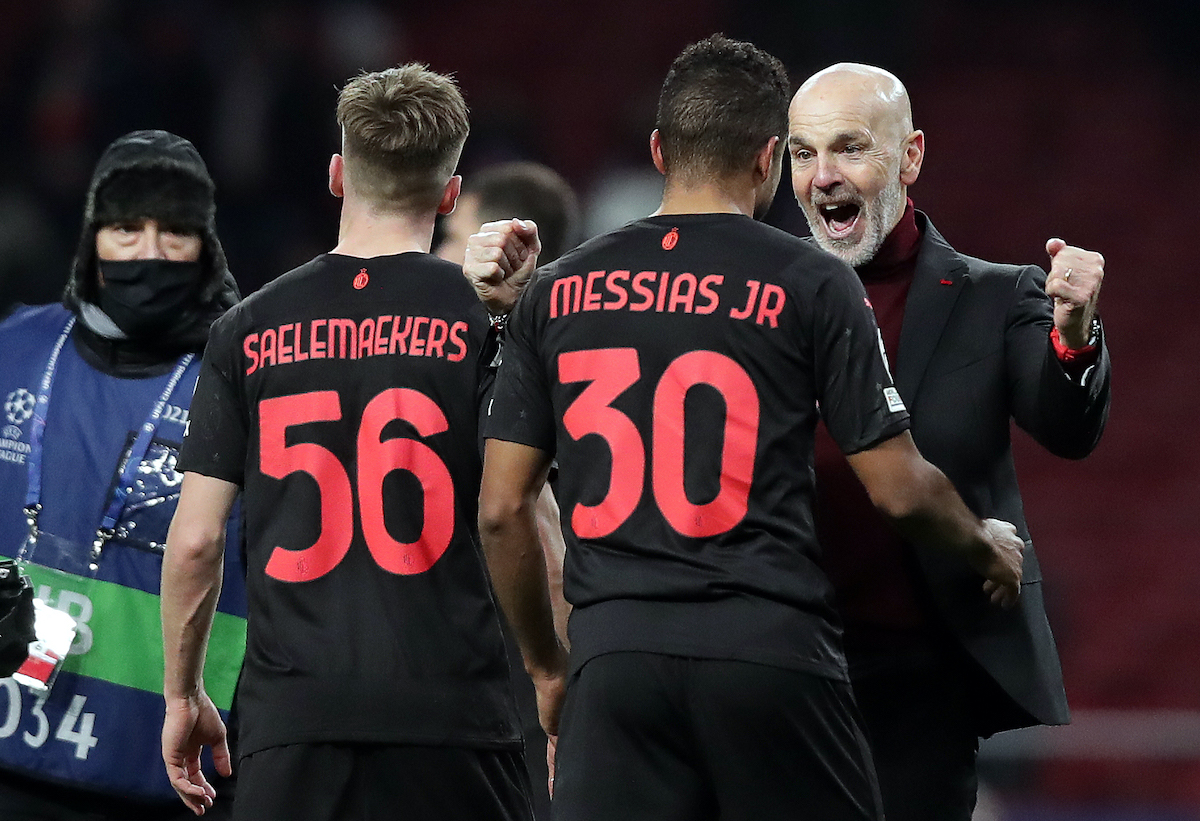 Theo Hernandez: Last but not least, the one who gains nothing in terms of playing chances but gains the most in terms of playing style. It's hard to imagine anyone arguing he would be more suited to the left-back role rather than wingback.
It's as if he's been born to play in this position, and the evidence is already there with some top displays. With his penchant for joining the attack and less to worry defensively, we can yet see the very best of Theo. More goals and assists will be on the way.
The concerns
Davide Calabria: He's a classic full-back. While he's shown before that he can do a decent job even as a midfielder, it's hard to see the captain lock down a place in the wing-back position when there are other players with characteristics more suited to the role.
Messias and Saelemaekers seem to be higher up the hierarchy, and they can seamlessly shift into the right-winger role at any moment. In theory, even Florenzi and Dest are much more suited to play as wing-backs.
If all fails, maybe he can sometimes act as backup to Kalulu in the half-right center-back role, while other times he can act as a more defensive option for the wing-back role, similar to the way Darmian has cemented his place at Inter, but he will not be happy with a backup role either way.
Brahim Diaz and Charles De Ketelaere: The playmakers who were brought in at different times to play in the hole and failed to deliver on a consistent basis. The new formation removes the necessity for an attacking midfielder, and although their ability to play between the lines could be useful, a player more suited to a right-winger/second-striker role will do much better there.
Milan don't have that player right now, which is why they continue to play and disappoint. Their future doesn't look very bright if Milan continue to play with the 3-4-2-1 formation though.
Rafael Leao: Another player who will not see his playing chances reduced, but contrary to Theo, it seems as if he has lost something since the change of formation. Pioli's star man has stated that this is his favorite position, but his recent struggles might suggest it's not necessarily his best position.
In truth, Leao's struggles began well before the change in formation, as it has been 10 matches since he last scored. He definitely has lost some of his decisiveness since he moved away from wide areas though.
He looks confused at times in the middle of the pitch and might be more suited to play close to the sidelines in an effort to use his speed and dribbling prowess better and run at his direct defender, with less to worry about what's going on around him.
📰 Today's @Gazzetta_it…

📊 Leao averages more goals, shots and assists per 90 as a left winger in the 4-2-3-1, but less successful dribbles and chances created

🤔 Where do you think he plays best? pic.twitter.com/4JNfOmErEK

— SempreMilan 🏆 (@SempreMilanCom) March 15, 2023
An observation of Leao is that he has out-of-this-world physical and athletic qualities but might not have the highest footballing IQ to match the body.
So far, he has had his very best performances running at defenders from wide positions, both for Milan and Portugal. When you analyze his performances over the last few years, it's apparent that he's better at making assists for others rather than pulling the trigger himself.
It remains to be seen if he can find his form in the new role. Another thing to keep in mind is his ongoing contract situation, which might have affected his performances of late.
The question marks
Ante Rebic and Divock Origi: They could possibly benefit from the change in formation, or at least on paper that should make some sense. They both seem to have trouble playing either as a proper winger or an out-and-out striker but could find more success playing as second striker off Giroud's shoulder.
Rebic in particular, has had his best performances playing as a second striker at Eintracht and the Croatia national team. They have had a few rare chances in the last few matches and failed spectacularly in taking them.
Sergiño Dest: With no less than four other players to compete with (Messias, Saelemaekers, Florenzi and Calabria) and a €20m option to buy hanging over his head, his chances look very slim, but it's no secret that his ideal position is the wing-back role.
At least on paper, he could be the perfect player to interpret that role and mirror Theo on the other side. His defensive shortcomings will be covered by Kalulu while he can make the most of his pace and technique on attacking forays.
Could he steal a starting place and seal a permanent transfer from here until the end of the season? This one looks like a really tough ask, but it's not impossible. He would need some colossal performances though.
The summer strategy
If Milan decide to stick with three at the back going into next season, then Maldini and Massara could send the annoyingly inconsistent Brahim Diaz back to Madrid more easily. The Spaniard has somewhat improved in his performances recently, but we have seen similar periods of good form from him before, only to be disappointed later on.
The positive matches against Tottenham and the following poor performance against Salernitana paint a similar picture, and this has now become a recurring theme, one which Milan could do without.
Consistency has always been his number one weakness, and with limited resources in Maldini's summer war chest, the search for a reliable attacking midfielder could finally come to an end, instead focusing on the player who is supposed to play off Giroud's right shoulder, with Marco Asensio of Real Madrid potentially the perfect option who is able to play as right-winger, attacking midfielder and second striker.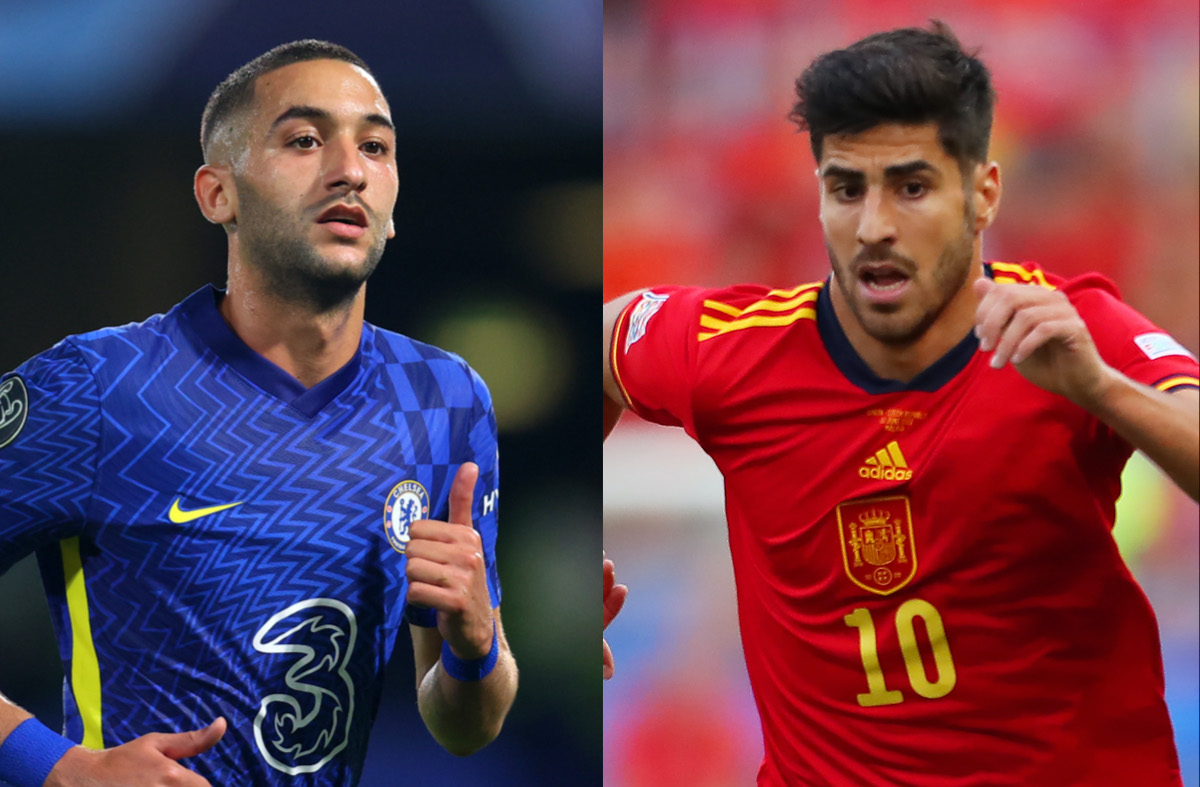 A player like him or Hakim Ziyech of Chelsea who can play between the lines but also act as a winger or second striker is going to be in high demand at Milanello, but maybe former Roma forward Nicolo Zaniolo is the most realistic target.
After failed transfer to Milan in January, it's reported he has inserted a €30-35m release clause in his Galatasaray contract with a possible move to Milan over the summer in mind. If Milan can't find a player at the right price with affordable wages, then Diaz could yet end up staying at Milan, with a reported price tag of around €22m within Milan's reach.
A reliable striker is needed, but as of now, it's hard to imagine another one coming in, with Olivier Giroud's probable extension and Zlatan Ibrahimovic's desire to continue playing for at least another year, plus Divock Origi's long-term contract and Ante Rebic's ability to fill that position, there's no more space in that department.
Moreover, Milan will have to decide the future of returning loanees Marko Lazetić and Lorenzo Colombo, with the latter having a good campaign out on loan at Lecce. With all this in mind, the search for the next Milan striker might have to wait another year, the management instead focusing on improving the service provided for the existing strikers in the squad.
A midfielder who can take Bennacer's place when needed must come in, with no other alternative possessing his skillset in the squad currently. This is a priority whether Milan decide to continue with the new formation or, even more urgently, if they abandon it for a return to 4-2-3-1.
Another pacy defender similar to Kalulu and Tomori will be sought, with the likes of Japhet Tanganga of Tottenham probably back in consideration. Finally, a low-cost deputy to Theo Hernandez will be needed, with Balo-Toure finally saying his goodbyes.
The summary
In summary, it seems the new formation has fulfilled its purpose but going forward with it requires a few other parameters to align for Milan.
There are positives and negatives, as it removes the need for an attacking midfielder, an area Milan have had trouble filling since the days of under-performing Çalhanoğlu to the recent struggles of inconsistent Diaz to the newest chapter, which is De Ketelaere's flop.
At the same time, it gives solidity to the back with three young, talented centre-backs protecting the goal. It can also bring some fringe players like Krunic and Pobega to the fore while at the same time putting others like Saelemaekers and Theo in their perfect positions.
On the other hand, Leao's struggles are the most crucial problem and it could decide Pioli's future decisions. Can Pioli somehow solve this problem and get the best out of him in the current setup?
If the answer is no, then the new experiment will most definitely remain just that, an experiment. If the answer is yes, then the future could be bright for Milan, and therein lies the conundrum of Pioli.