Milan stuttered to a draw at San Siro against Porto in the Champions League, which has effectively ended their chances of reaching the last 16.
Having been a juggernaut in Serie A collecting 31 of the 33 points available so far this season, Milan have been lacking in quality on the European front. Rather than the usual general tactical analysis, we have chosen to focus on a figure who appears to be dividing the fanbase at the moment in Alexis Saelemaekers.
Explaining his role
Even though initially Saelemaekers starts off on paper as a right winger in Stefano Pioli's 4-2-3-1 formation, his role is quite unconventional when compared to other wingers in the league. At this point it must be noted that Saelemaekers started off as a wing-back in Anderlecht's 3-5-2 system where he excelled in terms of work rate and defensive skills.
Some fans were underwhelmed by his signing in January 2020 as a bigger name was sought but Pioli – forced by a lack of options – chose to use Saelemaekers by bringing out his best skills.
This system makes the best use of both his right side players. Calabria has pace and can cross the ball or even get into useful positions like we saw against Bologna while Saelemaekers covers the space he leaves behind him.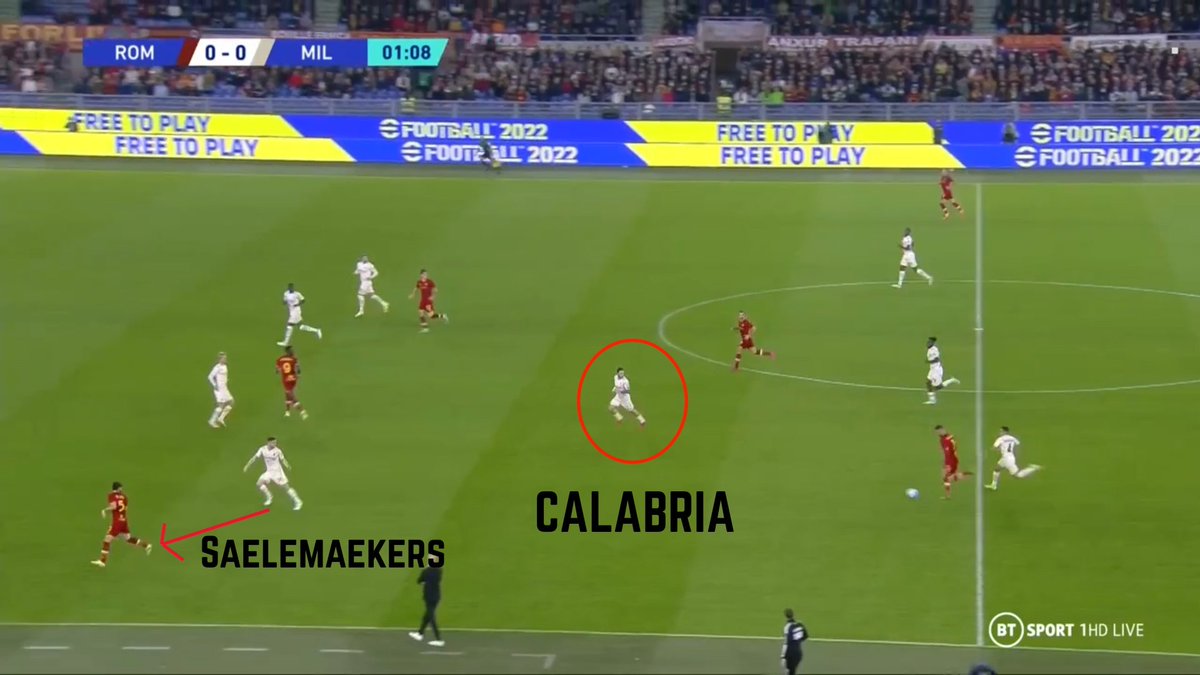 Calabria is even given the liberty to push up and fill the box with numbers when a cross is coming in from the left wing so as to not isolate the centre-forward Ibrahimovic or Giroud.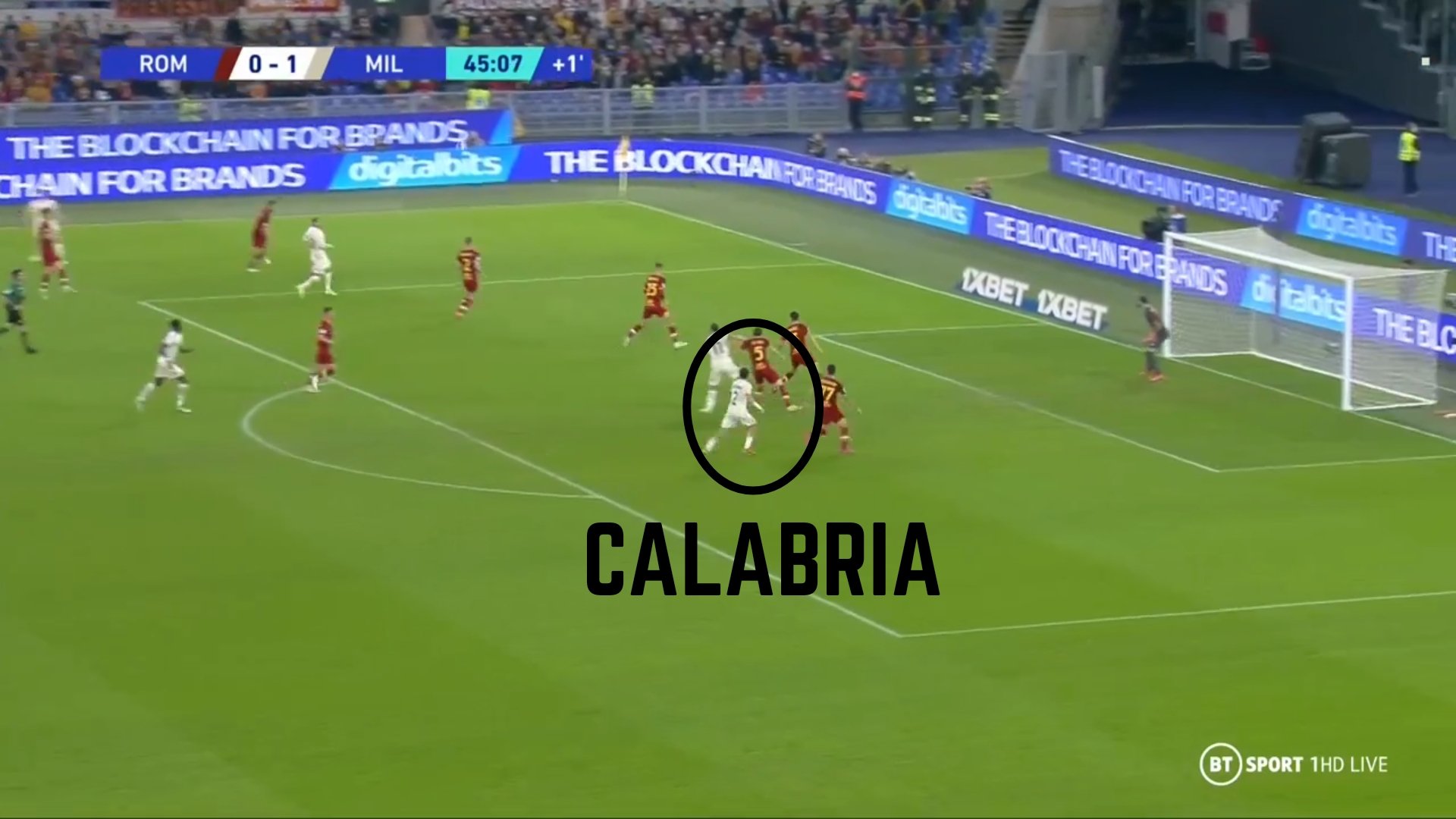 Operating areas
Saelemaekers has a knack of finding space between the lines as we can see in the build up to the goal against Liverpool. Against teams who tend to use numerical superiority on the flanks, the Belgian would sit back as a wing-back while Calabria would act as the third centre-back. Milan used this in the second half against Roma.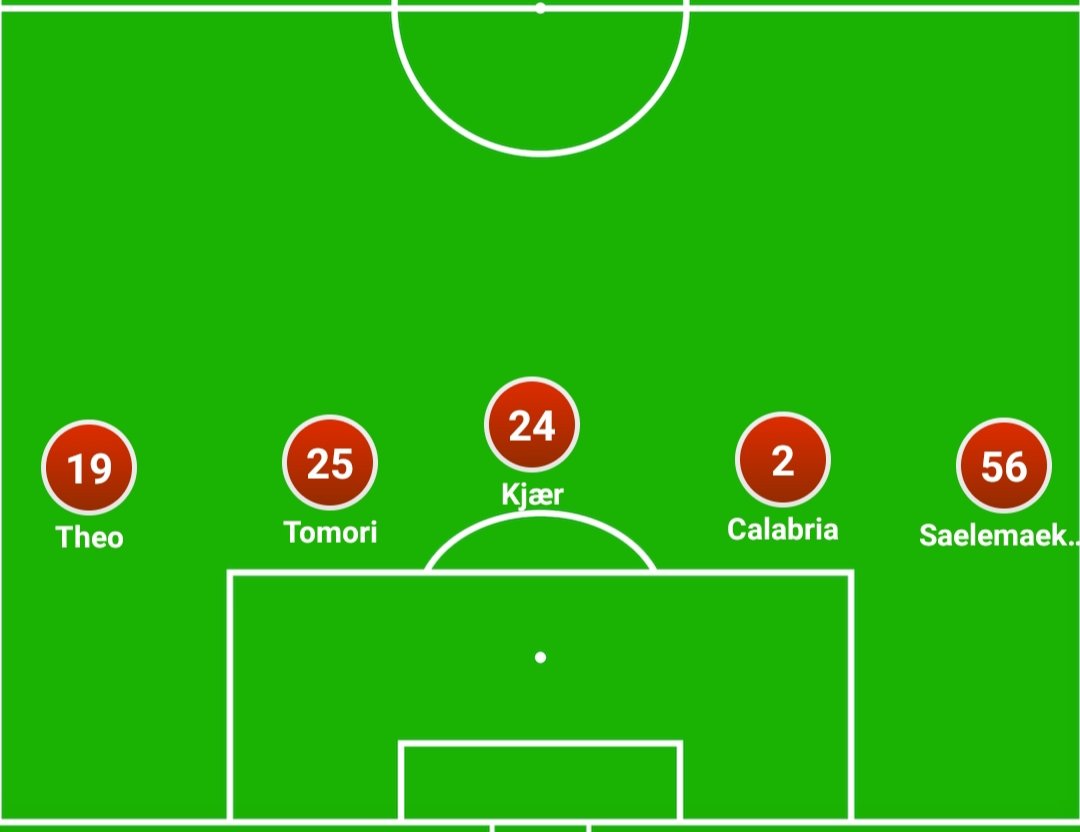 With a 40-year-old striker like Ibrahimovic or a 35-year-old like Giroud as the centre-forward, a player like Saelemaekers helps to make up for his work rate and press the opponents by pushing up the field.
The issues
Despite all of this, he does not perform the roles of a traditional winger: to be a goal threat, create chances and take his man on. Some would argue those are the priority tasks of an out-and-out winger, especially in a 4-2-3-1.
Saelemaekers only has 2 assists from 15 games in all competitions for the Rossoneri so far in the current campaign, a deeply troubling stat for Milan who made it back to the Champions League after over seven years away and knew they needed every single player to step up.
The 22-year-old has also not scored a single goal this season and is on a goalless run of over 40 games. Unlike normal wingers, Saelemaekers is not productive with the ball as always goes for the short pass option to avoid losing possession or sometimes tries a cross, which can often be misguided.
To compound the shortcomings further, Saelemaekers is not the most apt player when it comes to taking on his man with the dribble and creating more dangerous angles, which means his attacking repertoire is actually very limited.
On the ball
Please note all stats are per 90 minutes.
The numbers highlight what was mentioned above in that Saelemaekers is not the kind of winger that will give an opposing full-back sleepless nights before the game.
His expected assists (xA) is 0.14 against an average in Europe of 0.18. His shot creating actions i.e. passes or crosses that lead to shots is 3.18 against an average of 3.34 in Europe
Passes completed are at a good rate of 80.3% but one could say that this is due to him attempting short passes more and not trying risky through balls.
So what about passes that help in build the attacks ? This is measured as progressive passes. Saelemaekers has a score of 3.25 per 90 against an average of 3.42 in Europe.
As we expected his dribbling isn't all that great and this reflects in his score of 5.28 against an average of 6.22. Dribbles completed is slightly better at 1.81 against an average of 1.77, but again this could be a reflection of the fact he prefers the lower risk options.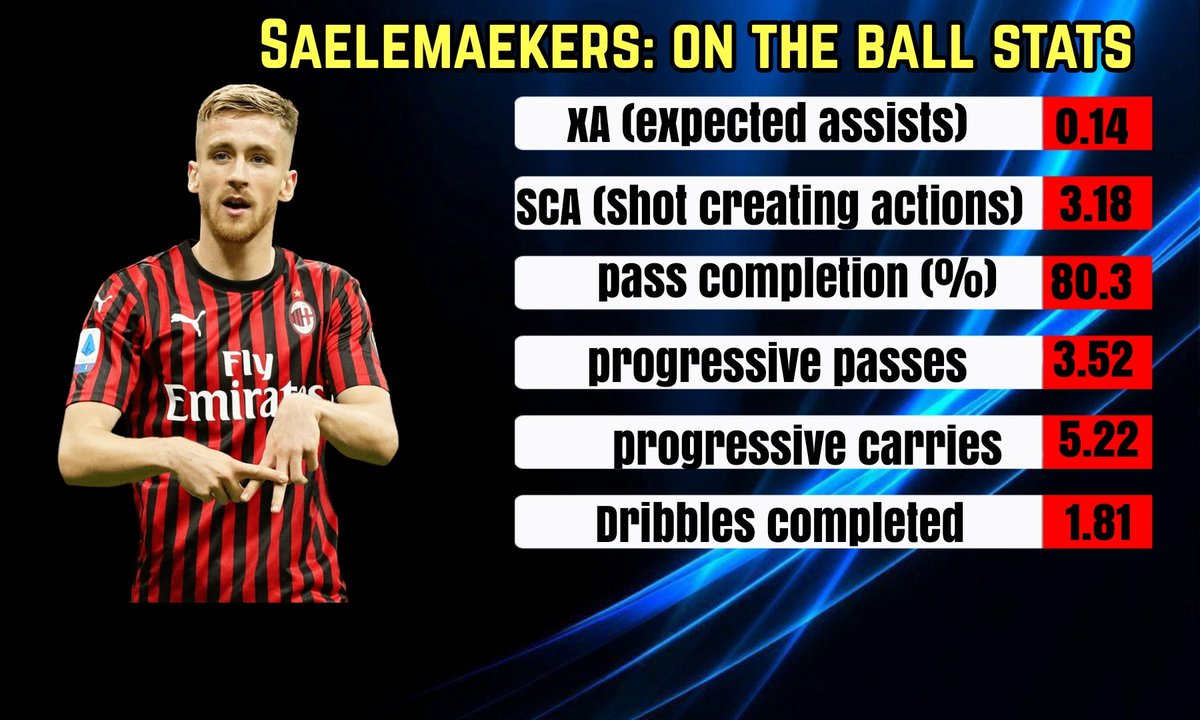 Off the ball
Here it must be said that what Saelemaekers lacks in attacking threat he makes up for it with his defensive work rate.
His pressing – which is measured as pressures per 90 – is an impressive 22.06 against an average of 16.10. Tackles made are 2.04 per 90 against an average of 1.36. Interceptions or otherwise passes intercepted are 1.57 against an average of 0.87. Blocks made are 1.77 against an average of 1.22.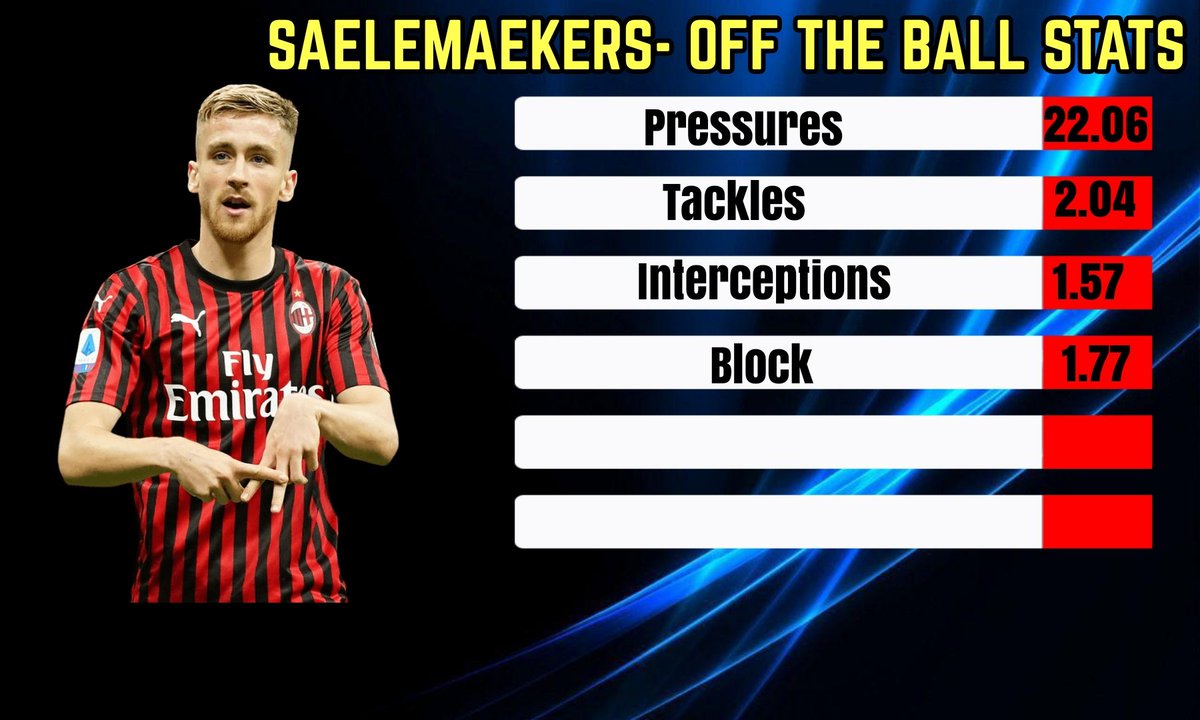 Conclusion
Saelemaekers is a perfect Pioli system player as the above highlights, but in the long run, if he keeps being on the same level that he is, he will pose more questions than answers.
His defensive work rate cannot be ignored but his offensive contribution is too little for him to be considered a winger that can offer guarantees from a creative or a goal scoring point of view, especially on a team that is challenging for trophies.A
A part two will follow where we explore personnel and tactical solutions for the Saelemaekers conundrum.
---
READ MORE: The three main factors that have contributed to Milan's Champions League struggles