Financial Fair Play has been prevalent in football since the last decade, and it is something which has huge implications on the transfer market, especially for clubs like Milan.
Given its importance, decoding what FFP means in simple terms and how it is affecting Milan and Italian Serie A as a whole seems relevant, especially with the Rossoneri facing such a crucial summer of recruitment.
Background
The bosses at UEFA decided that they needed clubs to curb spending more than what it was earning and going into debt and eventually becoming insolvent like how Lazio and Parma did. Their idea was the Financial Fair Play rule.
So what does FFP entail? The basic idea of FFP is to break-even, which means that the expenditure of the club should match the income of the club within the assessment year (all clubs are assessed over a period of three years). Milan are being assessed from July 2019 to June 2022 after they decided to sit out of the Europa League in 2019-20, something which functioned as almost a reset button.
The rules allow the clubs to spend up to €5m more than what they earn. If the clubs have owners who are willing to absorb the losses of the club then UEFA allows the team to spend up to €30m more than the income.
UEFA have listed transfer fees, wages, amortisations and dividends paid as expenses. That is all of these expenses have to equal to what a club earns in the assessment period, hence why Milan have been scrambling to sell players and reduce the wage bill.
Expenditure on stadium, youth teams and women's football has been excluded from FFP calculations to promote investments into the respective fields. The items listed as Income are prize money, sponsorship, match day income (ticket sales plus stadium revenue) and player sales.
Are owners not allowed to invest into their club? Owners can invest into the club but if the investment exceeds 30% the revenue of the club then the break-even calculation would get reset.
What it means for Milan
So why are Milan in trouble? Simply put, they don't earn enough money. Milan were top of the money league with Manchester United and Madrid in 2003 but now have slipped down to below 21st rank thanks to a combination of bad results and not searching for new avenues of investment.
The fact that Milan have accumulated €735m losses in seven years itself shows how bad thing had gotten. Years of neglect under Silvio Berlusconi and then the Chinese ownership trying to shortcut to success caused damage, then the current owners Elliott Management put their trust in the wrong man in Leonardo.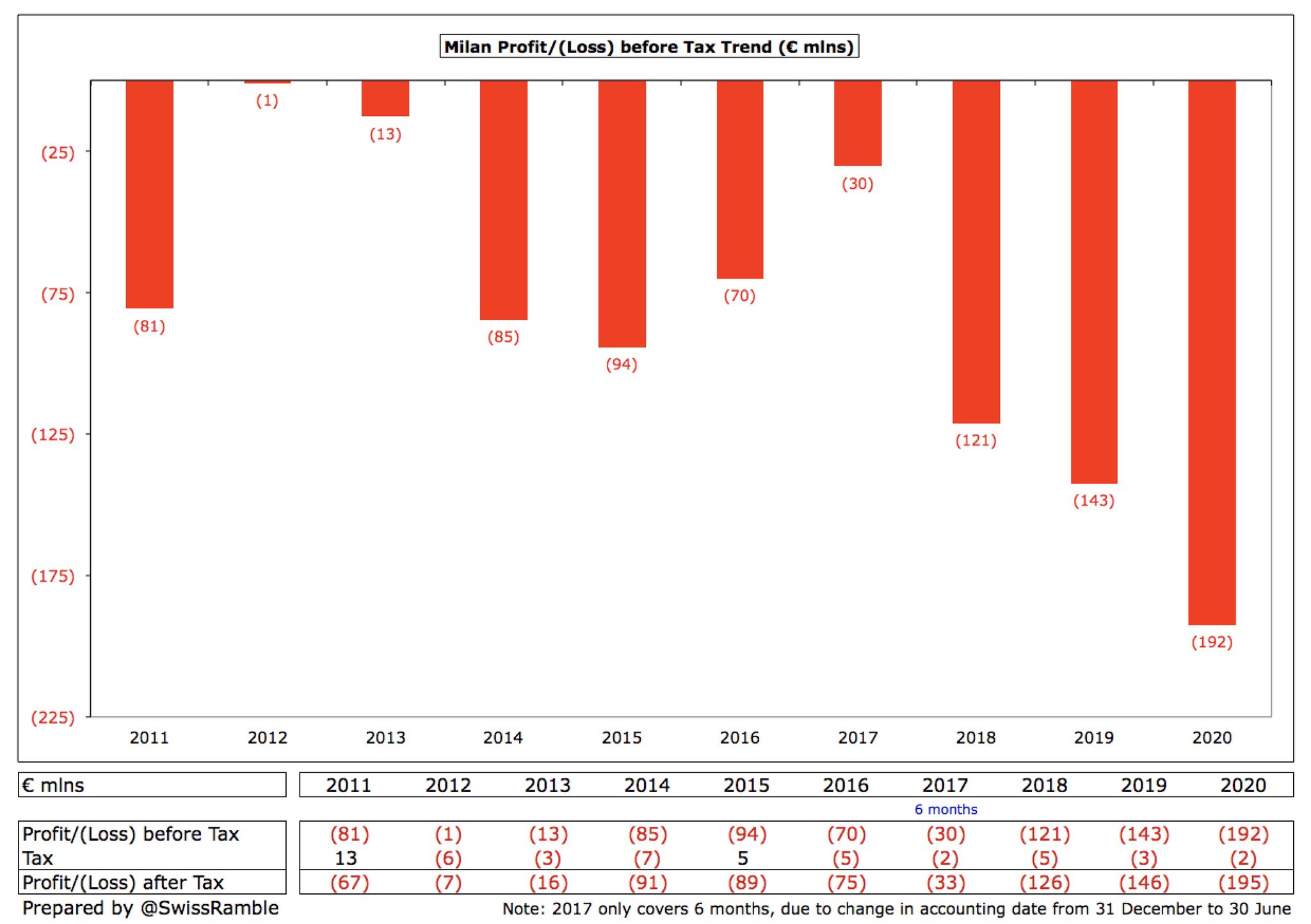 The €250m spent by Yonghong Li's group when Milan were in huge losses after the Berlusconi era attracted the attention of UEFA's Club Financial Control Body (CFCB) and while Milan were sanctioned with a one-year ban from Europe, Elliott saved the club with a promise to adhere to the rules of FFP.
Hence, with tight restrictions and investment into scouting in the form of Heinrik Almstadt and Geoffrey Moncada, Milan are trying to emulate the Liverpool model where a blend of experience and youth under financial parameters leads to success.
Loopholes in FPP
Whenever FFP is mentioned, fans often say how UEFA are always lenient towards clubs like Manchester City, PSG, and Barcelona. This is because these clubs (with the help of UEFA) have found the loopholes in the system.
For example, sponsorship by the ownership is allowed by UEFA up to 30% but how this 30% is calculated is not clearly mentioned by UEFA, giving a free pass to wealthy owners. A similar approach is taken with the amount of debt allowed for each club by UEFA, who take into account net debt, that is money to be paid minus money to be received.
FFP also has a huge loophole in terms of them not taking into account the disparity in income of clubs. For example, Sheffield United – a team that got relegated from the Premier League – earned €106m in TV money while Inter got only €65m in a season they won the Scudetto.
This would lead to different break even calculation for the teams and no merit to Inter or Bayern, who won the Bundesliga, while teams like Manchester City who won the Premier League got €200m alone from TV money.
It is this loose interpretation of rules that drew the ire of the teams who decided to form the break-away Super League, all because they wanted to reduce the disparity in incomes of each teams as the debt keeps mounting for teams like Madrid and Barcelona.
Future for Milan
Maldini – in an interview with SoFoot – revealed that in his opinion Milan need to be constant presence in the Champions League for the next four or five seasons for the club to be financially independent.
With Champions League football secured, the management needs to make investments while respecting financial parameters. It will be extremely challenging for the Rossoneri and their supporters to see their targets snatched up by bigger teams who have more financial power, but that is the result of years of mediocrity.
---
READ MORE: Exploits of Locatelli and Calhanoglu teach Milan two valuable lessons