AC Milan fell to their third consecutive Champions League group stage defeat as they were beaten 1-0 by Porto on Tuesday night at the Estadio do Dragao.
It was a very lacklustre performance from Stefano Pioli's men which is unlike the usual intense and high octane style we have been used to, but perhaps the selection issues and the depleted depth – which saw only an 18-man squad named – finally took a toll on the team and their creativity.
The game itself was far from an entertaining spectacle which makes analysing it a bit tougher than Saturday's five-goal game-of-two-halves thriller, but here are the key points…
Early inroads
Milan actually started the game as the side playing the more flowing and attacking football, just as they had against Atletico Madrid, which was very much encouraging to see. From the early stages though it was quick to see what they were up against.
We'll use this opportunity to debunk a common misconception. Yes, Milan are a side that presses in a very intense and organised way that is often too much for teams who are used to a slower tempo in Serie A, but in the Champions League that is simply the norm.
Most sides in the competition are used to playing and/or defending the kind of style the Rossoneri have, such as Porto who virtually mirrored our press by committing eight bodies to the area of the field Milan were attacking, using the touchline as an extra man. It cut off the midfield from the forwards and made things tough.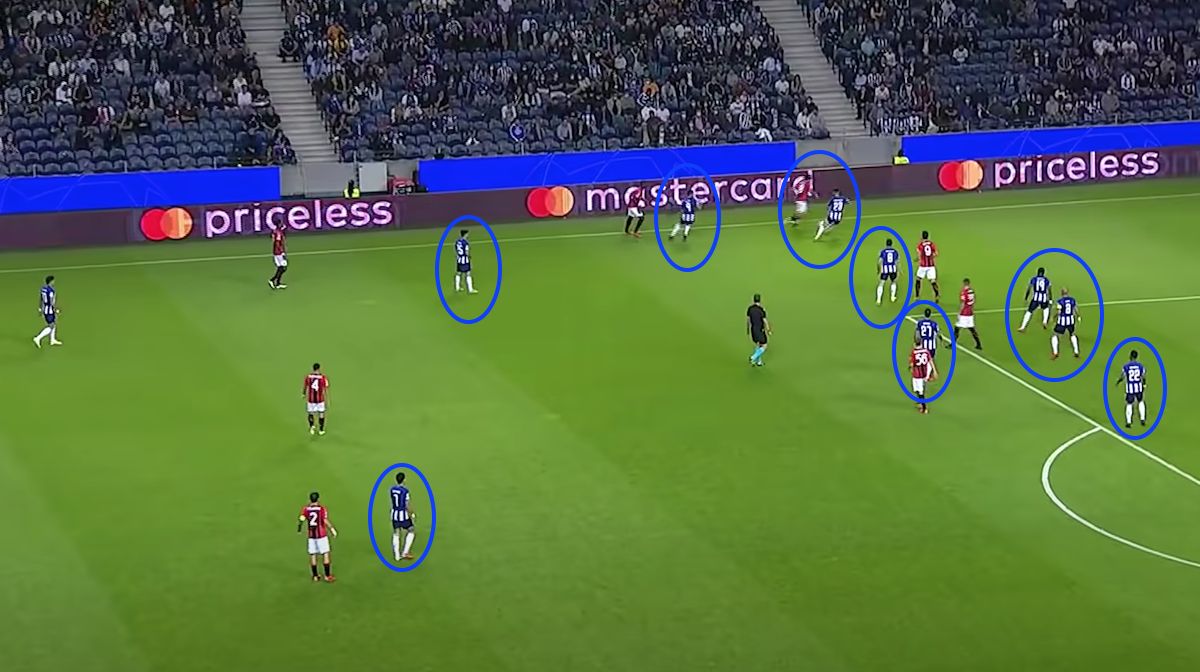 Early on though Milan found a way. They kept the ball well and used clever movement to try and create moments of momentary disorganisation in the Porto rearguard, as seen below with the Saelemaekers chance, but a timely tackle – just as it did all night – thwarted a real concrete chance. Notice the Belgian again drifting into central areas.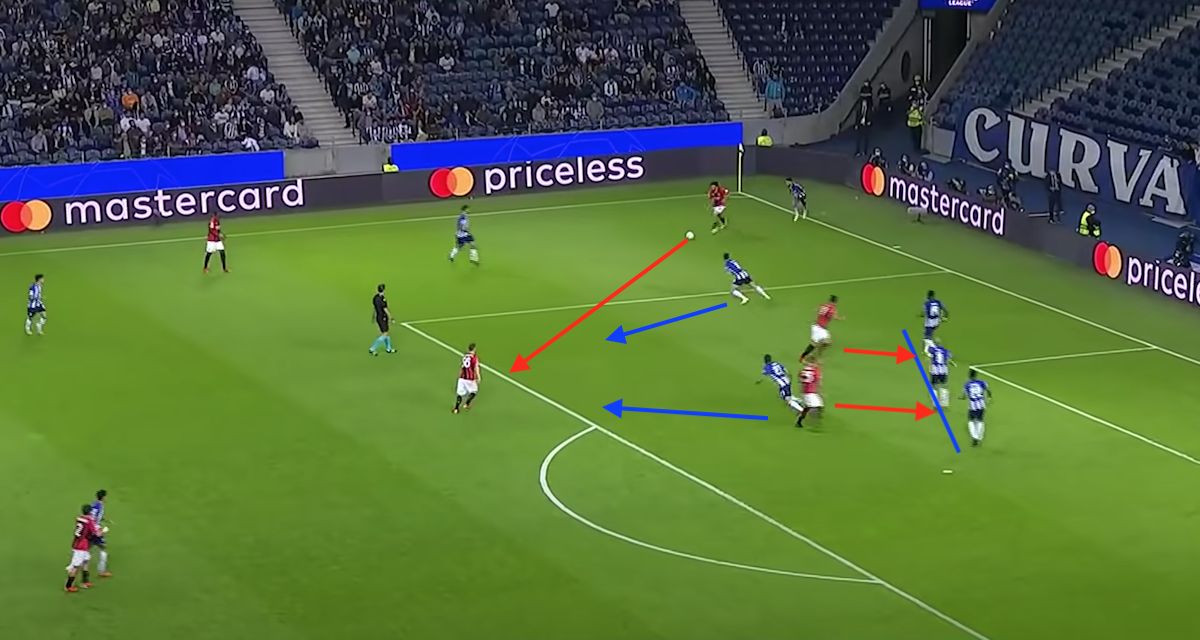 The counter-move
Sergio Conceicao is a manager who has Champions League nous, as do a fair few of his players having been established in the competition in recent years. Seeing that Milan were committing forward early on, his side went more direct and looked to capitalise on the second ball.
In many ways it is not a revolutionary method at all, but the movement of the front four players is what caused problems. They exploited the gap between Milan's defence and midfield plus the lack of proximity in the double pivot to create an overload.
As the ball drops from Tomori's back-peddling header and Bennacer misses out, a worrying four-on-three situation arises, and the first half saw quite a few of these tearaway attacks from nothing.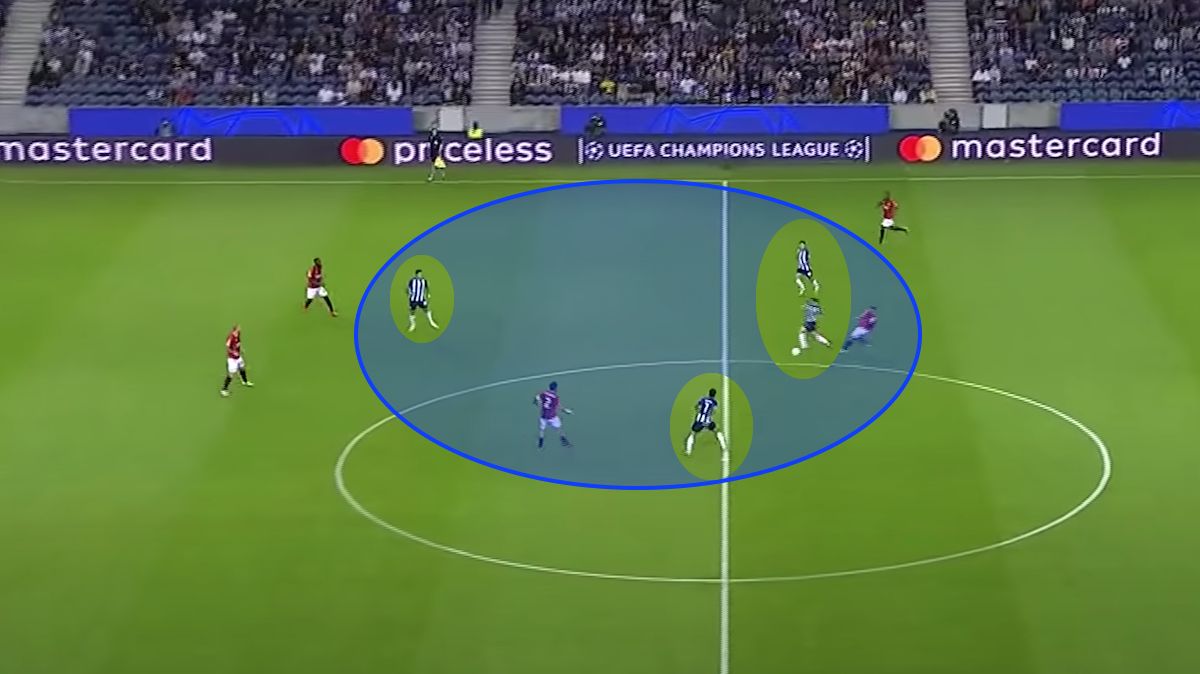 This particular chance ended with a shot off the inside of the post, and as seen below the Rossoneri defence were so worried about the runners in behind because of the overload that Tomori – who has a shaky first half – did not step up to challenge the ball carrier.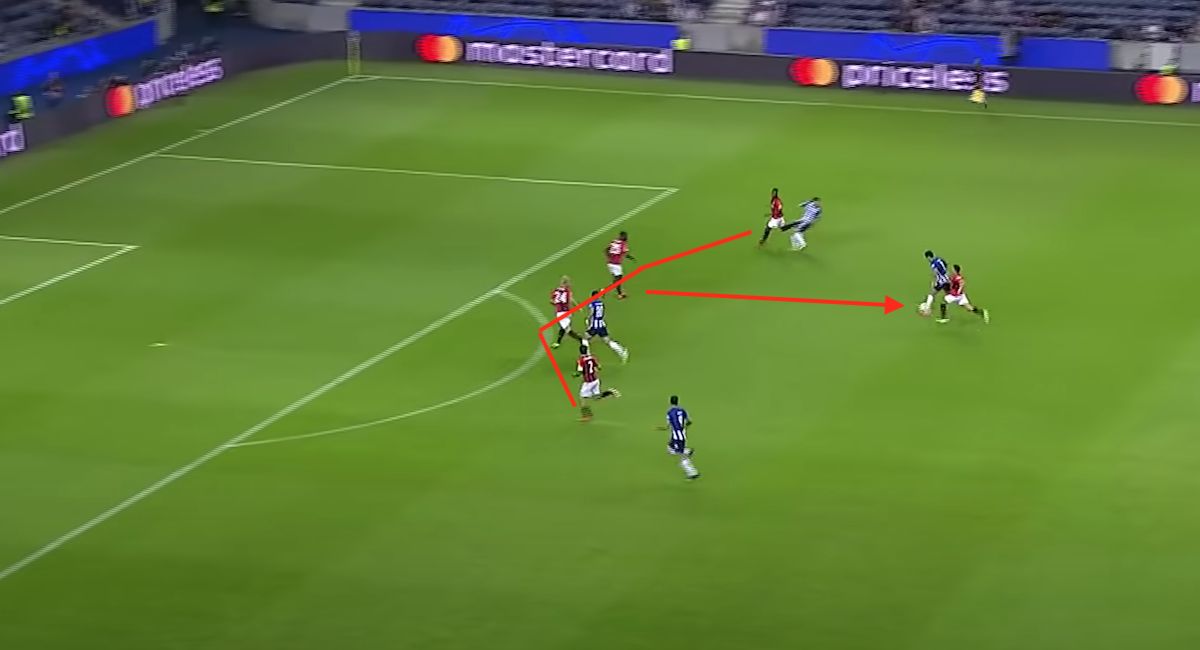 Daydreaming 
There are two words that best sum up Milan's performance: careless and disjointed. The defence, midfield and attack never gelled while the usual defensive solidity (which had also been breached by Verona at the weekend) was compromised by moments of inattentiveness at key times.
In the scene captured below, Sandro Tonali has the chance to get rid of the ball as his team-mates circles are clearly expecting him to do, yet instead he gives it away right in the corner as Porto's smart press continued to cause issues.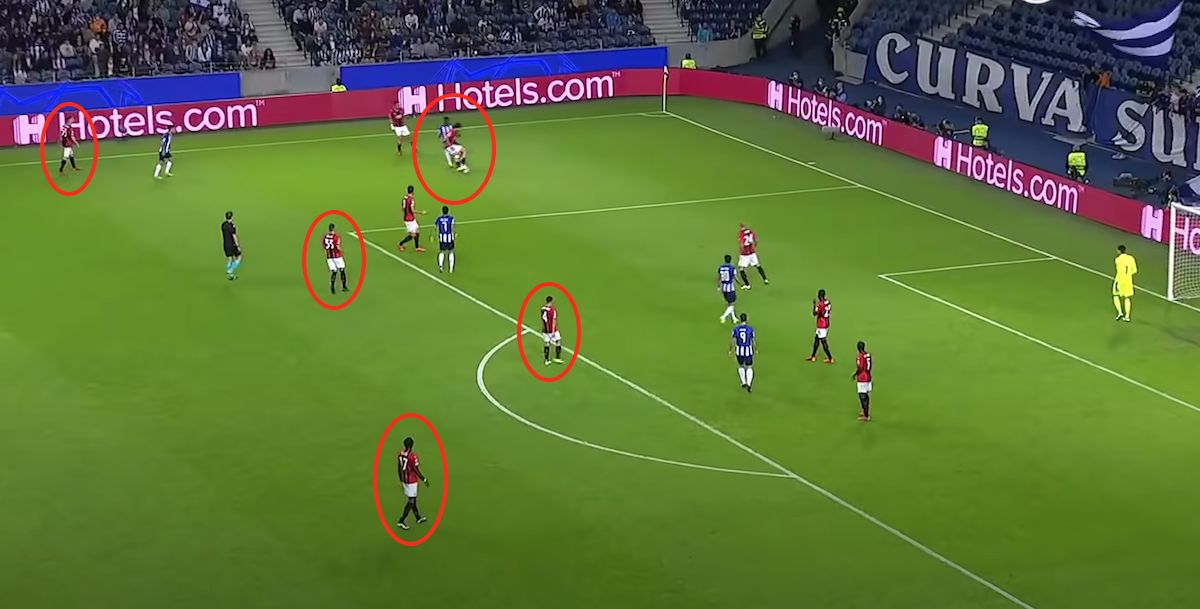 Due to the fact a number of players now had to frantically scamper to try and cut out the impending danger, Milan's defence became unorganised and space opened up. The result of this was a shot dragged wide from just outside the edge of the box.
Another interesting thing to note is how Porto's front two of Taremi and Evanilson had Milan at times committing to a compact back three, which created space down the inside channels.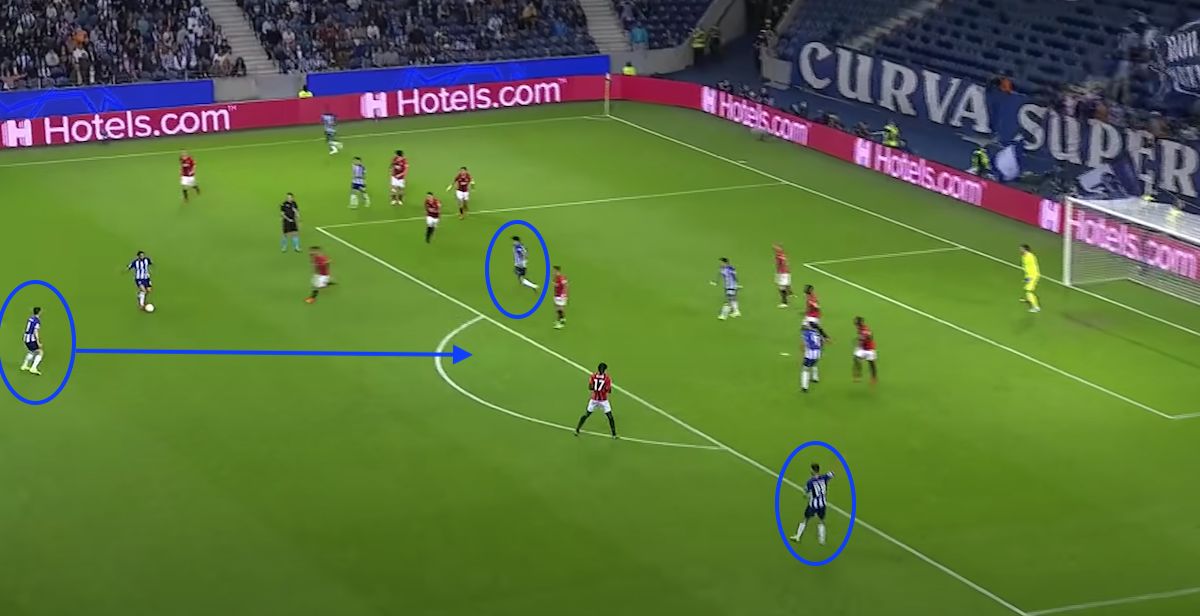 A baffling change
Pioli deserves a lot of credit for the impact subs he made in the Verona comeback win, but bringing Kalulu on at left-back to replace Ballo-Toure is part of what led to the decisive goal. The Frenchman – who has never played there before in his senior career – got spun around by a simple one-two after over committing.
Then, he actually got beaten twice by the right-back João Mário with simple cut-backs and the cross was not properly cleared.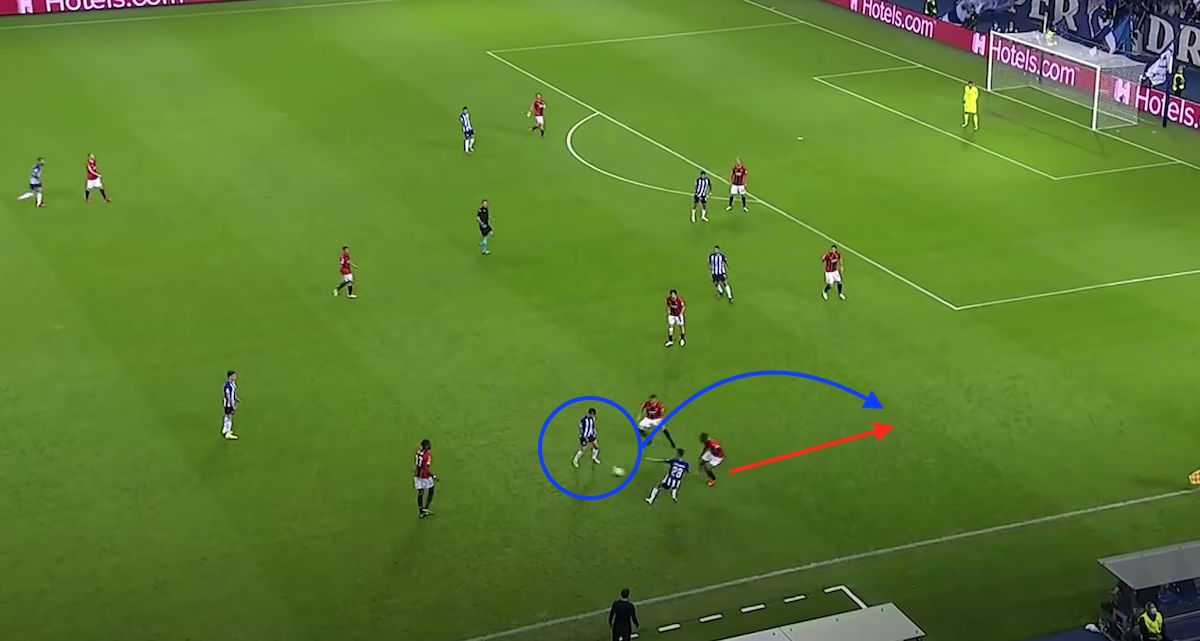 Again we are forced to talk about standstill defending and not reacting to the second ball, as there are three Porto players in the danger area around the ball and Luis Diaz was unchallenged by the Milan defenders in a line. They might have been expecting a foul to have been given on Bennacer, but it is a lesson to always play until the whistle.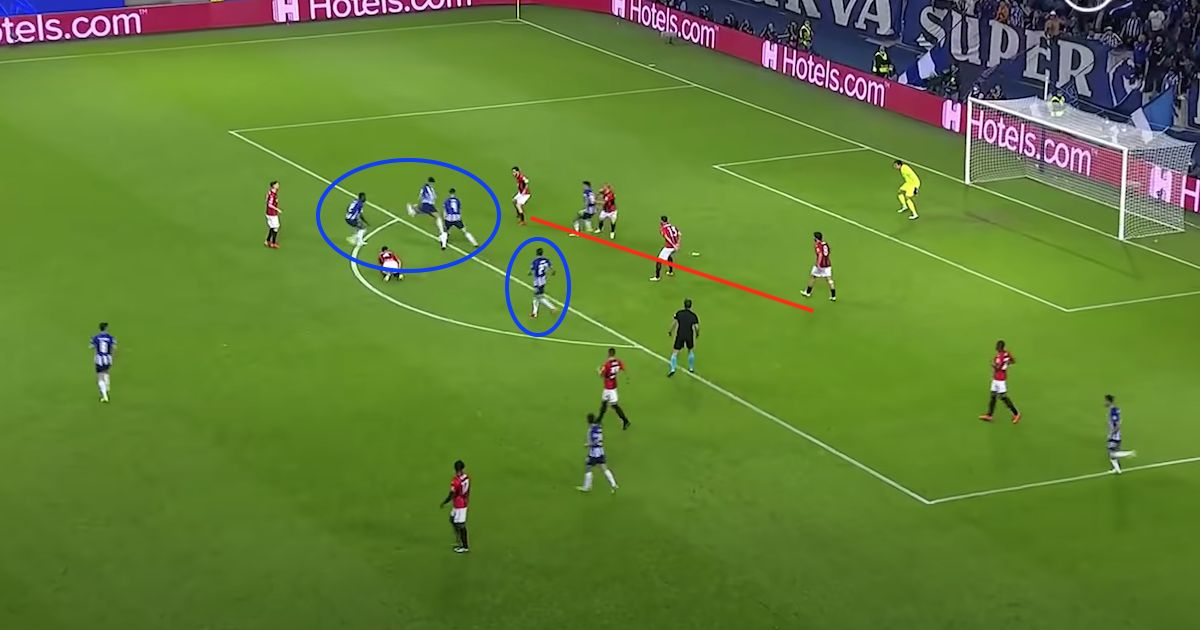 The data
The numbers do not read well. Porto had 20 shots to Milan's 4, they had 53% possession, more dribbles, tackles and 6 more corners. It was a domination in truth as the Diavolo were just not at the races perhaps for only the first time this season.
The heat map displays it well, as Milan had the ball most in their own right-back and centre-back positions, with virtually zero presence at all in Porto's third and a real gap where Rade Krunic should have been dictating play. That was a theme of the night: a struggle to transition from defence into attack, and Brahim Diaz was sorely missed again in this regard.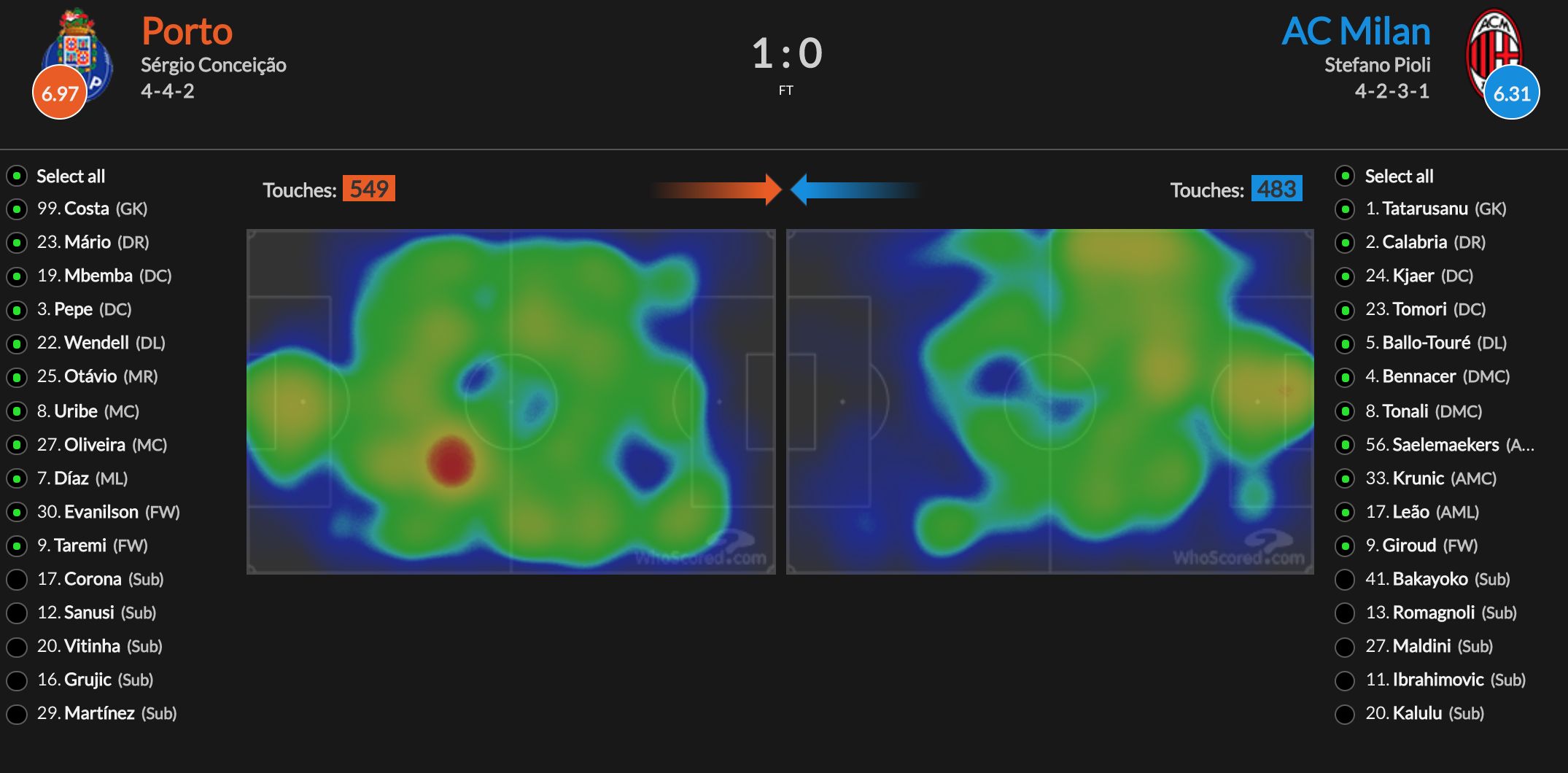 The pass data courtesy of WhoScored presents some interesting findings too. Porto were much more direct than Milan playing 18 more long balls, but with more passes in general it is fair to say they moved the ball quicker and smarter.
Looking at the target zones, Milan had far more passes in the defensive and midfield thirds while Porto has 154 passes into the final third compared to Milan's 70 – a staggering difference of 84.

Conclusion
This was a rude awakening for those who believed based on the first two group games that beating Porto would not be a problem. They are an organised, energetic and battle-hardened side with a good coach in Conceicao, and they deserve credit for stopping everything Milan threw at them while also creating plenty.
Every game at that level is a learning curve and hopefully the team will be in a bit better shape for the return game at the San Siro, which really is do-or-die if the small chances of progressing are to be clung onto.
---
LATEST COLUMN: Milan given a reality check in Europe that will only help the growth process