AC Milan were given yet another humbling by their Lombardy neighbours Atalanta at San Siro on Saturday night, losing 3-0.
In truth the fact that a wounded Milan side lost against a very good team was perhaps not a major cause for concern, but it was the manner in which they were thoroughly outplayed for the second time in three games against La Dea (the other being a 5-0 loss) that has caused some to question more seriously what went wrong.
Here, we picked out the critical errors that led to Milan being on the other end of another Gian Piero Gasperini masterclass…
Tactical naivety
"It's a shame that we conceded the first two goals as we did. I believe that until those incidents, the game was balanced." Pioli told Milan TV after the game.
He's wrong, it wasn't balanced. The vast majority of Milan fans would acknowledge that in that first half – after a bright opening two minutes or so from Milan – it was just a matter of when and not if Atalanta would score.
There were some eyebrows raised when reports emerged the night before the game suggesting that Soualiho Meite would be deployed in the advanced midfield role ahead of Brahim Diaz. Sure enough, it ended up happening, and it was an experiment that failed and was scrapped after 45 minutes.
After the game, Pioli explained his thinking: "Atalanta are a very physical side and I felt we needed to counter that element."
As feared, it was basically an admission from Pioli that for once he was thinking more about what the opponent could do rather than playing to the strengths of his side. Why is this significant? Well, for starters it is an opponent several places lower in the table coming off the back of draws against Genoa and Udinese having scored just once in those two games.
Not only that, but it was an indirect way of him saying he did not feel that Tonali, Kessie and Brahim Diaz would be up to the task of establishing dominance in the midfield and allowing the team to play through the thirds.
It also threw Meite under the bus, because he was forced to play in an unfamiliar position in his first start for the club and will have no doubt had his confidence hit having been removed at half-time.
Pioli changed it at the break, but as soon as the second goal went in it felt like the game was over. When Rebic and Mandzukic came on they fought and pressed and challenged Atalanta – maybe that was what was needed all along? To focus on testing the opposition rather than worrying about them.
It must also be noted at this point that Milan really miss Ismael Bennacer in games like this; a player who can get a grip of technical opponents (like he did to Barella against Inter) and avoid the other team asserting midfield dominance because of his tenacity and the distance he covers.
Individual errors
Before beginning, it must be noted that this is absolutely not intended as a mission to drag any player through the dirt, because the players who will be picked out have been fantastic performers so far this season.
First goal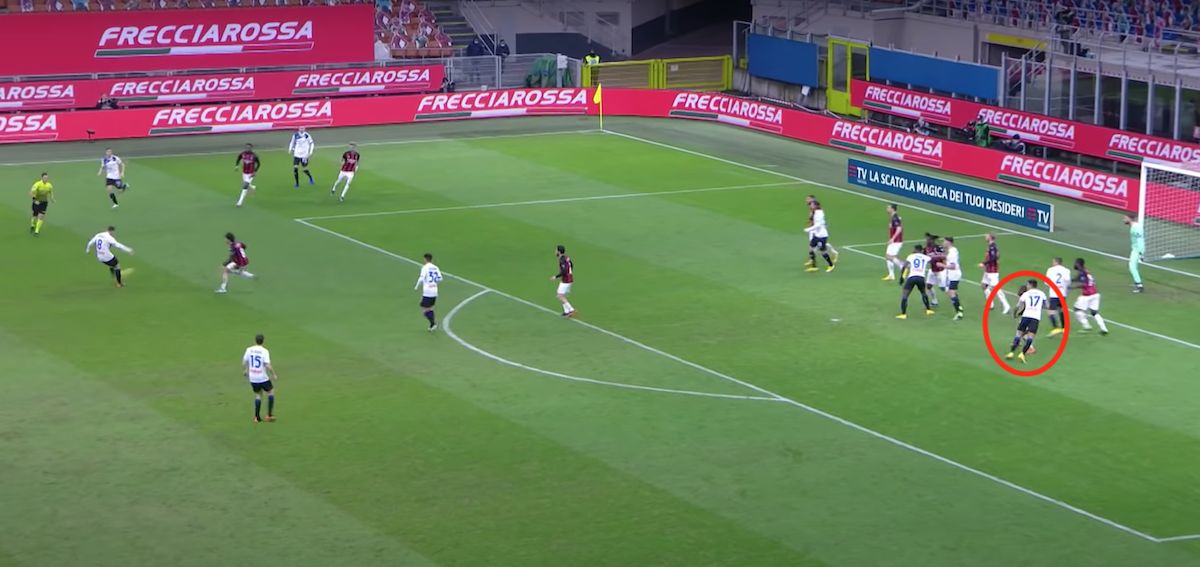 As can be seen from the screenshot above, Atalanta set up from a short corner routine to whip an out-swinger in from near the corner of the box. As the ball comes in Kalulu is well set in his battle against Romero: he is looking at the action and he is between the ball and his man.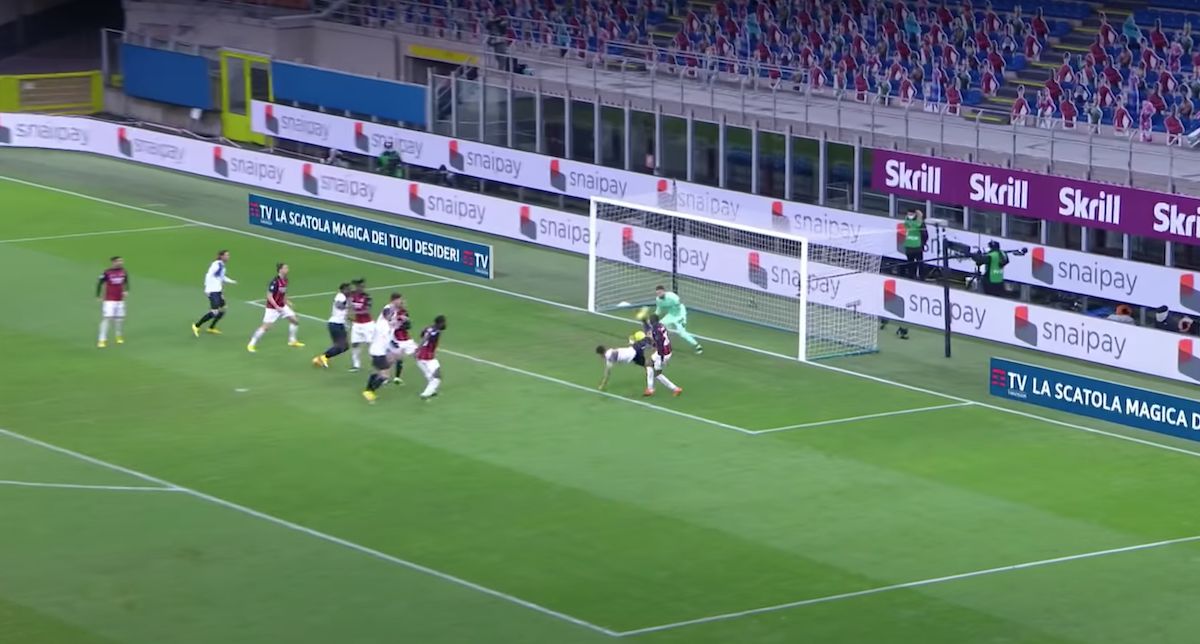 As can be seen above, Kalulu is caught in two minds when the space opens up in front of him and appears to be worried by the aerial advantage Romero has, so rather than attacking the ball he chooses to just try and put Romero off enough for him not to get a good connection.
The result is a goal as the Argentine finds it easy to muscle in. The space in front is worrying too, but the Frenchman knows for next time to attack the ball and not to give away such an easy goal. There must also be some questions asked about the lack of pressure from a short corner, but that wasn't the main cause of the goal.
Second goal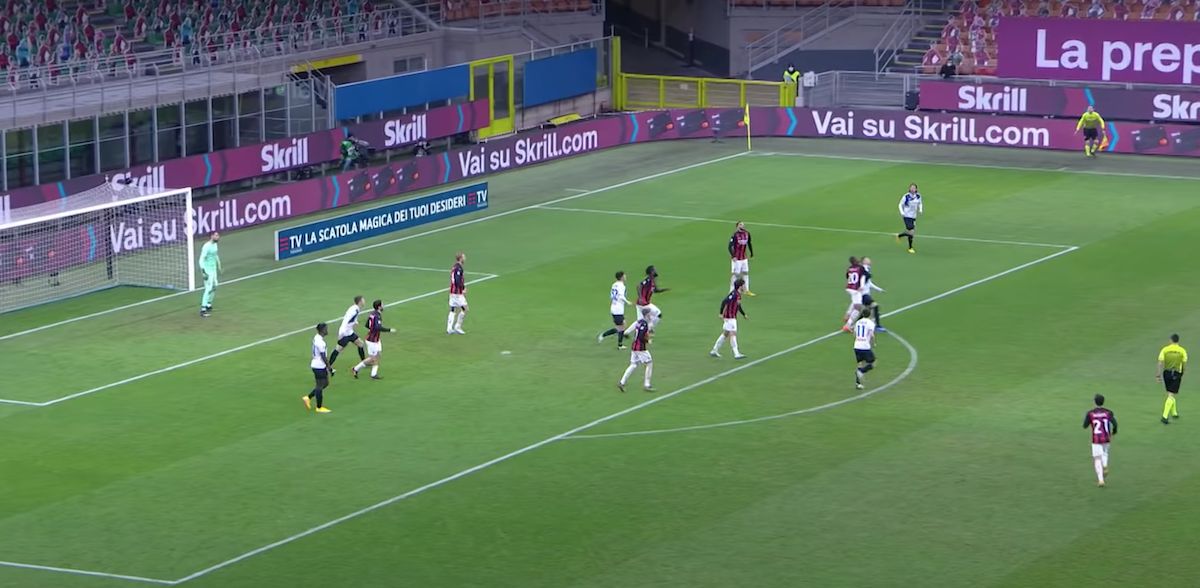 When the ball is up in the air, it is clear right from the moment captured above that Ilicic is looking to use his physicality and either force Kalulu into committing a foul and conceding a penalty, or at the very least cause some confusion in the box if the ball does drop to him.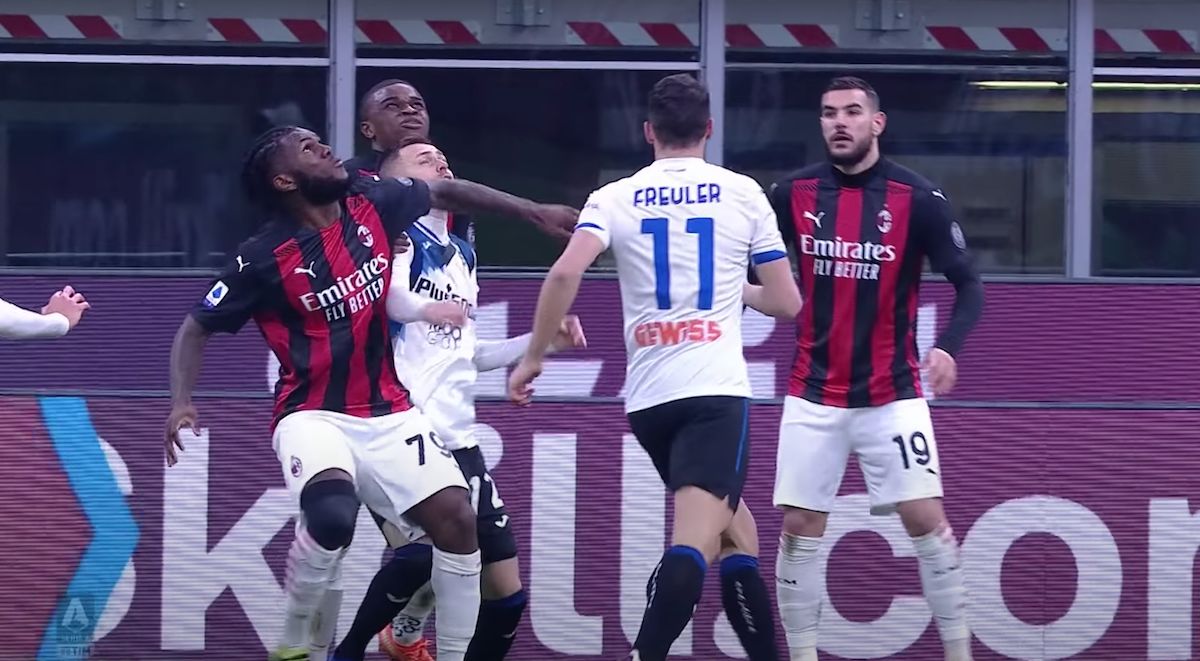 Kalulu does well and has the situation in hand allowing Kessie to come over and clear, but the Ivorian inexplicably decides he needs to raise his arm backwards for leverage and he gives away an undeniable penalty.
One must question why Kessie felt that he needed to do so, given he was never going to jump for the ball, and even if he hadn't elbowed Ilicic he is very much at risk of giving away a handball penalty. It wasn't Kessie's night but he has been exceptional this season, and we must hope mistakes like this continue to be few and far between.
Third goal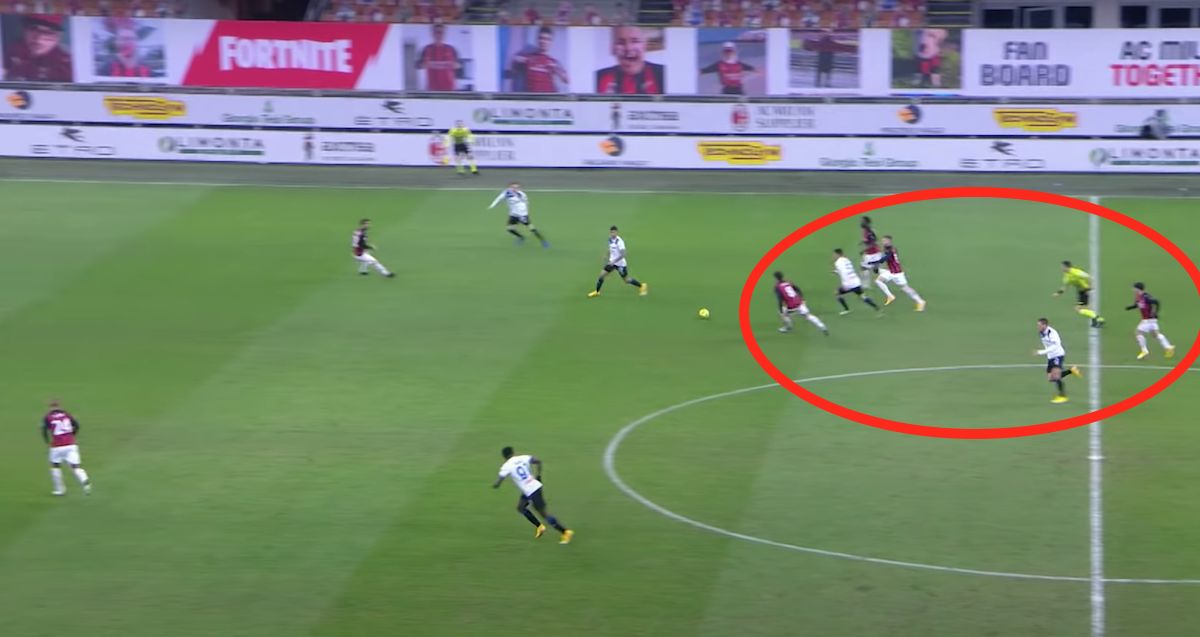 The first obvious problem prior to the third goal – which admittedly was more a product of Milan's relentless attempts to get back into the game than pure tactical deficiency – stems from the fact there are four players in such a close space which allows Atalanta to release a three-on-two overload with a simple pass.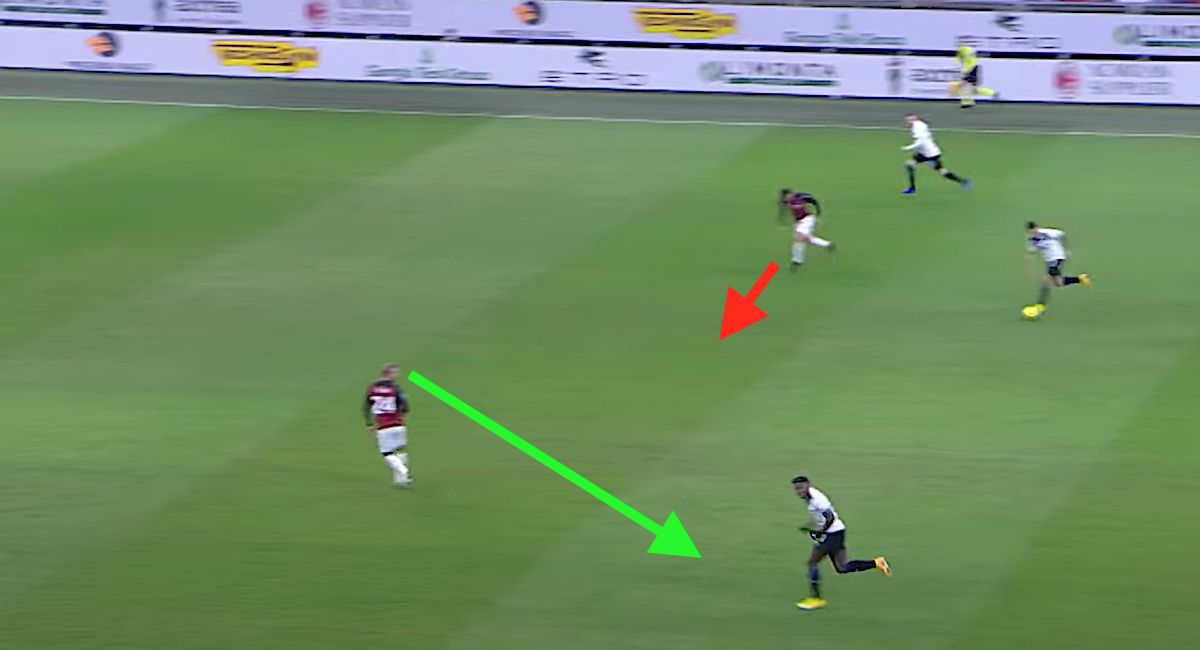 Despite the numerical disadvantage (the midfield has vanished at this point) this still isn't a terrible position to be in. Musacchio is doing the right thing by attacking the ball carrier and attempting to push the play wide left, while Kjaer has a little look over to acknowledge a simple vertical run from Duvan Zapata.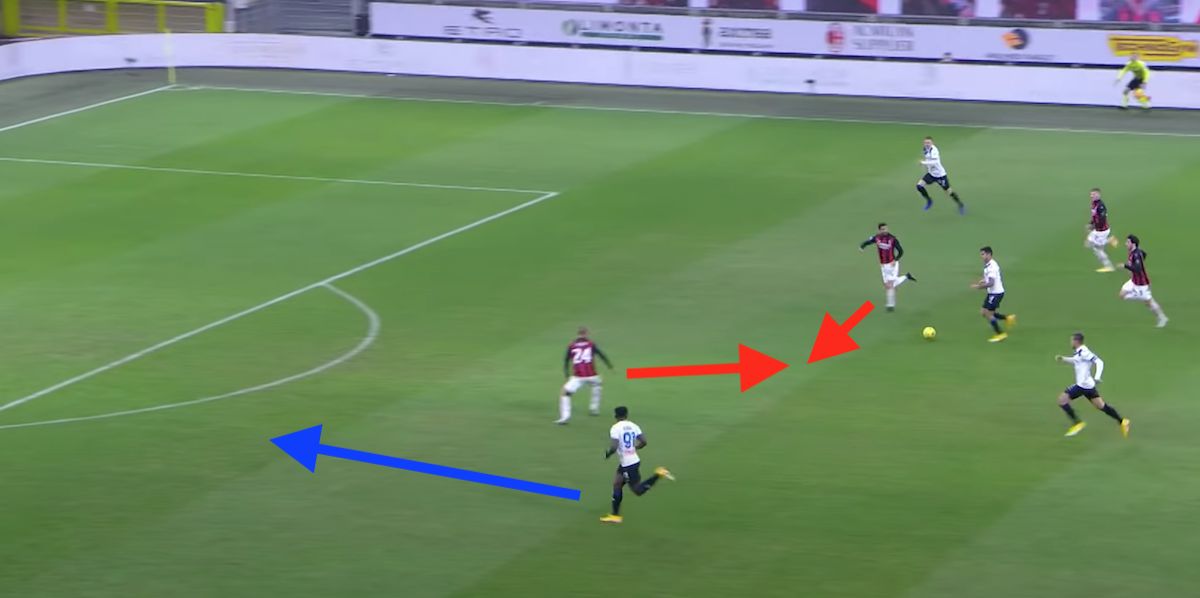 Musacchio is gesturing at Kjaer to cover Zapata behind him as the Argentine has managed to close the gap on Romero. The Dane – possibly presuming that a through ball to Atalanta's right flank is coming – decides to step up and gets caught in between, which allows a simple through ball to Zapata who has the freedom of Milano to slot home.
This is no doubt borne from a lack of chemistry between the two, but it is a lesson in how to deal with overload situations, i.e. to cover the passing angles where possible but always trying to pressure the ball carrier into a decision, ensuring when stepping up that it is the right thing to do.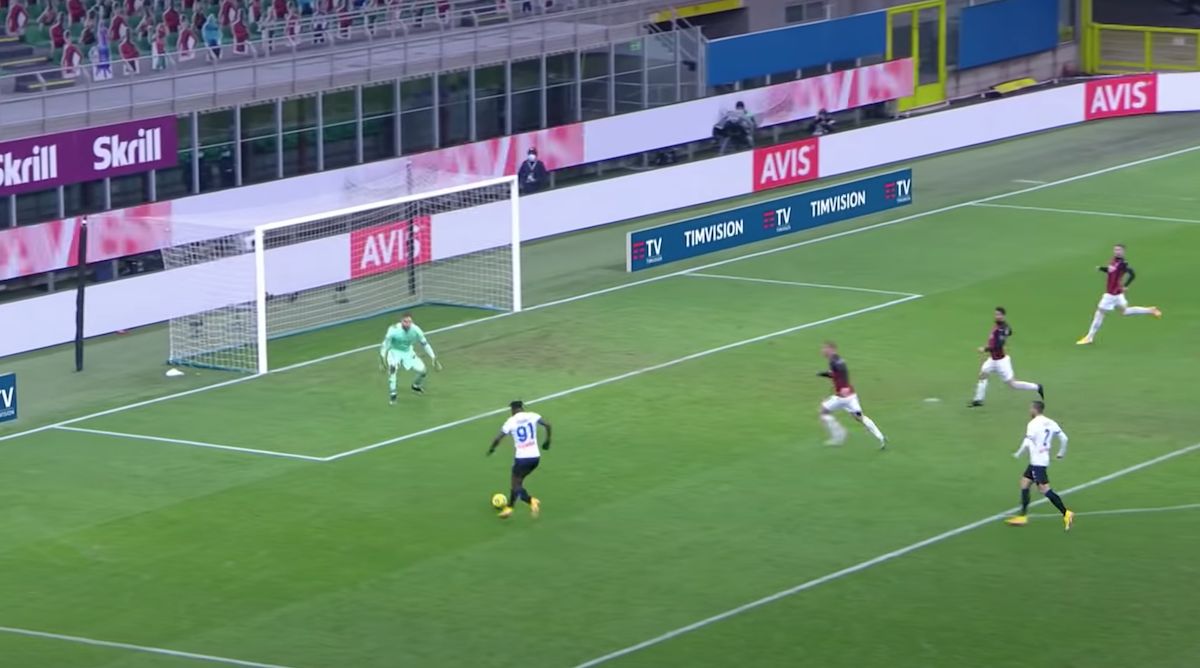 Falling for the trap
One of Atalanta's strengths is when they can assert their high line, because the numerical superiority in midfield that their 3-4-2-1 generates when the high line works is enough to take most teams apart.
A the graphic below shows, the visitors succeeded in playing higher up the pitch, and the selection of Meite as the advanced midfielder was a big part of that. The Rossoneri had no way of pinning Atalanta back by playing quick vertical football through the thirds and it drew La Dea further and further outwards, eventually resulting in the inevitable opener after a dominant first half.
Another thing that Atalanta did well was manage to ensure that the crammed their right side at the right moment, which in turn forced Milan to play down their weaker right flank where Castillejo was ineffective, Meite was unhelpful and Calabria was on edge having been placed in isolation with Zapata twice early on.
Not only that, but Atalanta limited the amount of touches that Rafael Leao got. If he had received more of the ball, he was the main threat in terms of take-ons and establishing presence on the left wing bringing Theo into the game. Instead, the latter was forced to drive inside and the midfield pairing of De Roon and Freuler found it easy to thwart.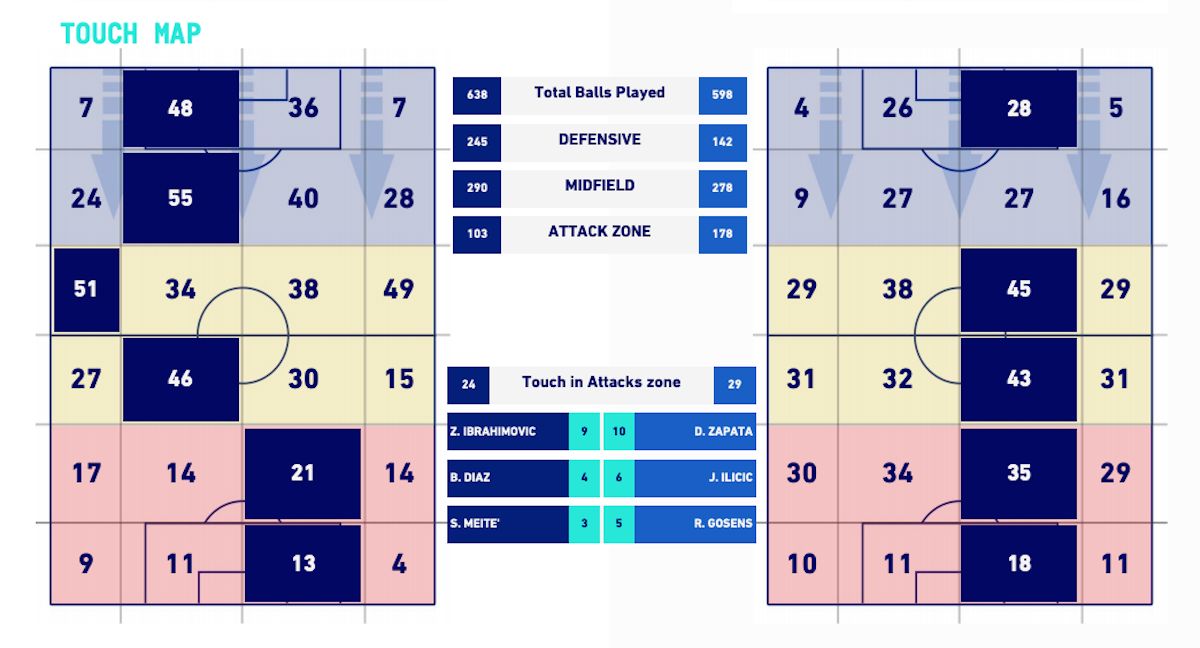 Overall it was an evening to forget for Milan and a game in which they were once again outthought and outfought by a team that appeared to be physically and mentally much sharper, despite having had a game on the Wednesday.
It seems that Pioli needs to go back to the drawing board against teams that play a three-man defence and two holding midfielders (like Inter will in midweek) because it appears to nullify everything that usually works in his 4-2-3-1. It is, of course, all a learning process.
---