Now that the dust has settled on Hakan Calhanoglu's career, he becomes just another player who represents regret and disappointment, yet at the same time some hope for the future of the club.
It isn't ideal having the clubs players walk out on a free transfer. We all want the club to recoup some form of income considering the initial money spent on a player and development gained from being at the club. What we can learn from the two renewals this summer (Donnarumma and now Calhanoglu) is that the Milan management has an indicator on the value of each player and what they add to our squad. It will be interesting to see how they hopefully resolve the contract renewals of players like Davide Calabria and Franck Kessie as these two are very much fan favourites and have earned a higher salary.
Regret was mentioned at the start of this article due to the events of the past. Signed in the summer of the famous Chinese takeover, Hakan is the penultimate player from that window to leave the club, leaving just 'il Presidente' Franck Kessie remaining provided Andrea Conti leaves.
Calhanoglu's legacy at Milan was neither incredible nor inadequate; it was inconsistent. If there is one thing he must be credited for is for having to deal with multiple coaches and being deployed in an array of positions. He was always fit and available for the team, rarely suffering to injuries and even the start of his Milan career was coming off the back of a four-month ban due to a transfer dispute with Trabzonspor in 2011.
He cannot be compared to the likes of Lucas Biglia from the recent past, more so to a player like Suso, because when a system is made for the player to thrive,they can contribute with decent stats of goals and assists to mask their open play weaknesses and lack of consistent quality every 90 minutes.
How did we get to the point of Calhanoglu's agent Gordon Stipic requesting well over €5m net per year to get the player to sign a contract extension you ask? Well, you can thank Coronavirus for that. It wasn't until the global pandemic where football went on a brief hiatus allowing Stefano Pioli to assess his squad and implement a 4-2-3-1 system, putting Hakan at the attacking midfield spot to get the best out of him.
Allowing him to use his passing range, long shooting ability while contributing to the defensive shape, Hakan finished that 2019-20 seasons last 12 games with 6 goals and 8 assists. This seemingly allowed Stipic to have some form of leverage in demanding a higher salary for the player, leaning on his client's importance in a system which has benefitted Milan.
The 2020-21 season eventually started and despite Calhanoglu looking impressive in Europa League qualification matches – with important goals against Bodo/Glimt and a last minute extra time penalty against Rio Ave before that penalty shootout – his form domestically was not good enough. After only scoring his first league goal in round 14 against Lazio on the 23 December, it was clear that his impressive consistent form from the tail end of last season was perhaps only just a blip.
Paolo Maldini and Gordon Stipic continued to negotiate into the turn of 2021 with Paolo offering a handsome pay rise to €4m per year for the player. We all thought this deal would get across the line as the money seemed fair and negotiations were always rumoured to be achievable.
The form didn't improve to a significant degree and stagnated to what we had seen from previous seasons. Losing his starting attacking midfield spot to Brahim Diaz for the last few games of the season, a significant highlight was Zlatan Ibrahimovic's on the pitch verbal attack during the 2-0 victory against Benevento in May. Zlatan was heard shouting "I don't f***** understand you" in reaction to the Turkish players wayward passing, on the ball deficiencies and general sloppiness.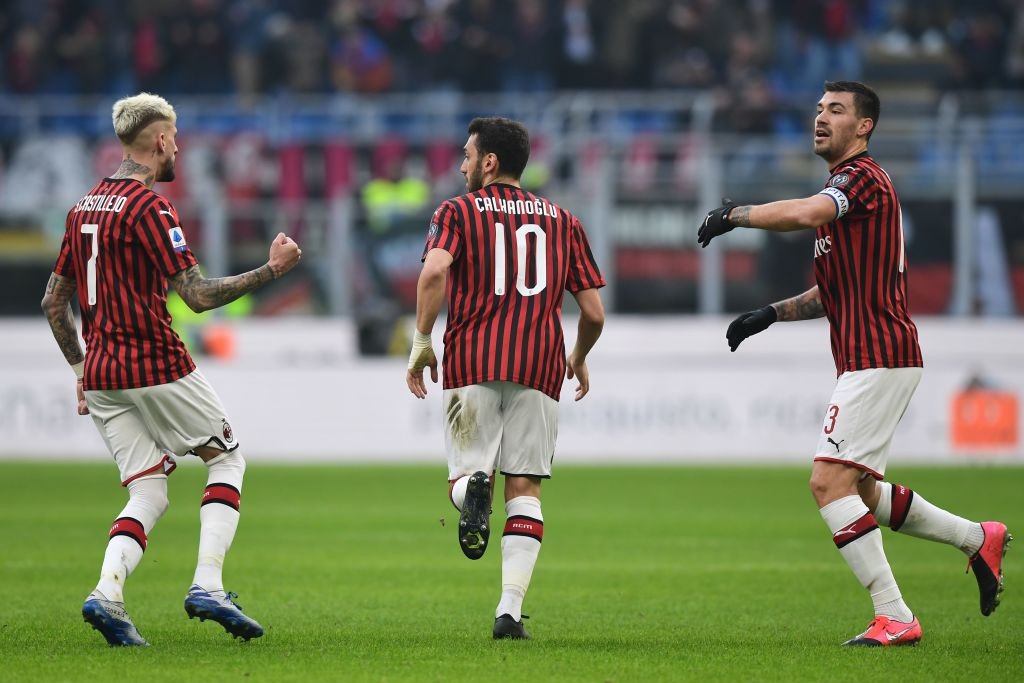 The season finished and despite Maldini pressing to get the renewal sorted, Hakan insisted on focusing on Euro 2020 with Turkey. Subsequently, with Maldini's cut throat handling with the Donnarumma affair in swiftly signing Mike Maignan, one would have thought Calhanoglu knew he was on thin ice with the club as in the event of his departure a replacement would be needed. Maldini did not budge from his offer and with Calhanoglu at the euros, he made inquisitions into players like Rodrigo De Paul from Udinese.
This leads us to where we are today. Turkey flopped out of the Euros, failing to register even a single point in three group stage games with the No.10 looking woeful. De Paul is set to join Atletico Madrid in a deal worth around €35m and as we found out later on Sunday night Calhanoglu has agreed a deal to join Milan's rivals Inter Milan.
Why cross the divide? Well, Calhanoglu will receive rumoured wages of €5m net per year plus potential bonuses while Stipic will earn €3.5m in commission for the deal. Inter are reacting to the news of Christian Eriksen suffering a cardiac arrest, securing a replacement in the event of his career not continuing.
We now say goodbye to a frustrating yet sometimes effective player who in his four years at Milan made 172 appearances, scored 32 goals and made 48 assists. A new player will be needed to step up and take those set pieces in which Hakan was able to amass his impressive assist figures.
That player will hopefully show us much more on the pitch and more importantly be consistent with his performances, ideally being able to get past his marker and present a threat with speed, solid passing range, shooting and defensive capabilities.
Brahim Diaz is set to return but Maldini will need to find another player, regardless if this is a household name or not this must be someone who doesn't aggravate fans with lacklustre displays, doesn't only just show up only for his international team (prior to the Euros) and most importantly is able to match the speed required for fluid ball movements and counter-attacks.
Part of us does wish this story didn't end up the way it did. Losing a player on a free to a rival clubs is a risk, but not many fans have the attachment to Calhanoglu to really care that much. It will not keep most Milanisti awake at night and fearing the next Derby della Madonnina.
Inter are likely get the exact same output Calhanoglu achieved with Milan, maybe even worse, who knows. What must happen is that the management learn from these contract renewals this summer and not make a mistake with players like Kessie and Calabria.
Eventually you have to bite the bullet and pay top players what they are worth because if not then another club will, which is where Elliott's project is reaching a crossroads of sorts. There should be some form of leeway for those latter players mentioned due to their consistency and importance, now we hope Maldini and co. feel the same.
---
READ MORE: Not only Ziyech and Ceballos – Milan evaluate Dinamo Zagreb star to replace Calhanoglu