Our Substack has grown and we want you to join the journey! With over 8,000 free subscribers, as well as a good chunk of paid subscribers, we invite all AC Milan fans to check out our content on the platform. 
At the start of this year, we decided to properly launch our Substack after playing around with the idea for a few months. Since then, we have grown to over 8,000 subscribers who read our free weekly newsletter, designed to keep you on top of all things Milan.
In the summer, we also launched a paid subscription, which gets you additional bonus articles as well as the bonus podcast. This allows us to spend even more time creating the content that the Rossoneri fans deserve.
For example, we have told the entire story of Milan's new sporting director Antonio D'Ottavio, explained the 2023 summer mercato in financial terms, and dedicated every single signing an episode each on the bonus podcast. Plus a whole lot more, of course!
So, what exactly does a paid subscription include? For just €5 a month or €50 per year (you can try 7 days for free!)…
➤ The weekly newsletter
➤ At least two bonus articles per week
➤ At least one episode of the bonus podcast per week
➤ Early access to exclusives
➤ Ability to suggest future content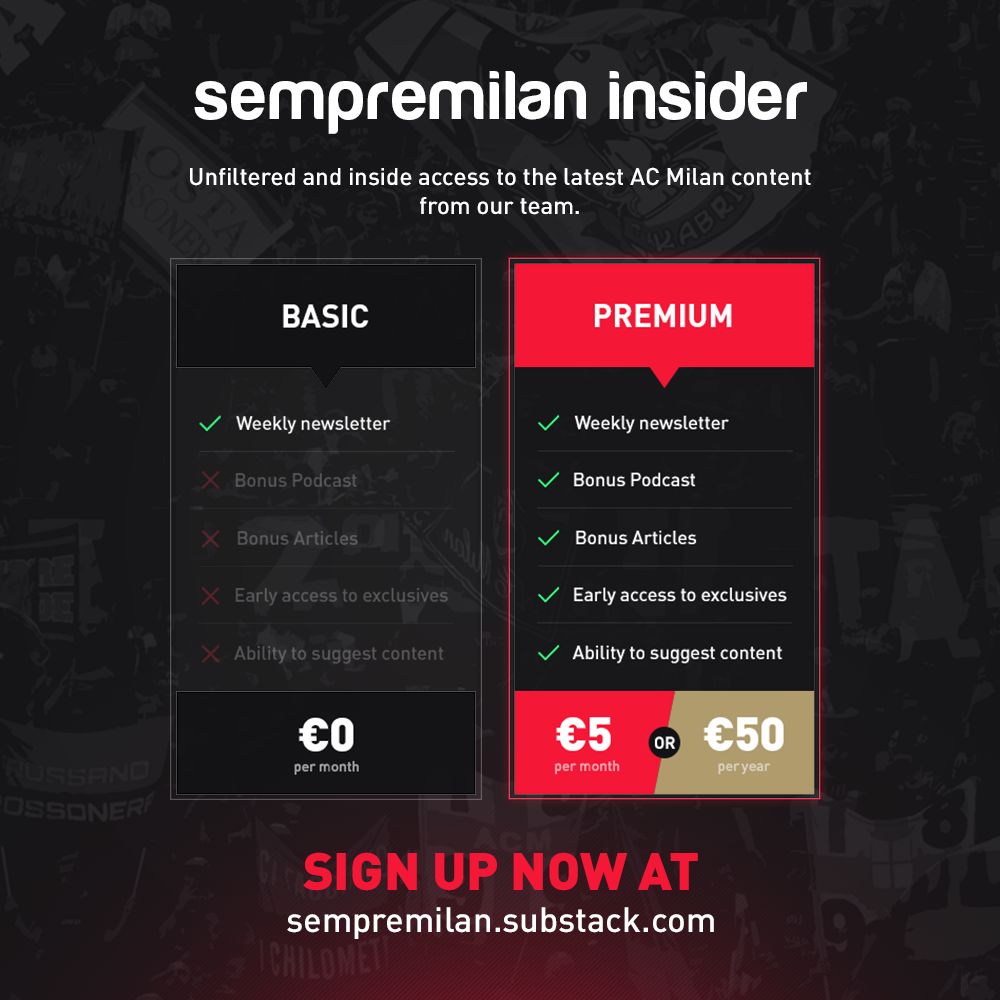 The newsletter, as stated in the photo above, will always be free and that means you can enjoy our weekly update without a paid subscription. But if you really like the newsletter, a paid subscription is a great way to show your appreciation, plus you will get access to all of the bonus stuff!
The paid subscribers will also get the first crack at suggesting what our future content should be. For example, if there's a topic you really want to know more about, you can simply suggest it and we will abide in the best way possible. Examples of that include our multiple breakdowns of Milan's balance sheet and summer budget.
Finally, there is also a founding member option, which is a yearly plan that allows you to pay a suggested amount of your own but at most €100. You will then get all of the bonus content, a shoutout on the podcast, and our eternal appreciation!
If you're interested in a paid subscription, great! We would love to have you as our reader/listener of the bonus content. If you're not quite convinced yet, not to worry! The newsletter will be there to serve the basic needs of your Milan fandom, and upgrading to a paid plan will always be one click away.