In a transfer that was long time coming, Olivier Giroud finally became a Milan player on Saturday. The search to find a backup to Zlatan Ibrahimovic was well documented, and Milan decided to go with experience and a winning mentality over youth and exuberance.
With Giroud's transfer being confirmed by Maldini two days before it was officially announced, the Frenchman's arrival was perhaps Milan's worst kept secret. Nonetheless, the Rossoneri have signed the player for a transfer fee of €1m with a bonus of €1m to be paid to Chelsea based on bonuses.
Why have Milan chosen to go with Giroud? Our player analysis reveals all…
Back story
Olivier Giroud was born on 30th September 1986 in Chambery France. He started out at French club Grenobles but his breakthrough was achieved with Montpellier when they won Ligue 1 against all odds, finishing above the newly cash-rich PSG. He was their talisman, scoring 21 goals in 36 games.
This league win earned him a move to Arsenal. He ended a nine-year trophy drought at Arsenal by winning FA Cup in back to back seasons and a third time in 2017-18. He then responded to the calling of Antonio Conte and moved to Chelsea as a backup striker to Alvaro Morata, winning an FA Cup before he became Chelsea's striker for Cup games and won the Europa League under Sarri. His final feat before making the move to Milan was winning the elusive Champions League as the Blues beat Manchester City in the final.
On the International stage France needed a No.9 to complement their attack. With Benzema banished from the French squad by Didier Deschamps, Giroud stepped in to play a crucial role winning the 2018 World Cup for his country.
A self-proclaimed Shevchenko fan, Giroud always spoke about his passion for Milan and for the Ukrainian. Maybe at 35 he will hopefully be able to realise his dream and win a trophy for the Diavolo.
Tactical profile
Milan under Pioli have looked to function as a 4-2-3-1 on paper while alternating between 3-4-2-1 and 2-3-5 on the ball, with a No.9 up front acting as a single tip of the attack.
When Milan had Ibrahimovic out injured, Milan tried Rafael Leao, Ante Rebic and Samu Castilejo but the results were all the same. While the team were able to score goals they were not able to penetrate their opponents in the same way they could with Ibrahimovic leading the line.
The biggest challenge came when Milan had to secure a win against Cagliari at San Siro to qualify for the Champions League, but Milan could not break down their visitors who insisted on parking the bus and did the job. Milan tried to plug this gap with Mandzukic, but he was another player who battled injuries.
Giroud's most significant feature is his ability to hold up the ball, something Milan have missed sorely. When teams play a mid-block to a high press Kjaer or Maignan can punt crosses into the centre-forward. This plan could not be executed last season when Ibrahimovic was absent, but with Giroud Milan can bypass lines of press with quick long balls.
Giroud is 6ft3 and this makes him an aerial threat. Centre-backs are always aware of his ability to position himself in space and expect his team-mate to find him with a pass or cross. This would be particularly useful against teams who like to sit back and allow their opposition to spam crosses into the box.
When initially Spalletti and later Pep Guardiola played with a false 9 (i.e. no real striker), it bamboozled centre-backs who were traditionally used to marking a striker, but with time coaches were able to adjust their tactics and teach defenders to negate the movement of the false nine.
Milan were semi-successful with this tactic but struggled in the big games, so having Giroud will help Pioli have a striker to engage defenders and play off them. Giroud could engage defenders with his hold-up play or draw defenders out of position, making pockets of space for the forwards or runners to make runs into.
With tacticians being increasingly obsessed with high lines and ball-playing ability, even strikers are now expected to have the technical ability to play passes and find their team-mates. Lewandowski, Zlatan Ibrahimovic and Benzema are all modern forwards who facilitate play for their team mates to score.
Giroud is of the same mould as he has deft touches, ability to find team-mates and good passing ability.
A distinguishing feature of Milan last season was their pressing in the first half of the campaign. Pioli even made Ibrahimovic press the centre-backs and Giroud – who played for Thomas Tuchel – also pressed opponents, so Pioli will be happy.
The modern No.9 is also expected to be physically able to challenge and engage opposing defenders and midfielders, and Giroud has the physical skill to do both.
Last but not the least, Giroud has a knack for the spectacular. From his famous Scorpion kick for his Puskas award win to his acrobatic finish vs. Atletico Madrid, Giroud has a wide range of finishes in his arsenal.
Statistical comparison
Numbers are often indicators to performances and here is a comparison between the two big men up front for Milan. As the data shows, Giroud was starved of league minutes last season hence why he comes out lower in a lot of the categories, but the similarity of the pressure percentage stat will give Pioli comfort.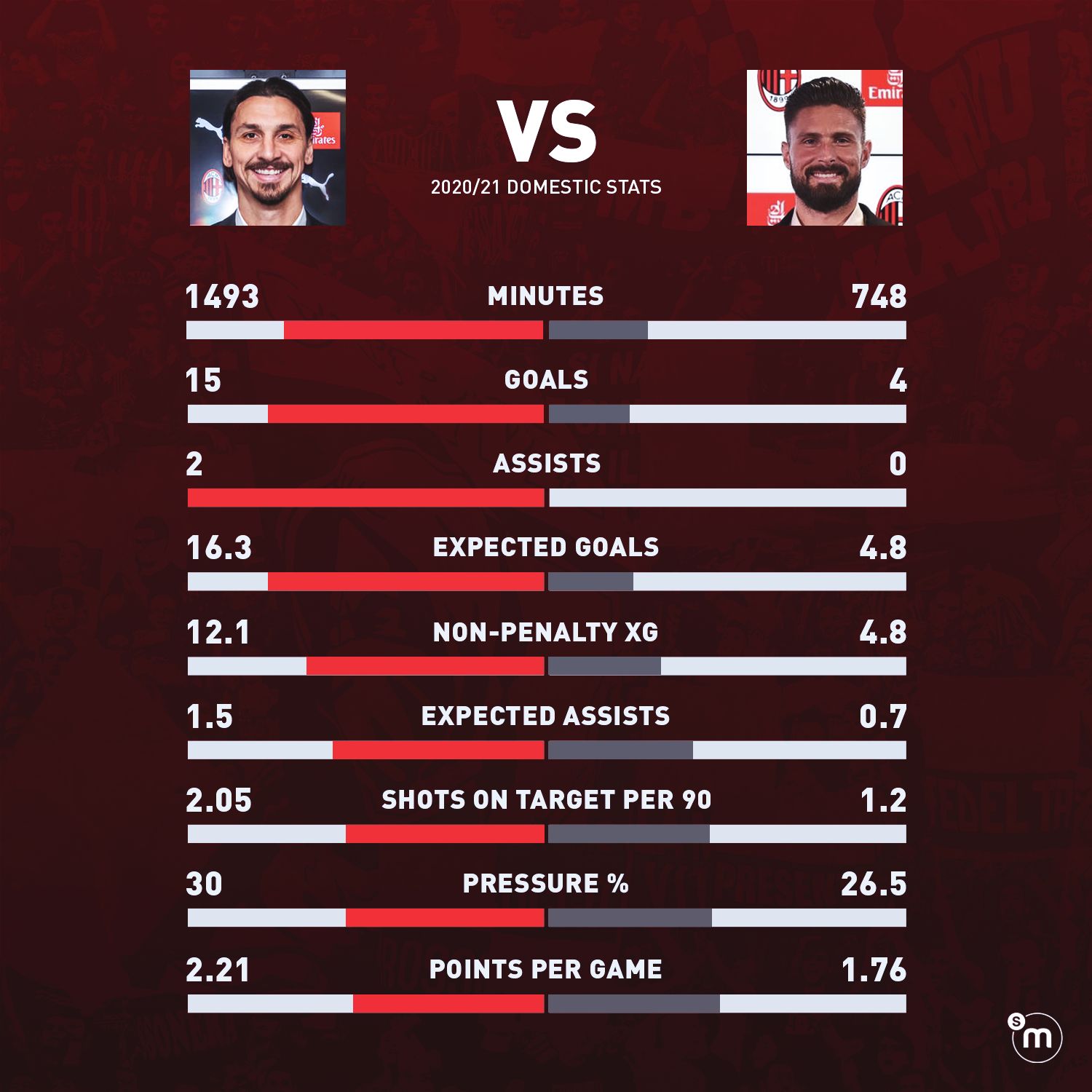 Deal or no deal
Milan have taken a low-risk, high potential reward approach with Giroud. To begin with, Giroud made the jump to Milan well knowing he would be number two to Zlatan Ibrahimovic whenever he can stay fit. This attitude is welcome and shows personal sacrifice for the benefit of the team.
When asked about the Giroud transfer, Zlatan welcomed it with open arms. To one of the youngest teams in Serie A, another experienced campaigner like Giroud can help the team get over mental barriers. Milan missed a player like Zlatan in their matchup against Cagliari and the match lacked a winner like Giroud who had been in such situations before.
Now, it will be interesting to see if the management follow it up with the signing of a young and perhaps more physically reliable striker who can grow from two great champions.
Transfer rating: 8/10
---
READ MORE: Management structure, shortlists and scouting – The process behind Milan signing players