AC Milan head coach Stefano Pioli has suggested that the work in the transfer window might not be done, while also responding to the notion his side are struggling defensively.
Milan got their 2023-24 season off to the best possible start with a win and a clean sheet against Bologna on Monday night. Olivier Giroud and Christian Pulisic scored inside the opening 21 minutes to put the Rossoneri in a commanding position they did not let slip.
Now, they face a tough test in their first home game of the campaign against Ivan Juric's Torino, who drew 0-0 in their opener against Cagliari. Over 72,000 fans are expected for the match at the Meazza, with only a few away tickets left unsold.
Pioli spoke to reporters who gathered at Milanello for his pre-match press conference on the eve of the game against Torino, with his comments relayed by MilanNews.
From Easter 2022 onwards there has always been over 70,000 fans at home games. What do you think this team has given to supporters?
"I believe and hope love for Milan. For us, playing at San Siro means being happy, we draw energy from them. We are delighted to return and it is no surprise that there are so many fans. We will do everything to satisfy them."
Did you expect Milan to play the way they did in Bologna?
"The best thing is the availability of the players, we ran a lot but not very well. But the work of the players was total."
What do you think of the mercato? What about the Lukaku situation?
"As a coach, I'd prefer the market to end before the start of the season, and I don't understand why a solution can't be found. I'm focused on tomorrow's match, but I have an organised club that will know how to seize opportunities."
After Ibra's farewell, is Leao taking steps to be a leader?
He's been doing it for several years, especially on the pitch. He is working continuously and positively. On availability: I'd like him to do a few less runs and for him to take a position right away."
The squad consists of 30 players. What is the ideal number?
"Less than 30 (laughs). In my head I would like a team with dual roles and then draw from the youngsters. If we talk about three goalkeepers and two roles, we are about 25 players."
Will the bar be raised further against Torino?
"The new players will be happy to play at San Siro, they will be impressed even if they come from important clubs. San Siro is San Siro, with unique fans, they will feel emotions that will stay with them and which I hope will make them feel positive.
"Tomorrow we face a team that have won four times in the last four away games. We know the difficulties, we know how we want to play, there's a lot of positivity."
Can you already tell how Milan is different?
"Comparisons with the past are difficult, each match and season makes its own story. I like the group I'm coaching. The 'old' players have welcomed the new ones very well, the new ones are making an effort due to the situations, the language, the environment.
"It takes time, we have changed something in building and defending. We need it every day to understand where we are. Tomorrow's test is tough, it has always created difficulties for us, but we couldn't prepare better than that."
What will happen to the fringe players if they are not sold?
"These are assessments that we will make on 2 and 3 September, if these opportunities exist."
Who does Reijnders remind you of?
"I don't like comparisons, I believe that each player has a different story. I think Tijjani is very intelligent, he can give us so many solutions. It's difficult to make comparisons, the characteristics are too individual."
In defence the Rossoneri are still struggling. How come?
"We conceded too much, but the assumption is incorrect. If we attack well, it's not the merit of the attackers, but of those who build the play. Same thing in defence, it depends on the team."
What characteristics do you want for your striker?
"At the moment there is Giroud, there is Colombo and Okafor who can play forward. We are covered."
Have you changed your mind about Kalulu?
"Pierre is strong, he can play both as a centre-back and as a full-back and now we're working more on playing full-back."
Who will be Deputy Theo?
"Bartesaghi is interesting, when he's not with us he'll go to Primavera. Calabria and Florenzi are also there as deputy Theo, we have internal situations in case of Theo's absence."
What do you not want to see tomorrow that you saw in Bologna?
"I liked many things in Bologna. We need more reading in the defensive phase, even if the difficult thing in analysing the matches is the characteristics of the teams. Torino will take different positions from Bologna."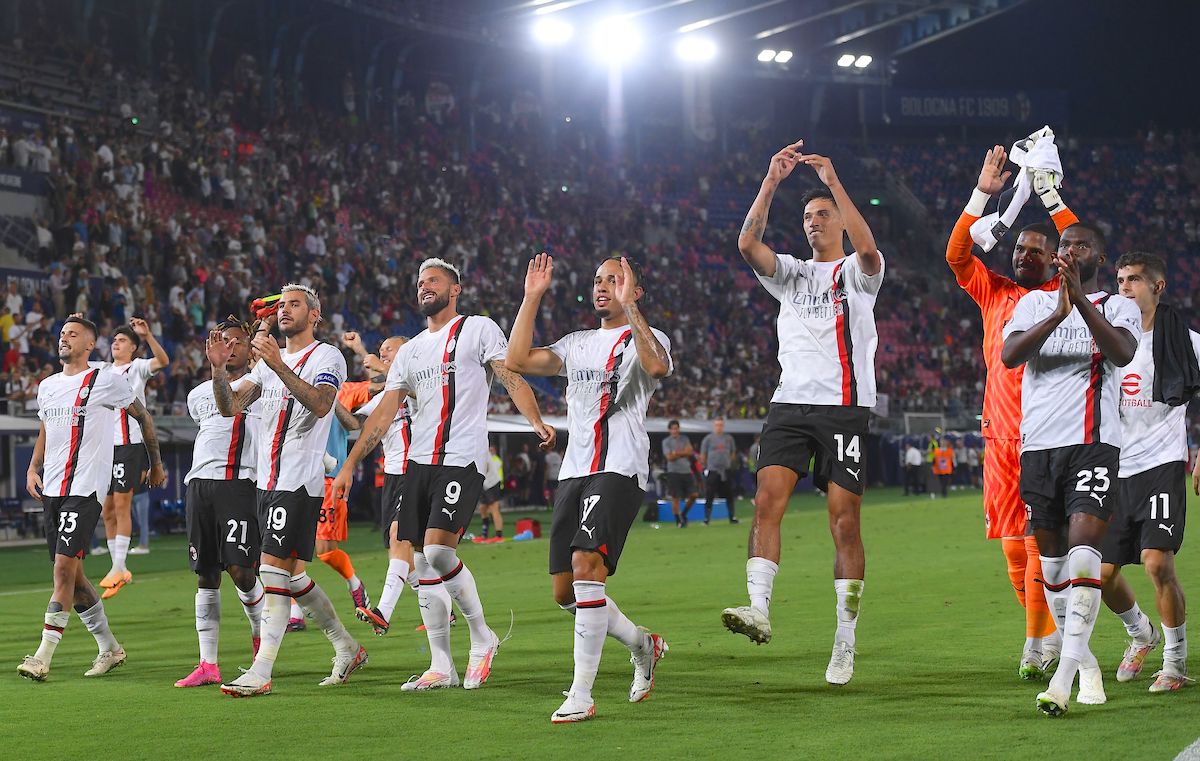 What are the biggest difficulties facing Torino?
"They combine organisation with physicality, as well as quality players. They are a team on the left side of the table, they are a team that can put everyone in difficulty.
"We are fine, we are on matchday two and we want to insist, we want to overcome the difficulties with the right solutions , especially in recovering the ball for being dangerous."
After a while the coach needs to be changed, some say. You changed players, why?
"It's the study of football that pushes me to new things, not so much for. We want to find solutions that can give us more guarantees of results.
"I try every year, not because I've been here for almost five, to find something different in training, in communication, in motivation, because routine risks flattening the level. I look for new things to stimulate the kids with different things, even for me."
How is Romero's growth continuing?
"He's doing very well, I have to say that he's one of the ones that surprises me the most. He's within the possibilities, competes with level-mates, but is ready to play. He's a smart and talented boy."
Can Torino put you in trouble when you attack?
"It will be important to move well off the ball, Torino are used to aggressive, very individual marking. The timing of the movements must be read carefully and we have the right characteristics to do so."
What can you tell us about the positions of Reijnders and Loftus-Cheek?
"Reijnders was further forward on the attacking side, but we change from match to match. They're two mezzali, without the ball one of them has to be the midfielder, not just with the two of them but with all the midfielders."
What do you have to do to seal the defence?
"Working as a team, hard, with attention. Making mistakes many times we are already intense under pressure, then when the ball arrives in our half we are less so and we can improve.
"Being balanced is an important starting point for a team that perhaps has a good ability achieved. Not conceding goals could guarantee us important results."