AC Milan head coach Stefano Pioli praised the 'attitude, will and cohesion' his side showed during preseason, and admitted more signings could yet arrive.
The start of the season is just around the corner for Milan as they face Bologna at the Stadio Renato Dall'Ara on Monday night hoping to begin the 2023-24 campaign with three points against a tricky opponent.
It has been a chaotic summer for the Rossoneri, one which started with the departures of Paolo Maldini and Ricky Massara plus the sale of Sandro Tonali, but then was followed by eight new signings to reinvent the squad.
Marco Sportiello, Ruben Loftus-Cheek, Tijjani Reijnders, Yunus Musah, Noah Okafor, Samuel Chukwueze, Christian Pulisic and Luka Romero have all arrived, hopefully giving Pioli more quality and depth to choose from.
Pioli spoke at his first press conference of the season on the eve of the trip to Reggio-Emilia, with his comments relayed by MilanNews and translated below.
You asked for reinforcements and smart players, did they arrive during the summer?
"Certainly the club and the management have listened to my advice on player characteristics and roles in order to have more solutions. I am satisfied with what has been done.
"There are still 10 days to go and the club is still careful to evaluate any situation. But my and our concentration is towards tomorrow's match."
Milan have been revolutionised in the eyes of some, is the strongest team you have coached?
"I am happy with the players who have arrived: we must not forget that we have changed about 20 players between departures and arrivals.
"I asked those who remained to do their utmost to help the new players to adapt and the new players to do their utmost to adapt. I greet all my former players who have taken other paths. Now another season begins. We want to be ambitious because strong players have arrived."
Do Milan need a new striker?
"Anything could happen. It could also happen that we stay like this. I'm also happy with Okafor's performance in that role. Colombo has grown a lot and deserves his space."
Given the many changes, is it even more important to start well tomorrow?
"It's always important to start well. Tomorrow's result won't determine the path for this team. It's not a new Milan, it's a Milan that we thought needed some changes, to renew some positions. To be even more competitive We have to think about doing everything to win."
There has been some talk in the media about Milan having too few Italian players…
"Talking about Italian and foreign players in 2023 is bizarre. Milan has always aimed at inclusiveness, even the third shirt has this goal. Milan must have strong players to be competitive in all competitions."
At what percentage are Milan currently, compared to what you would like the end product to be?
"There's emotion for this debut and also curiosity because it's the first match that counts. The matches we've played have helped us a lot to understand where to work. We're working to become the best possible.
"The word impossible shouldn't exist for us. We'll do it from game to game. Now it's difficult to talk about percentages, what I've seen in this month of preparation I liked. Attitude, will and cohesion."

What do you expect from the coming season? Who are the Scudetto favourites?
"Yesterday I watched the first games, football is always evolving and we always expect new things. The Italian coaches are always ready to vary a lot. We too could propose something different. The first four positions have always been fought over by five/six teams and I don't think it will change much this year."
What has changed at Milan? Are you satisfied with the mercato?
"The beauty of my job is being able to change, to face new situations. I'm lucky to face changes. There are 10 days left for the transfer market and we still have players on the way out. I'm satisfied with what the club has done. We've addressed the roles we wanted to."
Opinion on the new signings?
"Okafor is better but he's not at 100%. Musah and Chukuweze did a slightly below-normal preparation, it will take them a while to reach the best condition. We have no other unavailable players."
Krunic is the pivot of the midfield. How is Bennacer?
"Krunic is giving me good answers in that position, due to his characteristics. eijnders can do it too, minus the others who are more mezzali. We hear Bennacer is recovering but his comeback is still a long way off."
Fans dream of an attacking team. Will it be possible to see Leao, Pulisic, Chukuweze and Giroud all together?
"It takes the right conditions and sacrifice on everyone's part but I'm not excluding anything, I'd like it too."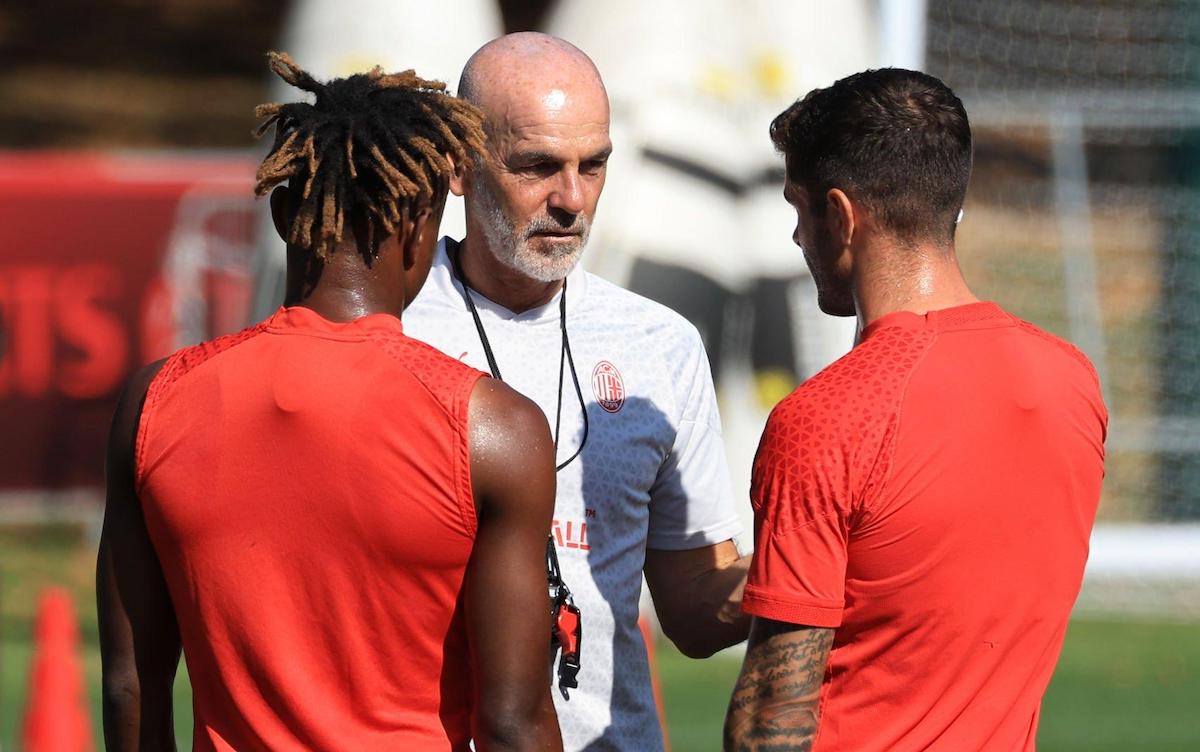 What is Krunic's role?
"I talk a lot with my players and I also did it with him at the beginning of the season. Right now he clearly prefers to play at the base [of the midfield]. He's a very intelligent player and his position allows Loftus and Reijnders to be more free. The pitch will give us better answers."
It seems Milan have a more demanding fixture list than rivals…
"Our calendar for the opponents we'll meet is similar. Torino play tomorrow and Roma will only have one more day rest. But we wanted to strengthen the squad for that too, to have everyone ready and be able to make someone catch their breath."
How has Yacine Adli looked?
"I found him motivated but he always has been, despite the fact that I haven't chosen him much in the past. If he wants to work in that position too, from a defensive and positional point of view he has to work. He's given his willingness to do it. He can also play as a mezzala."
A thought on Carlo Mazzone?
"Unfortunately we never faced each other as coaches. Mazzone for us coaches was an example of passion, seriousness, competence and professionalism.
"He remains the example of a capable person and coach who I liked for his ability to get into the players' heads. I also liked how he communicated. I remember him with great respect and positivity. My condolences to his family."
Will there be difficult moments like last year?
"Yes. I'm aware of it. It's easier to learn from defeats and difficult moments. I've never lost my composure and neither have I lost faith in my players.
"This has helped us to overcome a very difficult moment like January. Now a new season is starting and we have to leave with great enthusiasm, we have a people who support and follow us with great passion."
Could this be an intrepid Milan?
"I think it should be an intrepid Milan that cannot do without three characteristics: ideas, carrying them forward with conviction; quality; sacrifice. If we manage to combine these three factors we will be able to obtain some satisfaction."
What are the best things you have seen and what are the areas to improve?
"After a month, the mechanics can't be perfect. We've worked on many situations and tomorrow we'll go onto the pitch with clear ideas. The games will tell us where we are but there will be a lot of work to do."
Is winning the ball back high up the field a trademark of your ideas?
"It always has been but that won't be the only solution to all problems. When there are the right positions we like to recover the ball and not let the opponent's play to be more dangerous than them."