Stefano Pioli has urged his side to put the last week behind them and focus only on the task at hand against Bologna this weekend.
The Rossoneri will travel to the Stadio Renato dall'Ara looking to right some wrongs from the last two games, in which the team lost 3-0 to Atalanta at San Siro in Serie A before being knocked out of the Coppa Italia by Inter in midweek.
Some key players will return though like Sandro Tonali, Mario Mandzukic and Ismael Bennacer – at least according to most reports – but there will still be other absentees to deal with such as Brahim Diaz, Simon Kjaer, Matteo Gabbia and Hakan Calhanoglu.
Pioli spoke to the media during Friday's pre-match press conference at Milanello ahead of the trip to Bologna, with his comments transcribed by MilanNews.
How was Milan's week? What opponent are Bologna?
"We don't have to look back, but only forward. We think about the next match which will be difficult. Bologna plays intense football, it will take a great performance to win."
Mihajlovic has said nice words on the path of Milan…
"We have made an excellent path so far. We have 18 points more than a year ago. We arrived at 16 and 17 behind Juve and Inter in the last season, so the gap is there. We are working to make up the difference."
What does Milan recover with the return of Bennacer?
"He is better, but he has been out for a long time. If he does all the training in the group today he will be called up, but I don't think he will be able to start.
"He is a midfielder with great qualities and still with ample room for improvement, just as it was important to have a good training session yesterday with many players."
How is Ibrahimovic?
"He is sorry for the red card, but very excited and determined for tomorrow's match."
Is your role more of a psychologist or a coach?
"It is always divided between the field and the mental one, let's look at our work and give our best tomorrow."
Has Ibra been treated differently from Lukuku?
"It is not nice what happened. I do not justify what happened, but they are things that can happen on the pitch. Ibra is certainly not a racist, now let's put a point on this story. The club has always been on the front line to fight discrimination."
Is it a key moment of the season?
"Let's concentrate on the match, then we have two clean weeks where we can recover some players. We have had several injuries and some Covid cases, we need to find consistency in these two weeks. Yesterday we had a good training and finally I have some more players. From here to the end, there are 19 matches left and therefore cannot be decisive matches."
Is there a negative climate around Milan?
"We don't have to think about what they say on the outside, we just have to think about ourselves, working and improving. We have to keep the right balance. What they say on the outside is of little interest to us, we only have to think about doing well on the pitch. We must continue our work. We know that judgments change quickly in football."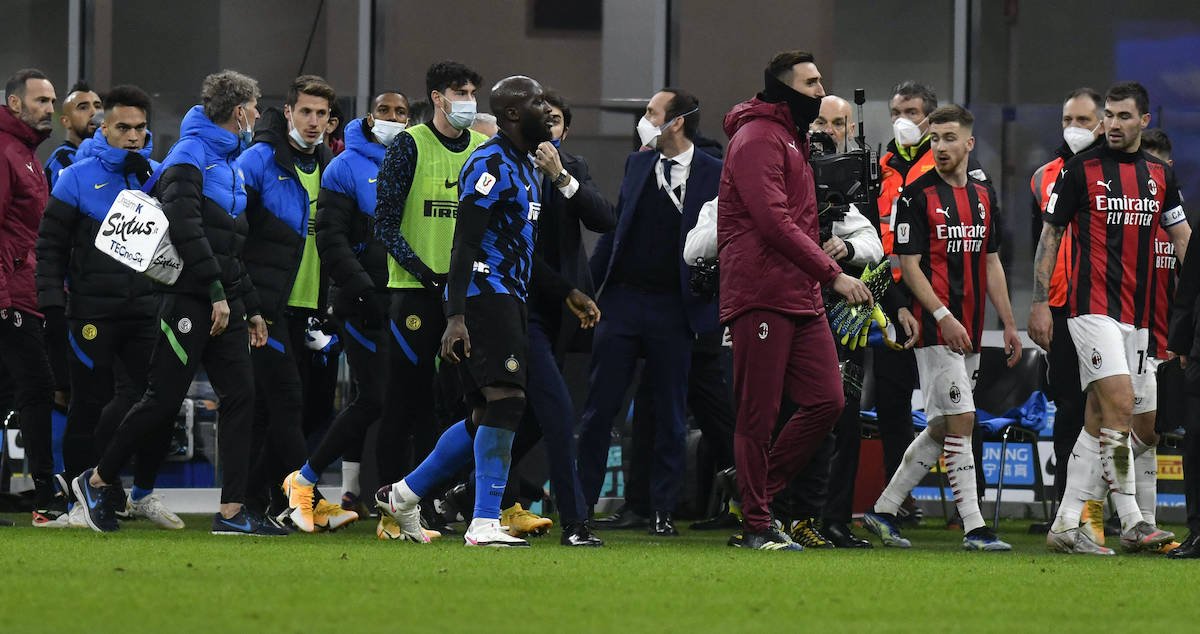 Could Ibra be provoked now?
"From certain situations he knows how to pull out the best. He is charged as we all are."
Thoughts on Tomori so far?
"Well, he showed good things. He presented himself well, has good qualities and is also very intelligent and with a great desire to learn."
How's Brahim Diaz doing?
"He had a muscle discomfort that will be re-evaluated next week. We hope to get him back soon because in the next few weeks we will have many games and therefore we need to have as many players as possible to be competitive." 
Do you know your best starting XI?
"In football, hierarchies can change and they depend on how the players are. Even in games where there were a lot of players we did well, it means that we have built something important."
How long will Kjaer be out?
"I hope for a little while. He is an important player but if we are first it is because we did well even with many absences. In the coming weeks there will be many games, so I will need all the players." 
What would you say to a fan to reassure him after the two defeats in a row?
"The team is there and we have the qualities to continue like this. The opponents are there and therefore we have to keep working. Getting to the Champions League will not be easy, but we have the qualities to achieve this goal."
How are Rebic and Mandzukic?
"When you are at home, you can work but doing it on the pitch is different. Rebci is improving and will do well in the next games. Mandzukic has had this ankle problem, he trained yesterday and was better."
---
Join in the discussion over on the Rossoneri Discord!