The defeats against Inter, Juventus and Paris Saint-Germain have put Stefano Pioli back in the hotseat, with many questioning his tactical approach.
It was not just losing those games which hurt Milan's momentum but the manner that they occurred. Inter systematically took the Rossoneri's aggressive approach apart in a 5-1 mauling, while a red card conditioned the Juve game and PSG gave Pioli's men an exhibition in counter-attacking and finishing.
What exactly has Pioli been looking to do this season from a tactical standpoint, and what are the obstacles he has encountered? Our writer Rohit Rajeev outlines the trends.
2021-22
Every top team had an identity and it was this identity that won Milan the Scudetto. Milan didn't have highly talented attackers bar Rafael Leao, but Pioli used his players in a different way: what they didn't have in technical ability they made it up with energy.
Milan had a mix of ball-oriented and man-oriented pressing, winning the ball back quickly with aggressive pressing and with high turnovers from which the team would score.
With Pierre Kalulu, Fikayo Tomori and Theo Hernandez, Milan also had the required recovery pace to chase any attacker that would breach their high line.
So despite having wingers like Alexis Saelemakers and Junior Messias it meant that Milan could win games because they pressed and they used Leao as an outlet to invade the space of the disorganised opposition team because of his speed.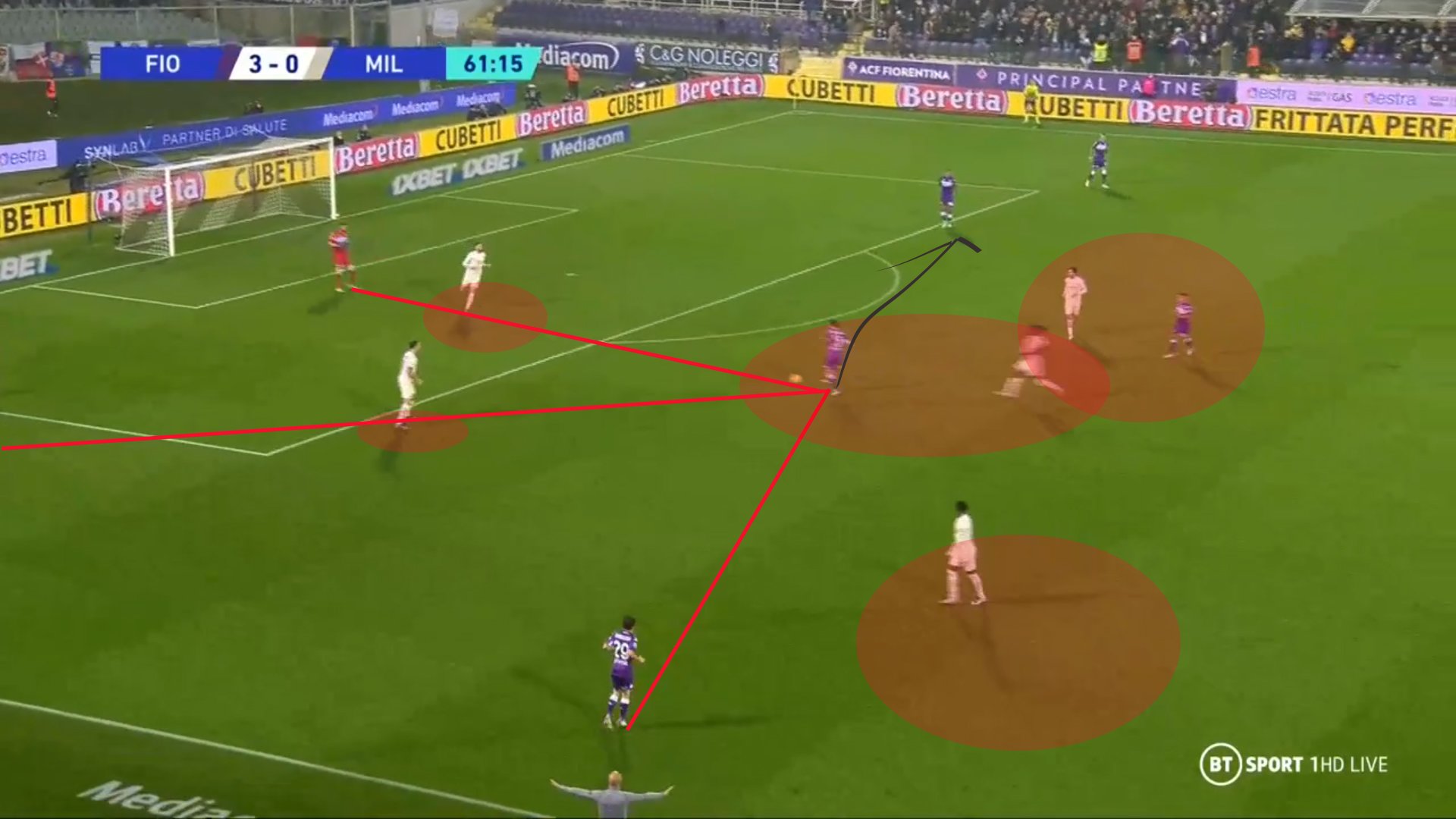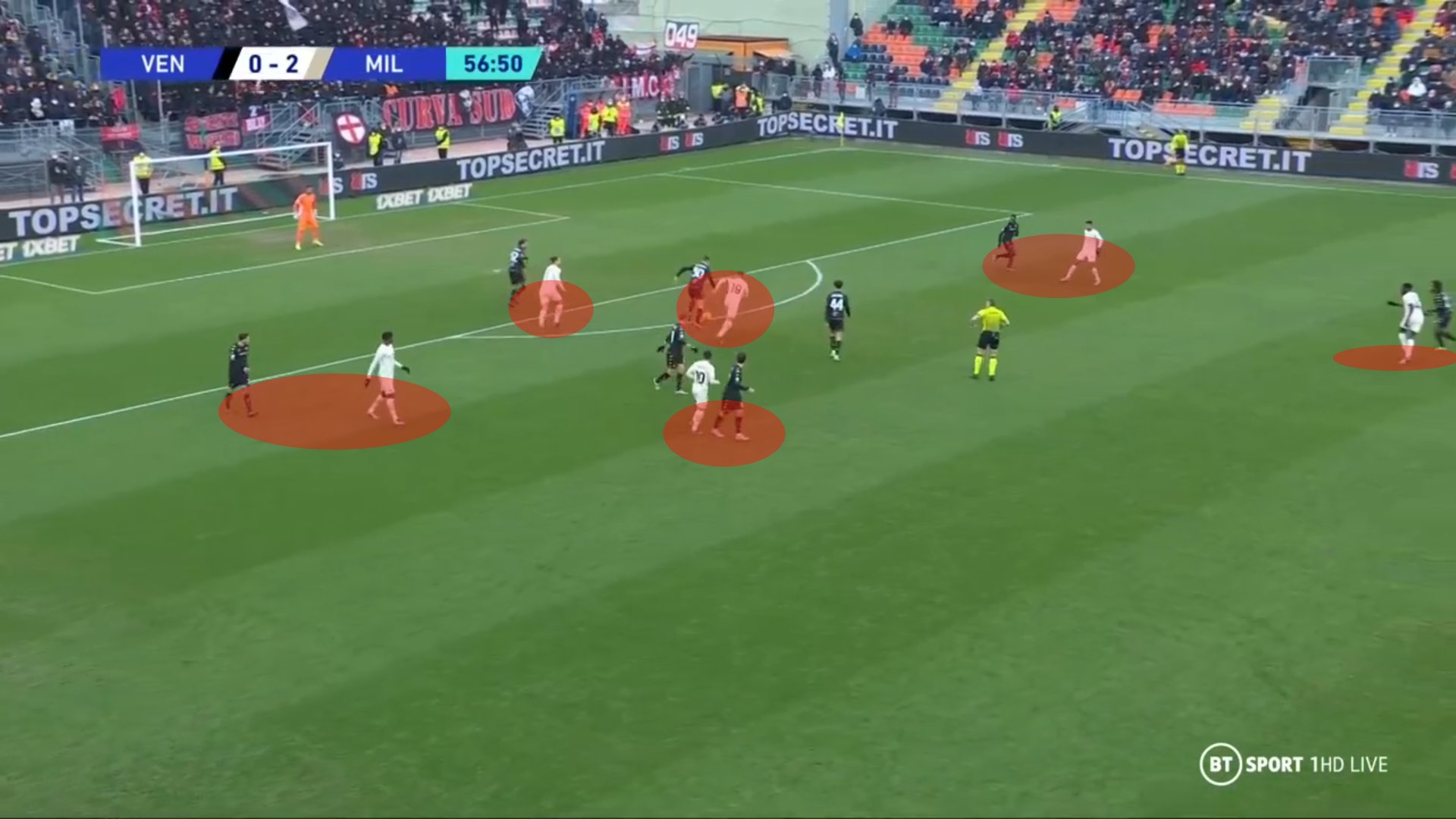 2022-23
Milan are now the defending champions, which means that teams will now do an extensive study on how they play. This and the fact that playing a high intense press causes huge amount of injuries meant Pioli has to tone down the pressing.
However, another issue then emerged: with Saelemakers, Messias and Divock Origi the Rossoneri did have the technical ability to break down the opposition block.
This meant that teams would let Milan have 70% possession so that they can't press, because you can only press when you don't have the ball.  The draws against Cremonese and Spezia and the four losses in 2023 to Inter showed that perfectly.
2023-24
This made Pioli re-think his strategy. Having seen Spaletti's Napoli and with his ambition to play a more expansive style of play – and also owing to a torturous schedule – Pioli has decided to smash his mould and build a new one.
He went from a double pivot which gave defensive solidity to a single pivot which give more stability and passing options in attack.
The pivot would be the Regista (deep-lying playmaker) and the mezzali would be ball carriers and help the build up phase, breaking down deep blocks need short quick one touch passes like the start of the Pioli era.
However, the striker then was either Zlatan Ibrahimovic, Ante Rebic or Rafael Leao. Leao was in his development phase and would pass the ball more often than take his man on, while Rebic and Ibrahimovic were comfortable playing the ball.
Now when Sacchi said that Leao does not play in the context of a team, he spoke also about how the Portuguese winger needs to carry the ball less and pass more.
— Rohit Rajeev (@keralista_v2) September 20, 2023
Then there is Giroud. The Frenchman is now 37 and while he knows Pioli's instructions well by now, it is remarkable in some ways that he continues to start over Noah Okafor and Luka Jovic given he has one open play goal this season, which came in the first game.
— Rohit Rajeev (@keralista_v2) October 2, 2023
There is also a lack of movement and pressing. Theo Hernandez – and we don't know whether it is a tactical instruction or him being found out – does not make enough runs forward any more.
Given how the Rossoneri do not play a double pivot any (especially with Franck Kessiegone) it means there is nobody to protect the space Theo leaves behind.
Against Genoa Milan barely made any movements and looked extremely static. Whenever Adli was on the ball he had to keep looking for players to make runs so he can make penetrating passes.
Add this to the fact that Milan's pressing has completely been toned down. A metric often used to measure pressing is PPDA (Passes Per Defensive Action).
PPDA is the number of opposition passes allowed outside of the pressing team's own defensive third, divided by the number of defensive actions by the pressing team outside of their own defensive third.
Therefore, the lower the amount of passing you allow your opponents to make the better your pressing is. Milan's PPDA in the 2021-22 season was 8.76 – one of the best in Europe – but this season so far it is 12.86.
Conclusion
In short, the team are stuck somewhere halfway. Pioli is trying different things with the same players (albeit with 10 summer signings) and as soon he sees things don't work out, he tries to revert to the same old long ball and cross to Giroud tactics.
A metamorphosis is happening and Milan are in a rebuild phase, but they can play better than this especially with all the big game experience they have racked up.