Stefano Pioli believes his AC Milan side have prepared for the derby against Inter in the right way, and claimed he has not watched back any of the four previous meetings this year.
The game at San Siro on Saturday evening promises to be a showpiece event for Serie A between two teams who have each won their first three league games of the campaign, scoring eight goals too.
There is a need for Milan to reverse recent form, because Inter have won the last four meetings with Milan without conceding a goal. The Nerazzurri have never achieved five consecutive wins in the Milan derby.
Moreover, the two Milanese sides haven't faced each other with equal points in Serie A since 11 May 2001 which resulted in a 6-0 win for the Rossoneri. Only once in Serie A history have they met with the same points and at the top of the table: on February 4, 1962 (a 2-0 win for Inter).
Pioli spoke to the reporters who gathered at Milanello on the eve of the game for his pre-match press conference, discussing injury worries, selection dilemmas and the desire for revenge. MilanNews relayed his words.
Are you only thinking about tomorrow's match?
"Definitely. We and they both started well. We want to continue like this."
Are you curious to see how the new Milan will fare in the derby?
"I was curious before the season opener. Now I am convinced of how the team has prepared and how it will face the match. We have prepared for it in detail."
Is Giroud the new Ibrahimovic in the dressing room?
"There is only one Ibra. It's the team that has grown, it's clear that there are players with personalities like Giroud, but fortunately our path has allowed young players to mature."
Has the gap with Inter been closed?
"I don't care about the last few derbies, I'm only interested in tomorrow. Otherwise we could talk about the Scudetto won and not won by Inter. The only thing that matters is putting the solutions in place to play our game."
How is Kjaer?
"Kjaer is very well and is ready to play such an important match."
Inter players did well during the internationals over the break…
"We hope to have saved the goals for tomorrow. We must always be worried. Inter played on par with City, but we will try to do better than them."
What approach must you have?
"The next match is always an opportunity to demonstrate our quality. My players must think so. If we are stronger, the pitch will tell. Tomorrow the train will pass through one station, but then there will be many others.
"We are only at start, I like how we are working, tomorrow we will leave the field even stronger because from each match there will be good and less good things to work on."
What is the strong point of Milan and Inter?
"I'll tell you tomorrow after the match. We'll need a high-level match because to win the derby you have to play well."
What do you want to see and what don't you want to see?
"I want to see Milan, I want to see what we have prepared. We will have the right approach to do well. We are not afraid of anything."
In the last derbies you didn't start well…
"I haven't watched past derbies, but only our and their matches this season."
Is there any one player who can hurt Inter?
"No, we thought about signing players to grow the team. I am grateful to the club for the team we have built."
How is Leao?
"He has grown a lot, he is becoming a dominant and decisive player. And he will have to be so tomorrow too."
What do the changes at Inter mean for Milan?
"The characteristics change a bit, but in the first few games it doesn't seem to me that Inter have changed the way they play."
Does the way you defend change with Kjaer?
"No, it doesn't change. Why should it change?"
What do you think of Cardinale's words?
"We are pleased with his interest. He has to help everyone grow. I also spoke to him in person about last year's match against Chelsea. So far we have shown good signs."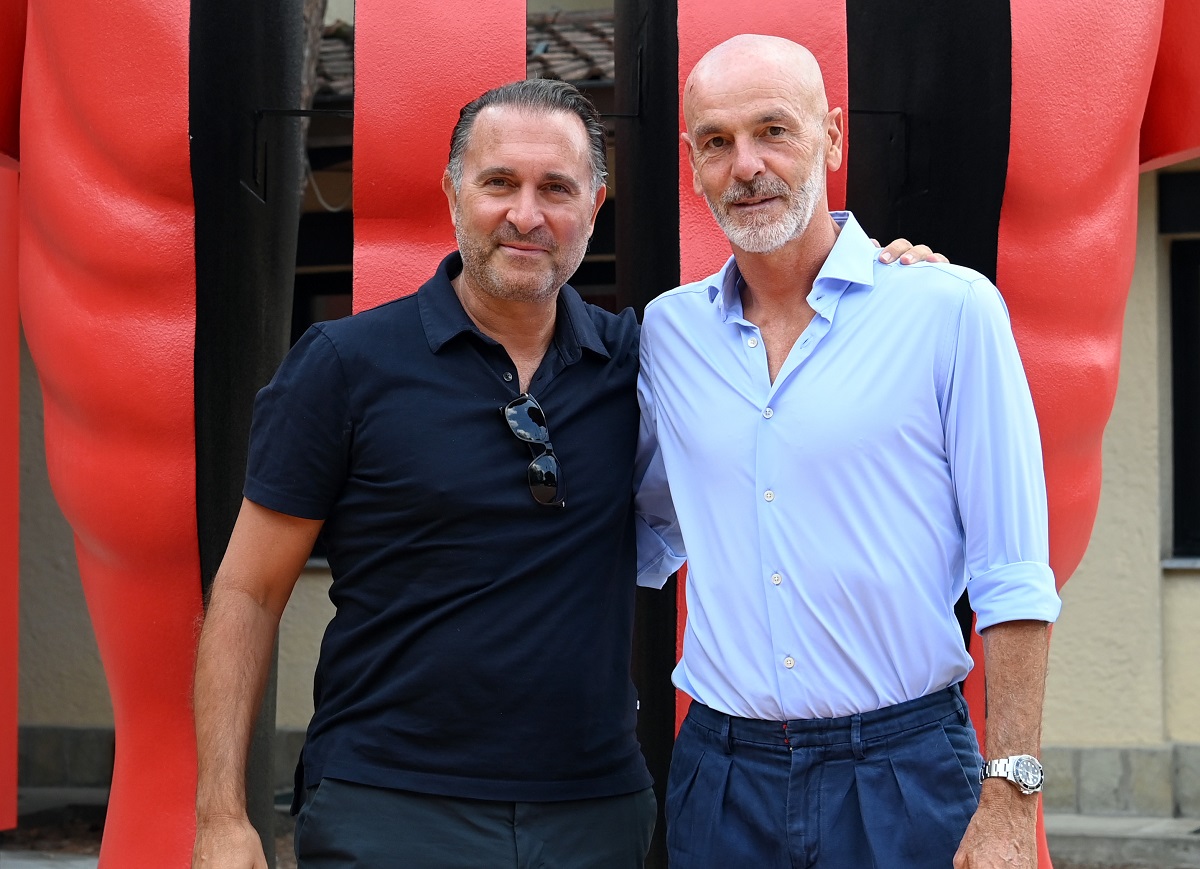 Is Caldara part of the group tomorrow?
"He has an ankle problem and I think he will be out for a while."
How are you planning to manage the squad?
"Now I will have to manage the players' performances very well, given the many games in 21 days. Now we only think about the derby, then from Sunday about Newcastle."
Who feels the derby more?
"I saw great attention and serenity, especially among the new players. I don't know if it's because they don't know what awaits us tomorrow, but I see a serene and smiling team and I think it's the right way to approach these matches.
"Then once they get to San Siro they'll understand what the derby is. However, we are talking about players who have already experienced matches like this in their careers."
Were Inter more aware than Milan in the last few derbies?
"None of us thinks about last year's derbies, we only think about winning tomorrow's derby. We prepared well, then at the end of the match I will be able to say if we were better. Let's face the match with the right light-heartedness."
Will the tactical innovations surprise Inter?
"There are no old and new players, there is only Milan. We will play to win the derby."
What are your impressions of Pellegrino?
"Marco is an attentive, disciplined and aggressive defender. He needs time to understand things, he used to play in a three. He can also play left-back, I've also tried it in recent days."
What will Milan be like tomorrow?
"We have to play like Milan, we have to put in the best possible performance. The real season starts tomorrow and we want to be protagonists."
Does the team play with less frenzy?
"It has to be like this. We want to manage the game more and understand the moments of the game. We want to become a more dominant team within the game. We have to keep the ball more than our opponents this year."
Will it be a waiting game?
"We can both do well on the counter, so we will have to manage the ball better."
Inter put us in difficulty on the counter-attacks and on set pieces…
"These are key situations. We have prepared for everything."