Stefano Pioli gave his first press conference of the summer today at Milanello on what is the first day of preseason for his squad, and he answered some important questions.
It has already been a hectic summer for Milan. Less than 48 hours after the final game the sacking of Paolo Maldini and Ricky Massara was confirmed, plunging the project into disrepute, while the sale of Sandro Tonali to Newcastle created another storm.
Nevertheless, a crucial season awaits for Pioli in which he is reported to have more trust and more responsibility than ever before, with the ownership RedBird Capital clearly admirers of what he has done so far.
Pioli spoke to the reporters who gathered at Milanello and answered their questions ahead of the first training session of the summer which takes place at 17:30 CEST. His words were relayed by MilanNews.
What are your first sensations?
"There is emotion, it is nice to come back here and see everyone again. It is important to start working again, only by working will they understand which path to follow."
How was the last month?
"I want to thank Maldini and Massara, if I'm here it's also thanks to them. It was a relationship of esteem. I've always felt at the centre of the Milan project.
"Before I spoke with Paolo and Ricky, now with Moncada and Furlani I've worked a lot this month, even in the past I've talked to players who could have arrived. So my job hasn't changed that much. Ours is a market of ideas."
Is there more weight in your choices now compared to before?
"Even before, I said what we needed, I've always participated in building the team. I have great respect for my players, but I think the time has come to make some changes."
What is Milan's goal?
"The goal is always to get the most out of it [the season] and be competitive in every competition and try to win something."
Who could be the surprise?
"It's hard to say now, the mercato is constantly evolving."
Would you like a completed squad for the USA?
"I'd like a completed team, but it's not possible. The transfer market lasts until August 31st. From now until I leave for the USA on July 21st, I expect some movement."
Do you feel more alone and less protected?
"No. A manager's fate depends on results. I have always assumed my responsibilities and I will do it again."
The fans are always by your side…
"They continue to prove that they are unique and the best."
Are you looking for a centre-forward?
"It's not fair to focus on a single player, but there will be changes. Zlatan will be missing, so the striker is a goal."
Will you change formation?
"This is almost my fifth season. I feel like an architect of a thing with a solid structure, but where some areas of the house should be arranged to have something better.
"There could also be tactical innovations to have greater advantages. A lot will also depend on the characteristics who will arrive. With players of quality and intelligence, new things can be done."
Is Milan's schedule a difficult one?
"I'm starting with a lot of confidence. The fixtures? We have to face all opponents. We just have to think about working well. We have to make the most of the days we have before the start of the season."
Are Milan looking more at players from abroad than players in Italy?
"It's not that we don't want Italians. We're looking for players suited to our way of playing football. If they're from abroad, it's because we think they're more suitable. We're talking about high-level players who won't need a long period of adaptation."
How much do you miss Ibra? Who could be the new leader in his place?
"This team has grown, also thanks to Ibra, but now we have players who can be leaders. We are more mature than three years ago. This too will be a challenge, that is, being successful even without Ibra.
"Ibra as a manager? He is always welcome at Milanello. I spoke to him a few days ago, I still don't know what his future will be and also the club's choices in this role."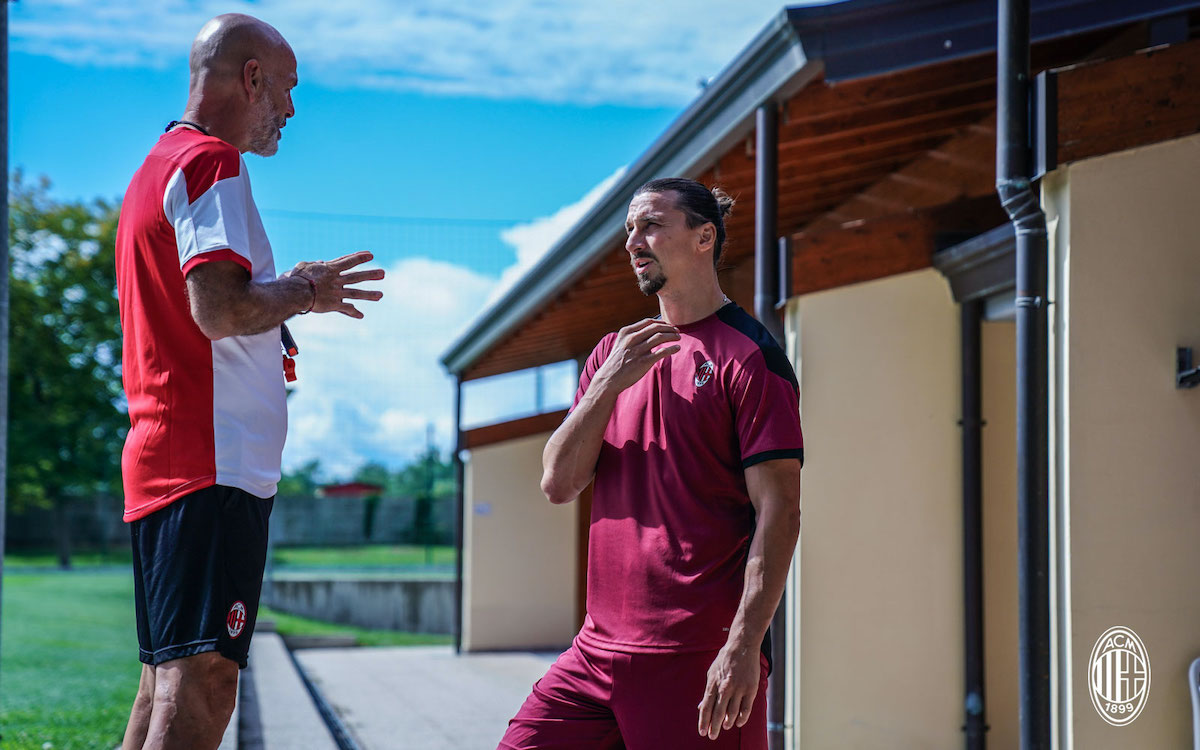 Is there a need for a new balance without Maldini and Massara?
"Maldini and Massara were protagonists, but it is the club that gives continuity to the path. The players know where they are, what shirt we wear and what we represent."
Have you heard from Cardinale?
"I spoke with him this morning. He wished the team good luck and motivated me for the season."
Tonali was sold to Newcastle United – how did you take his departure?
"It's a serious loss from a technical point of view and he will have to be replaced with dignity. It's a good situation for him, it's difficult to do something different…"
Who will be battling for the Scudetto?
"The opponents will be the usual ones. The starting grids are up to you and in the last two years, you've didn't guess right. It doesn't count now. It will be a hard-fought and difficult season."
This year there will be no break for the World Cup…
"Having routine weeks is optimal for everyone. Having fewer shifts during the week is an advantage, but like for us, it is also for others."
Has there been any changes to your staff?
"Roma and Betti have left, there is still a place and it will soon be filled."
How have newcomers like Loftus-Cheek and Romero looked?
"Loftus and Romero are very motivated, they want to give a lot to this team. One of the best characteristics we can look for, beyond technical quality, is motivation."
Have you talked to Chukwueze and Reijnders?
"I speak all languages ​​a bit badly, but I try and hope to make myself understood."
---
Want bonus content including exclusive information, deep-dive analysis pieces, podcasts and news round-ups? Subscribe to our Substack and try a week for free.
---
What kind of players are you looking for?
"Speed ​​and one-on-one ability for the right winger. Midfielders with different characteristics."
Do you see Kalulu as a full-back or centre-back? Do you need reinforcements in defence?
"I moved him about a bit. He'll start as centre-back, but if needed, he can also play full-back. If there aren't any departures, I think we'll stay that way."
How was your relationship with Maldini?
"We had an excellent relationship. Obviously we also had discussions, which were greater in the year of the Scudetto. Respect and esteem have never been lacking."
Were you afraid of being sacked?
"If one fears it, he is sacked. I know the risks of the trade."
Not long ago Silvio Berlusconi passed away…
"I learned of the news that I was on the plane to the Maldives. In my years at Milan, Berlusconi called me often. The last time a few days before his death.
"He has always had an incredible love for Milan. All the Milan fans have lost a point of reference. I spoke to Galliani. We are happy to participate in the Silvio Berlusconi trophy."
Will Baresi have a new role?
"I don't know if it will be like this, Franco is Milan and he already has a position in Milan. His experience could only be useful for everyone."