AC Milan head coach Stefano Pioli insists that he and the team have 'evaluated' the draw against Salernitana and now 'some steps forward' are expected.
Milan are looking for a response after a disappointing result last weekend when had a chance to heap pressure on their title rivals Inter and Napoli by taking care of business against the bottom-placed side Salernitana.
They failed to get the three points, instead drawing 2-2 thanks to Ante Rebic's equaliser inside the final 20 minutes. However, in the end Inter and Napoli would lose and draw respectively so no ground was lost, but it certainly was a wake-up call for Pioli's side.
The boss spoke to the reporters who gathered at Milanello on the eve of the game against Udinese, with his comments transcribed by MilanNews and translated below.
Are Milan better than a year ago?
"We are doing well. We come from a performance with some errors, tomorrow we expect a more solid performance."
How did you analyse the Salernitana draw and the results of the others?
"We have carefully evaluated our performance. We played too frenziedly, we have to follow our match plan. We cannot influence the results of the other teams, we have to think only of us."
What about the players on expiring contracts (Kessie and Romagnoli)?
"These are problems of the club. I don't train players who are expiring, but serious guys, professionals and always on the pitch. We'll see then what happens."
Where must Milan grow?
"We were not very lucid in Salerno after going in front. We had to manage the game better. I expect some steps forward."
What do you think of the last round of results in which only one top half team won?
"It was 2003 that was the last time the big teams all didn't win. The truth is that the games are always very balanced and very difficult. It always takes a lot of quality to win them."
Do you believe in the Scudetto?
"Our target is to improve last year's points tally. If we are good at improving it by so many points to win the Scudetto it will be something exceptional. We have built a solid team, we are competitive, now we have to beautify our home with the details and be as good as possible from here to the end."
Are there any tired players?
"No, I choose because I have so many quality alternatives. We are thinking only of tomorrow's match. There are 13 games left: each has an important specific weight. We head to Udinese, which is a tough, intense team and has quality. They are a difficult opponent to overcome."
How are you experiencing what is happening in Ukraine?
"We talked about it before training, there is a lot of concern in all of us. There is dismay at what is happening. If there is one thing that can unite it is sport and therefore we must try to do our best."
What week was it?
"Before every game I am always worried because you can prepare better, but there are situations that you cannot control. I have seen a concentrated team this week."
What worries you about Udinese?
"They are a compact team, it won't be easy to find spaces, so we'll have to be good at moving the ball. They start off well, so we'll need an attentive and lucid team. We must make as few mistakes as possible."
What are the Scudetto odds?
"It's hard to say, there are still many games to go. All those up front can do some winning streaks. Maybe we won't reach last year's quota, but a lot of points will still be needed."
How's Rebic doing? What do you expect from him?
"I expect a lot because a quality player. His condition is improving. Now we have three forwards available, that is Rebic, Leao and Giroud, two will always play."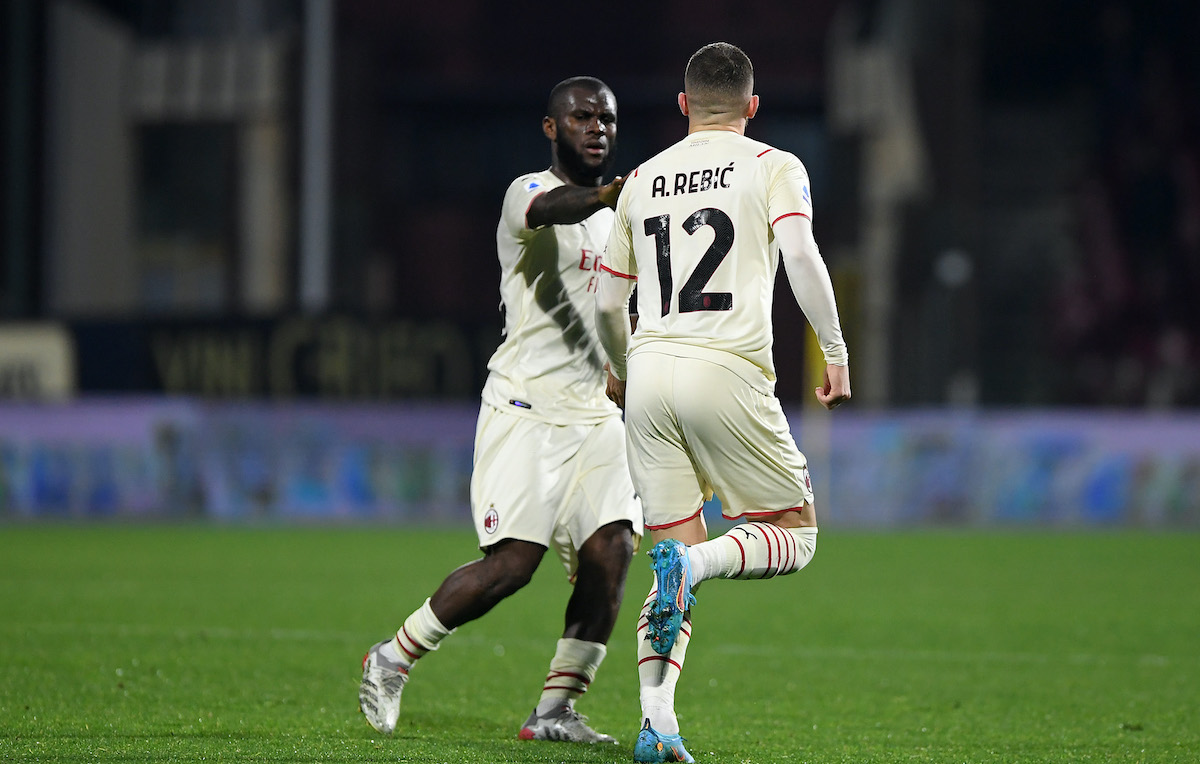 Would you renew Ibra's contract?
"It is important what Zlatan thinks first of all. As I know him, I think he wants to continue. His condition is improving, perhaps slower than we thought, but he is better."
Will the next week be decisive for AC Milan's season?
"I don't know if it will be decisive, but it will be very important. We have difficult fights, so the points weigh a lot."
What do you like most about Milan?
"I have always felt protected and appreciated. I feel at ease and this allows me to work at my best."
How do you explain some drops in your team?
"If we still talk about Saturday, too much desire made us lose lucidity, we wanted to split the games. We have to go at a thousand miles per hour when we are without the ball, we must be animals. Then, when we have it, we have to manage it calmly."
How's Saelemaekers doing?
"We will see tomorrow if he will be a starter. He is a lively player, he must be more precise in some plays. But he has the qualities to be more effective in certain situations."
How is Lazetic looking?
"He is better, but he has done an important job from a physical point of view, so I don't think he will be there tomorrow. I don't think, however, that it will take so long."
What does Pioli have that Spalletti and Inzaghi don't?
"Pioli has Milan. I have so much confidence in my players that everything is possible with them."
Did you play less as a team in Salerno?
"No. Then clearly it is logical to exploit the qualities of the individuals. I think we were not able to exploit the space we had available. I don't think there was a lack of cohesive play." 
Last year the Rio Ave game charged Milan, and this year?
"We have several. By working and playing in a certain way we know we can take away some satisfactions."