Despite several chances to kill the game within 90 minutes, Milan had to go through extra-time and eventually a penalty shootout to beat Torino, advancing to the quarter-finals of Coppa Italia. 
Starting XI
Tatarusanu (7): Didn't make any mistakes this time out, instead coming up with a few good saves throughout the game and his passing wasn't bad either. Made the crucial penalty save to set his side up for the win.
Kalulu (7.5 – MOTM): Very good performance from the youngster, who once again showed his pace, strength and ability on the ball. Started the game at right-back and then moved to the middle, doing really well in both positions to earn himself the MOTM award.
Musacchio (6.5): His first performance for the Rossoneri since February, having struggled with injuries but also falling out of favour. Didn't make any mistakes and looked solid at the back, was taken off after 63 minutes.
Romagnoli (7): The captain did well at the back this evening, although Kalulu managed to outshine him, and also converted a penalty in the shootout. He should be pleased with himself and his work.
Dalot (6): Not the best display from the Man Utd loanee, who started the game at left-back and ended it on the opposite side. He did what was required of him in defence but lacked the final touch at the other end.
Calabria (6.5): Due to the injury situation, and Pioli wanting to rest a few players, the Italian started in the middle again and did well this time too. Nothing spectacular, but a few impressive actions. Taken off after 63 minutes.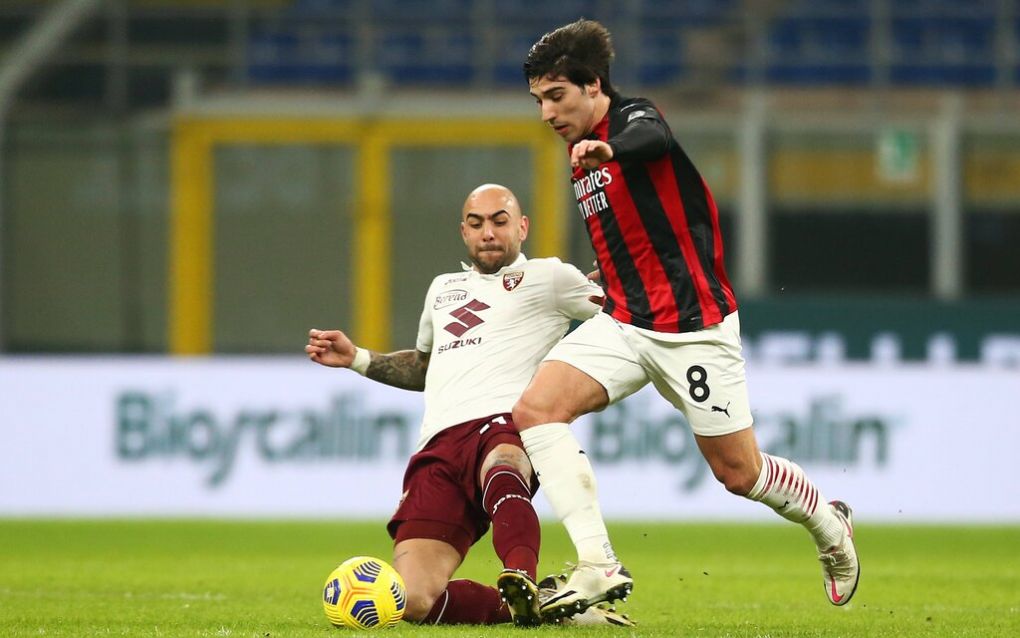 Tonali (7.5): MOTM contender with what was an impressive display this evening, helping out loads in defence and also using his passing to set up play. Much better from him, and the penalty he took was simply outstanding.
Castillejo (6): As he was subbed off after the first half, we didn't get to see much of him but he did alright this evening. Will most likely start against Cagliari in the league so hopefully he can recharge his batteries.
Diaz (6.5): Had a bright start to the game and also created a few chances throughout the game, but he did miss a great chance to settle the game within 90 minutes. Would have been a higher rating if he had converted that. Subbed off after 105 minutes.
Leao (6): The Portuguese youngster created some danger and also had a few chances himself, but it came to nothing in the end. It was a hard-working display but he never really got into it attacking-wise, and missed a few chances as well.
Ibrahimovic (6): Not much to reflect on regarding the Swede, who was subbed off after 45 minutes. Missed a good chance to give Milan the lead and often dropped down instead of being in the box, although the latter led to some good chances.
Substitutes
Calhanoglu (7): Had 45 minutes to make a difference and although he didn't have a huge effect, his presence was important in attack. Scored the winning penalty and never looked in doubt when he stepped up.
Hauge (5.5): It just didn't happen for the Norweigan international this evening. He didn't see much of the ball and when he got a chance, the final touch was lacking.
Kessie (6.5): The Ivorian did well as usual as he won back the ball several times and kept the Milan engine running. Scored a penalty in the shootout, as you would expect him to.
Hernandez (6.5): Came on in the 63rd minute, just like Kessie, and helped Milan keep the energy up and also created a few chances with his bursting runs. Converted his penalty safely, too.
Olzer (N/A): The Primavera man made his debut for Milan this evening, coming on for the second half of extra-time. Looked a bright spark but it wasn't enough to give him a rating.
READ MORE: Romagnoli reflects on penalty shootout win: "It's the best way to celebrate my birthday"