AC Milan failed to grab their first win in the United States this summer, losing by one goal to Barcelona in the final game. Several players were subpar and down below are the player ratings for the Rossoneri. 
Starting XI
Maignan (6): He couldn't really do anything about the goal and he was solid otherwise, collecting several balls and making good passes.
Florenzi (5): Slow and lazy, these are the keywords. When he got the ball on the right flank, even with a bit of space, he never even tried to advance but rather played it back. And he was the main culprit on the goal.
Thiaw (5.5): Not his best game for Milan, as he mixed a couple of decent actions with some less impressive ones. On the goal, he should have helped Florenzi a bit more.
Tomori (6): He's such a mixed bag. He missed a free header in the first half and looked shaky at the back. However, he also made a great block to deny Barcelona a certain goal and defended well in the second half.
Theo (5): Just like his opposite man, a slow and lazy performance. He was presented with space a couple of times but did nothing with it. Wearing the captain's armband, he must show more.
Loftus-Cheek (5): No luck for him this time out. Good positioning in attack but he lacked the necessary control when on the ball.
Krunic (6): He did a good defensive shift and made a couple of good passes in the build-up, not really risking too much but also keeping the game moving.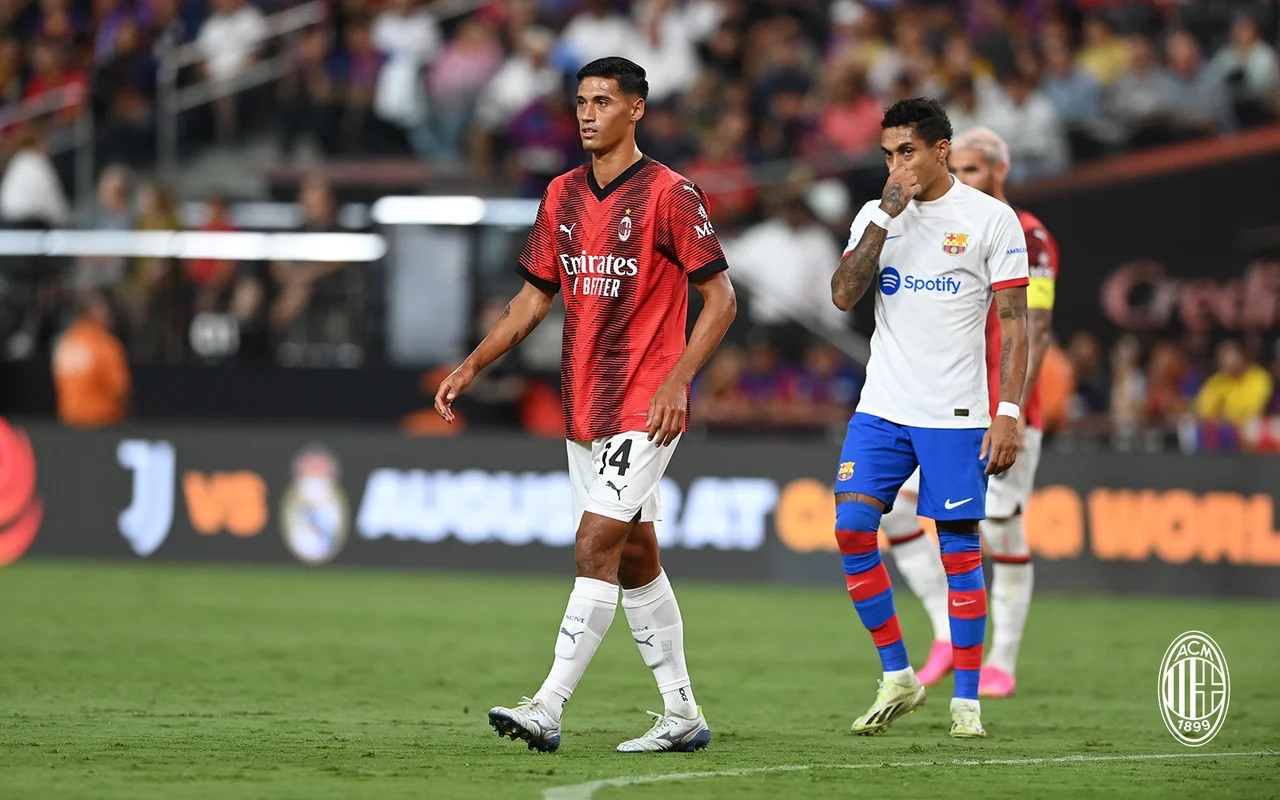 Reijnders (5.5): He missed a huge chance to equalise for Milan in the second half, after having done so well to win the ball back and set up Leao. Apart from that miss, though, he was actually decent.
Pulisic (6): He cannot be faulted for Milan's lack of good chances. He looked better on the right flank this time out and wasn't afraid to take on his man, above all showing off his smart passing. One or two dangerous passes at the back, but at least he tried to make things happen.
Giroud (4.5): Was he even in the game? The Barcelona defenders got the best of him and even when the ball did end up at his feet, he didn't have the control needed.
Leao (6): We saw the trademark Leao run a couple of times and they also resulted in Milan's two best chances. One when the winger went on his own and saw his effort saved, the second when Reijnders missed the target.
Substitutes
Kalulu (6): Added a lot more energy on the right flank and immediately dared to drive forward with the ball.
Kjaer (5.5): Made a big mistake that nearly cost Milan another conceded goal.
Bartesaghi (6): What an entrance! The first thing he did was to make up for Kjaer's mistake and block what looked like a certain goal. He also looked very good overall.
Pobega, Romero, Volombo, Saelemaekers (N/A): We didn't see enough to give them a rating.