AC Milan secured one point in the away clash against Atalanta this evening, thanks to a second-half strike by Ismael Bennacer. Down below are the player ratings of the Rossoneri, with a few disappointing ones. 
Starting XI
Maignan (6): He couldn't do much about the goal, given the deflection, and he did well to keep a few shots out as well. A decent display from the goalkeeper but it's a shame he didn't get a clean sheet this time either.
Calabria (6): Ultimately, he won quite a few 1v1 situations and thus cannot be criticised too much for tonight's display. He perhaps should have been bolder in the attack, especially in the second half when Atalanta left him unmarked.
Kalulu (6): His rating is saved by the fact that the deflection on Atalanta's goal is very hard to avoid. He did well otherwise and it would be incredibly harsh to not give him a pass just because of the deflection.
Tomori (6): A solid display but nothing more from the big man at the back. He did quite well with his passing and that helped Milan in times of trouble, but very much a standard display from him.
Hernandez (6.5): He was a force for Milan when going forward and he also did well in the defensive phase. It's a shame his efforts didn't come to more as he had a few really good moments (should have had an assist for Messias).
Bennacer (7.5 – MOTM): He continued to be the engine for Milan and although he failed to keep the tempo up towards the end of the first half, he responded in the second and led Milan's charge. He ended up getting the crucial equaliser with a great strike as well.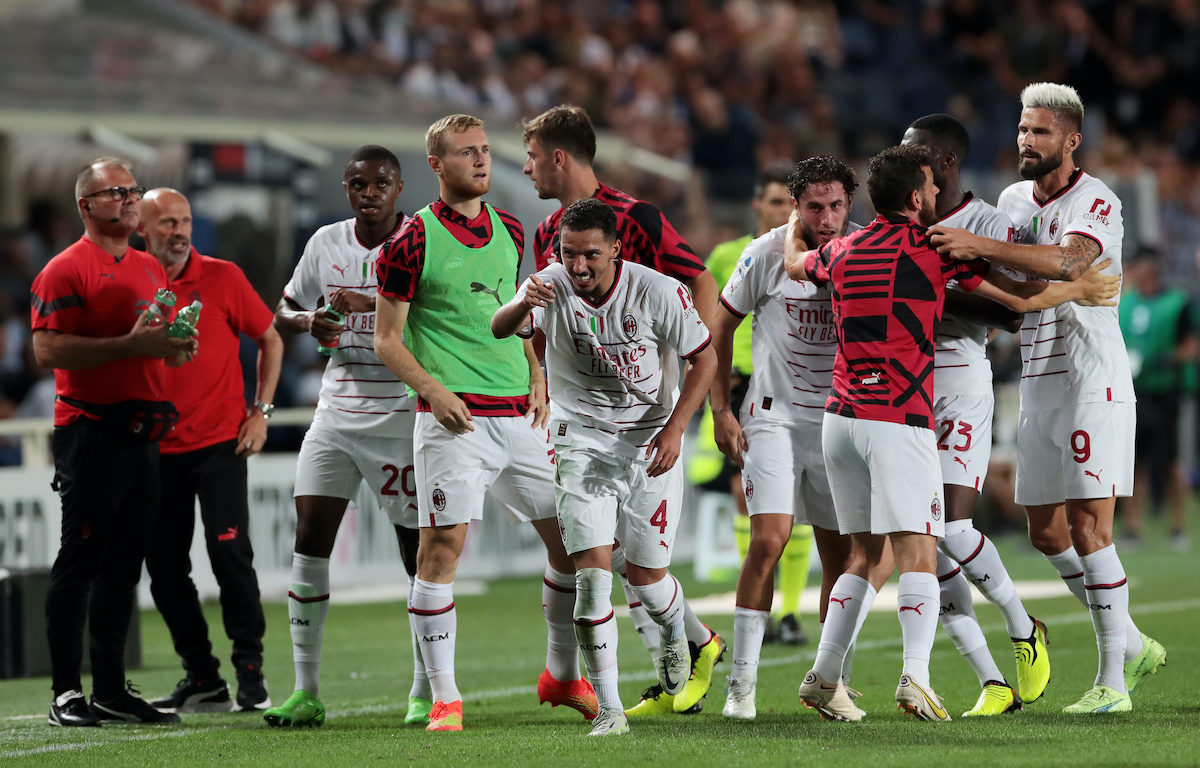 Tonali (6): Some good, some poor moments from the Italian this evening. He's finding his rhythm again but the feeling is that he has another level to reach, especially in the attacking phase.
Messias (5): It's not been a good start to the season for the Brazilian, at all. He had several poor touches and also missed a huge opportunity in the first half. He arguably should have squared it for an open goal but he even failed to hit the target with his effort.
Diaz (5.5): He was involved in a few good moves but ultimately faded until he was subbed off. De Ketelaere had a bigger impact, but it should also be noted that the Belgian also struggled to get on the ball.
Leao (5.5): He can do so much better. We saw glimpses of the 'Leao hack' when he beats his man but nothing came of it in the end. In fact, it was very frustrating to watch him at times.
Rebic (5.5): His first touch was too poor and that hurt him a lot, given that Milan needed him as a sort of focal point in the attack. It just wasn't his evening.
Substitutes
Giroud (6): He did an okay job individually but above all, his presence changed the game slightly for Milan and that allowed for some momentum (just before Bennacer scored).
De Ketelaere (6): He had a few good flicks and one great pass for Tonali (Musso ended up saving the shot). There's a lot of talent in him and he can do a lot of good, but he didn't get on the ball enough to get a higher rating.
Saelemaekers (6): He got the assist for Bennacer by keeping the ball alive near the corner flag and he also looked quite bright. He should start the next game.
Origi (5.5): He wasn't necessarily that bad but it just didn't work out for him this evening. Also, he didn't track back enough on the left, although Pioli might be the one to blame for that.
Florenzi (5.5): Some good passes, but one very poor free-kick to end the game.