AC Milan's unbeaten run against Inter this season came to an end as the Nerazzurri managed to score three goals at San Siro this evening, making for a convincing win. Down below are the player ratings for the Rossoneri. 
Maignan (5.5): Three goals conceded. You can't blame him too much, though, except maybe on the first goal as it was seemingly saveable.
Calabria (5): He had some good moments in defence but he also had some poor ones. It looked like he gave his opponents a bit too much space on the right flank and his attacking contribution was non-existent too.
Kalulu (4.5): His partnership with Tomori didn't work at all tonight. He completely lost his man on Inter's third goal which sealed the game. The offside call was unlucky it must be said, but that's not the reason for the low rating.
Tomori (4): Probable his worst performance with the Milan shirt. He had eyes on Lautaro just before the first goal but still didn't pick him up in the box and on the second goal, he lost Lautaro again as he tried to make him offside. Very shaky display overall.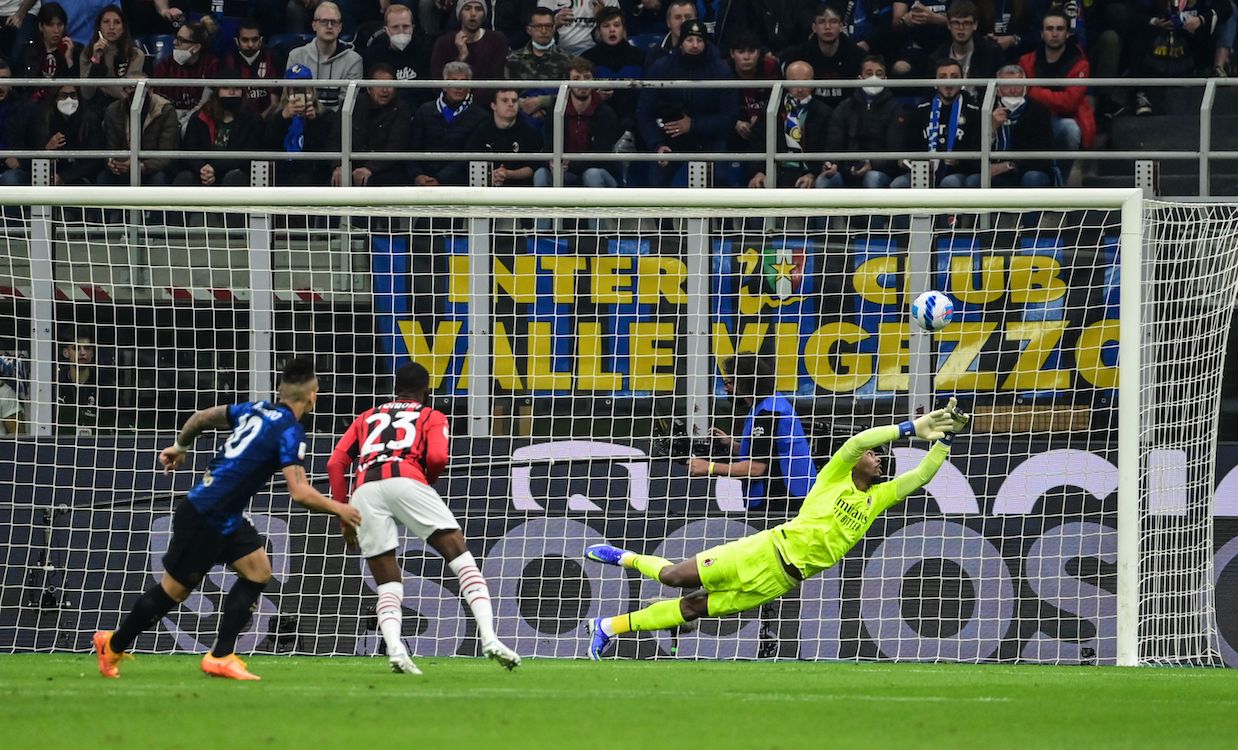 Hernandez (5): He had some chances to make something happen in attack, including two opportunities to shoot, but failed on both occasions. And his crosses came to nothing in the end, even though his runs were important to at least create something.
Bennacer (6): One of the better Milan players tonight. Sure, he lost a few balls but he also intercepted a lot and was comfortable on the ball for the most part, troubling Inter. He also had a lovely strike that was eventually ruled out by VAR (a harsh call).
Tonali (5.5): He was forced to do a lot of defending this evening as his teammates at the back struggled at the start of the game. He was somewhat successful but Pioli decided to take him off at half-time.
Saelemaekers (5): It was mostly poor from him tonight, bar one shot that Handanovic did well to save. It's just so obvious that his impact is almost zero and that is a real problem for Milan.
Kessie (5.5): He was actually involved in quite a lot attacking-wise throughout the game and also when Pioli moved him down to the tandem, he did well. And by well I mean in comparison to some of his teammates.
Leao (5): He created a lot and seemed to have the upper hand on his opponent, but the final touch was lacking once again. He forced Handanovic to two good saves so perhaps a lower rating would be hard, but it's also clear he could've done a lot better.
Giroud (5): He fought very hard in the box, and he didn't get much to work with, but he wasn't that involved in the aerial play either tonight. At least he struggled to win his duels and that's no good.
Substitutes
Messias (5): A bit of impact but mostly negative. On par with Saelemaekers you could argue, and that's not exactly a good thing given the Belgian's form.
Diaz (6): Along with Bennacer he was probably the best Milan player tonight. He created a lot and gave Milan momentum up until the VAR check that took the steam out of the Rossoneri overall.
Gabbia (5): His positioning was quite off tonight and perhaps he could have done better on the third goal, although Kalulu is at fault for that.
Krunic (N/A): We didn't see enough of him to give a rating.
Lazetic (N/A): Made his debut but came on late and thus gets no rating.