AC Milan failed to channel the energy from their clash against Verona at the weekend this evening. After what was a very poor performance, they walked away with zero points as Porto scored the winner in the second half.
Starting XI
Tatarusanu (5.5): You can't blame him on the goal and overall he was decent for the Rossoneri in terms of stopping shots and positioning. However, his distribution was still painfully shaky although he succeeded most of the time.
Calabria (5.5): We have seen the right-back do a lot better this season, that's for sure, as he struggled tonight to get into the game. Porto's high press didn't do him any favours and pace-wise he had to fight.
Kjaer (6): Kept things together at the back with his leadership and he was visibly upset with his teammates. He instructed them a lot but ultimately didn't get loads of help in most situations which was a shame.
Tomori (5.5): It was strange to see the Englishman this evening as he didn't look at all like himself. The first half was extremely shaky, as evidenced by a clumsy yellow card, and his rating would've been worse if it wasn't for one crucial block.
Ballo-Toure (5.5): It was better than the game against Verona but it's still very clear that he's struggling in Milan's system. Much like his opposite man, he wasn't helped by the high press and the Rossoneri sure do miss Theo.
Bennacer (6.5 – MOTM): He was the only big positive for Milan this evening as he was everywhere during the game. Covered loads of ground and his performance deserved a better fate tonight. He should've had a free-kick before Porto's winner.
Tonali (6): Decent display from him in both phases of the game, actually, but it's hard for him to shine when the players up front can't make anything of the balls.
Saelemaekers (5): It just didn't happen for him this evening. He ran a lot, worked hard for the team, but ultimately didn't have much success in either phase of the game. He can do much better, we all know that.
Krunic (5): He had a few smart plays and you can see that he's often comfortable on the ball. He severely lacked end product, though, and his rating is above all hurt by the lost balls which came from sloppiness.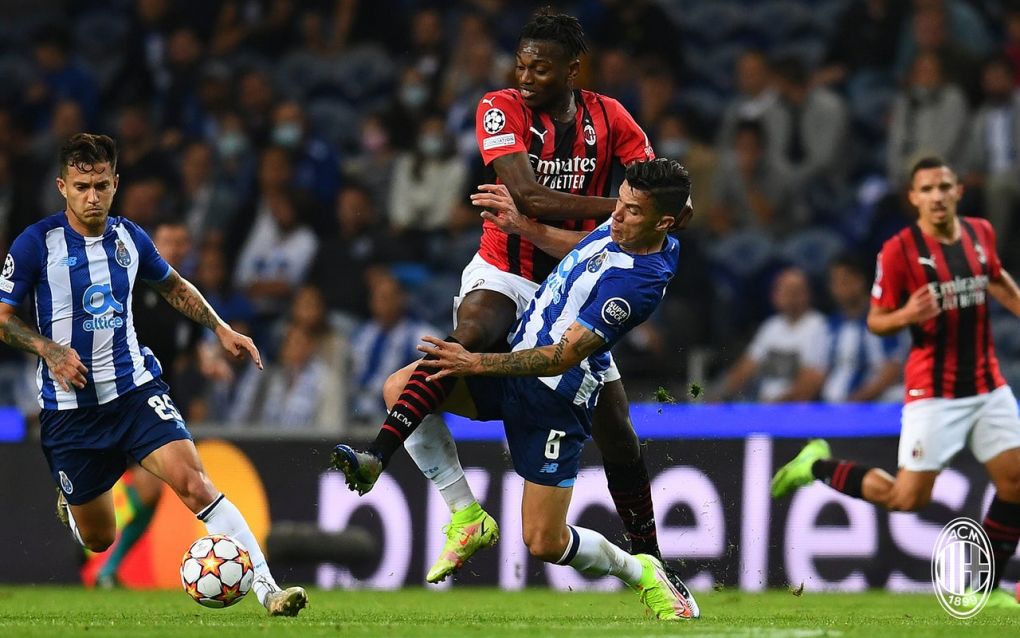 Leao (5.5): He tried many times to beat his man and he also succeeded on a few occasions. Had a wonderful cross for Giroud in the first half but the Frenchman opted to pass instead of going for goal. But still, Leao can do better.
Giroud (5): He had the aforementioned wrong decision and he also wasn't in the game that much really. Lost the balls quite a lot and his presence wasn't felt that much, to be honest. He was subbed off early on as well.
Substitutes
Ibrahimovic (5): Much like Giroud, there wasn't any positive outcome for the Rossoneri. He tried his luck with a free-kick but it was way over the bar.
Romagnoli (5.5): Decent but also not better than most of the defenders and he didn't play enough to get a rating as high as Kjaer.
Kalulu (4.5): He really struggled on the left and it was a weird decision by Pioli to take Ballo-Toure off, in that sense. Kalulu's positioning wasn't good enough and to be frank, he could've had a penalty against him.
Bakayoko (N/A): He came on after 76 minutes but we didn't really see enough of him on the ball to give him a rating.
Maldini (N/A): Didn't play enough to get a rating.
READ MORE – Porto 1-0 AC Milan: Rossoneri suffer damaging defeat after lacklustre performance