Milan desperately needed the win this evening and they managed to get the job done, thanks to goals from Franck Kessie and Ante Rebic. Several players impressed for the Rossoneri, down below are the player ratings. 
Starting XI
Donnarumma (6.5): He was called into action a few times and made no mistakes as he couldn't do much about the goal. He was the captain tonight, with Romagnoli on the bench, and it was a positive game for him.
Calabria (6.5): Struggled at the back on a few occasions but also made several interceptions, putting in a decent performance in both phases. Won the penalty in the first half that Kessie converted.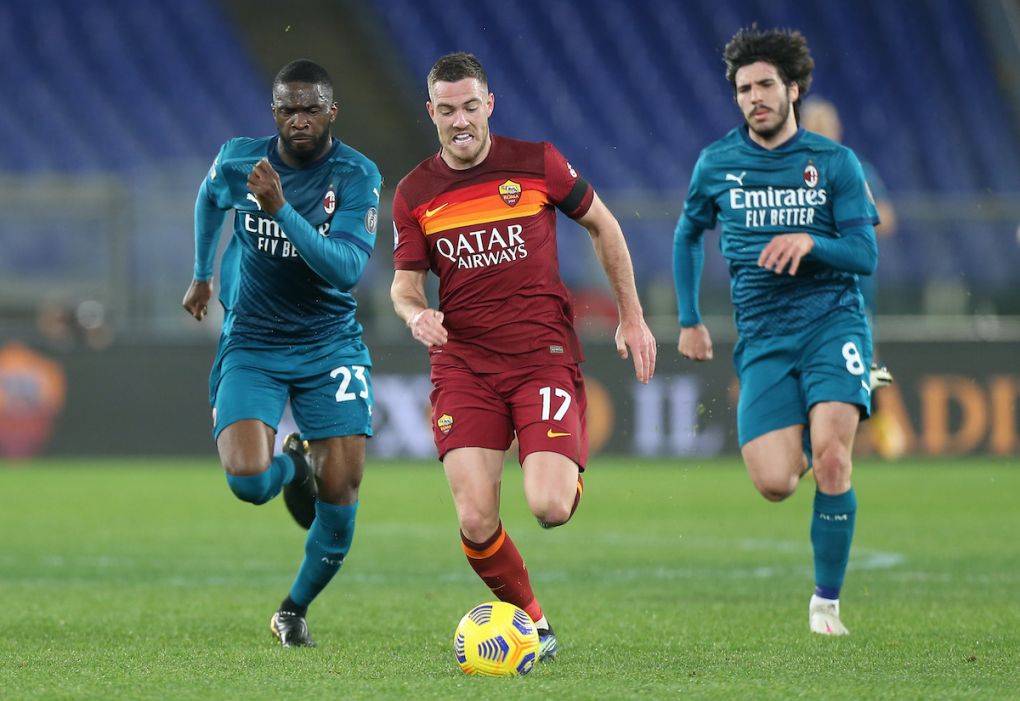 Kjaer (7): The Dane was very solid at the back and he worked well alongside his new partner, Tomori. He also nearly grabbed a goal with a powerful header that hit the bar. He continues to be one of the most consistent players.
Tomori (7.5): There was surely a lot of pressure on the Chelsea loanee this evening as he replaced captain Romagnoli. However, it didn't seem to bother him at all as he was fantastic on the pitch, making several key interceptions.
Hernandez (6.5): The Frenchman was very important as he worked hard in both phases of the game, always eager to help out his teammates in the attacking phase. Good performance indeed, but nothing spectacular.
Tonali (6.5): He continued his positive spell with a good 83 minutes this evening, above all helping out in the defensive phase. Along with Tomori, he denied Roma two times with a great block. Also made several good runs forward.
Kessie (7.5 – MOTM): The Ivorian, when in form, is almost impossible to stop with his strength and stamina on the pitch. Converted the penalty with ease and was crucial in the recovery for Milan, able to hold onto the ball so many times.
Saelemaekers (6.5): He looked very bright for most of the game and was especially important in helping out Calabria against Roma's strong left side. Got the assist for Rebic's goal and it was a positive display overall.
Calhanoglu (N/A): We didn't see much of him in the first half and he was taken off at half-time due to an injury. It remains to be seen how serious it is.
Rebic (7.5): The Croatian has been criticised as of late but bounced back in style this evening with an electric performance. Was constantly involved in the attacking phase and created many chances, scoring the second goal after a great turn.
Ibrahimovic (6): Not his finest performance as he missed a few good chances and also lazily was offside when Rebic set him up for an open goal. Decent, though, although he had to leave the pitch with a slight injury.
Substitutes
Diaz (N/A): Came on at half-time to replace Hakan but was put in the CF role quite early, so we didn't see enough from him.
Leao (6): Seemed hungry and he managed to beat his opponent more than once. He perhaps should've had a penalty but also misplaced a few passes, but it was an encouraging display off the bench.
Krunic (6): Helped out a lot in defence and nearly got a goal with a smart long-range finish, nearly catching the goalkeeper off guard.
Castillejo (N/A): Didn't play enough to get a rating.
Meite (N/A): Didn't play enough to get a rating.
READ MORE: Maldini, Massara and Gazidis show elation after Milan's huge win over Roma