AC Milan kicked off their season with the Europa League qualifiers against Shamrock Rovers. Zlatan Ibrahimovic and Hakan Calhanoglu both scored to give the Rossoneri a relatively comfortable win against the Irish side. 
STARTING XI
Donnarumma (7): While he didn't have much to do in the second half, Donnarumma was crucial for his team with notably two excellent saves in the first half and one in the second.
Calabria (6.5): Another solid performance from the right-back, who has been impressive in the pre-season and isn't showing any sign of slowing down.
Kjaer (6.5): A quiet performance from the Danish international as the game didn't require his services that much.
Gabbia (6.5): Although he didn't have much to do in terms of defending, his distribution was impeccable.
Hernandez (7): He was explosive in the attacking phase as expected. With Milan controlling most of the game and pushing forward constantly, Theo used his strengths to cause a lot of trouble to the opposition's defence.
Kessie (7): Another imposing performance from the midfielder who left no room for the opponents and made the midfield his own. Important in both phases for the Rossoneri, of course, as we saw towards the end of last season.
Bennacer (6.5): The Algerian once again proved to be the perfect partner for Kessie as his calmness and composure completed the Ivorian's aggressiveness. Can't ask for much more, really.
Castillejo (6): Although he wasn't completely terrible, the winger didn't contribute much throughout the game and looked clueless anytime he had to dribble or create. Not an ideal performance for the Spaniard.
Calhanoglu (8 – MOTM): Hakan was the mastermind pulling the strings tonight. With a goal and an assist, it's safe to say he was the best player on the pitch. Hopefully, he can continue on this path.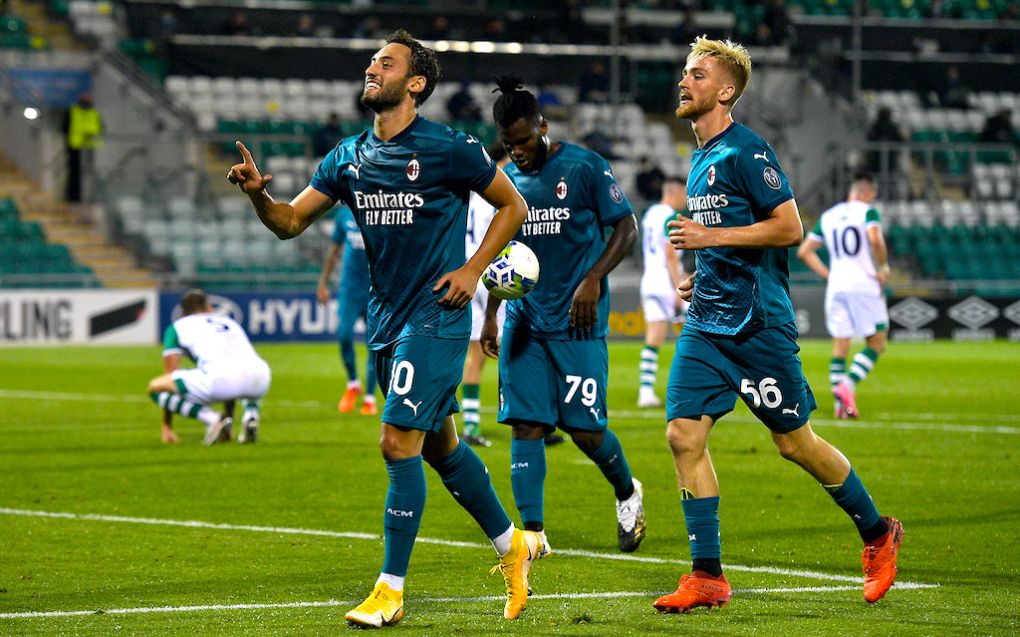 Saelemaekers (6): Despite assisting Calhanoglu on the second goal, the Belgian was mostly disappointing as his performance left a lot to be desired.
Ibrahimovic (7.5): Incredible in the build-up and crucial in the final third, Zlatan delivered a clean performance by scoring one of the goals for the Rossoneri.
SUBSTITUTIONS
Krunic (6): Not impactful in any way but just good enough to help Milan maintain the control of the game.
Tonali (N/A)
Diaz (N/A)
READ MORE: Calhanoglu opens account for the season with exquisite shot against Shamrock Rovers