AC Milan Women will take on AS Roma this Sunday. The game will take place at 12:30 CEST (3:30 am PST / 6:30 am EST) and the Rossonere will be looking to grab the three points. 
Here's an overview of what you need to know about the game and a preview of the match.
The Background
AC Milan and AS Roma have met six times in Serie A Femminile. Milan has won five of the previous encounters and tied one.
The last time the two met was not in a league game. It was in the final of the Coppa Italia Femminile and Milan lost that game on penalties.
The story so far this season is that Milan have won all one of their matches. Roma's record is three wins and one loss. They are in fourth place on the table and this is because a previous match against Inter Milan was postponed. The reason why is that a few Inter players tested positive for COVID-19. They'll have to replay the match at a later date and time.
So for now, Milan are ahead of Roma in the standings.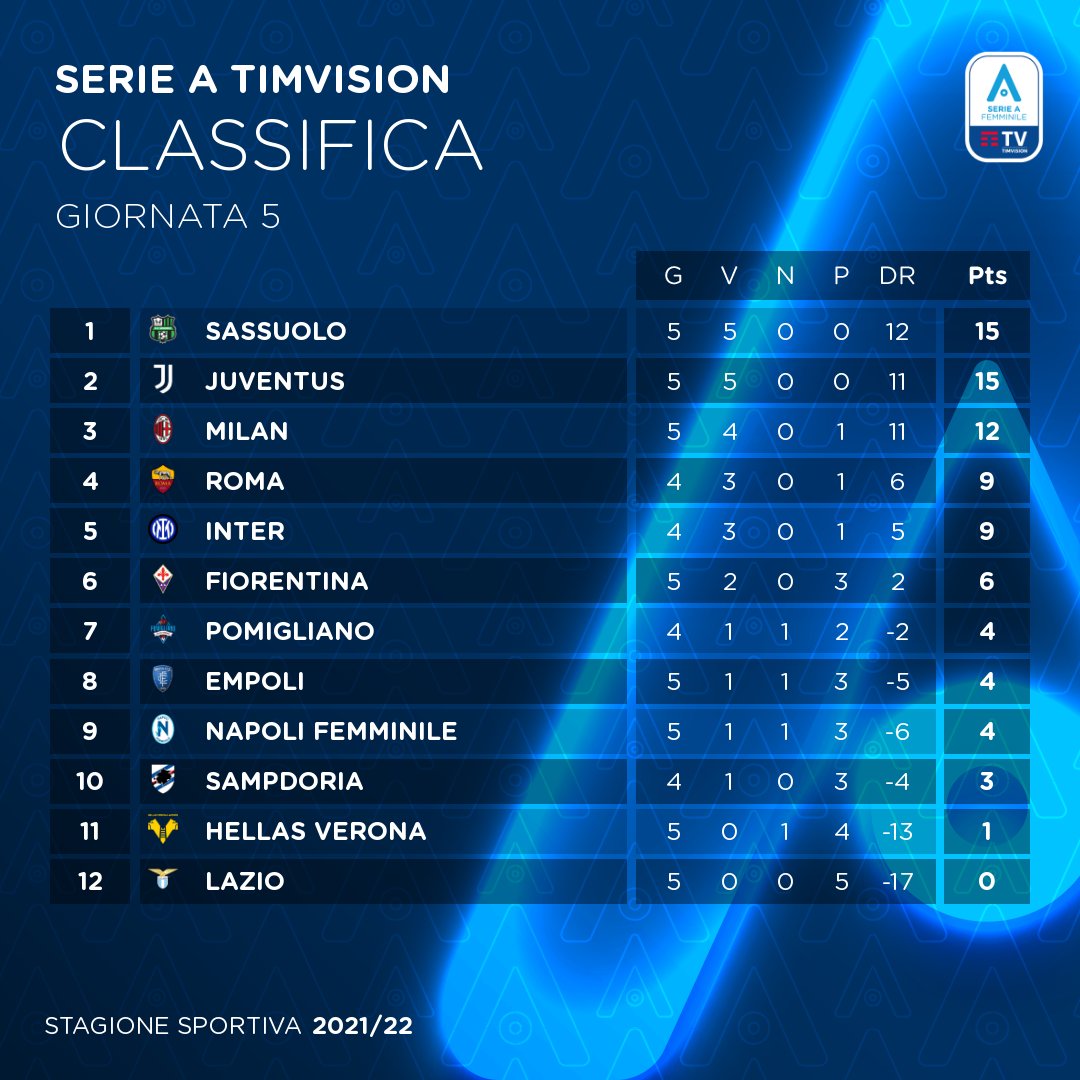 The Players
Despite their contrasting records, it would be absolute folly to underestimate Roma. The team have strengthened quite a lot over the summer. For starters, they brought in players like Lucia Di Guglielmo, a fast and strong centre-back who, at the age of 24, is already an experienced international. They have also signed Benedetta Glionna, a speedy forward who is talented enough to lead a line by herself. Then there are their homegrown talents, like Giada Greggi. Greggi is a diminutive and quick forward who has excellent ball control which, when combined with her speed, makes her quite the attacking threat.
The Giallorosse also have ex-Milan player, Thaisa Moreno, among their ranks. However, one could question the effectiveness of the signing. Thaisa regressed during her time at Real Madrid and has only started one match for Roma during the current campaign.
Therefore, it was understandable why Milan chose not to pursue their former player and signed Greta Adami instead.
Roma also have Manuela Giugliano, another ex-Milan player, among their ranks. Giugliano has been out of action for a few weeks as she's been dealing with a persistent injury. So, the chances of her suiting up for the Giallorosse on Sunday are rather slim.
And lest you think that this will give Milan an advantage, the Rossonere will have their own impediments going into the game. They will be without defender Laia Codina on Sunday. Codina, if you recall, received a red card in the last match against Napoli.
The red card, therefore, disqualifies her for this weekend's crucial match.
The only silver lining in all of this is that her suspension will give Guðný Árnadóttir a chance to shine. Milan would be a lot stronger if the two of them were allowed to start a game together. Unfortunately, they won't do so against Roma.
Possible Tactics and a Prediction
In the past, games against Roma would have seemed like a likely win for Milan on paper.
This year, however, things are more complicated. While both teams seem to be evenly matched, Roma has the gift of speed on their side. They will look to clog the middle and to force the Rossonere to send in long balls over the top.
Milan has also looked lost on the pitch and tactically inept at times. This is, in large part, due to the team having an inexperienced coach. Roma have the complete opposite problem, as their coach has proven to be quite competent in the past.
If the Rossonere are to have any hope of winning this match, it will be by playing in a compact, narrow shape that finds a way to neutralize the Giallorosse's velocity. They'll also have to take advantage of Roma's inability to be clinical in front of goal.
Roma will also be slightly demoralized after their loss against Juventus at home. Milan will still have the momentum of their last win over Napoli to carry them through this game.
They might come into the game spent though, given how much energy they expended securing a Pyrrhic victory over the Partenope.
It's hard to predict the final score for the match. However, don't be surprised if Milan drops points during this game. Or just lose the match.
How To Watch
Since the game is the match of the week, you'll be able to watch it for free on La7. You'll also be able to watch it on the Dailymotion page afterwards.
If you live in Italy, you'll also be able to watch it on Milan TV and TimVision. If you live in Indonesia, it will be on Mola TV. And if you live in these ten countries, you'll be to watch the match on Viaplay.
---
READ MORE: Milan enraged by Mino Raiola's comments as fierce tension remains