AC Milan Women will take on Empoli at the Vismara this Sunday. The match will take place at 1:30 PM CET (4:30 am PST, 7:30 am EST). They will be looking to bounce back from their past two defeats with a win here.
Milan have a mixed record against the Tuscan side. The first time the two teams met in Serie A Femminile ended in a 2-1 defeat for the Rossonere. However, the last meeting ended in a 3-0 victory for Milan.
The Rossonere's form has also been mixed as of late and no one knows which version of the team will show up this Sunday. Regardless of what version shows up, the hope is that the team will have learned their lessons by now.
You can expect Milan to line-up in their usual 3-5-2. The team had to play their last two matches without stalwart midfielder Refiloe Jane, the supertalented Verónica Boquete, and defender Giorgia Spinelli. All three were sidelined due to injury. Just how bad their injuries are, remains to be seen. However, all signs point to Jane returning to Milan's line-up on Sunday.
If Jane is able to play on Sunday, then she'll give Milan the midfield steeliness they've sorely been missing. There's no word on when Vero and Spinelli are returning though.
Taking on Empoli
Taking on Empoli won't be an easy task. The team's nickname is the ragazze terribili and they've been given that name for a reason. The Tuscans are tough and fearless, as they nearly beat Juventus during their first match in Serie A Femminile. What was remarkable about that game is how they didn't play like a newly promoted side. Rather, they played like the Bianconere's equals.
You can expect them to do the same thing against Milan. Empoli's preferred formation is the 4-3-3. The Biancoblu's two best players are Cecilia Prugna and Lucia Di Guglielmo. Prugna is a tenacious forward and serves as Empoli's focal point, as she is their captain.
Di Guglielmo is a strong and technical defender and is a budding talent. There are also rumours stating that Juventus are interested in signing her next season. The fact that the Bianconere are interested in her is a testament to her massive potential to be a great defender.
Empoli have won six games this season. They will be looking to win their seventh on Sunday. If Milan are to win this match, then they will have to improve on the errors they made during their last two games.
The defence has to be a tight ship and not get caught off-guard so many times again. The midfield needs to also keep up their concentration for a full 90 minutes and not make bad decisions while in possession. They also need to learn to make short passes that will contribute to build-up play, rather than just hoofing it upfield.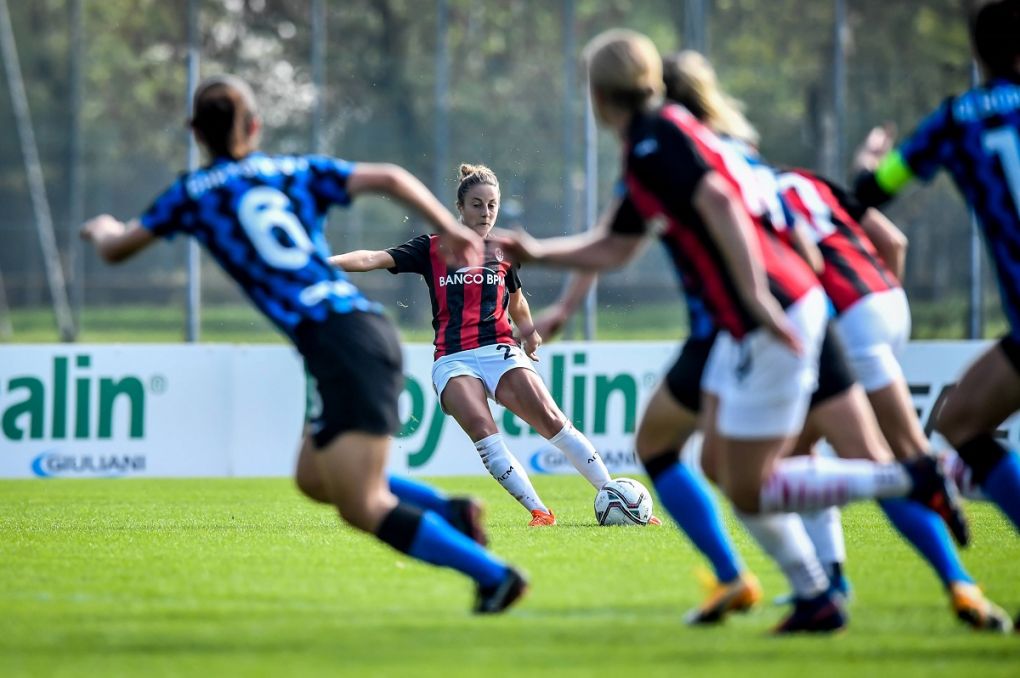 The forwards need to temper their 'go at it alone' approach and to try not to solve everything themselves. Once Milan learns to do these things, then the team will play to their full potential. Time will tell if they've learned their lessons.
For now, what we can expect is for Milan to use the 3-5-2 to counter Empoli's 4-3-3. They'll also rely on their maturity and experience to help win the match.
It's hard to predict what the final scoreline will be. For now, all we can say is that, given the Rossonere's form as of late, one has every right to be worried about this game.
Milan have everything they need to win this match. If they overcome their psychological hurdles and work together as a unit, then it will lead to them claiming their 13th victory of the season.
How to watch the match
You'll be able to watch the game on Sky, TimVision, Milan TV, the official AC Milan app and on the official Dailymotion page.
READ MORE – Serie A preview: Fiorentina vs. AC Milan – Team news, opposition insight, stats and more