The deal is done: Andre Silva has completed his AC Milan medical and is set to be unveiled as a new Rossoneri player.
One of the most highly-rated young strikers in European football will grace the field at San Siro next season, and for a fee of just €38million.
Silva joins on a five-year deal for FC Porto in Portugal, coming off the back of an impressive season in which links to Real Madrid were frequent.
Just what can Milanisti expect from our new talisman?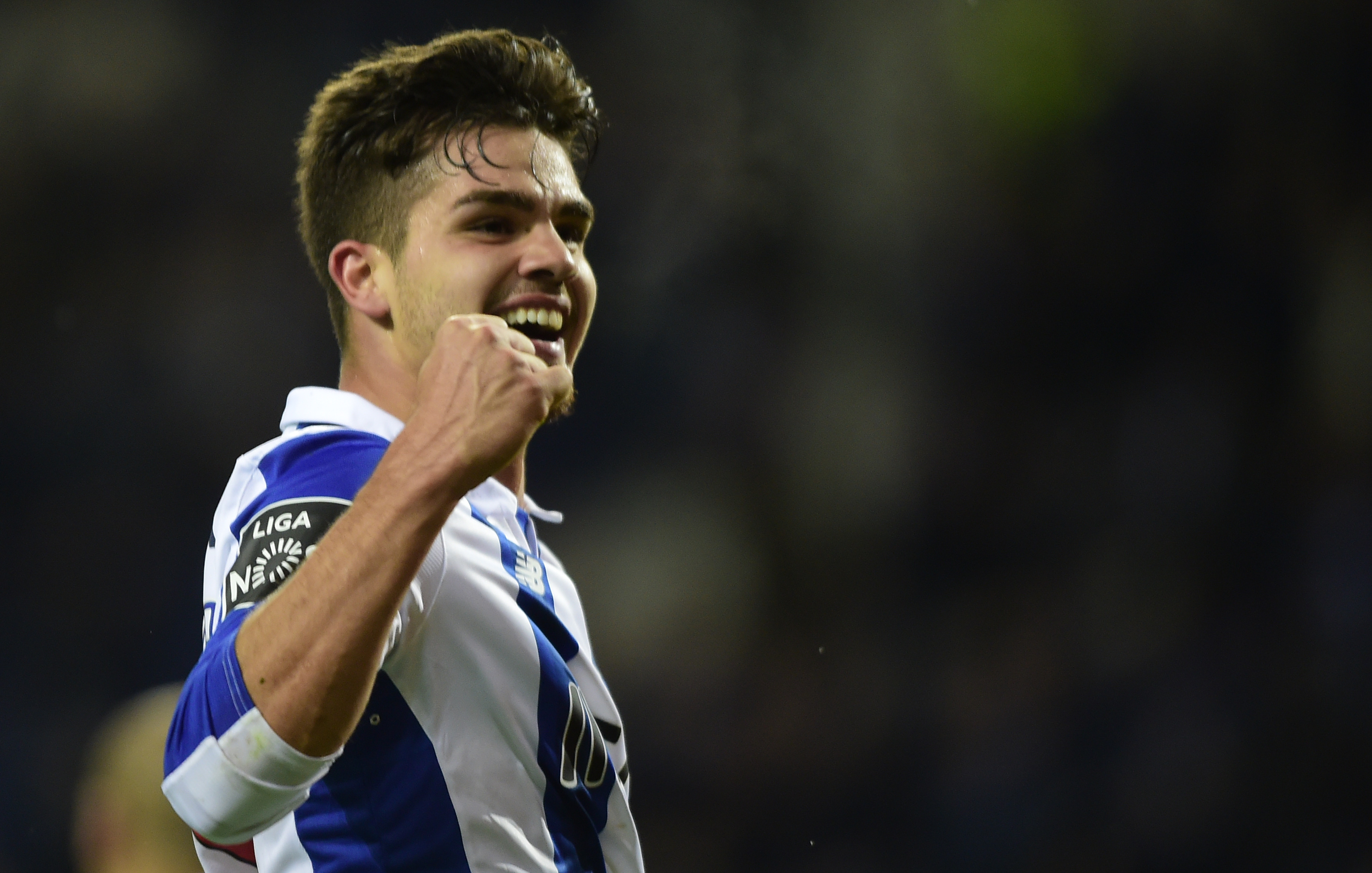 André Miguel Valente da Silva was born in Baguim do Monte, Portugal, in 1995.
He began laying football with Porto-based S.C. Salgueiros as a junior, before having a spell at Boavista FC and returning to his former club, now renamed Salgueiros 08.
By the age of 15, Silva had signed for FC Porto's junior side, and two years later he made his professional debut as the B-team won 3–2 away against S.C. Beira-Mar.
In his second season with Porto B, he scored seven goals, impressing due to his footballing ability at such a young age. Silva made his competitive debut for the first team on 29 December 2015 in a League Cup match.
However, Silva's career was to reach somewhat of a roadblock, with the striker finding himself behind Vincent Aboubakar and Dani Osvaldo to start the 2015/16 season, and his fortunes worsened in January 2016 as Suk Hyun-jun and Moussa Marega arrived.
Nonetheless, José Peseiro came in to replace Julen Lopetegui as manager, sparking an increase in the number of opportunities presented. He then scored his first league goal in a 4–0 home win over Boavista, in the last match of the season.
Fast forward to 2016/17, and Andre Silva is an established part of Porto's team, scoring 21 goals in all competitions and adding eight assists. Links with big clubs came, but here Milan sit having acquired one of Europe's top young marksmen.
But just how does the 6ft1 forward compare with some of Europe's leading strikers?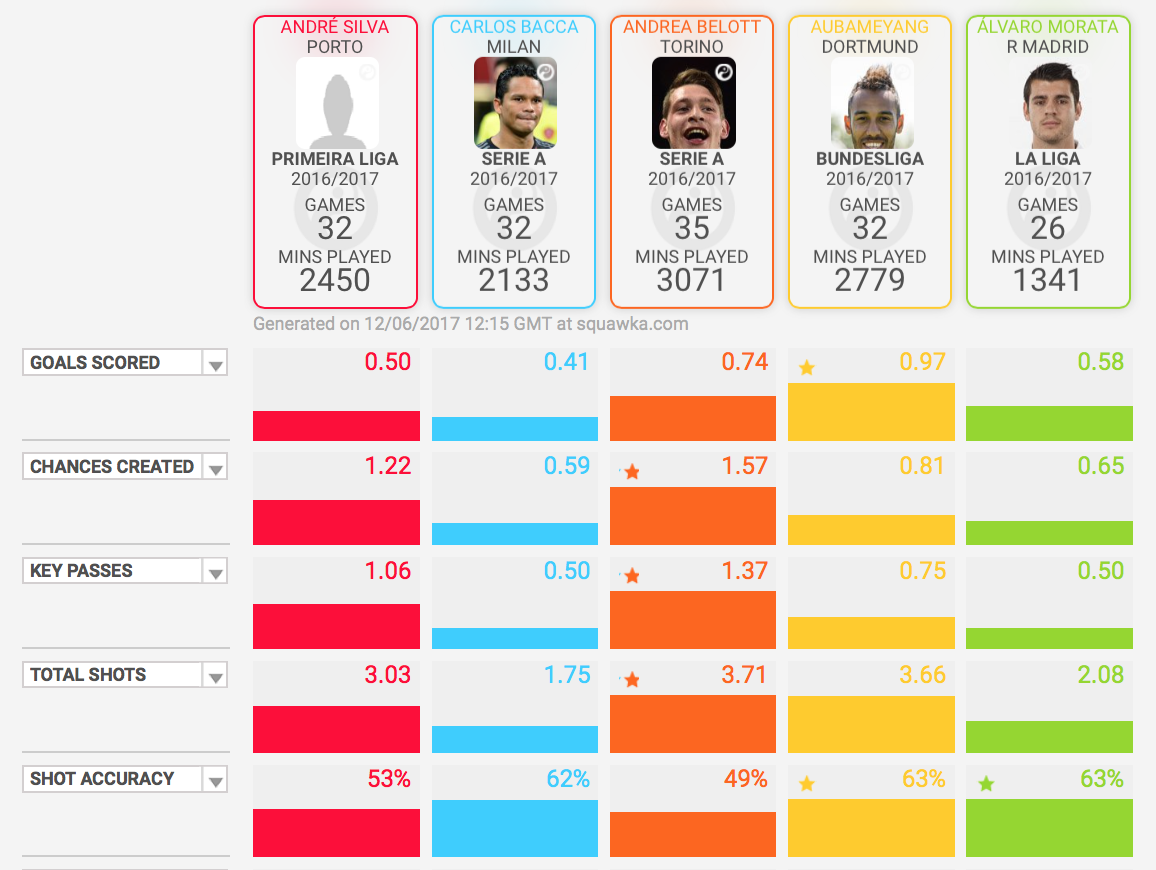 As Squawka's player comparison matrix shows, Andre Silva fails to come out in any of the key stats selected, but he also is not last in any of them either.
Looking at goals scored (in the league, per 90 minutes), the ex-Porto man averages exactly one goal every two games, ahead of only Carlos Bacca last season.
However, on chances created and on key passes, he has the second highest figure behind Andrea Belotti, something which demonstrates his ability to bring other players into attacks in a 4-3-3 system.
In total shots he ranks third, while in shot accuracy he ranks fourth. Do bare in mind however that he is being compared with some of Europe's most established strikers.
SempreMilan's Oliver Fisher spoke to Diogo Neves and João Maia from @infofcporto about what Milan fans will see from Andre Silva.
How do Porto feel about losing their main striker?
"We are happy with the fee. Porto is a selling club, so we need to make money, it's important for the club.
"Of course it's a big loss, but Porto always find the best solution. In the last 10 years Porto had really talented strikers like Lisandro Lopez, Radamel Falcão, Jackson Martinez and now André Silva.
"I'm pretty sure that we will find someone with the same quality of André."
What is Andre's best position?
"André has only played one season in the main team of Porto. Until January, we played 4-3-3 and he was alone in front, with 2 wingers (Brahimi and Corona or Diogo Jota) and he was the top scorer on the team.
"But in the winter market we bought another striker called Soares, so Nuno (our coach last season) started playing in 4-4-2 with Soares and André Silva in the front, but André disappeared a little bit, being Soares the main striker of the team."
What are Andre's strengths?