It appears that the name has been chosen, and Milan want Mateo Musacchio to accompany Alessio Romagnoli in defence.
According to various reports, the rossoneri have an agreement with the player, and a fee may have been agreed with Villarreal for the services of the 25-year-old.
At this age, it would be fair to consider Musacchio as a long-term option, but who exactly is Mateo Musacchio?
Musacchio was born and raised in Rosario, Argentina and he made his first-team debut as a 16-year-old during the 2006–07 season after coming through the youth system at River Plate, making four appearances. He was part of the squad that won the Clausura in the following year, but did not feature in any games.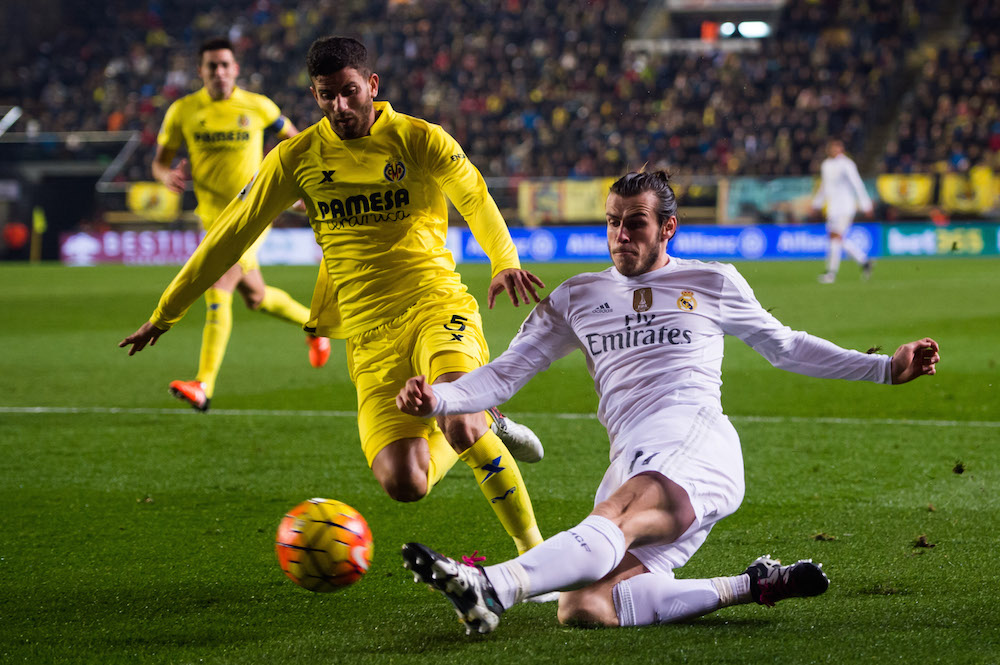 In summer 2009, Musacchio moved to Villarreal, initially being assigned to the B-team in the Segunda Division. He made his debut for the second team on 5 September in a 1–3 loss at Córdoba CF.
On 13 February 2010, Musacchio made his La Liga debut by playing the last 15 minutes in a 2–1 win for the Yellow Submarine against Athletic Bilbao.
His rise from that point has been impressive, as overtook Iván Marcano and Gonzalo Rodríguez – the latter his compatriot – in the defensive pecking order to become Villarreal's most important defender since the departure of Eric Bailly.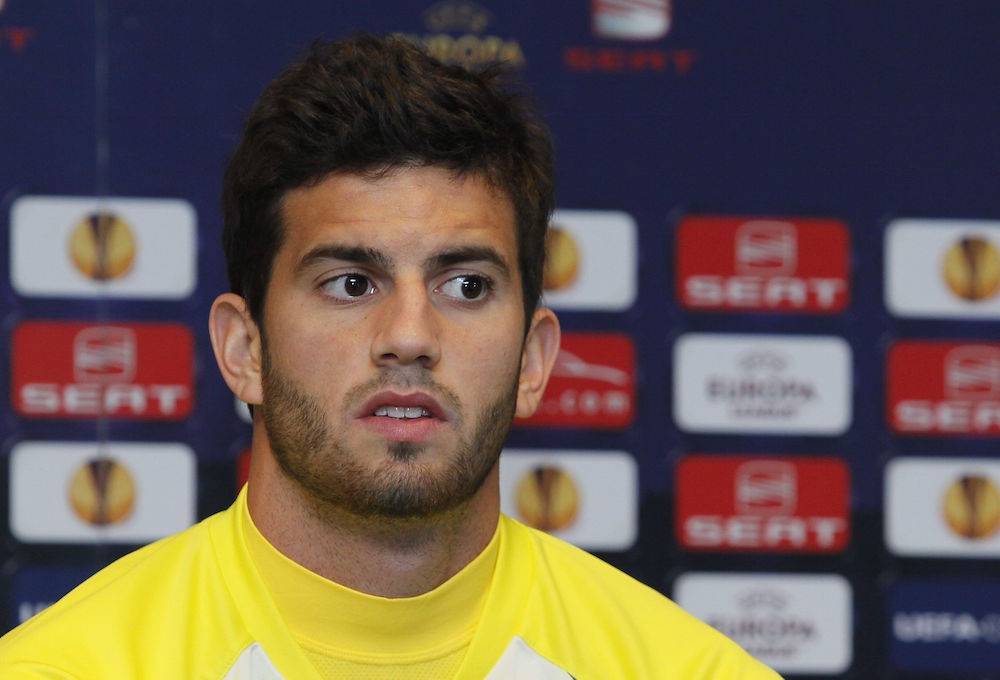 At just 6ft tall, the Argentine may not be the biggest or the tallest centre-half in the league, but his ariel ability is still a strong point of his game. According to Squawka, he was victorious in 42.68% of total, and just over 40% of ariel duels. Alex meanwhile won over 53% of total duels, and 71.4% of ariel duels.
Squawka go on to state that Mateo Musacchio made no defensive errors in his 13 La Liga games last season, while Alex had two (one of which led to a goal) in 25 Serie A apperances.
Over 90 minutes, Musacchio averaged more blocks (2.92 to Alex's 2.64) and more interceptions (0.54 to 0.4) in 2015/16.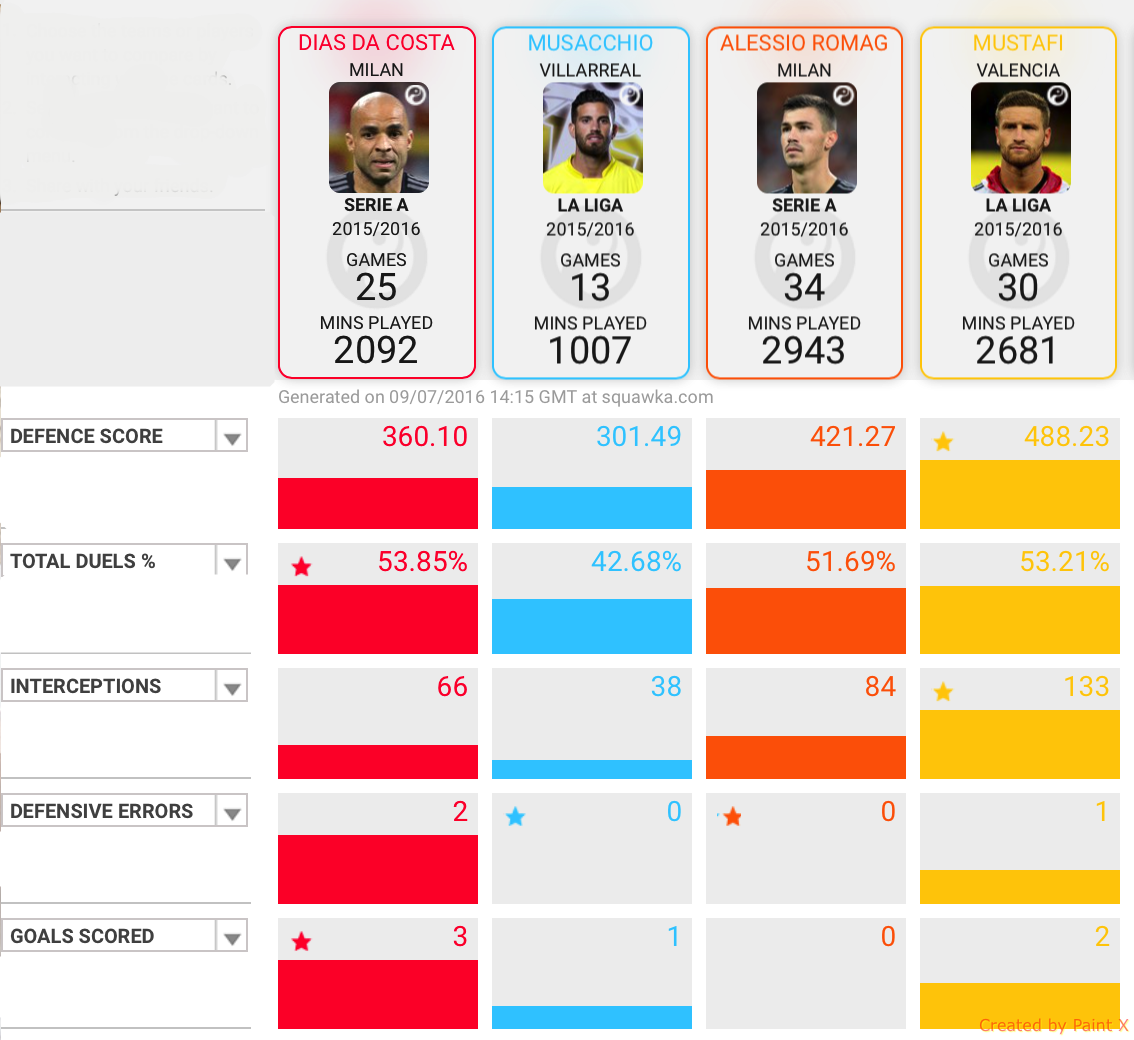 As seen in the graphic above, Musacchio comes out on top in just one stat amongst the defenders selected.
SempreMilan's Oliver Fisher spoke to Miguel Quintana from the Spanish football website Ecos del Balon about what the player can bring.
"Musacchio is a central figure that has long been installed in the elite of Spanish football. He has always been highly valued in the league.
"In fact, when the Tata Martino was the coach of Barcelona, ​​it was rumored that Barcelona would sign him, and no one found it strange.
"Sadly, last season he suffered a fairly serious injury that has kept off the pitch for months, but there is no doubt that he is one of the best centre-backs in the league.
"At Villarreal, he has always stood out for his placement. He is a defender that is very neat; it is his great quality.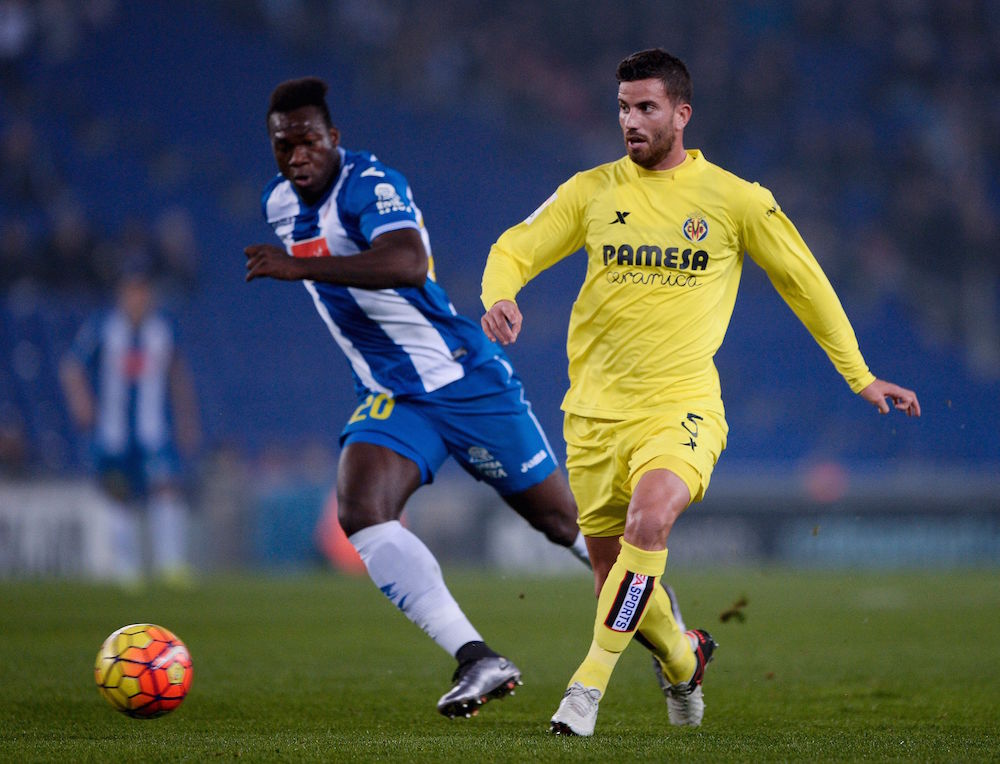 "Then also he marks well, wins ariel duels and plays the ball better than most defenders, but the highlight is that he is always in the right place. That reminds me of Gerard Pique.
"He has a lot of defensive talent, he knows his craft and also makes very few mistakes. This past year, with Marcelino, Villarreal have defended much deeper than usual. In Ecos del Balon (my website) we used to say that the team was more suited to the Italian league than La Liga, and Musacchio, when he recovered, was also key in improving this defensive system.
"He is a player that makes his teammates better. He does not shine or have the physicality of some of his ex-partners (Gabriel of Arsenal or Bailly at United), but he is very good."
If Milan can seal the deal, Musacchio could just be the right man to partner Romagnoli.