German outlet Bild dropped a bombshell on Monday afternoon when they claimed that Ralf Rangnick is in advanced talks to become the new head coach and sporting director of AC Milan
Rangnick then did an interview in January and denied having held talks with Milan, but hinted that it is a club he would be interested in joining as he has admired them since the 1980s. He even opened up to the possibility of becoming a head coach again, which stacks up with the latest reports.
But just who is Rangnick, the current Head of International Relations for Red Bull's football department?
Background
After a playing career which never took off beyond amateur level – including a stint at non-league Southwick in England – Rangnick took charge of hometown club Viktoria Backnang as a player/manager in the mid 1980s. By the end of the decade he had also coached VfB Stuttgart II, TSV Lippoldsweiler and SC Korb.
His reputation grew most while with SSV Ulm though, as he led the team to the 2. Bundesliga and became known for his pressing style of football. He signed a deal to coach top flight side Stuttgart starting in summer 1999 – his first top flight coaching job.
He would last at Stuttgart until February 2001, when he was sacked after losing to Celta Vigo in the UEFA Cup with the team in 17th place in the table. He ended with 36 wins, 16 draws and 34 losses.
Rangnick then took over 2. Bundesliga side Hannover 96 in May 2001, and they romped to promotion as champions and were back in the top division 13-year absence. Their first season back at the top level saw them consolidate with an 11th-place finish, but their form nosedived in the second half of the 2003–04 season and he was fired following a defeat at Borussia Mönchengladbach in March 2004.
With Hannover, Rangnick finished with a record of 44 wins, 22 draws and 32 losses
He then went for the role of assistant manager for the German national team but missed out to Joachim Löw, however Rangnick was then hired by Schalke 04 in September 2004.
He would lead the Gelsenkirchen cup to the UEFA Cup knockouts as well as second in the league and runners-up in the DFB-Pokal, but the following season Schalke would fail to progress beyond the group stage of the Champions League, and sat ten points off the pace in the Bundesliga, so he was fired in December 2005. He finished with a record of 36 wins, 15 draws and 14 losses.
Rangnick then took over 1899 Hoffenheim of the Regionalliga Süd for the 2006–07 season, and the team instantly won promotion and played the 2007–08 season in the 2. Bundesliga for their first time in their history. Their stay there was short, as promotion to the Bundesliga followed.
Hoffenheim won 35 out of 51 available points to start their first ever season in the top flight but finished in 11th place in the table. In January 2011, Rangnick resigned as head coach of Hoffenheim claiming that the sale of Luiz Gustavo to Bayern Munich – of which he had not been informed – had forced him to leave. Rangnick finished his time in the Rhein-Neckar with a record of 79 wins, 43 draws and 44 losses.
In March 2011, Rangnick's return to Shcalke was confirmed and he led his old club to their first UEFA Champions League semi-final by defeating holders Inter 7–3 on aggregate before losing to Manchester United.
Schalke began the 2011–12 season by defeating Borussia Dortmund in the DFL-Supercup, but Rangnick stepped down as manager due to exhaustion syndrome before becoming sporting director of Red Bull Salzburg and RB Leipzig in June 2012.
By the start of the 2015-16 season he had left the Austrian club to focus on Leipzig where he became head coach once again, leading them to promotion from the 2. Bundesliga before resigning to become sporting director once again.
In July 2018 he returned to being Leipzig boss once again, closing the Bundesliga in third position, but was succeeded by Julian Nagelsmann
He is currently employed by Red Bull as Head of International Relations and Scouting for New York Red Bulls and Red Bull Brasil, but Leipzig as well.
Recruitment
Rangnick is credited by many as being the main driving force between RB Leizpig's rise to prominence in European football due to his impressive history of recruitment, both as head coach and as a sporting director.
As the Bundesliga website notes, Rangnick works on policy of the three K's – Kapital, Konzept and Kompetenz (money, concept and competence). This fits Leipzig's philosophy over the past few years to a tee; as even though they have spent money they have done so wisely.
During his time with the former East German club, the likes of Tyler Adams, Matheus Cunha, Emil Forsberg, Amadou Haidara, Naby Keita, Willi Orban, Yussuf Poulsen and Timo Werner have come through the club – some of world football's most promising young players.
Tactics
During his time with Leipzig, Rangnick engrained a 4-4-2 formation which essentially functioned as a 4-2-2-2 formation due to the presence of two 'No.6' style midfielders (anchors) and narrower attacking midfielders.
When on the ball, his teams tended to use a long-ball approach with a subsequent counter-press. In essence, the ball was pumped into high-danger areas for the likes of Werner or Poulsen to latch onto and if they failed to do so, a press was deployed with the intention of winning the ball back as quickly as possible from the opposition, as close to their goal as possible too.
This is where the 4-2-2-2 becomes important, as having the front four players as narrow and close to each other as possible allowed for them to hunt in a pack and capitalise from the disorganisation that an opponent undergoes when dealing with a high-risk aerial ball.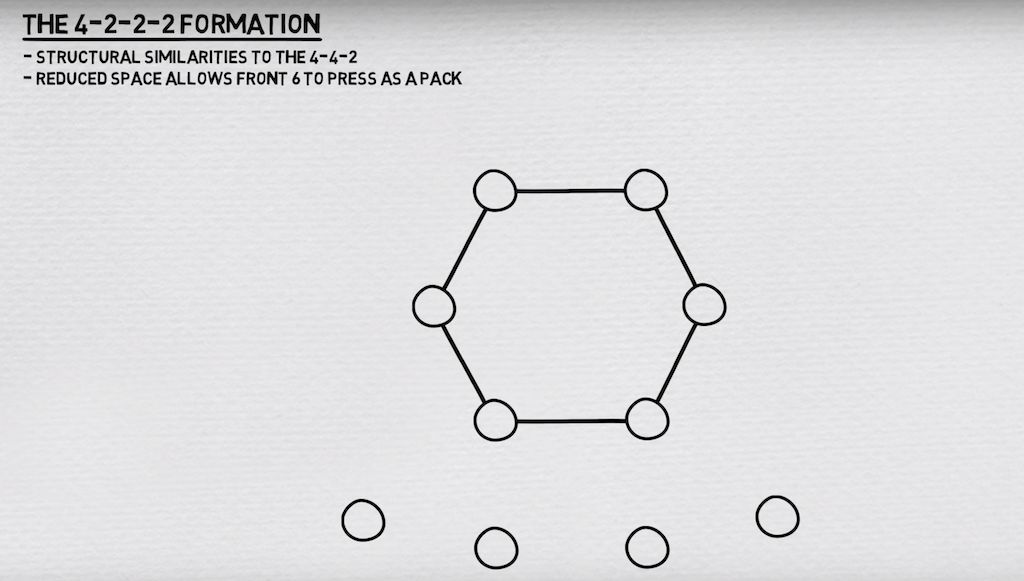 There is also a heavy emphasis on the counter-attack as a result of the intense pressing when not in possession. Using numerical superiority, Rangnick's Leipzig side aimed to overwhelm their opponents in midfield and get them to give the ball away in the most dangerous area possible.
Then, players bomb forward as fast as possible, running through the gaps in the defence and looking for precise decision making and execution in order to create dangerous opportunities, as seen in the picture below.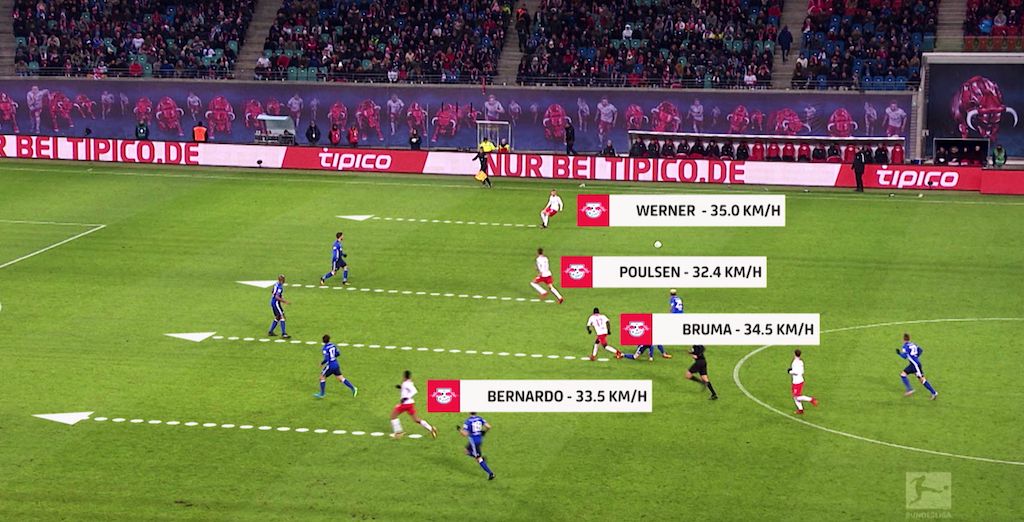 "Tactics, fitness and rules are all hugely important, but they're only a means to an end," Rangnick told The Coaches' Voice.
"My job – the job – is to improve players. Players follow you as a manager if they feel that you make them better. That's the greatest, most sincere motivation there is."
A clear identity and a track record for taking clubs to the top of their potential. Could Rangnick guide Milan towards the light at the end of a tunnel they have been in for six years? His CV implies he certainly deserves a chance.